According to CDC, the majority of us in the US don't get enough fruits and vegetables in our diet. In fact, they found that overall only 13% of people are meeting the 1-1.5 cups of fruit daily recommendation and 8.9% met the 2-3 cups of vegetables per day recommendation. One common way people try to increase their fruit and vegetable intake for the day is to simply whip up a smoothie or grab a green juice from the store. However, are juices and smoothies the best option for upping your intake of fruits and vegetables?
JUICES
Juicing means that you are simply squeezing out the nutrients and water from a fruit or vegetable and discarding the fiber. When chosen carefully, juices can be option for adding some of the nutrients from fruits and vegetables into your diet. However, I wouldn't completely rely on juice to meet the total daily recommendation since they are lacking in fiber and aren't very filling. Try to limit or avoid regular fruit juice since it such a concentrated source of sugar. Instead, experiment with vegetable based juices from juice bars or make your own at home. Also, be wary of juice "cleanses". There's no need to exist on juice only for 3-7 days to detox, instead incorporate a green juice once or twice a week into a balanced diet focused on unprocessed foods.
PROS: Freshly made vegetable based juices can be as vitamin and mineral dense (sometimes more) as a smoothie. They are also a concentrated source of all the cancer fighting phytonutrients from the plants. View your green juice as a way to supplement a healthy diet with a dose of extra nutrients. Since juices lack fiber and protein, they are more quickly digested, which is why it is important limit too much sugar in your juices to prevent a blood sugar roller coaster.
CONS: Juices lack fiber and protein. If you aren't careful, they can also be a major source of sugar in your diet so aim to incorporate a higher ratio of vegetables to fruit in a juice. A healthy ratio I tend to use is about 80% vegetables to 20% fruit. Juice can be a bit pricey since you usually have to use a higher volume of produce to make a juice rather than a smoothie, which is why I typically limit them to 1-2x/week. You should also drink fresh juice soon after it was made as you can lose some of the nutrients due to oxidation over time.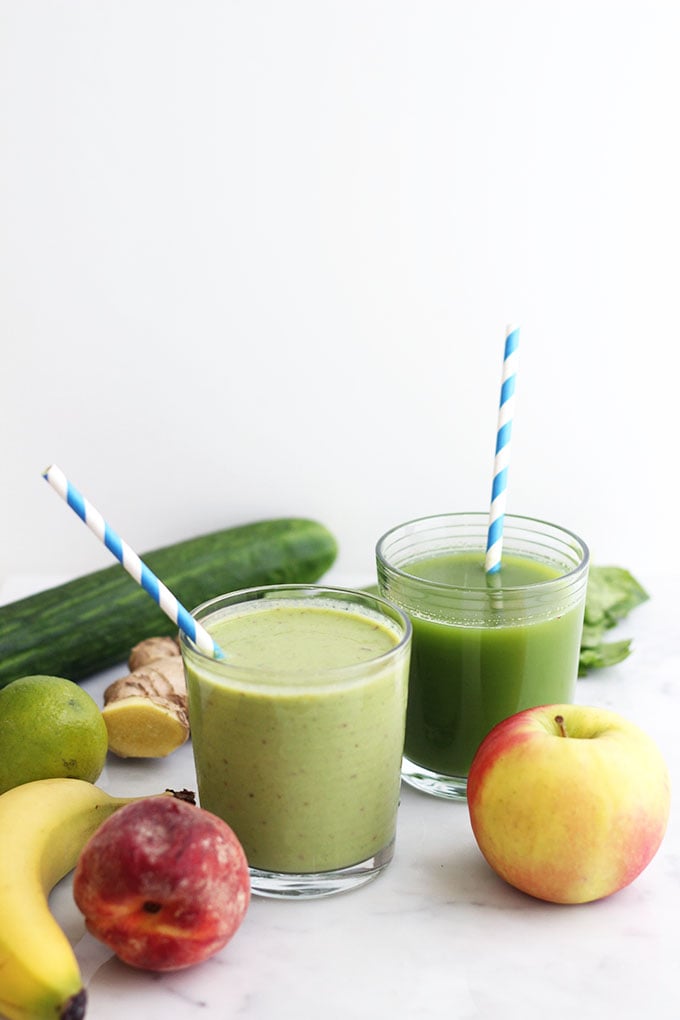 SMOOTHIES
Smoothies are an easy way to incorporate more fruits and vegetables into your day. Since everything is simply pureed, you still keep all of the healthy fiber from the produce. Like juices, smoothies can also be loaded with sugar if you aren't careful. Smoothies can be filling, so they can be used as a meal, unlike juices which should supplement a healthy breakfast.
PROS: All the healthy fiber from the fruits and vegetables is maintained which helps with satiety. Smoothies are usually a good source of protein as well as opposed to juices since you can incorporate milk, yogurt, nut butters, and more. For those who don't like the flavor of vegetables, adding greens to a smoothie may be an option as it can mask the bitter flavors.
CONS: Too many sugary ingredients in your smoothie could turn a healthy option into an un-healthy option. Instead of loading up on lots of fruit or fruit juice, make sure to also incorporate some protein (yogurt) and a vegetable (beets).
Bottom Line
Choose a smoothie when you are looking for a healthy meal that you can easily take with you on-the-go in the morning. Add a green juice to your normal breakfast once or twice a week to reap the benefits of the extra vitamins and minerals. Don't depend on healthy juices and smoothies to "fix" an unhealthy diet. They only work if you use them to supplement a healthy diet that incorporates lots of fruits, vegetables, plant based proteins, healthy fats, nuts, and seeds.
Check back next week for my new favorite, blender-made green juice! For some great smoothie inspiration, check out some of my favorite smoothie recipes: