Lemon adds a lovely pop of flavor in this variation of the classic caesar salad. This Lemon Kale Caesar Salad is not only easy and delicious, but vegan too thanks to a yummy tahini based caesar dressing – no anchovies here!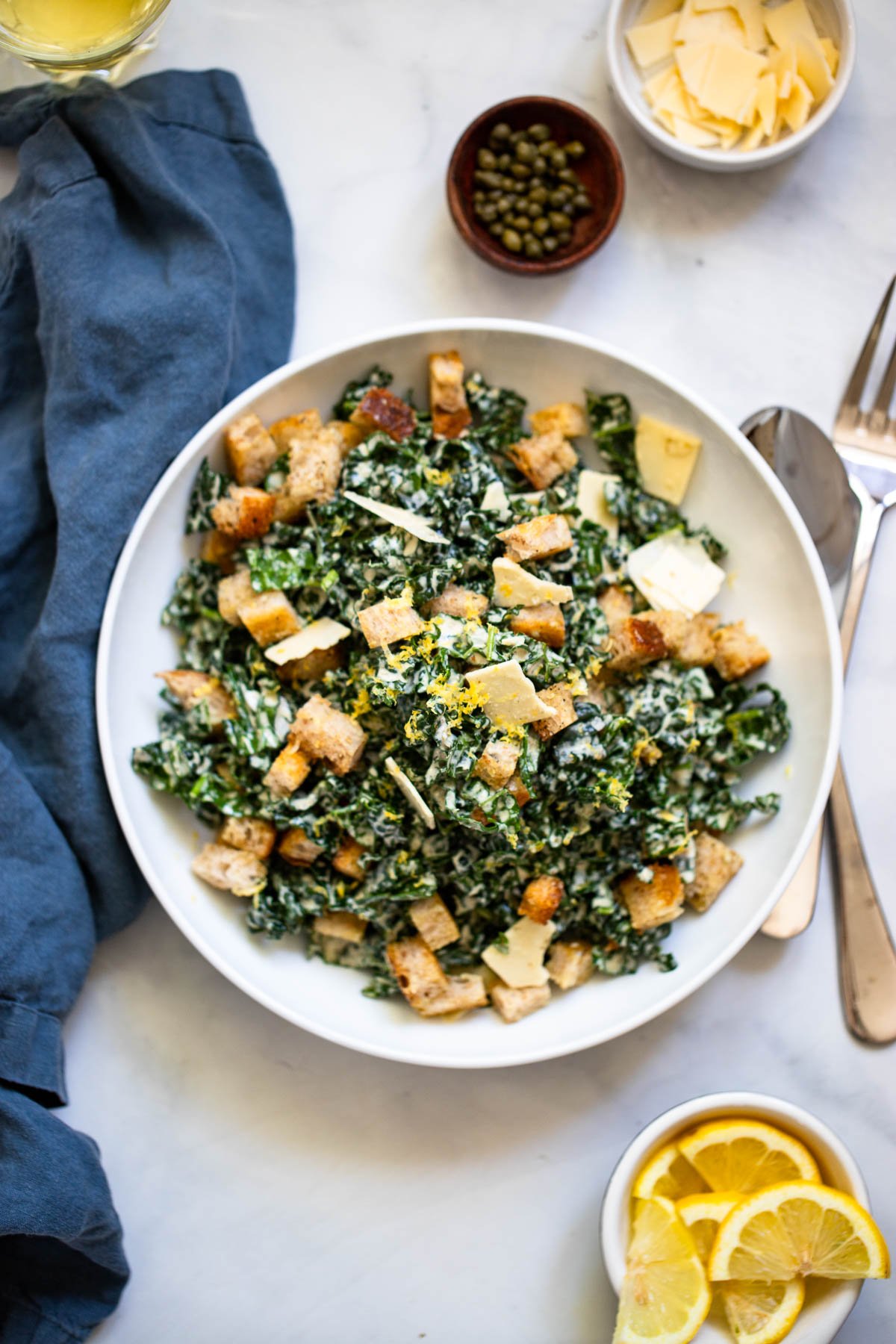 When I went plant-based, Caesar salad was one of those recipes that took me a long time to nail down. I've finally perfected a vegan ranch dressing that I love so the Caesar salad was the next one on my list and this recipe does not disappoint!
It checks off all the boxes – creamy, savory, and easy to whip up in just 5 minutes. Rather than cashews, this vegan caesar dressing recipes uses tahini to add creaminess.
Why You'll Love this Recipe
A simple, short ingredient list.
The tahini caesar dressing is easy to make and packed with flavor – you would never guess it's vegan! Plus, you don't need to soak/blend any cashews for this creamy dressing. (Cause I always forget to pre-soak cashews!)
Kale salads don't wilt after adding the dressing so this can be a great meal-prep option.
The tahini Caesar salad dressing for this recipe can be used on wraps too!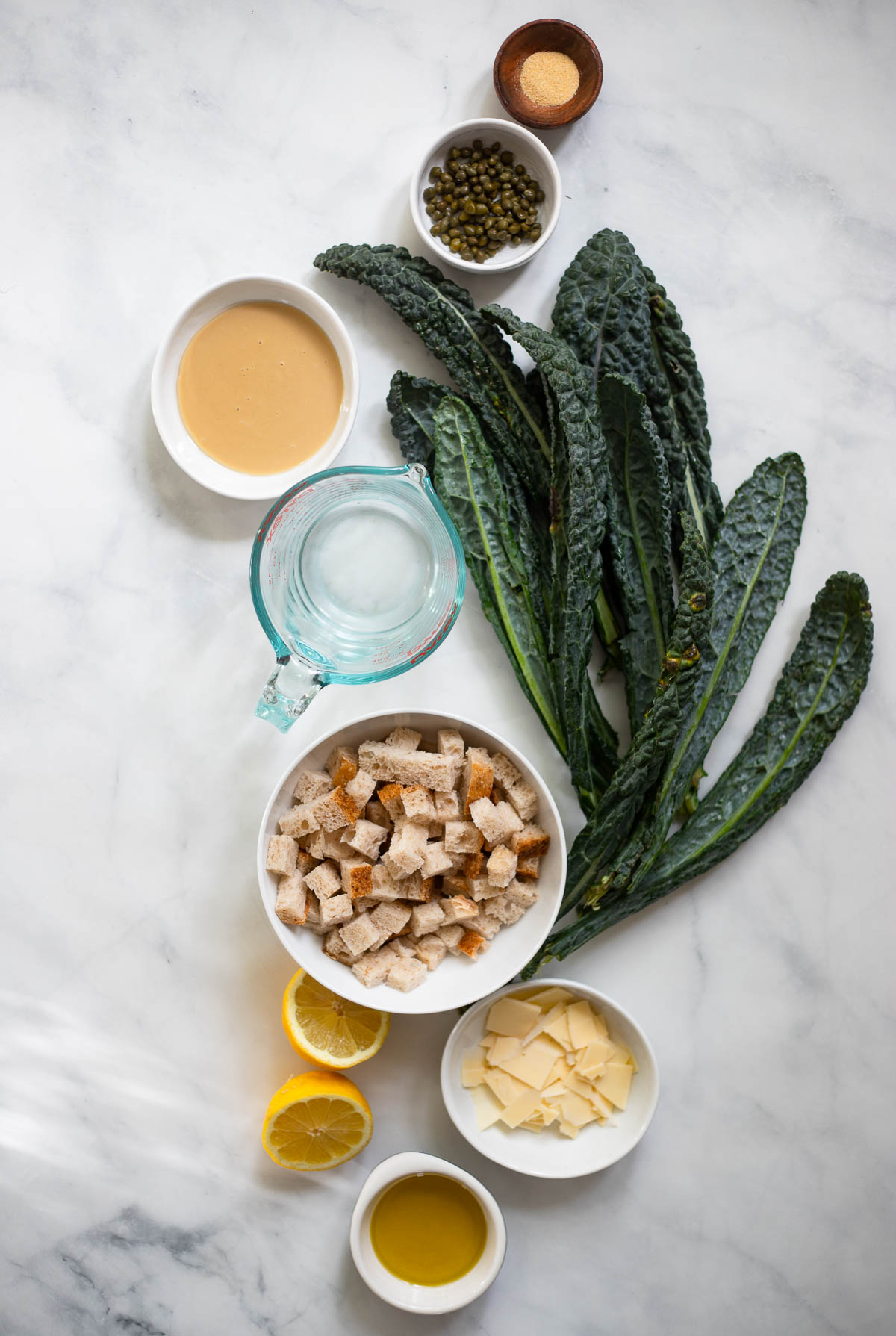 Ingredients You'll Need
Kale: I like to use lacinato (or dinosaur) kale but you could also use curly leaf kale as well. Not a fan of kale? Just swap it for romaine like a traditional Caesar salad.
Bread: Making your own croutons is super simple! We always have a loaf of sourdough on hand, so I just chop up a couple slices, toss it in a little oil, salt, and pepper and bake until golden brown. If you'd like, you can skip this step and just buy some croutons but homemade are so much better. I promise!
Vegan Parmesan: The best vegan parmesan I have found is this one. So far, it is one of the only vegan cheeses I have found that is firm enough to shave/thinly slice like a traditional parmesan. For vegetarians, look for a parmesan made without rennet.
Tahini: Tahini makes the vegan caesar dressing for this salad so creamy and rich. You can usually find the tahini near the peanut butter at the grocery store.
Capers: Capers add the salty and umami flavors to this plant-based dressing that you would normally get from anchovies.
Dijon Mustard: Adds more tang and umami flavor to really round out the dressing.
Garlic powder: Raw garlic in salad dressings is too strong for me, so I prefer to use granulated garlic powder for this recipe. You can use 1-2 cloves fresh garlic instead if you are a garlic lover.
How to Make this Salad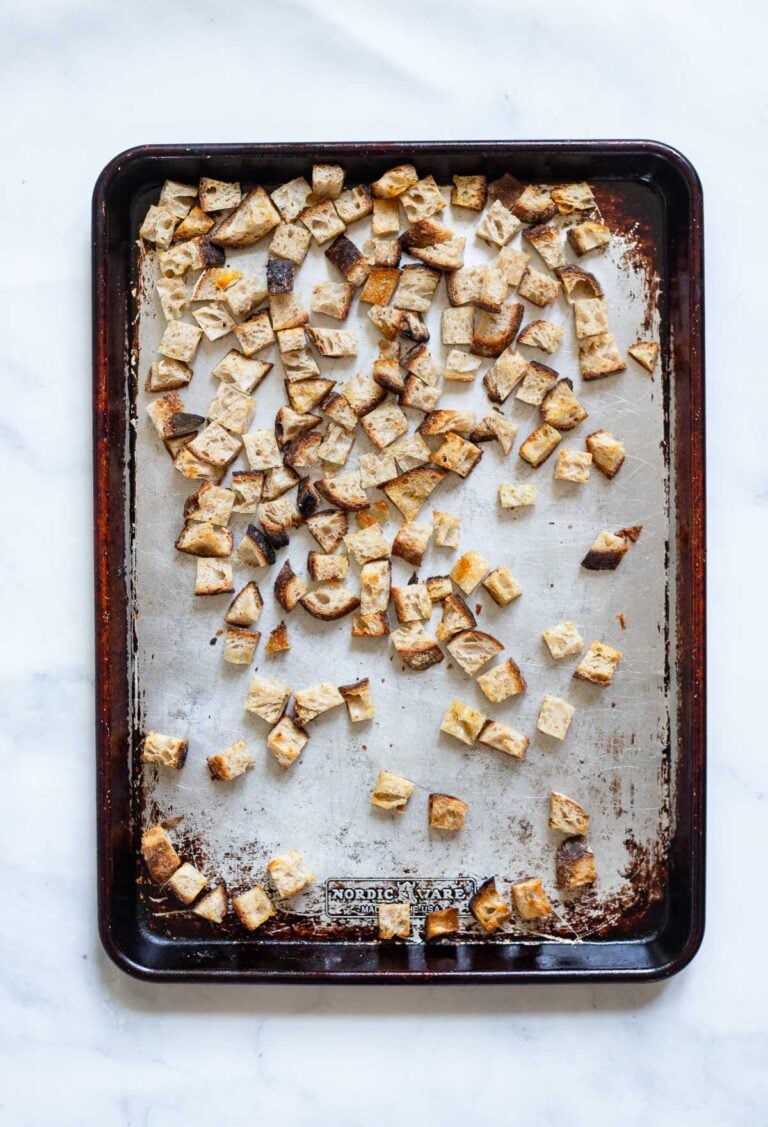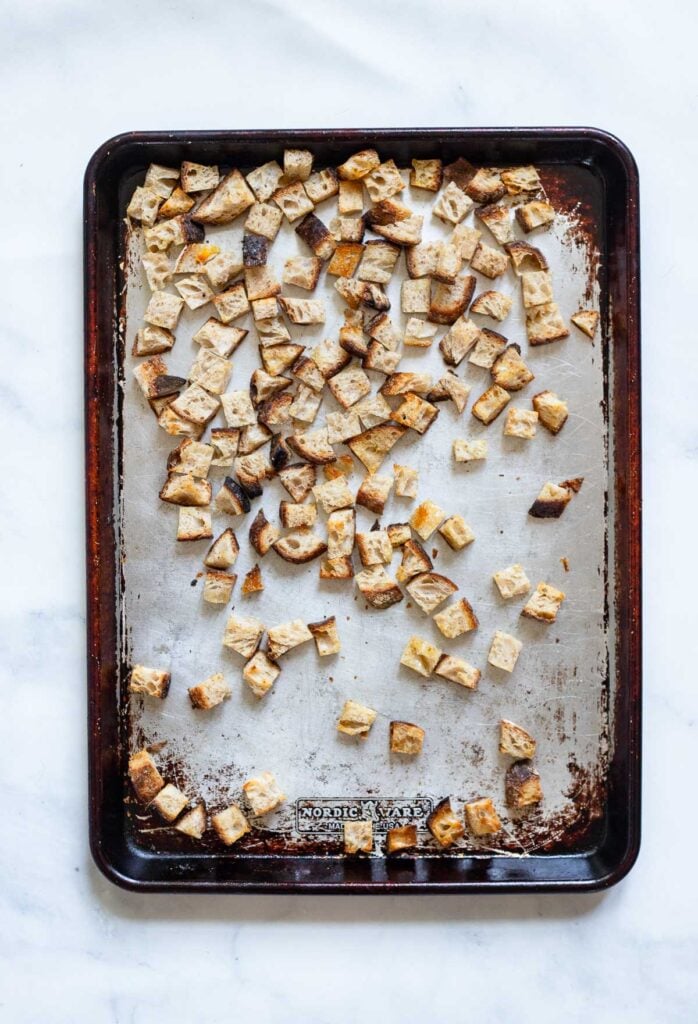 STEP 1 – Make the crotons. Preheat your oven to 400 degrees Fahrenheit. Cut your bread into small 1/2″ pieces. Add to a baking sheet and toss with olive oil, salt, and black pepper. (I like to be very generous with the black pepper. So good!) Bake for 10-12 minutes or until golden brown.
STEP 2 – Make the dressing. Add all of your dressing ingredients to a blender or small food processor and puree until smooth.
STEP 3 – Assemble the salad. Chop your kale and drizzle with a little olive oil. Massage for a minute or two until tender. Toss all of your salad ingredients together, garnish with some Maldon salt and lemon zest and serve!
Variations
Use chopped romaine lettuce instead of kale.
Add some chickpeas, white beans, or chopped crispy tofu for extra protein.
Add roasted cubed sweet potato or butternut squash instead of croutons.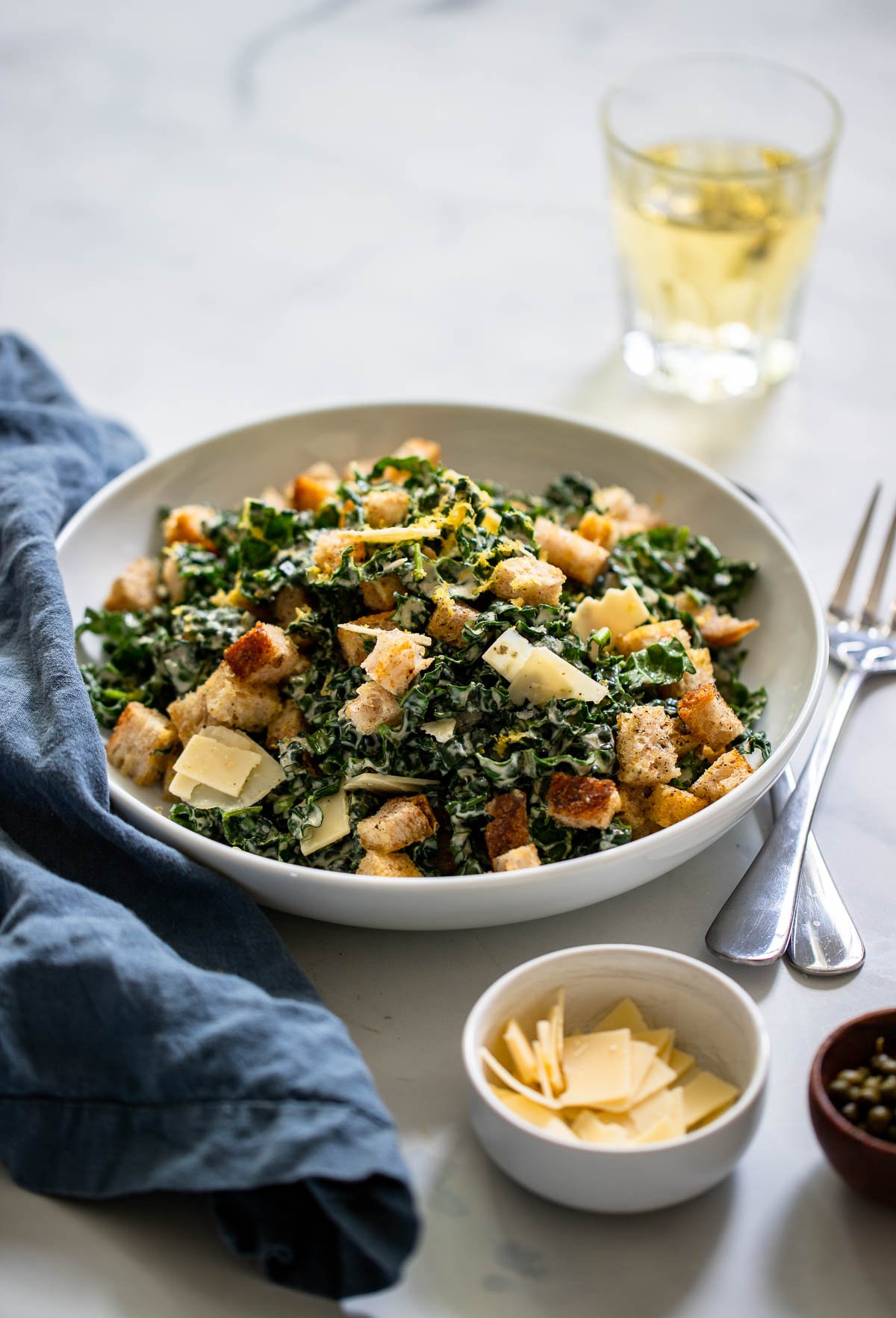 Expert Tips
Make sure to massage your kale (ie. rub the leaves between your fingers) in some olive oil before adding your dressing to soften the leaves. The leaves should start to feel a little softer and release a grassy smell.
Kale salads are much more enjoyable when you chop your kale leaves into smaller pieces than other lettuce! You'll want to remove the kale stems and then slice them into 1/4″ pieces diagonally all the way up the leaves and then chop.
Using a smaller appliance like the NutriBullet Magic Bullet to puree the dressing works much better than a standard size appliance. As someone with a small kitchen with limited counter space, I love using this mini appliance for dressings.
Health Benefits of this recipe:
Nutrition benefits of kale: Kale has had a major glow up in the last few years for good reason – it's packed with nutrients! Kale is loaded with fiber which helps lower cholesterol and support a healthy gut. It also has more than 100% of your daily needs for vitamins like A, C, and K in just 1 serving. Kale is rich in an antioxidant compound called sulforaphane. This antioxidant may partially explain why those who eat more cruciferous vegetables like kale have a lower risk of cancer.
Nutrition benefits of tahini: Tahini is rich in mono- and polyunsaturated fats which are protective against heart disease and stroke. A serving of tahini is a good source of phosphorus which is important for bone health as well as some calcium and magnesium. Tahini is made from sesame seeds which contain a compound called sesamol that appears to have potential anti-cancer and anti-inflammatory benefits.
What to Serve with Caesar Salad
This salad serves 4 as a side dish and 2 people for a main entree when you add some protein. It pairs well with pasta dishes like this vegan baked ziti or pistachio pesto pasta. You could also serve it with these easy vegan caprese naan pizzas which have less than 10 ingredients. This lemon kale Caesar salad also pairs well with soup recipes like these: crockpot vegan minestrone, vegetarian lasagna soup, or this Italian farro soup.
Frequently Asked Questions
Can I make this kale salad in advance?
Yes! One of the reasons that I like kale salads is that you don't have to worry about the kale getting soggy after you've added the dressing. You can store this salad up to 2-3 days in the fridge. The croutons will soften if stored with the salad so keep those in a separate container if you wish.
What goes into caesar dressing?
Traditional caesar dressing is made from fresh lemon juice, egg yolks, garlic, anchovies (or anchovy paste), black pepper, and Worcestershire sauce. The vegan version for this salad has tahini, lemon, capers, garlic, and mustard.
More Salad Recipes You'll Love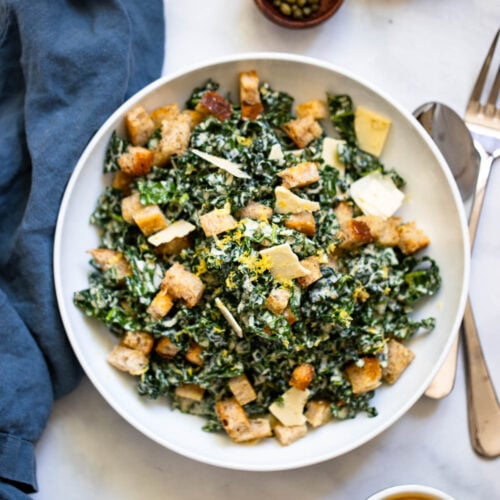 Lemon Kale Caesar Salad
Lemon adds a lovely pop of flavor in this variation of the classic caesar salad. This Lemon Kale Caesar Salad is not only easy and delicious, but vegan too thanks to a yummy tahini based caesar dressing – no anchovies here!
Ingredients
Salad
1 bunch kale
Lemon zest, to taste
Instructions
Sourdough Croutons
Preheat the oven to 350 degrees Fahrenheit. Add your cubed sourdough to a rimmed baking sheet. Drizzle with olive oil and toss to coat. Sprinkle with salt and pepper. Bake for 10-12 minutes or until golden brown.
Tahini Caesar Dressing
Make the dressing by adding the tahini, water, capers, lemon juice, garlic, and Dijon Mustard to a small food process or blender cup. Puree until smooth.
For the Salad
Add the chopped kale and olive oil to a large bowl. Massage kale until leaves start to soften and release grassy smell. Add croutons, vegan parmesan, and dressing. Toss to coat salad in dressing. Season with salt to taste. Garnish with lemon zest to serve.
Notes
Not a fan of kale? Just use romaine lettuce instead!
Use a smoothie blender cup or small food processor to puree the dressing – the smaller appliance works better than a full size one.
Salad will keep in the fridge for up to 3 days, however the croutons will start to soften. If you want to prep ahead, store croutons separately.
Nutrition
Serving: 1salad | Calories: 208kcal | Carbohydrates: 10g | Protein: 8g | Fat: 16g | Saturated Fat: 3g | Polyunsaturated Fat: 5g | Monounsaturated Fat: 7g | Cholesterol: 4mg | Sodium: 365mg | Potassium: 232mg | Fiber: 3g | Sugar: 1g | Vitamin A: 3316IU | Vitamin C: 33mg | Calcium: 192mg | Iron: 2mg
Reader Interactions