Keep these healthy morning glory bran muffins on hand for a quick snack or an accompaniment to your morning smoothie.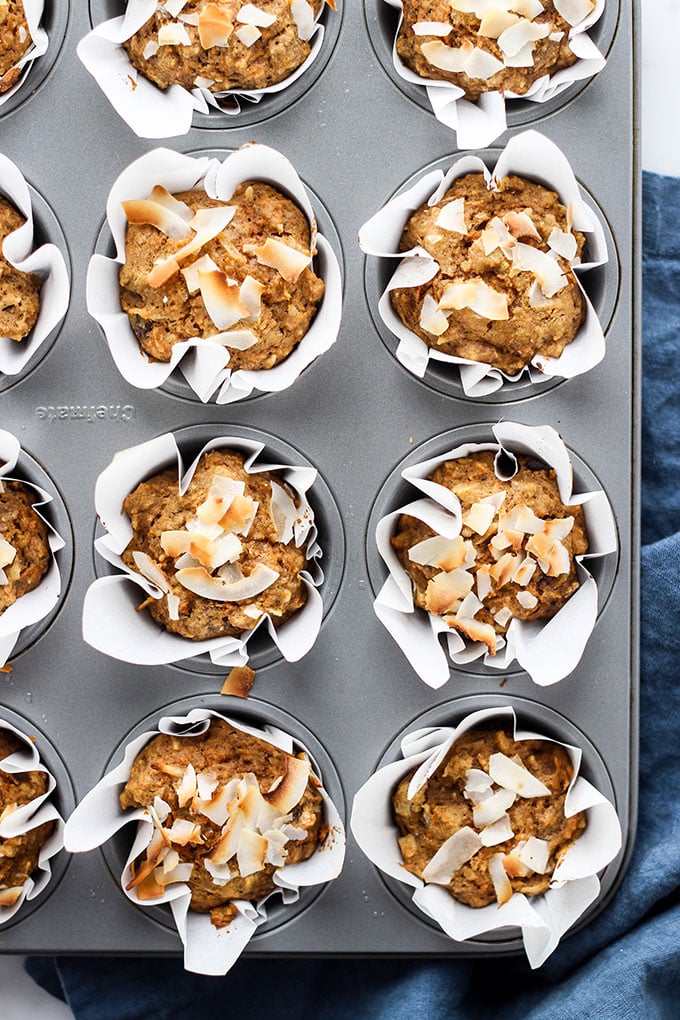 Let's talk about eating healthy during the holidays. It's tough, right? I too struggle to not go all out cookie monster style on the abundance of sweet treats around at work and at holiday parties. I never suggest giving up all sweets cold turkey, especially in the holiday season. Enjoy your favorite sweet treats, just eat healthy meals throughout the day.
Did you overindulge one day on all the treats, eggnog, and cheesy dishes? Start the next day off on the right track again with a healthy breakfast! One day or even one meal doesn't have to ruin your healthy eating habits for the entire season. You just eat healthy at the next meal and remind yourself that it's ok to let yourself savor some of your favorite holiday treats.
I also keep healthy snacks like these morning glory bran muffins on hand so that when I have the munchies, I have something healthy I can reach for before I start raiding the Christmas cookie jar. They also make for a great pre-workout snack or the perfect accompaniment to your morning smoothie!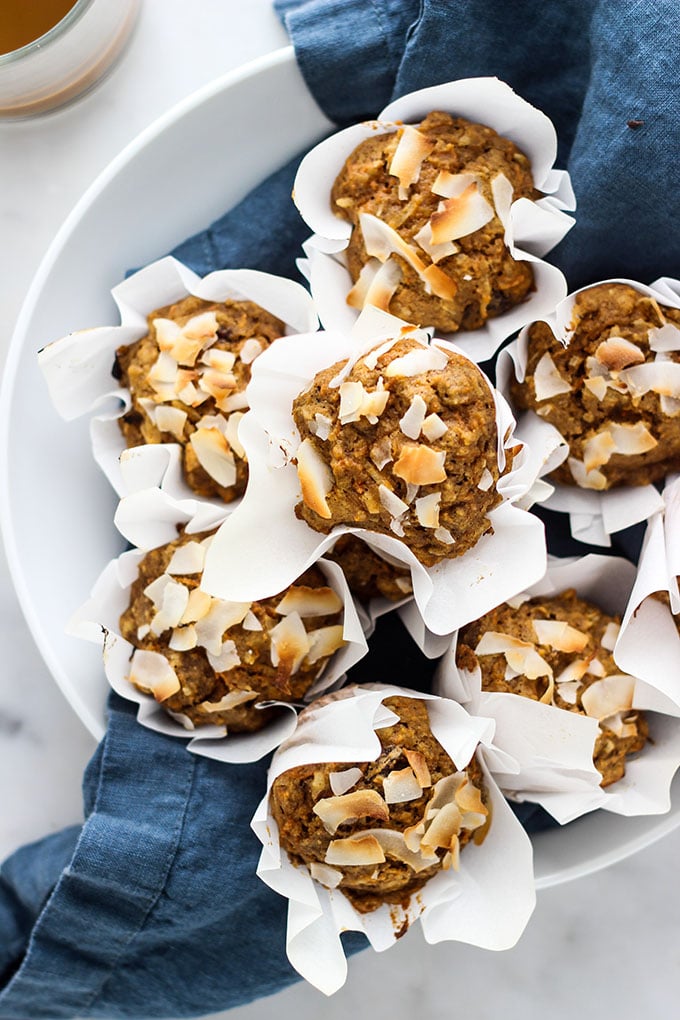 These muffins are packed full of heart healthy fiber thanks to the bran cereal, coconut, and carrot. Plus, I just can't get over the flavor of the warming spices in these muffins that are so perfect for this season: cinnamon, ginger, and nutmeg. Mmmm!
More Delicious Recipes You'll Love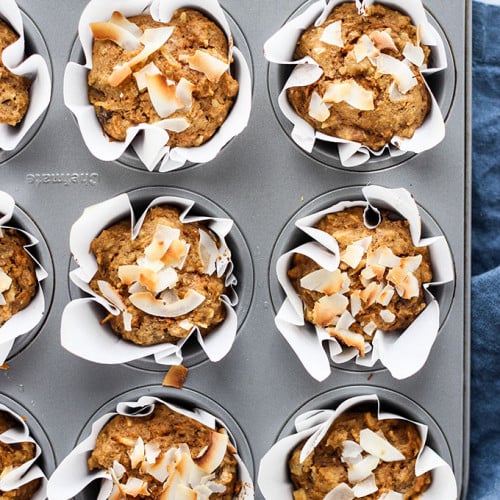 Morning Glory Bran Muffins
Keep these healthy morning glory bran muffins on hand for a quick snack or an accompaniment to your morning smoothie.
Ingredients
1 1/2 cups bran cereal
1 cup almond milk can also use soy, oat, or hemp milk
1 cup whole wheat flour
1 tablespoon baking powder
1/3 cup brown sugar packed
1 egg
1/4 cup canola oil
1 carrot peeled and shredded (~1/2 cup shredded)
1/2 cup unsweetened coconut flakes
1/2 cup chopped walnuts
1 teaspoon cinnamon
1 teaspoon shredded freshly grated or dried ginger
1/4 teaspoon nutmeg
1 teaspoon vanilla extract
1/8 th teaspoon sea salt
Optional: Unsweetened coconut chips for topping
Instructions
Preheat the oven to 400 degrees Fahrenheit. Line a muffin tin with paper liners or spray well with cooking spray.

In a medium bowl combine the cereal and milk. Let sit for a couple of minutes to soften the cereal.

In a large mixing bowl, whisk together the flour and baking powder. Next add all the rest of the ingredients (brown sugar to sea salt) and the milk-soaked cereal.

Stir until no dry clumps are visible. Divide dough evenly between 12 muffin wells. Top with coconut chips if desired.

Bake for 20 minutes or until tops of muffins are springy when lightly touched.

Allow to cool and serve!
Nutrition
Serving: 1muffin | Calories: 175kcal | Carbohydrates: 22g | Protein: 3.5g | Fat: 10.5g | Saturated Fat: 2.5g | Polyunsaturated Fat: 8g | Cholesterol: 15.5mg | Sodium: 275mg | Fiber: 5.5g | Sugar: 6.5g
Reader Interactions