This pasta with creamy vegan tomato sauce is the perfect dinner for busy weeknights when paired with a side salad and Italian veggie sausage.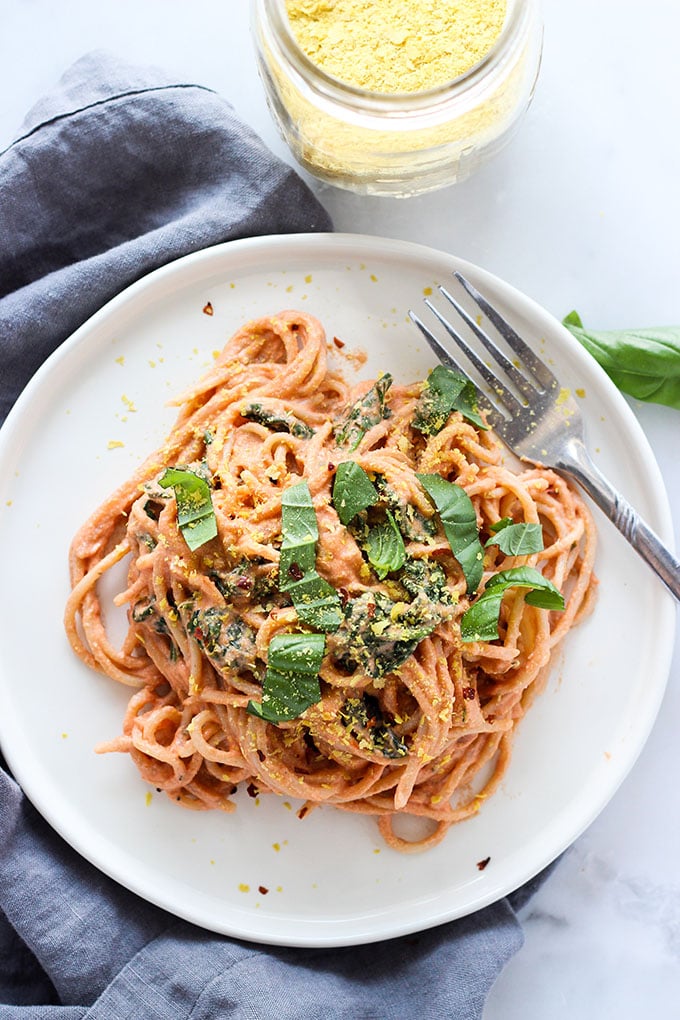 Say hello to one of my new favorite supper dishes for summer! This creamy vegan pasta sauce comes together in a matter of minutes and needs less than 10 ingredients. Toss with spaghetti noodles or spiralize some zucchini and use that in place of the pasta. I plan to do a mix of both next time I make this. 🙂
Tips for Making the Sauce
Make sure to soak the cashews in advance. The only drawback of this recipe is that you need to remember to soak some cashews ahead of time in the fridge so that they will make a smooth puree.
Use the small blender/smoothie cup attachment. Since I don't have a high powered blender, I found that soaking the cashews overnight and pureeing them in the small blender cup attachment worked perfectly for this recipe. You want to make sure you get the puree to be the consistency of a delicious frozen yogurt.
Food processor may need extra blending time. If using a food processor, you'll want to be patient. It takes a little longer to get to the right consistency!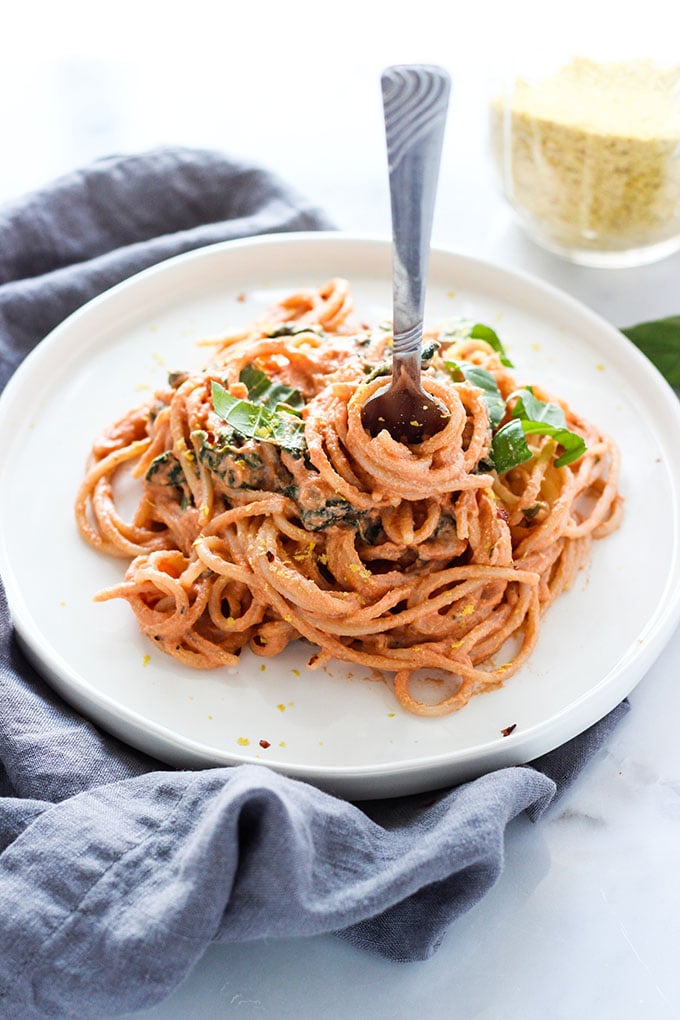 How to Serve this Pasta
To serve, toss the sauce in the pasta and top with a sprinkle of nutritional yeast. I also stirred in some fresh spinach for some extra fiber. Serve this with a side salad and a sliced vegan Italian sausage and you have a simple, balanced meal that is quick enough for even the busiest weeknight.
More Pasta Recipes You'll Love
Did you love this recipe? Make sure to leave a ⭐️ rating and tag #dietitiandebbie on instagram!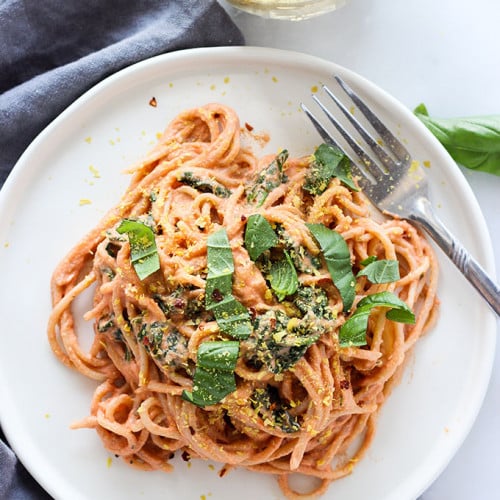 Pasta with Creamy Vegan Tomato Sauce
This pasta with creamy vegan tomato sauce is the perfect dinner for busy weeknights when paired with a side salad and Italian veggie sausage.
Ingredients
1 cup raw cashews soaked 4 hours to overnight
1/2 cup vegetable broth
1 15 oz. can tomato sauce
3-4 fresh basil leaves
1 tablespoon olive oil
1/2 medium onion chopped
2 cloves garlic minced
1 teaspoon chopped fresh oregano or 1/2 teaspoon dried oregano
Dash of dried red pepper flakes
3 cups fresh spinach
Sea salt and Ground Black Pepper to taste
4 servings pasta cooked according to package directions
Instructions
Add cashews and vegetable broth to high speed blender or single serving blender cup and puree until smooth – about the consistency of frozen yogurt.

Transfer to the food processor or blender pitcher (if using single serve blender cup) and add the tomato sauce and basil. Puree again until combined.

In a skillet, add the olive oil and onion. Cook until onion is softened and translucent. Add garlic, oregano, and red pepper flakes and cook for 1 more minute.

Stir in the tomato/cashew puree. Cook for 2-3 minutes. Stir in the spinach and cook until wilted. Season with salt and ground black pepper.

Toss drained pasta noodles in sauce to coat well. Serve with chopped fresh basil and nutritional yeast.
Notes
*To make this gluten free, use your favorite gluten free pasta.
Nutrition
Serving: 1/4 recipe | Calories: 430kcal | Carbohydrates: 53g | Protein: 14g | Fat: 22g | Saturated Fat: 4g | Polyunsaturated Fat: 18g | Sodium: 100mg | Fiber: 7.5g | Sugar: 5.5g
Reader Interactions