This vegan roasted red pepper dip is a super simple appetizer and perfect for whipping up when you are tired of hummus. All you need are a couple simple ingredients like walnuts, chickpeas, garlic, and roasted red peppers from a jar.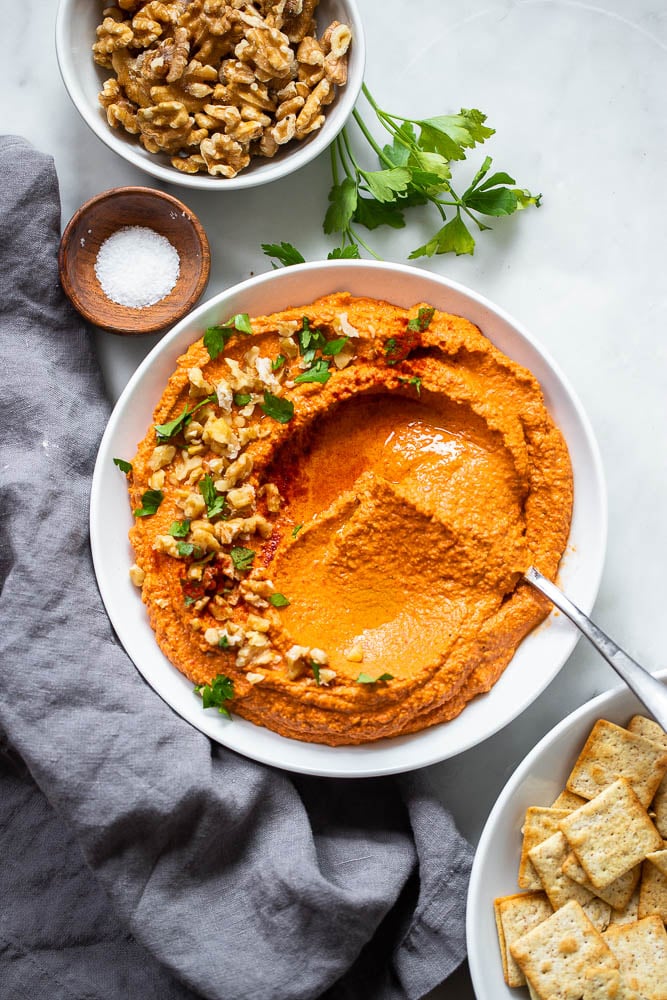 This simple roasted red pepper dip is my new favorite party food! Just like hummus, you can throw all the ingredients into a blender and puree until smooth and you have an irresistible dip that is great with crackers or veggies. This roasted red pepper dip is a hybrid of hummus and this red pepper/walnut spread called muhammara that originated in Syria.
Traditional muhammara ingredients include: Aleppo pepper, walnuts, breadcrumbs, and olive oil. Some adaptations may also include garlic, lemon juice, cumin and pomegranate molasses. Check out this recipe if you want to try a traditional muhammara.
Ingredient Notes and Substitutions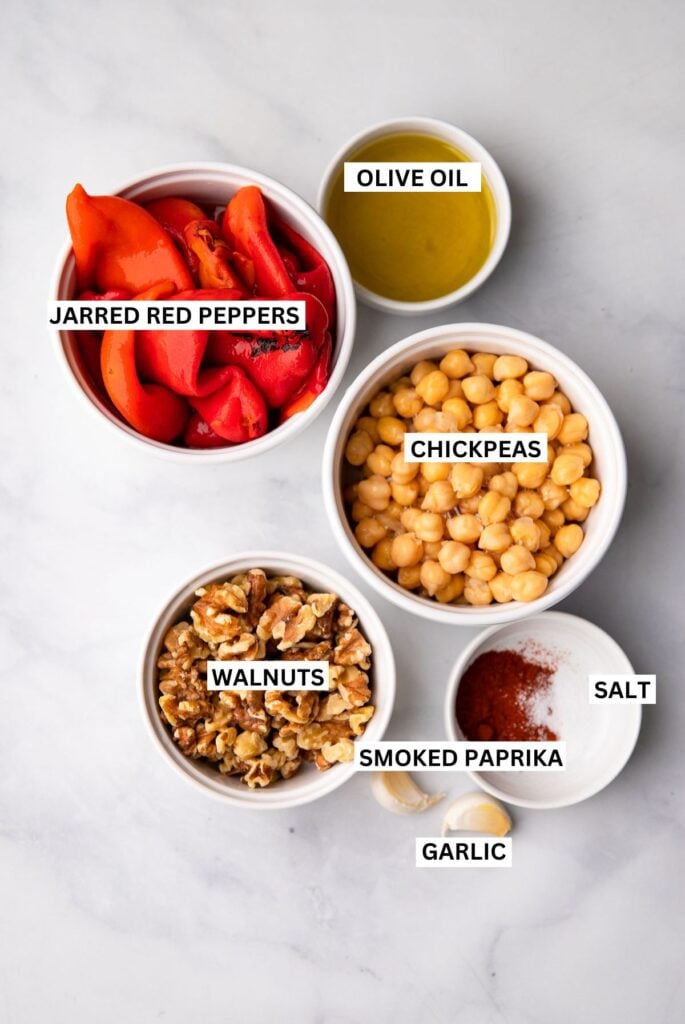 Jarred Roasted Red Peppers: You can make your own roasted red peppers, but I just buy the jarred ones so that this recipe comes together in about 5 minutes.
Walnuts: add creaminess and healthy fats to this recipe. You can also use roasted almonds.
Chickpeas: adds plant-based protein as well as creaminess to the dip. You could also use cannellini beans instead of chickpeas.
Olive Oil: helps everything blend together in the food processor and adds a subtle earthy flavor. You can use another high quality oil like avocado oil or flax oil if you prefer.
Garlic: adds a bunch of delicious flavor! If you aren't a fan of raw garlic in recipes like this dip – you can use 1 teaspoon granulated garlic instead.
Smoked Paprika: pairs well with the hint of smokiness from the jarred red peppers. You can use regular paprika if you don't have smoked paprika.
How to Make this Red Pepper Dip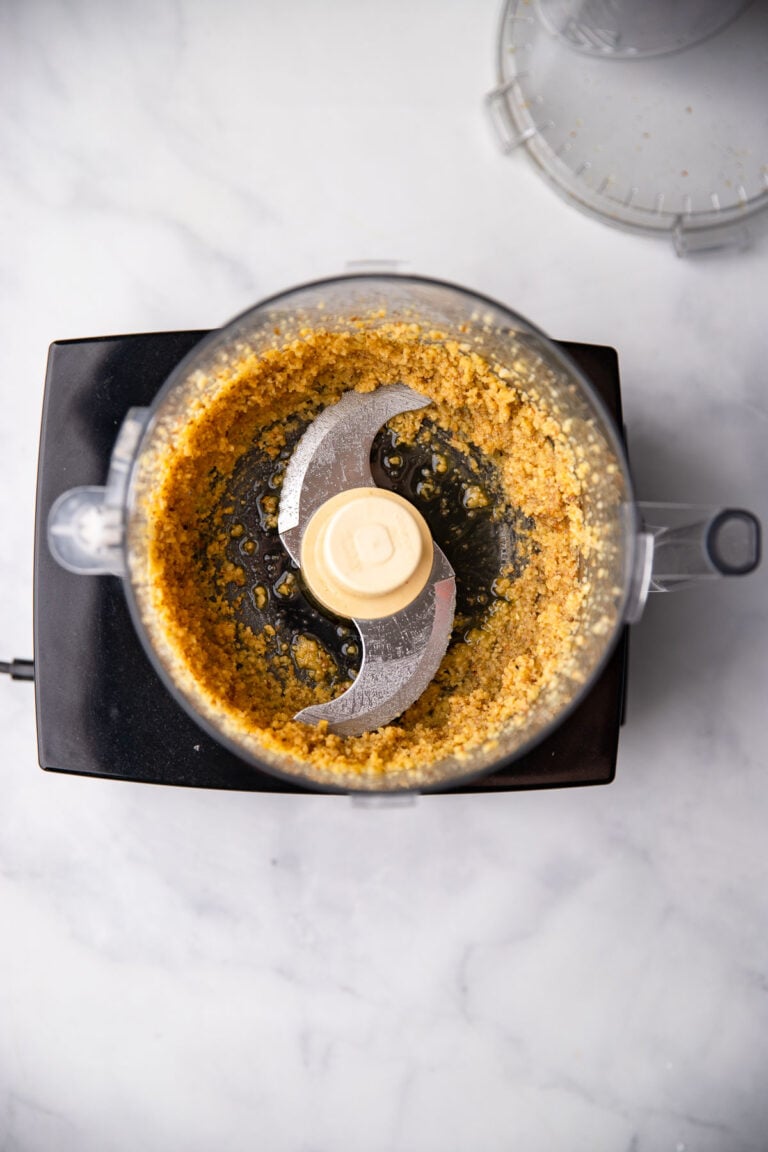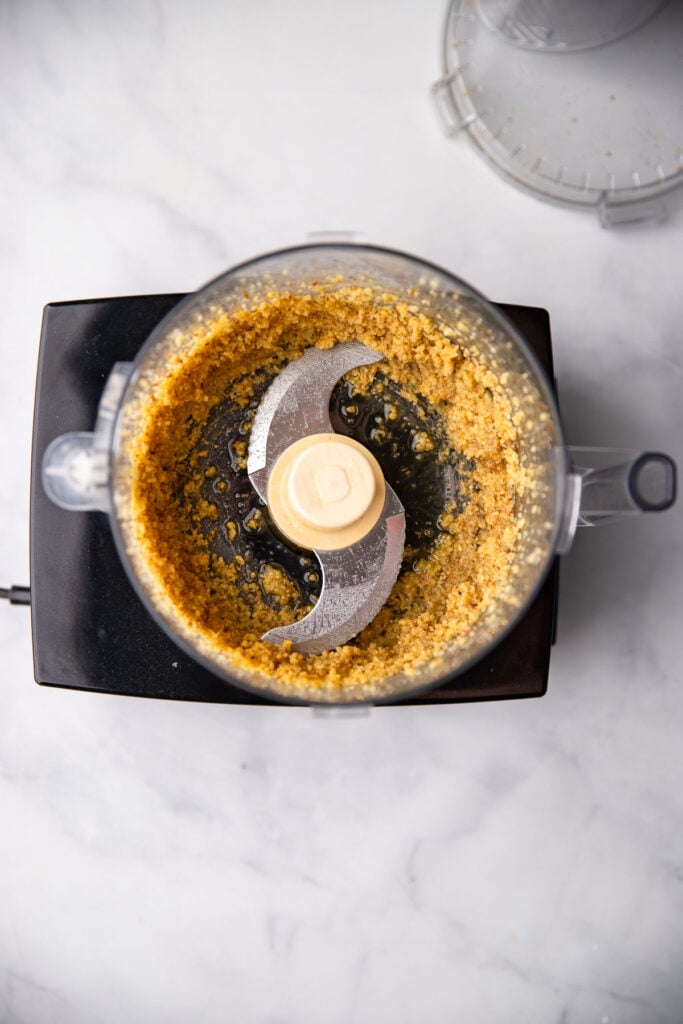 You can make this dip in either a food processor or high powered blender.
STEP 1: Add the walnuts and oil to a food processor and blend until walnuts are the texture of breadcrumbs. This step just helps prevent any large walnut pieces being left behind when you add the rest of the dip ingredients.
STEP 2: Add the rest of the ingredients (red peppers, chickpeas, garlic, smoked paprika, salt, and pepper. Puree until smooth.
Is roasted red pepper dip good for you?
Thanks to the red pepper, this dip is loaded with vitamins A and C. The walnuts add heart healthy omega 3 and the chickpeas are a good source of protein and fiber. All of which make this dip a healthy snack option! In fact, this week I've been snacking on it after work to curb the munchies before dinner is on the table.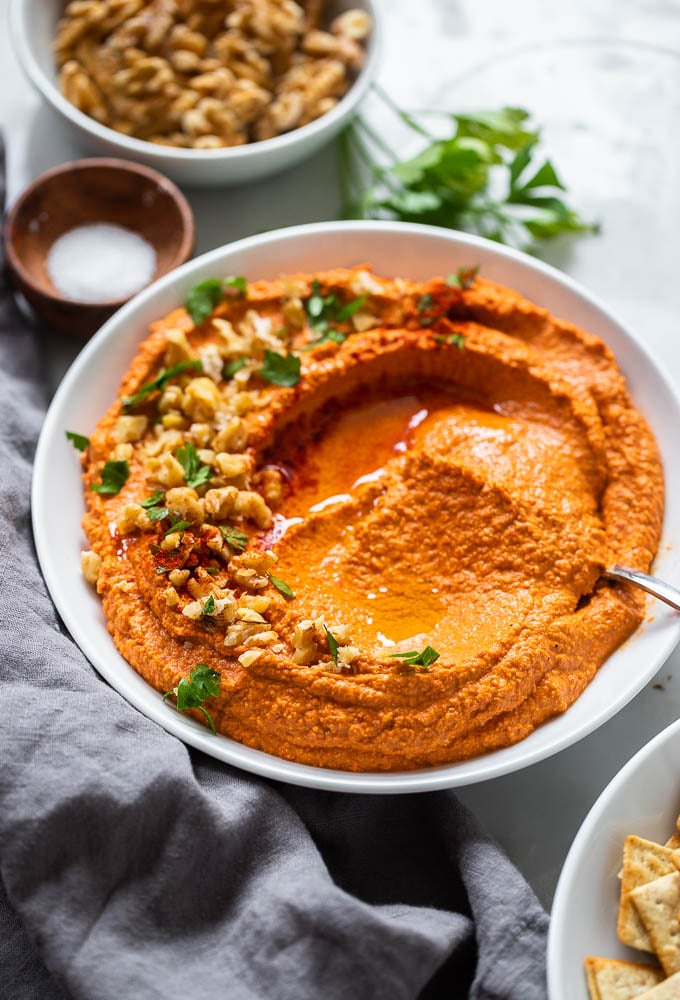 How to serve roasted red pepper dip
With Dip-Friendly Foods: serve on a platter with lots of chopped fresh vegetables for dipping. My favorite veggies to serve with this dip include: cucumber, broccoli, cauliflower, snap peas, and carrots.
With Roasted or Grilled Veggies: drizzle this sauce over roasted vegetables to add flavor. It would be perfect with roasted cauliflower steaks or even this roasted cabbage. You could even use it on grilled vegetables – eggplant would be my top pick!
With Crackers or Crostini: make yourself a delightful little appetizer plate by spreading a spoonful of this dip over crackers or crostini. Sprinkle with some chopped parsley and flakey sea salt for an easy snack or appetizer.
Spread onto a Sandwich or Wrap: I love spreading leftover dip onto bread or a wrap and then packing with a bunch of fresh veggies and vegan cheese. It would be a delicious addition to these roasted eggplant sandwiches.
With a Grain Bowl: add this dip to a grain bowl like this shawarma cauliflower bowl with roasted veggies for tons of flavor.
Make Ahead and Storage
Make Ahead: dip can be made up to 3 days in advance and stored in the fridge.
Fridge: dip can be stored in the fridge for up to 3-4 days in an airtight container. It will thicken some when chilled so let it sit on the counter for a few minutes and give it a good stir before serving.
Freezer: freeze dip in an airtight container for up to 3 months. Allow to thaw in the fridge overnight before stirring well and serving.
More appetizer and snack recipes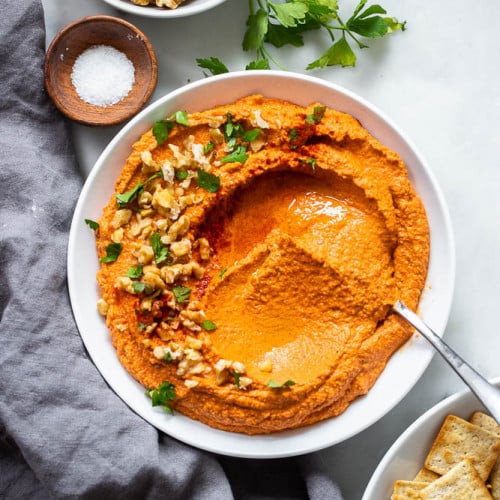 Roasted Red Pepper Dip
This vegan roasted red pepper dip is loaded with flavor and a delicious alternative to hummus to bring to your next party.
Ingredients
1 cup walnuts
1/4 cup olive oil
1 (15 oz.) can chickpeas, drained
3 cloves garlic
1 (12 oz.) jar roasted red peppers, drained
1/4 teaspoon sea salt
1 teaspoon smoked paprika
Dash of cayenne
To Serve
Chopped parsley
Chopped walnuts
Crackers & chopped vegetables
Instructions
Add the walnuts and the olive oil to the blender and puree until walnuts are ground to size of breadcrumbs.

Add the rest of the ingredients (chickpeas, garlic, red peppers, sea salt, and paprika) and puree until smooth.

Top with a sprinkle of paprika, drizzle of olive oil (~1/2 teaspoon), walnuts, and chopped parsley before serving to garnish. Serve with crackers and chopped vegetables for dipping.
Notes
Recipe makes about 2 1/2 cups of dip.
Store any leftover dip in an airtight container in the fridge for up to 3 days. 
Dip can be served with crackers and cut vegetables for dipping. 
Use this dip in sandwiches or wraps OR add it to roasted/grilled vegetables or tofu. 
Nutrition
Serving: 1/3 cup | Calories: 253kcal | Carbohydrates: 19g | Protein: 7g | Fat: 18g | Saturated Fat: 2g | Polyunsaturated Fat: 8g | Monounsaturated Fat: 7g | Sodium: 659mg | Potassium: 292mg | Fiber: 6g | Sugar: 3g | Vitamin A: 362IU | Vitamin C: 21mg | Calcium: 61mg | Iron: 2mg
Reader Interactions