This vegan roasted red pepper dip is a super simple appetizer and perfect for whipping up when you are tired of hummus. All you need are a couple simple ingredients like walnuts, chickpeas, garlic, and roasted red peppers from a jar. #vegan #glutenfree
This simple roasted red pepper dip is my new favorite party food! Just like hummus, you can throw all the ingredients into a blender and puree until smooth and you have an irresistible dip that is great with crackers or veggies. This roasted red pepper dip is a hybrid of hummus and this red pepper/walnut spread called muhammara that originated in Syria. Traditional muhammara ingredients include: Aleppo pepper, walnuts, breadcrumbs, and olive oil. Some adaptations may also include garlic, lemon juice, cumin and pomegranate molasses. Check out this recipe if you want to try a traditional muhammara.
Is roasted red pepper dip good for you?
Thanks to the red pepper, this dip is loaded with vitamins A and C. The walnuts add heart healthy omega 3 and the chickpeas are a good source of protein and fiber. All of which make this dip a healthy snack option! In fact, this week I've been snacking on it after work to curb the munchies before dinner is on the table.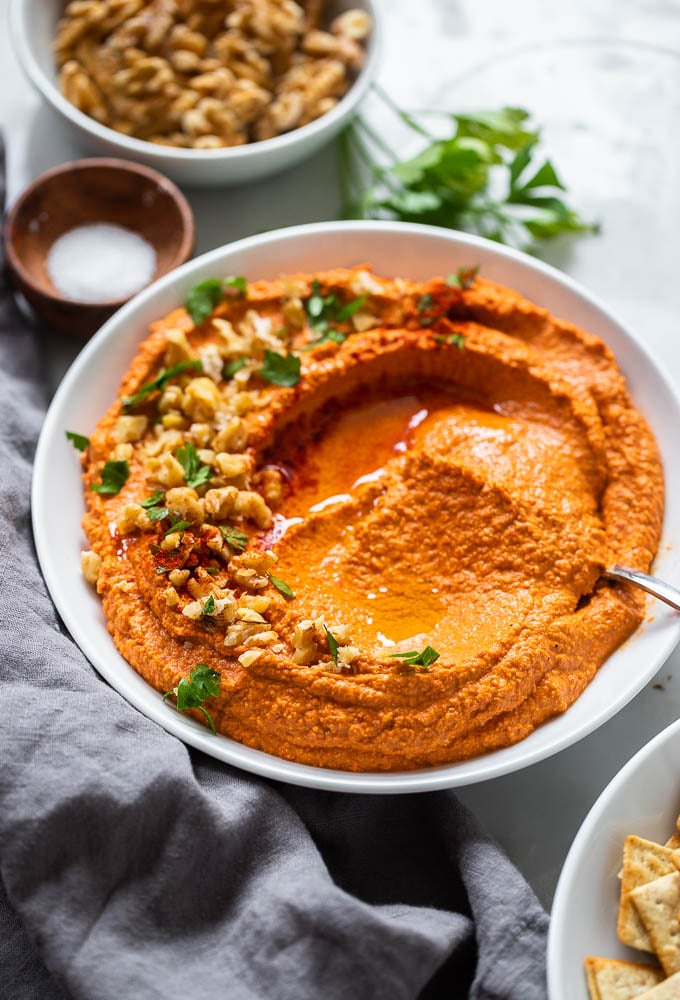 How to serve roasted red pepper dip
I usually serve this with cracker and cut vegetables like carrots, celery, or cucumber. Use it as a spread on toast/pita or a sauce for grilled tofu or roasted vegetables.
Other vegan snack recipes you don't want to miss: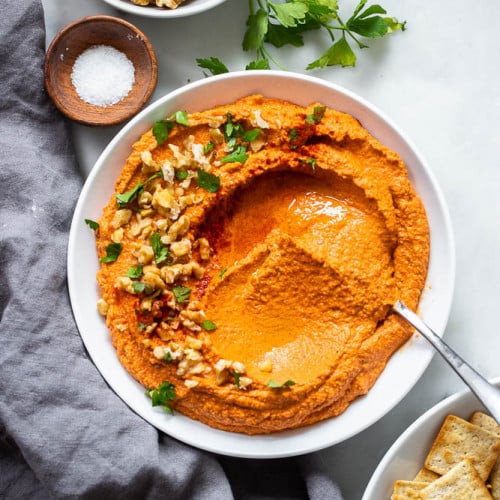 Roasted Red Pepper Dip
This vegan roasted red pepper dip is loaded with flavor and a delicious alternative to hummus to bring to your next party.
Ingredients
1 cup walnuts
1/4 cup olive oil
1 15 oz. can chickpeas, drained
3 cloves garlic
1 12 oz. jar roasted red peppers, drained
1/4 teaspoon sea salt
1 teaspoon smoked paprika
Dash of cayenne
To serve: chopped parsley olive oil, chopped walnuts, crackers, vegetables
Instructions
Add the walnuts and the olive oil to the blender and puree until walnuts are ground to size of breadcrumbs.

Add the rest of the ingredients (chickpeas, garlic, red peppers, sea salt, and paprika) and puree until smooth.

Top with a sprinkle of paprika, drizzle of olive oil (~1/2 teaspoon), walnuts, and chopped parsley before serving to garnish. Serve with crackers and chopped vegetables for dipping.
Nutrition
Serving: 1/3 cup | Calories: 213kcal | Carbohydrates: 11g | Protein: 5g | Fat: 17.5g | Saturated Fat: 2g | Polyunsaturated Fat: 15.5g | Sodium: 230mg | Fiber: 4g | Sugar: 1g
Reader Interactions