These colorful shawarma cauliflower hummus bowls are packed with flavor and easy enough to make on a weeknight. Grab a bowl and pile it high with hummus, quinoa, shawarma cauliflower, olives, and colorful veggies.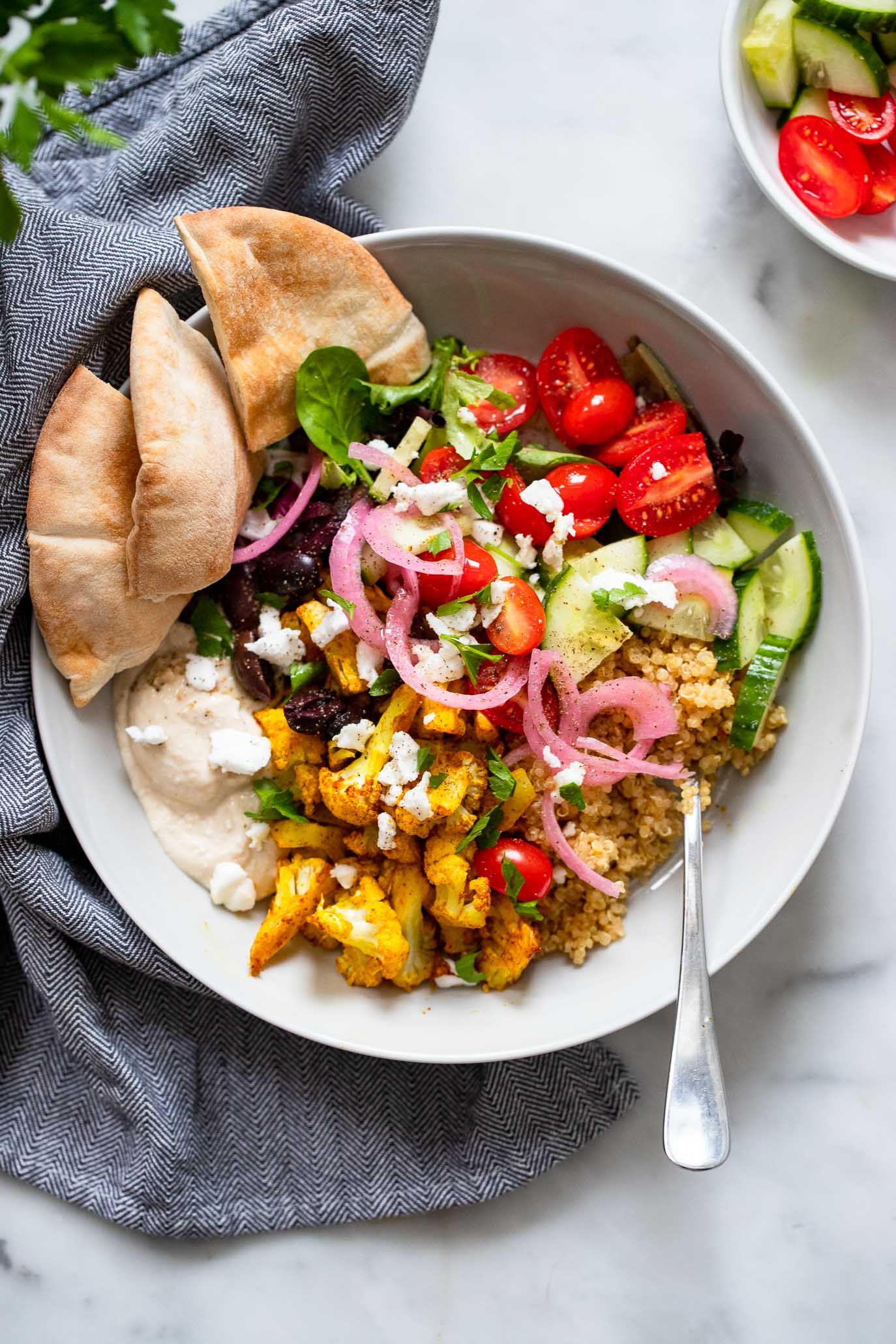 These shawarma cauliflower hummus bowls have made it into our weekly rotation of dinner meals so I thought it was about time I share the recipe here! I love a good, hearty meal in a bowl like these hummus bowls. Here are just a few of my other favorite healthy bowl meals from the blog: vegan burrito bowls, soba noodles with peanut sauce, tofu power bowls with spicy almond sauce, vegan tex mex bowls, and these buffalo tempeh salads.
Why You'll Love this Recipe
You'll love this recipe because it is colorful, chock full of flavor, and easily adaptable. I also find that it is super meal prep friendly. I usually prep the quinoa and pickled red onions ahead of time so that this hummus bowl comes together so quickly after work. Also, the leftovers are great for lunch the next day at work.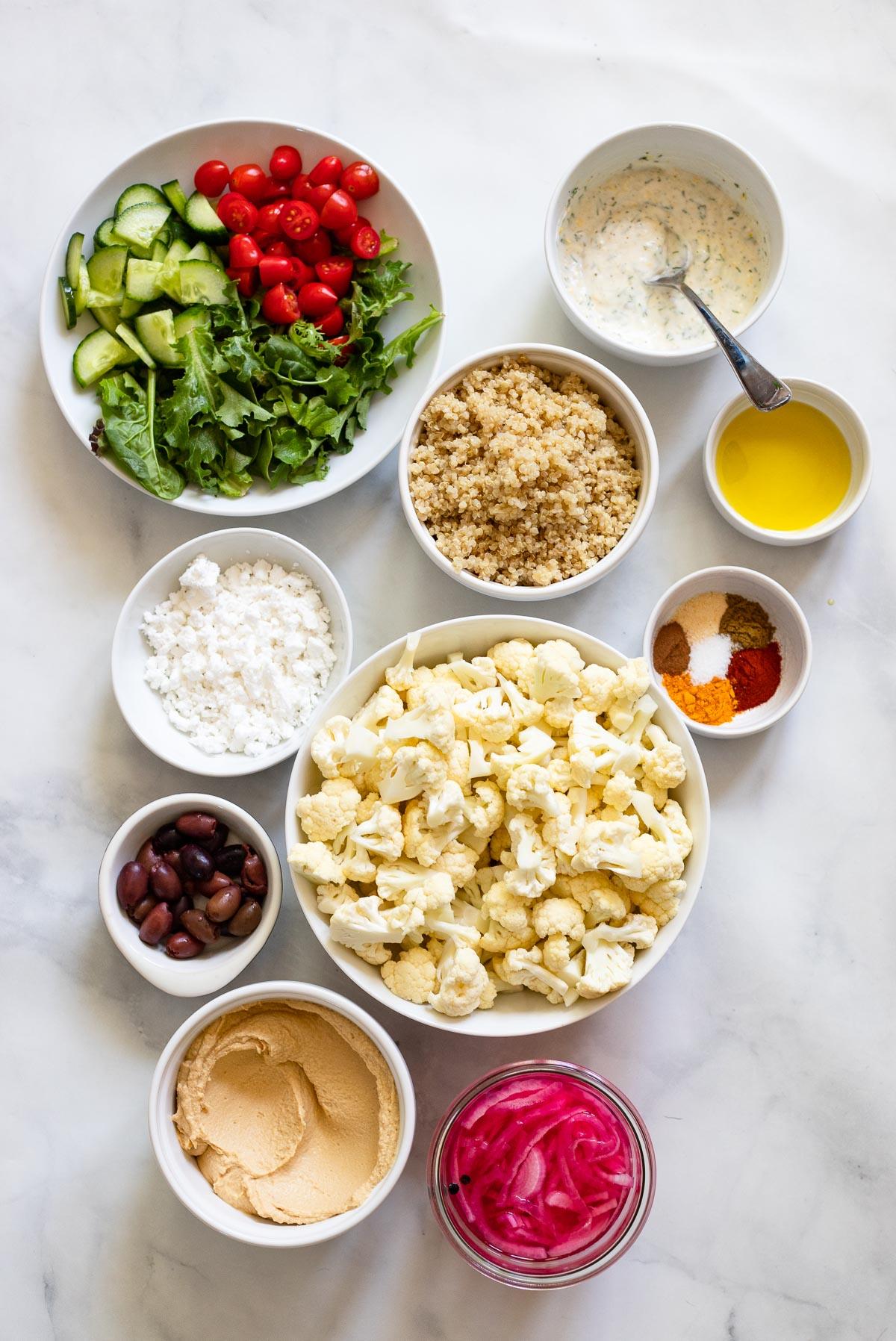 Ingredient Notes
Shawarma Seasoning: a winning combo of pantry-friendly spices that packs a serious punch of flavor! You'll use paprika, onion, cumin, turmeric, cinnamon, and salt.
Cauliflower: love using cauliflower in recipes like this one where is just soaks up all that flavor from the shawarma seasoning. Roast at high heat in the oven for crispy edges.
Quinoa: substitute any grain if you prefer – rice, farro, orzo pasta, couscous, or barley would all work well.
Veggies: Add some color and healthy nutrients! I like to add spring mix, chopped tomatoes, and chopped cucumber.
Pickled Red Onion and Olives: Add some zest with some pickled elements. Included in the recipe card below is my go-to recipe for pickled red onion. Kalamata olives are my favorite to use in this bowl but you can use any that you like. Banana peppers are also a great addition to this recipe!
Hummus: Use any favorite or homemade hummus for this recipe. You could also add canned chickpeas if you wish.
Pita: totally optional, but I like serving this bowl with a few wedges of fresh pita.
Vegan Feta Cheese: I love adding a bit of crumbled vegan feta cheese to finish off my bowl.
Vegan Tzatziki: optional sauce for drizzling on your bowls when serving.
Step by Step Instructions
Here is how to make these shawarma cauliflower hummus bowls. To make prep and assembly even faster, I try to gather all the ingredients first and set them out on the counter and then get to work. If you want to add pickled onions to these bowls, make sure to prep those either in the morning or the day before so they have some time to marinate. (See recipe card below for pickled onion recipe.)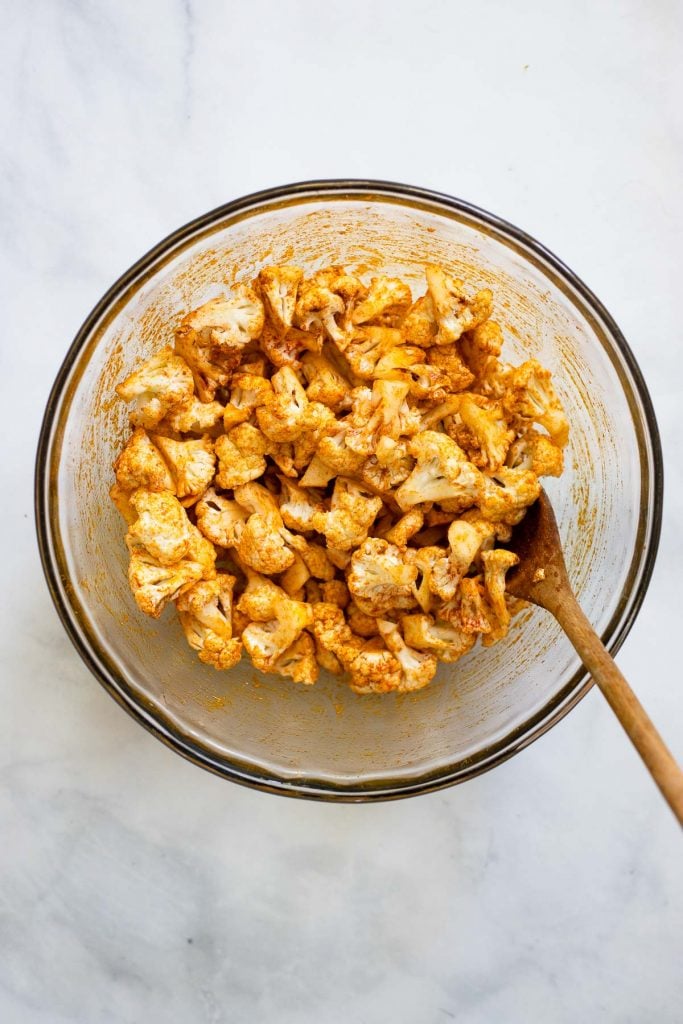 STEP 1: Stir together the shawarma seasoning. Add chopped cauliflower to a bowl and toss to coat in oil. Sprinkle with shawarma seasoning and toss to coat again. Transfer to sheet pan and bake until tender.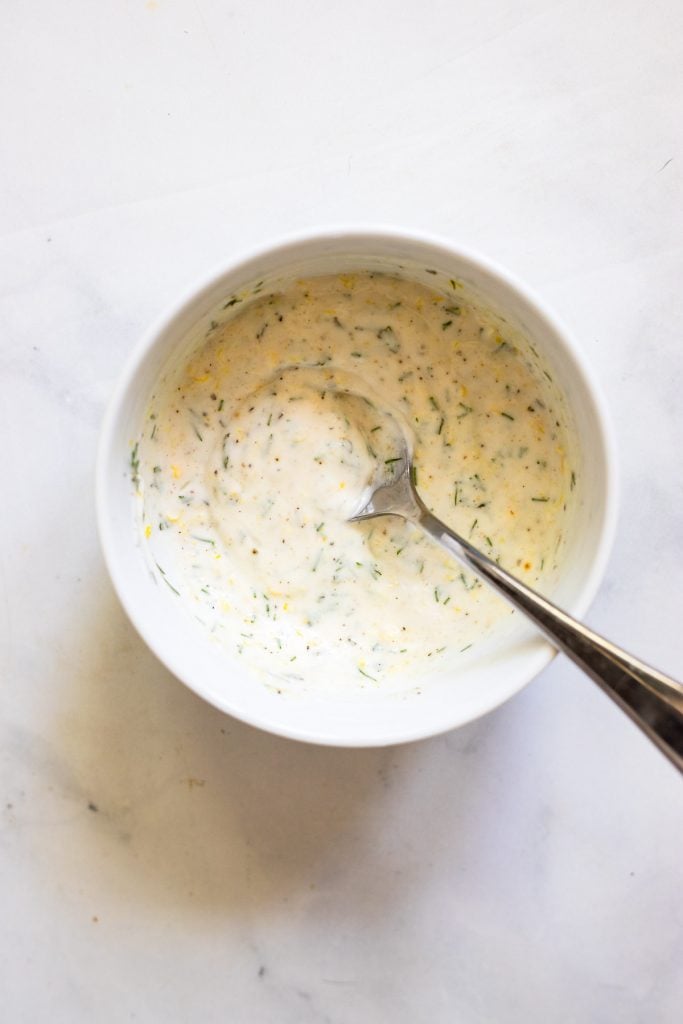 STEP 2: While cauliflower bakes, prep the other ingredients you'll need for the bowls. Cook your grain of choice (I used quinoa), chop veggies, and warm up your pita bread. This bowl is also delicious with a drizzle of tzatziki sauce too so stir that up while the cauliflower roasts. Pull out your pickled onions OR grab some other pickled element like banana peppers to add.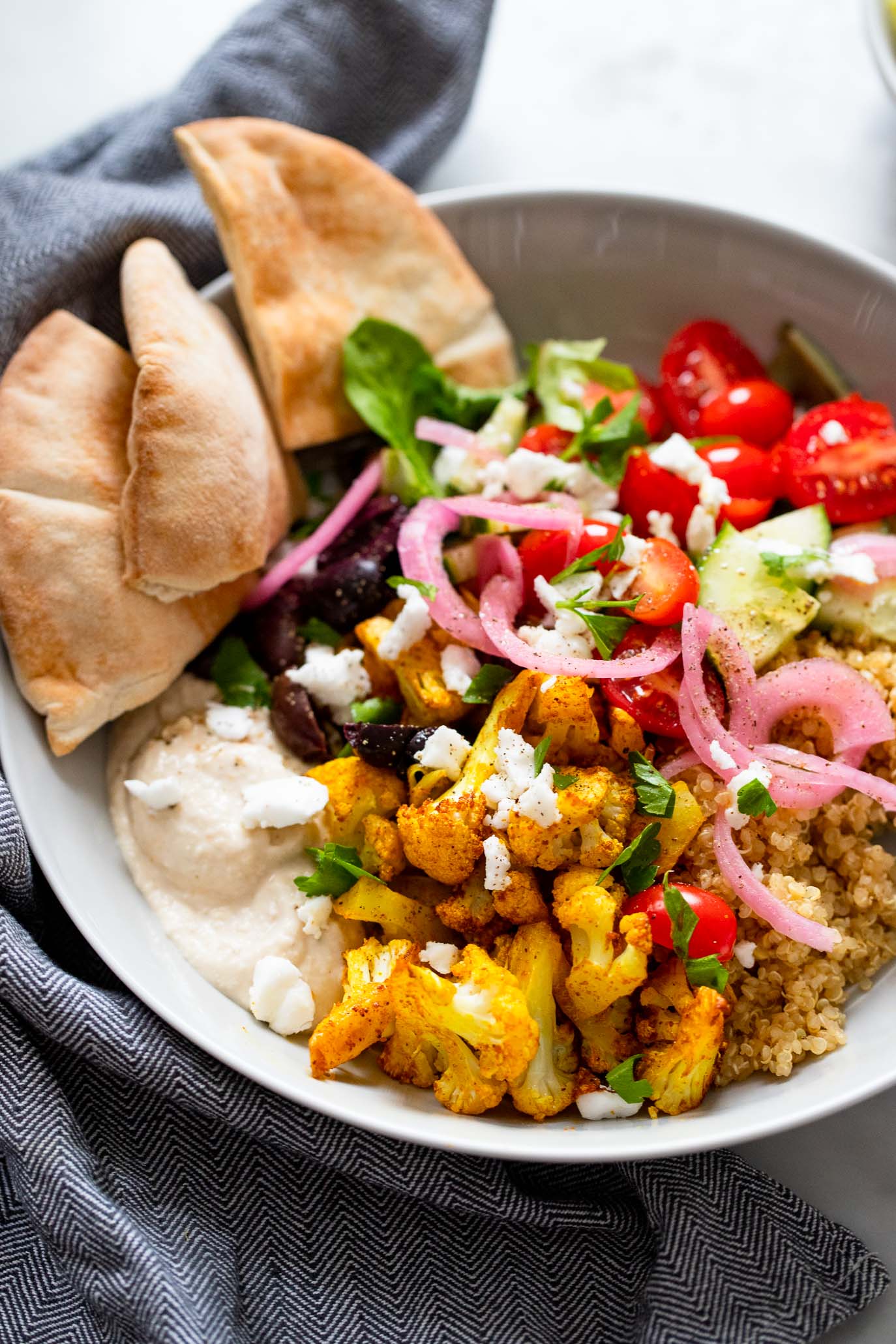 STEP 3: Assemble your bowls by adding hummus, quinoa, chopped vegetables, olives, onions, pita, and the shawarma cauliflower. Drizzle with tzatziki if using and/or a bit of crumbled vegan feta. (I like the VioLife vegan feta.)
Make Ahead and Storage
Make Ahead: There are several elements to this bowl that you can make ahead so that it is much faster to assemble! Prep the shawarma seasoning and quinoa up to a couple days before. You can also pre-chop your veggies to make assembly much faster the day you plan to serve it.
Storage: Store any leftovers in an airtight container in the fridge for up to 3 days. I prefer to reheat my cauliflower in the air fryer or my toaster oven so that it crisps back up again. You can reheat in the microwave as well.
Other Recipes to Try
Make sure to leave a STAR REVIEW if you loved this recipe! Also, tag me on Instagram @dietitiandebbie so I can see what recipes you've been loving. For even more recipe inspiration, follow me on Pinterest.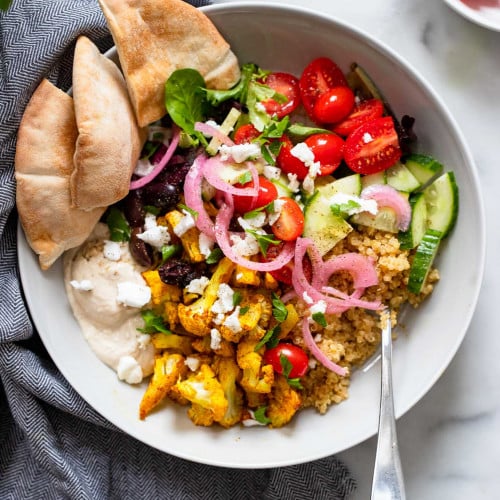 Shawarma Cauliflower Hummus Bowls
The colorful shawarma cauliflower hummus bowls are packed with flavor and easy enough to make on a weeknight. Grab a bowl and pile it high with hummus, quinoa, shawarma cauliflower, olives, and colorful veggies. 
Ingredients
For the Shawarma Cauliflower:
For the Hummus Bowls:
2 cups cooked quinoa
1 cup hummus
1 1/4 cup cherry tomatoes halved
1/2 English cucumber sliced and quartered
1/4 cup Kalamata olives halved
6-8 tablespoons crumbled vegan feta
2 cups spring mix
4 pieces pita bread
Optional: Pickled red onion*
Optional: Vegan tzatziki sauce**
Instructions
Preheat oven to 375 degrees Fahrenheit. 

Add chopped cauliflower and olive oil to a large mixing bowl and toss to coat. 

Mix shawarma seasonings together in a small bowl. Sprinkle over cauliflower and toss. Transfer to baking sheet and bake for 25-30 minutes or until tender. 

While the cauliflower bakes, make your quinoa and prepare the vegetables. 

Assemble bowls by adding some quinoa, hummus, 1/4 of the cauliflower, chopped vegetables (lettuce, tomatoes, cucumber), pickled red onion, olives, vegan feta, and tzatziki. Add quartered pita bread to the side. 
Notes
To make pickled red onion: To a jar, add 1 thinly sliced small red onion, 1/2 cup hot water, 2/3 cup white vinegar, 1 teaspoon sea salt, 5-6 whole black peppercorns, and 1/2 teaspoon granulated white sugar. Stir and refrigerate for at least 3 hours to overnight before use.
To make vegan tzatziki sauce: In a bowl, mix together 1/2 cup plain unsweetened vegan yogurt (I like Kite Hill Greek-style), 1-2 tablespoons chopped fresh herbs (use any combo mint, dill, parsley), 1 teaspoon lemon zest, 1/2 teaspoon garlic powder, sea salt and ground black pepper.
Nutrition
Serving: 1/4 recipe | Calories: 560kcal | Carbohydrates: 83g | Protein: 20g | Fat: 20g | Saturated Fat: 4.5g | Polyunsaturated Fat: 15.5g | Sodium: 940mg | Fiber: 14.5g | Sugar: 9g
Reader Interactions