It's about time I share a super easy homemade guacamole recipe here on the blog! Although I love ordering a good guacamole when we are out to eat, I haven't been making at home much and I wanted to come up with a recipe that I liked. After many test rounds, here it is! Luckily, good homemade guacamole is easy to make and requires just a few simple ingredients: avocado, red onion, cilantro, lime, cumin, salt, pepper, and cherry tomatoes. No only does guacamole taste great, but it is the perfect appetizer for a party since pretty much anyone can enjoy including those that are vegan, vegetarian, gluten free, Whole30, and low carb.
Guacamole Tips
How do you pick the best avocado? You want to choose avocados that are firm but yield to the slightest pressure when squeezed. If you can feel that it is soft immediately when you pick it up, the avocado is likely too ripe. If you squeeze and the avocado feels hard/firm, you need to wait to make your guacamole. If you have under-ripe avocados, you can speed up the ripening process by placing them in a sealed brown paper bag on the counter. Make sure to cut out any brown spots as these can make your guacamole turn brown quicker. Also, if you cut open your avocado and it is mostly brown or stringy, you just have to toss it – you can't make a good guacamole with that!
Don't skip the lime. Seriously, guacamole only requires a few ingredients and lime may the second most important ingredient after the avocado. Don't use lemon instead! Don't skip the lime either since the acidity of the lime is really important for balancing out the high fat content/creaminess of the avocados.
The right amount of salt is key. Guacamole needs a little time for the flavors to blend together so start with 1/2 teaspoon sea salt and then let the guacamole sit for 5 minutes. Taste it again and then add more salt if needed.
Mash it by hand. Don't pull out the food processor to make guacamole. Save yourself the hassle of cleaning it and just mash everything up with a fork in a small-medium mixing bowl. Plus, guacamole should have some texture/chunks of avocado which doesn't happen if you use a food processor.
Use tomatoes, but only really good ones. Adding tomatoes to your guacamole is a little controversial, but I like them. I use small cherry tomatoes since they need less chopping and they won't leave you with a soggy guacamole like regular tomatoes. Since it is summer, I used some super fresh tomatoes I picked up at the farmers market which are so yummy in guacamole. However, in winterI usually skip them when making guacamole because winter grocery store tomatoes just aren't the same as summer fresh ones!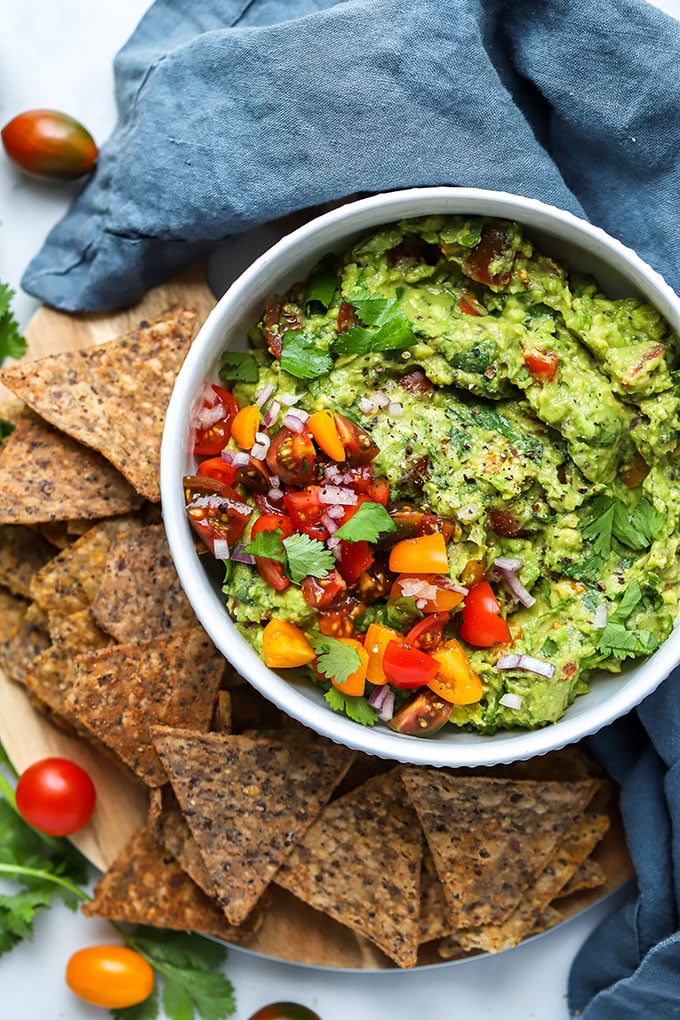 How do you store guacamole?
There are a hundred and one different methods on the internet for storing guacamole. I've had success with covering the guacamole with a little water before sealing it and storing it in the refrigerator. I have also had success with using a sheet of plastic wrap pressed down so that it touches the surface of the guacamole. Either way, you just want to try and avoid letting the top of your guacamole from spending time exposed to air since that oxidizes it and makes it turn that yucky brown.
**Funny side story for you. Will had never heard of the method of covering your guacamole with a layer of water to store it. When he was snacking on it when I was at work one day, he stirred the water into the guacamole! He thought it was just natural water separation. It was a soggy guacamole after that for sure, but at least it still tasted good! Lol.
How long does guacamole last?
It's best to eat guacamole the same day it is made, but we've been able to keep it in the fridge up to 2-3 days, making sure to add a little water or plastic wrap to cover it before storing it away again.
Are avocados healthy?
The short answer is – YES! Don't be afraid of the higher fat and calorie content of avocados. Avocados are a nutrient dense food that can be incorporated into a healthy diet. Due the their unique fat content, avocados are higher in calories than most fruits. The average avocado has about 227 calories, 21 grams of fat, and 2.5 grams of protein. The majority of the fat in an avocado is monounsaturated fat which is considered to be a heart healthy fat. Avocados are also high in pantothenic acid, folate, vitamin K, riboflavin, and potassium.
What to Serve with Guacamole
Homemade Guacamole
Follow these tips/tricks to learn how to make a really good guacamole which is the perfect healthy appetizer for any party! 
Ingredients
3 ripe avocados
2 tablespoons fresh squeezed lime juice
2 tablespoons finely chopped red onion
1/2 cup chopped cherry tomatoes
1/3 cup chopped cilantro
1 tablespoon finely chopped jalapeño seeds and membrane removed
1/2 teaspoon sea salt
1/2 teaspoon ground black pepper
1/2 teaspoon ground cumin
Instructions
Add avocados and lime juice to a medium sized mixing bowl. Partially mash with a fork leaving some chunks of avocado intact. 

Stir in the rest of the ingredients. Taste and then let sit for 5 minutes and taste again. Add additional salt if needed. 

Serve with tortilla chips or fresh cut vegetables for dipping.
Nutrition
Serving: 1/8th recipe | Calories: 129kcal | Carbohydrates: 8.5g | Protein: 1.5g | Fat: 11g | Saturated Fat: 1g | Polyunsaturated Fat: 10g | Sodium: 152mg | Fiber: 5g | Sugar: 1.5g
Reader Interactions