This vegan pumpkin gingerbread has sugar and spice and everything nice! You'll love the balance of pumpkin spice and molasses. It's perfect for sharing with friends and family this holiday season.
This post contains affiliate links. Purchasing via affiliate links supports Dietitian Debbie Dishes at no additional cost to you.
This vegan pumpkin gingerbread combines the best flavors of fall (pumpkin) and the holidays (gingerbread) together in one bread recipe that feels like a warm hug. This vegan pumpkin gingerbread may just be my go-to dish to bring to parties this year. Just wrap it in parchment paper and tie it up in some pretty twine or ribbon. So easy! Set your oven to 350 degrees, brew a pot of coffee, and bake a loaf of this vegan pumpkin gingerbread!
Ingredients You'll Need for This Recipe
Flour: I like to use a combination of all purpose and whole wheat.
Rising Agents (Baking Powder/Baking Soda)
Pumpkin Pie Spice: this one is my favorite.
Flax Egg: ground flax seed and water are used in place of an egg for this vegan recipe.
Pumpkin Puree: use plain canned pumpkin not canned pumpkin pie filling.
Canola Oil
Soy Milk: feel free to use any plant-based milk you prefer. You just want to make sure it is plain and unsweetened.
Brown Sugar
Vanilla Extract
Molasses: gives it that distinctive gingerbread flavor. There are several different types of molasses to choose from – you'll use blackstrap molasses for this recipe.
Powdered Sugar
Candied Ginger: I love adding this to the top of the bread with the glaze as it pairs so nicely with the molasses and spices. You can also top the bread with chopped nuts (walnuts or pecans would be good!) if you prefer.
How to Make this Bread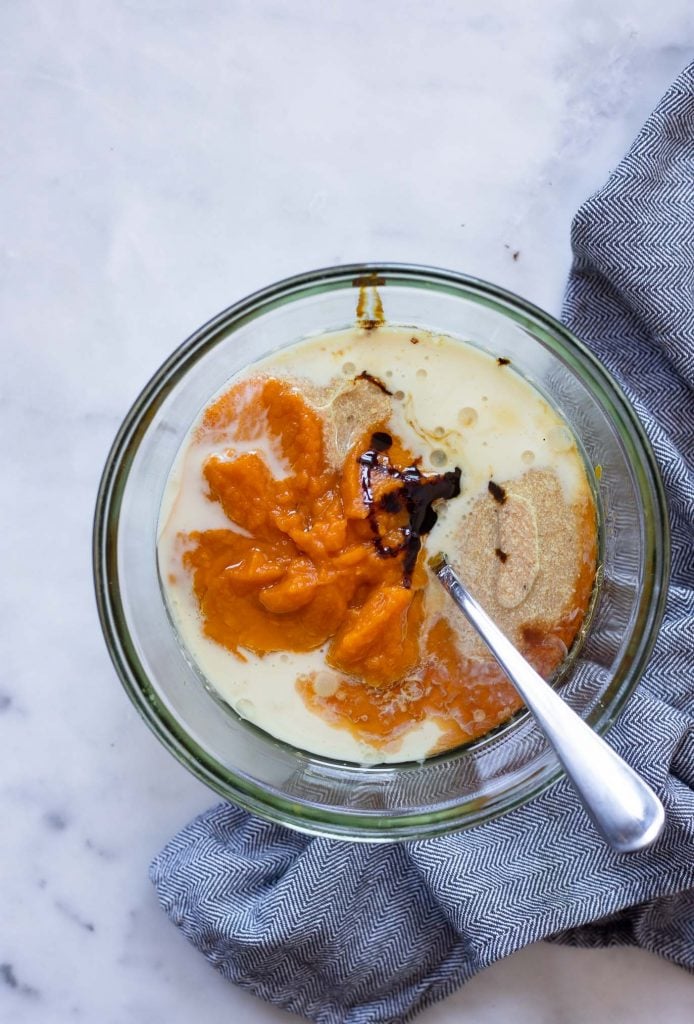 Mix the wet ingredients: Just like any other quick bread recipe, you'll begin by mixing together your wet ingredients (flax egg, pumpkin, milk, oil, vanilla extract, molasses) and the brown sugar.
Whisk the dry ingredients: In a separate bowl, whisk together the dry ingredients (flour, baking powder, baking soda, salt, and pumpkin spice).
Combine and bake: Next, you'll gently stir the wet and dry ingredients together and then transfer to a loaf pan lined with parchment paper to bake. Once the bread is completely cooled, you can pour the glaze over top.
How to Store and Freeze
Store: This bread can be stored on the counter for 1-2 days either wrapped in plastic wrap or placed in an airtight container. Transfer to the refrigerator if storing longer.
Freeze: Slice bread and place into an airtight container for freezing. To prevent pieces from sticking together, place parchment between slices if stacking.
More Vegan Baked Goods You'll Love
Featured Links powered by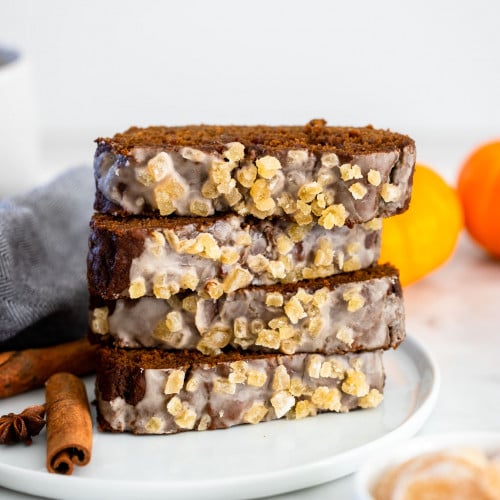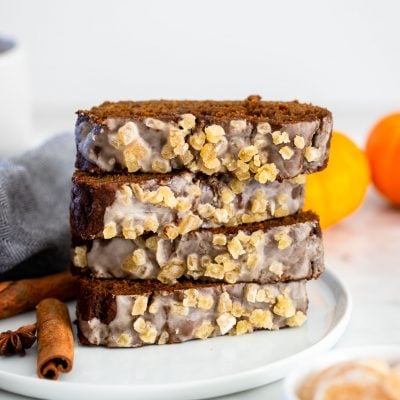 Vegan Pumpkin Gingerbread
This vegan pumpkin gingerbread has sugar and spice and everything nice! It's perfect for sharing with friends and family this holiday season. Recipe adapted from this vegan pumpkin bread from Love & Lemons.
Ingredients
For the Bread:
2 tablespoons ground flax seeds
5 tablespoons warm water
3/4 cup all-purpose flour
3/4 cup whole wheat flour
2 teaspoons baking powder
1/2 teaspoon baking soda
1/2 teaspoon salt
1 1/2 teaspoons pumpin pie spice
1 cup canned pumpkin puree
1/4 cup canola oil or other neutral cooking oil
1/2 cup brown sugar packed
1/2 cup unsweetened soy milk can use any plant-based milk
1 teaspoon vanilla extract
3 tablespoons molasses
For the Glaze:
1/2 cup powdered sugar
1-2 tablespoons soy milk or any plant-based milk
1/4 teaspoon ground cinnamon
1/4 cup chopped candied ginger optional
Instructions
Preheat the oven to 350 degrees Fahrenheit.

In a small bowl, combine the ground flax seed and water, stir and set aside.

In a medium mixing bowl, whisk together the flours, baking powder, baking soda, salt, and pumpkin pie spice.

In a large mixing bowl, stir together the pumpkin, oil, brown sugar, milk, flax egg, and vanilla extract.

Add the dry ingredients and stir just until everything is mixed and then pour into a well-oiled 9"x5" bread pan.

Bake bread for 55-65 minutes. Test with a toothpick and cook an additional 5-10 minutes if toothpick does not come out clean.

Allow to cool completely. Transfer bread out of the pan using the parchment paper.

Combine the powdered sugar, 2 teaspoons milk, and cinnamon in a small bowl. Stir well. Pour glaze over the top of your cooled bread loaf and sprinkle with chopped ginger. Allow to sit until hardened and then slice and serve!
Nutrition
Serving: 1slice | Calories: 180kcal | Carbohydrates: 28g | Protein: 3g | Fat: 7g | Saturated Fat: 0.5g | Polyunsaturated Fat: 6.5g | Sodium: 190mg | Fiber: 2.5g | Sugar: 11.5g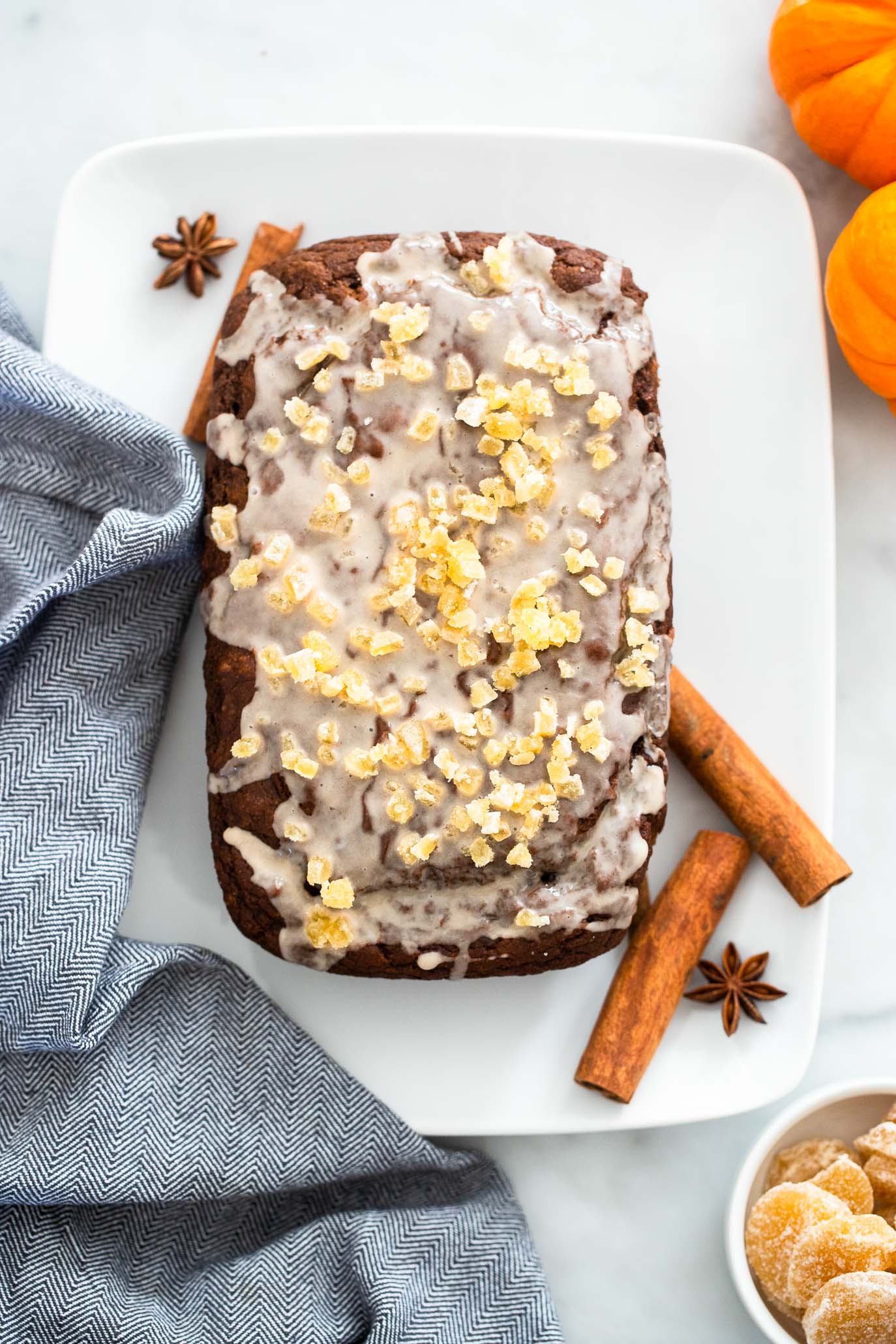 Reader Interactions