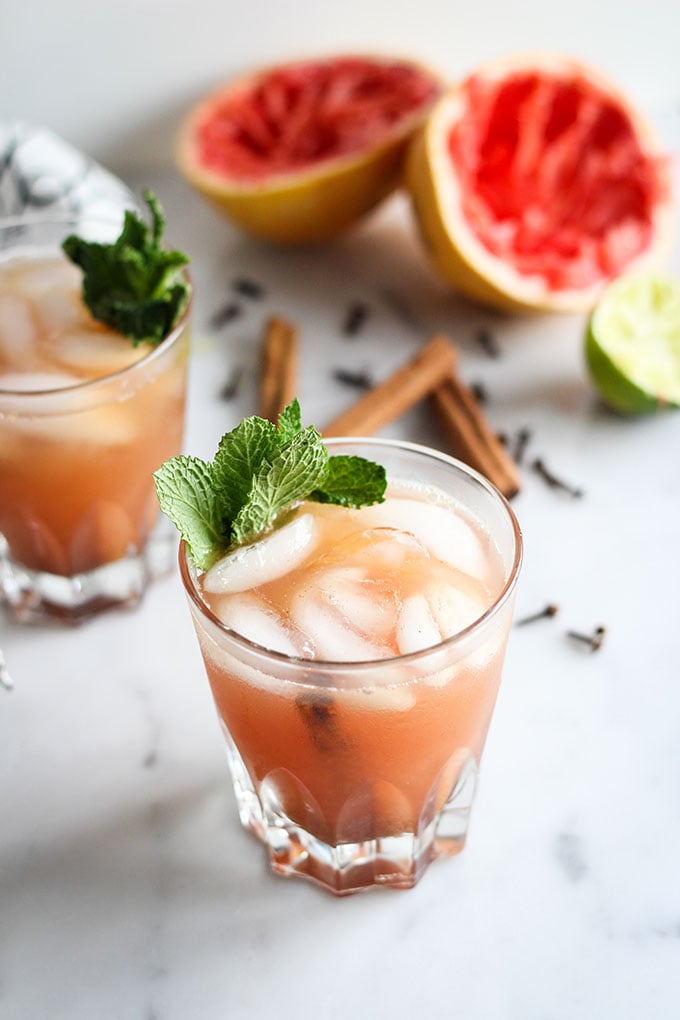 I think I may have just discovered my favorite drink of the 2015 holiday season. This spiced grapefruit and rum cocktail was inspired from one that I had recently at a tiki bar. Which, if you have not yet been to a tiki bar – you have got to give it a try! There's a great one in Chicago called Three Dots and a Dash that serves one of their cocktails with a banana cut to look like a dolphin. It's adorable. Anyways, these cocktails may not have banana dolphins, but they do have a secret ingredient that makes them perfect for drinking during the holidays.
This cocktail is a blend of citrus, spice, and ginger. (I had to add some ginger liqueur because I just can't get enough ginger in mixed drinks!) The other ingredient that really makes this drink is the pumpkin spice. That's right. It may sound strange at first, but trust me – all that cinnamon and nutmeg goodness in this pumpkin spice makes this one tasty drink!
We found this tiny spice shop down the street from our apartment last weekend and picked up their apple pie/pumpkin pie spice blend for this drink. It was sooo good! I was impressed with how fresh their dried spices tasted – they definitely infused a lot of warm spice flavor into these drinks. 
More Cocktail Recipes You'll Love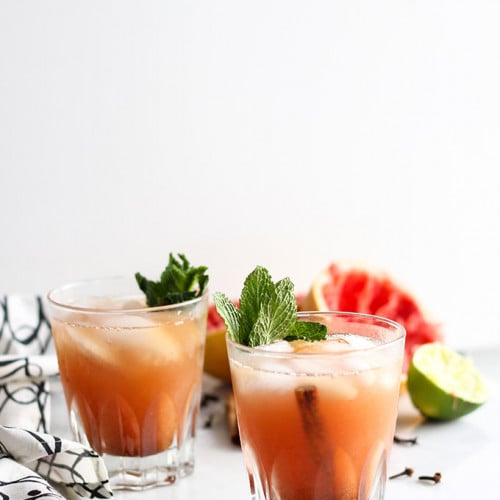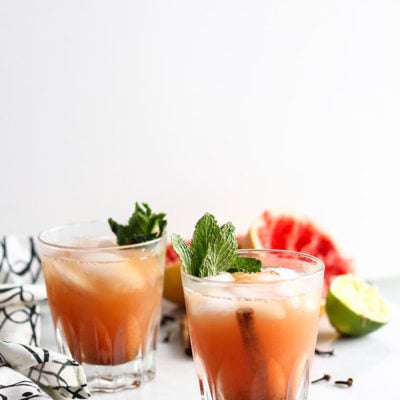 Spiced Grapefruit and Rum Cocktail
Rum, pumpkin pie spice, and grapefruit pair delightfully well in this spiced grapefruit and rum cocktail. Perfect for Thanksgiving or your holiday party this year!
Ingredients
6 ounces fresh squeezed grapefruit juice strained
4 ounces rum
2 ounces ginger liqueur
1/2 teaspoon lime juice
1/2 teaspoon pumpkin pie spice
Ice
Fresh mint and cinnamon sticks to garnish
Instructions
Combine the grapefruit juice, rum, ginger liqueur, lime juice, pumpkin pie spice and some ice in a cocktail shaker.

Add ice to two 6 ounce glasses. Divide cocktail mixture in the shaker between the two glasses. Garnish with fresh mint and a cinnamon stick. Serve immediately.
Nutrition
Serving: 1drink | Calories: 259kcal | Carbohydrates: 19g | Protein: 1g | Fat: 1g | Saturated Fat: 1g | Polyunsaturated Fat: 1g | Monounsaturated Fat: 1g | Sodium: 5mg | Potassium: 152mg | Fiber: 1g | Sugar: 19g | Vitamin A: 8IU | Vitamin C: 23mg | Calcium: 11mg | Iron: 1mg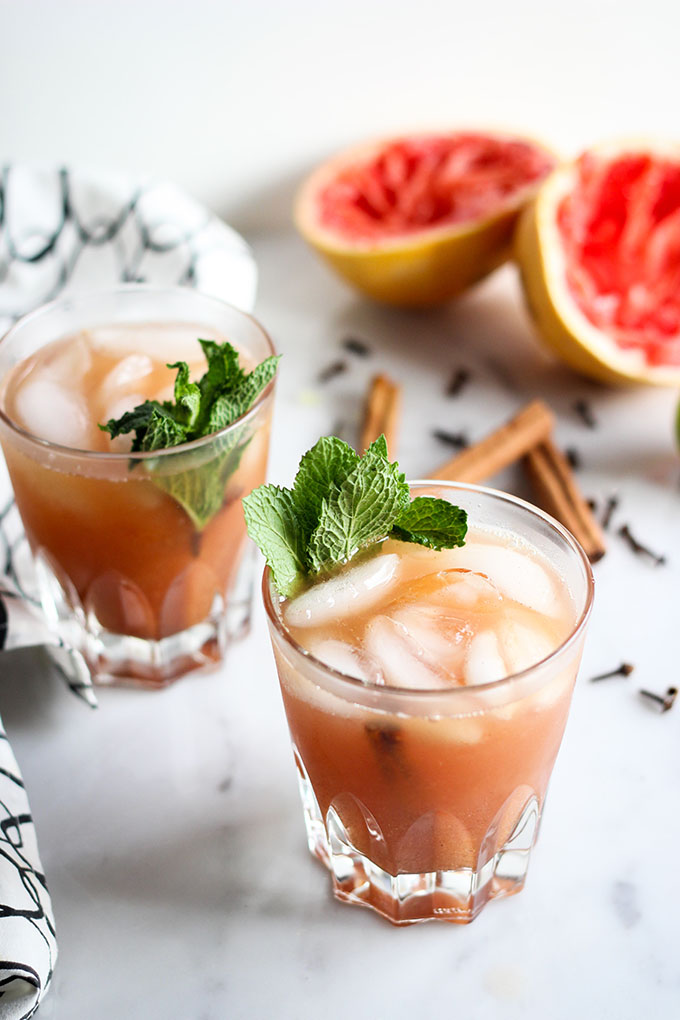 Reader Interactions