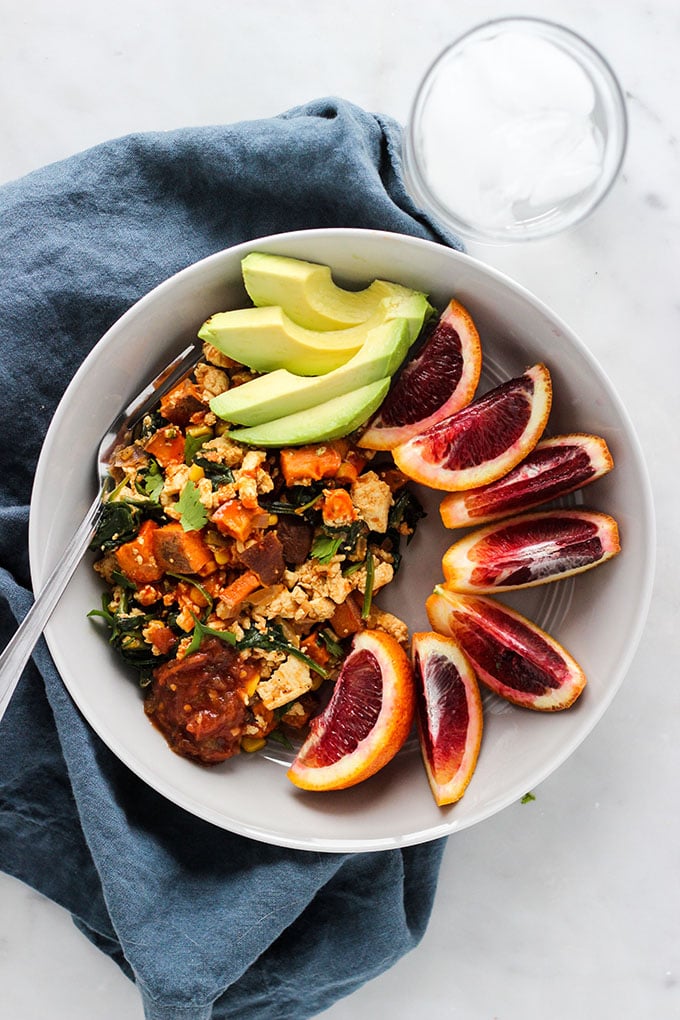 A common barrier to healthy eating that I encounter from many clients is that it is just too expensive. It is true that fresh fruits and veggies can cost a bit more than purchasing high calorie processed foods. However, I view the extra money I spend on healthy foods each week at the grocery store as an investment in my health and have made adjustments to my budget to make it work. Less eating out, more eating at home. To save money, I prefer to eat out at some of the dining partners that are discounted courtesy of my American Express Gold Credit Card. The monthly statement credits can really add up across the year. You may wish to learn more online before committing to this card though. There was actually a study conducted recently that found that eating a healthy diet costs an average of $1.50 more/day than an unhealthy diet. (Source) Over the course of a year, that can add up ($550/person) which is too costly for some families and is part of the reason that food policies making healthy foods more affordable are so desperately needed.
Since we can't change our food subsystem overnight, here are a few tips that I have found helpful for decreasing our grocery bill while still eating healthy.
Meal plan after shopping. This is the opposite of basically all the meal planning advice you may hear, but it has worked well for us. If you go into the store with a list of produce you need for meals, you are stuck buying produce that might not be the best deal. Instead, we have our protein/bulk staples on a list, but purchase our produce based on the best deals at the store that week. When we get our produce home, then we decide what recipes to make during the week to use what we purchased.
Shop the bulk bins. Sometimes you want to make a recipe that uses just a small amount of a certain grain or spice that can be expensive when purchasing in the typical package size. I'll hit up the bulk bins for these items so that I can buy just what I need for a recipe!
Eat more plant based meals. Maybe you already eat vegetarian or vegan 100% of the time, but if not, incorporating more plant based meals in your diet can help save you money. Plant based proteins like dried beans, tofu, and tempeh are much less costly than purchasing meat for all of your meals.
The Recipe Redux theme of the month was to create a healthy recipe that is also budget friendly. Luckily, many vegetarian proteins are very budget friendly so I decided to utilize the block of tofu I had picked up at the store on Saturday for a recipe. A block of organic tofu from Whole Foods is only $1.99 and typically serves 3 or $0.66 a serving! This chipotle tofu and sweet potato skillet is basically a tofu scramble on steroids that has been bulked up with lots of budget friendly veggies to stretch the servings out to 4 for this dish as well as add fiber and nutrients.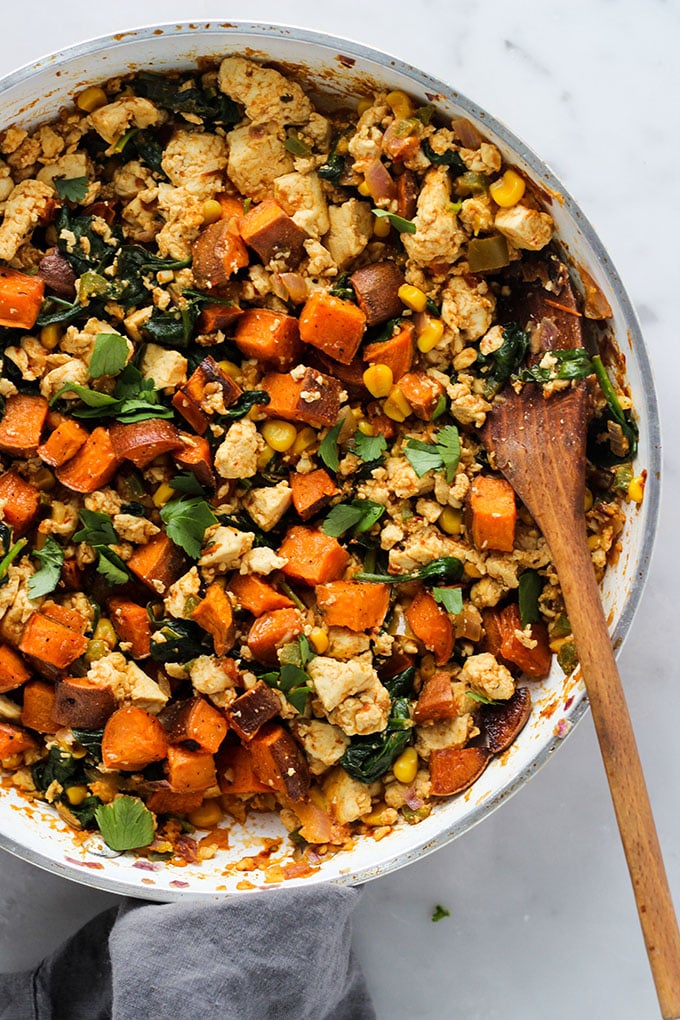 To speed up the prep time for this dish, I usually roast my potatoes on the weekend and store them in the fridge to toss into this recipe when I am ready to make it. With the potatoes prepped, you'll be able to whip this up in just about 30 minutes in just one skillet! Otherwise, I would suggest starting to saute your tofu and veggies together once your potatoes have been roasting about 20-30 minutes so you can just toss them in at the end. Serve this with fruit like I did for a tasty brunch or with a side salad or other vegetable for a filling dinner meal.
Print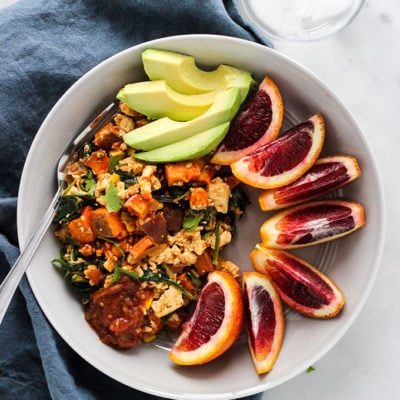 Chipotle Tofu and Sweet Potato Skillet
Author:

Prep Time:

55 mins

Cook Time:

55 mins

Total Time:

1 hour 50 mins

Yield:

4

1

x
Category:

Entree, Main Dish, Breakfast

Method:

Stove-Top

Cuisine:

Vegan, Gluten-Free, Mexican-Inspired
---
Description
Whip up this budget friendly chipotle tofu and sweet potato skillet for a simple weeknight meal or brunch entree with fruit.
---
Ingredients
2

small sweet potatoes

1 1/2 tablespoons

olive oil (divided)

1/2

jalapeno (seeds removed), chopped

1/3 cup

chopped red onion

1/2 cup

frozen corn kernels

1

clove garlic, minced

14 ounce

package firm tofu, drained

1

(6 oz.) bag baby spinach leaves

2 tablespoons

nutritional yeast

1/3 cup

salsa

2 tablespoons

pureed chipotles in adobo sauce

1/8

th teaspoon sea salt

1/8

th teaspoon ground black pepper to taste
To serve: chopped cilantro, salsa, hot sauce, sliced avocado
---
Instructions
Preheat the oven to 350 degrees.
Chop sweet potatoes into 1/3″ pieces and spread into single layer on baking sheet. Drizzle with 1/2 tablespoon olive oil and toss to coat. Sprinkle with salt and ground black pepper. Bake for 45-55 minutes or until potatoes are slightly browned and fork tender. Set aside.
In a skillet, add the olive oil and heat for 1 minute over medium-high heat. Add the jalapeño, red onion, and corn. Saute for 3-5 minutes until onion is softened.
Add the garlic and saute for 1 minute.
Crumble the tofu into the pan and stir. Cook for 2 minutes.
Add the spinach and saute, stirring occasionally until wilted.
Stir in the nutritional yeas, salsa, pureed chipotle, salt, and pepper. Stir well and cook until moisture from salsa and tofu is cooked off, about 5-7 minutes.
Stir in the roasted potatoes and cook another 3-4 minutes. Add more salt and pepper to taste.
To serve, sprinkle with fresh chopped cilantro and a dollop of salsa. I also like to drizzle with a bit of Cholula hot sauce.