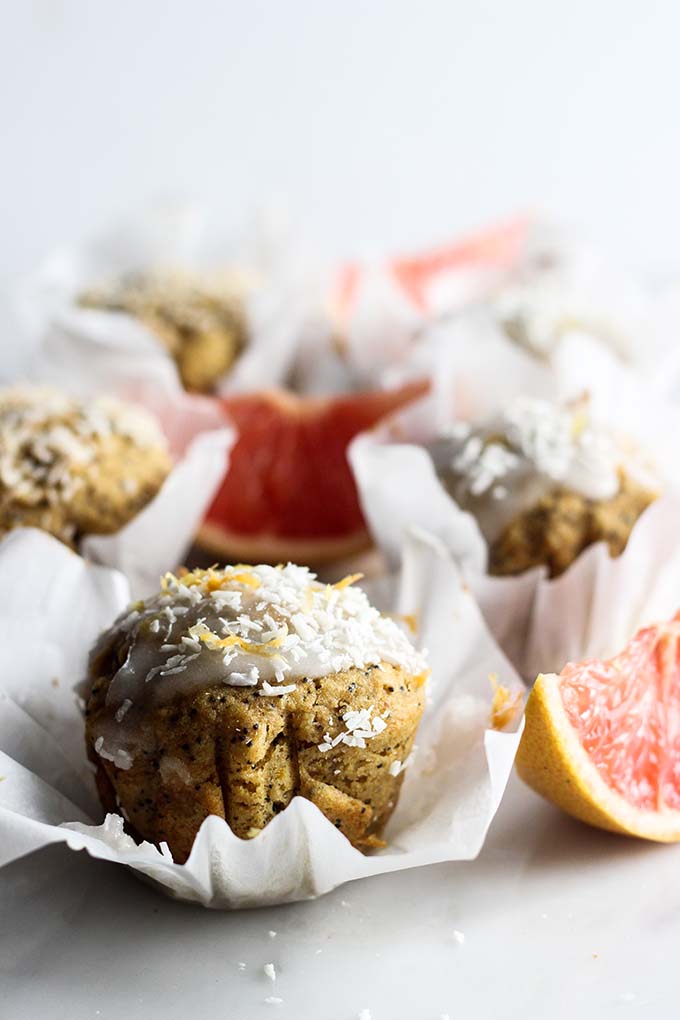 If you open up my freezer, more than likely you'll find at least a couple of muffins chiling out in there. I love keeping them on hand as a quick snack before workouts or before dinner since I am usually ready to eat the first thing I get my hands on after I walk in the door after work.
These vegan coconut banana chocolate chip muffins are my usual go-to, but as citrus season is still here I thought I would take advantage and use it in some muffins. For a fun twist, I used grapefruit in these rather than lemon which is typically used in poppyseed muffins. It was delicious! I have a feeling I'll be making these vegan grapefruit poppyseed muffins a lot before citrus season ends. 😉
These muffins aren't super sweet on their own so if you want a healthier version, I would leave off the glaze. I left the glaze off of half the batch and just sprinkled some coconut on top before baking. (The coconut toasts in the oven as the muffin bakes and looks so pretty when finished!) Note that the glaze tastes best on the muffins the day you add it as it will start to soak into the muffin after sitting for a day.
These vegan grapefruit poppyseed muffins would be a great addition to any spring/Easter brunch gatherings this season!
More Muffin Recipes You'll Love
Did you love this recipe? Make sure to leave a ⭐️ rating and tag #dietitiandebbie on instagram!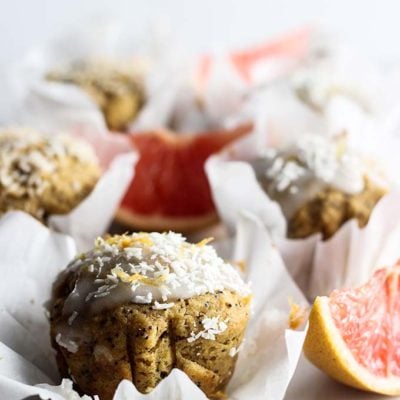 Vegan Grapefruit Poppyseed Muffins
These vegan grapefruit poppyseed muffins are the perfect addition to your spring brunch menu or enjoy as a healthy afternoon snack.
Ingredients
For the Muffins:
2 tablespoons ground flax seeds
5 tablespoons warm water
2 1/4 cups whole wheat flour
1 teaspoon baking powder
1 teaspoon baking soda
2 tablespoons poppyseeds
1/8 th teaspoon sea salt
1/3 cup shredded unsweetened coconut (+ ~2 T. more for sprinkling on muffins)
1/3 cup fresh squeezed grapefruit juice
1/4 cup maple syrup
1 cup almond or other plant-based milk
1/4 cup granulated white sugar
1/3 cup oil coconut or canola work well
2 teaspoons grapefruit zest
For the Glaze:
1/2 cup powdered sugar
1 1/2 teaspoon grapefruit juice
1 teaspoon almond or other plant-based milk
1/2 teaspoon grapefruit zest
Instructions
Preheat the oven to 350 degrees Fahrenheit. Spray muffin tin with cooking spray or line with papers.

Mix together the flax seeds and water in a small bowl with a fork. Set aside until gel forms.

In a mixing bowl, add the flour, baking powder, baking soda, poppyseeds, salt, and coconut. Stir well.

Add the grapefruit juice, maple syrup, milk sugar, oil, zest, and flax/water mixture to the mixing bowl with the dry ingredients. Stir gently until just combined.

Divide dough evenly between 12 wells in muffin tin. (I use an old fashioned ice cream scoop which fills each muffin cup perfectly!) Sprinkle with additional shredded coconut if desired.

Bake for 15-18 minutes or until toothpick inserted into muffin comes out clean. Set aside to cool.

To make the glaze, stir together the sugar, grapefruit juice, and almond milk with a fork or whisk until no clumps remain. Add more grapefruit juice 1/2 teaspoon at a time if glaze is still too thick. Drizzle over muffins. Sprinkle with zest. Serve!
Nutrition
Serving: 1muffin | Calories: 320kcal | Carbohydrates: 43g | Protein: 4g | Fat: 17g | Saturated Fat: 4g | Polyunsaturated Fat: 13g | Sodium: 165mg | Fiber: 4g | Sugar: 23g
Reader Interactions