Start your morning off right with a cup of coffee and one of these delicious vegan double chocolate banana muffins naturally sweetened with maple syrup and chock full of vegan chocolate chips.
These vegan double chocolate banana muffins are the perfect baked good to have around for snacking or paired with a smoothie for breakfast. They freeze well so you can totally bake up an extra batch for later. I find myself reheating them as a pre-workout snack often.
You are going to absolutely love these fluffy and ultra chocolate-y muffins made with a few simple ingredients you probably already have on hand. Speaking of chocolate, if you are looking for a fun banana bread recipe you can also check out this vegan chocolate swirl banana bread recipe!
Ingredients You'll Need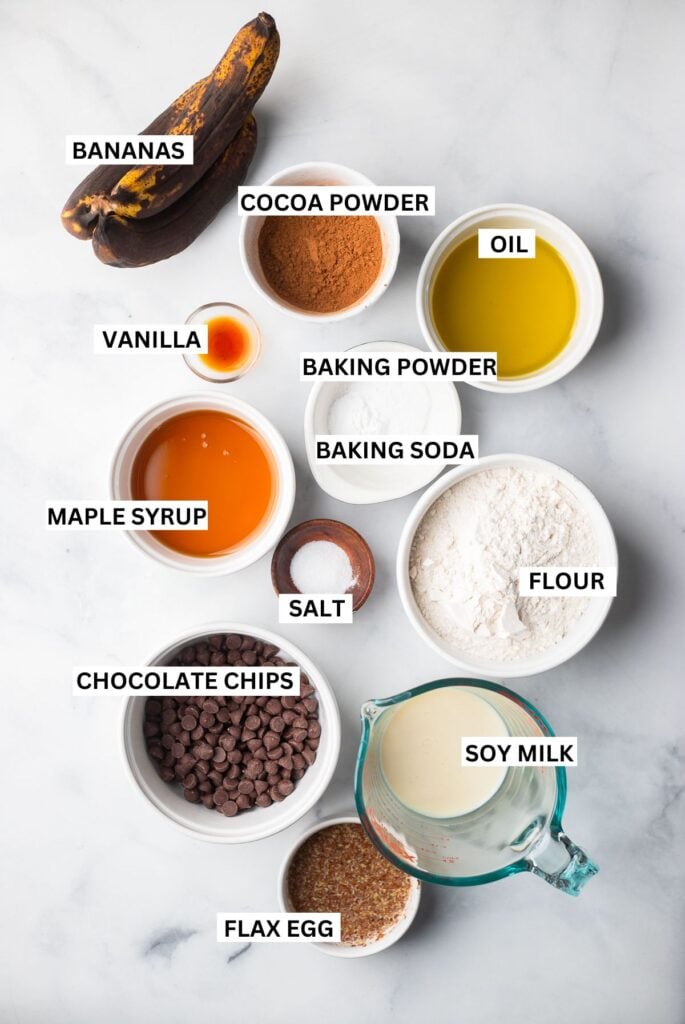 Ground Flax Seed: You'll use ground flax seed as an egg replacement in these vegan muffins. If you can't find ground flax seed, you can buy whole ones and then just grind them up in your coffee or spice grinder.
Bananas: The more ripe, the better for baking! We're talking about the very dark brown soft bananas that you wouldn't want to eat as a snack anymore. You can also use frozen, thawed bananas for these.
Flour: I like to use a combo of white and whole wheat all-purpose flours for these muffins so they are more tender/fluffy.
Cocoa Powder: We'll be adding a bit of cocoa powder to give these muffins their chocolatey flavor.
Baking Soda and Baking Powder: You'll use a combo of these to make sure these muffins are nice and fluffy.
Soy Milk: You can use any plant-based milk you have on hand if you prefer them over soy milk. Just make sure to use an unsweetened and plain/unflavored milk for best results.
Oil: Use a neutral flavored oil like canola or vegetable for the best results.
Maple Syrup: I love using maple syrup as a natural sweetener in baked goods.
Chocolate Chips: Use your favorite vegan chocolate chips! Don't want to add chocolate chips? Feel free to add 1/2-3/4 cup of chopped nuts. Walnuts would be a great addition to these muffins.
How to Make Double Chocolate Banana Muffins
STEP 1: Preheat your oven to 350 degrees Fahrenheit and spray muffin tin with cooking spray.
STEP 2: Combine the ground flax seed and water in a small dish to make your flax egg. Stir with a fork and set aside for 5 minutes until get forms.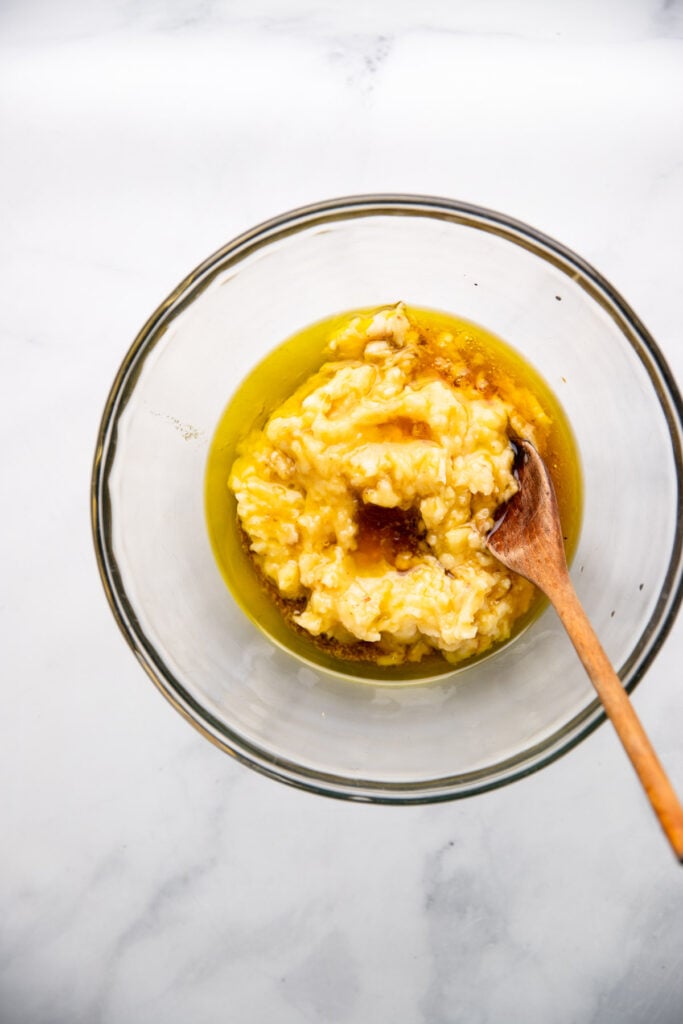 STEP 3: Mash bananas with a fork and transfer to a large mixing bowl with the flax egg, milk, oil, and vanilla extract. Stir well with a spoon.
STEP 4: In a small mixing bowl, whisk together the dry ingredients. Add the dry ingredients to the larger bowl with the wet ingredients and stir just until there are no more large clumps of flour. Try not to over stir. Pour in the chocolate chips and stir to distribute through dough.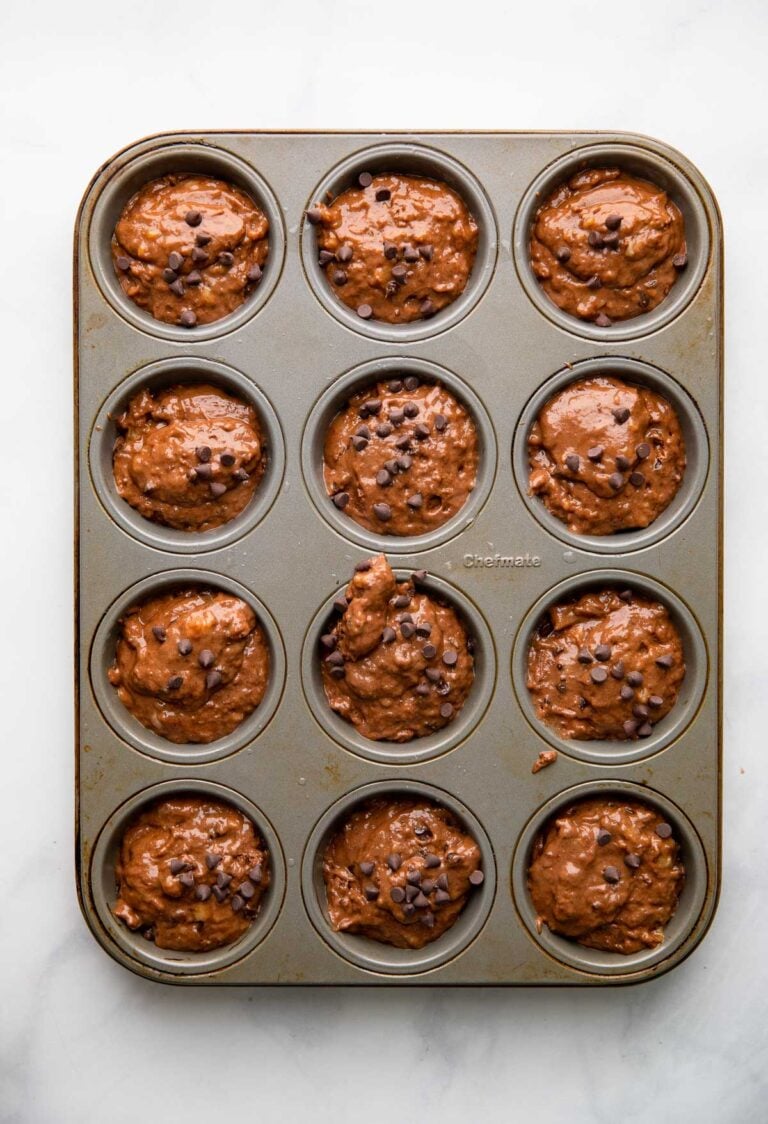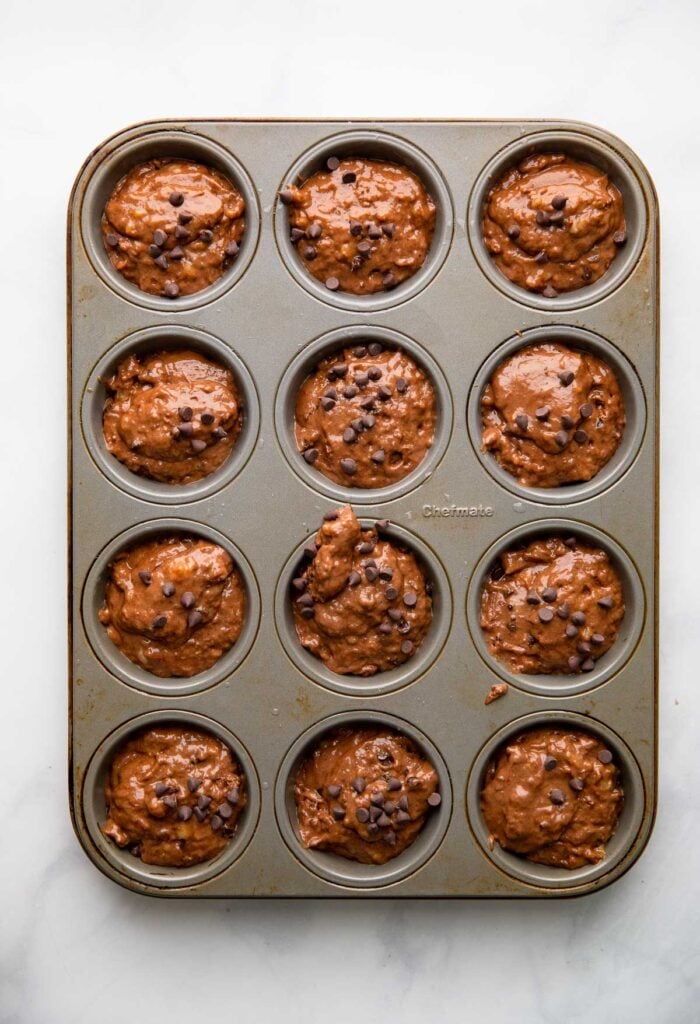 STEP 5: Add dough to muffin tin, evenly dividing it between the 12 muffin wells. Sprinkle the tops of the muffins with a few extra chocolate chips if desired for a prettier presentation. (I mean – who doesn't love a few extra chocolate chips!) Bake for 18-20 minutes or until toothpick inserted into center of a muffin comes out clean.
How to Store these Banana Muffins
Store these in an airtight container on the counter for up to 3 days. You can also store them in the freezer for up to 3 months. I usually freeze mine and just pop it into the microwave for 30 seconds to reheat it whenever the craving hits. 😉
Recipe Notes:
Make sure to use extra ripe bananas that are brown and spotty for best results. Extra ripe bananas are easier to mash up for muffins and add more sweetness to the finished muffin.
Want to get the best rise/fluffiest muffins? Make sure you are using fresh baking powder and baking soda! If they sit in your pantry for a long time they don't work as well.
Measure your flour by scooping it out of the bag/container into the measuring cup and then leveling with a flat edge. If you use the measuring scoop to spoon the flour out of the bag, it packs it into the cup which can lead to dry muffins. No one wants those!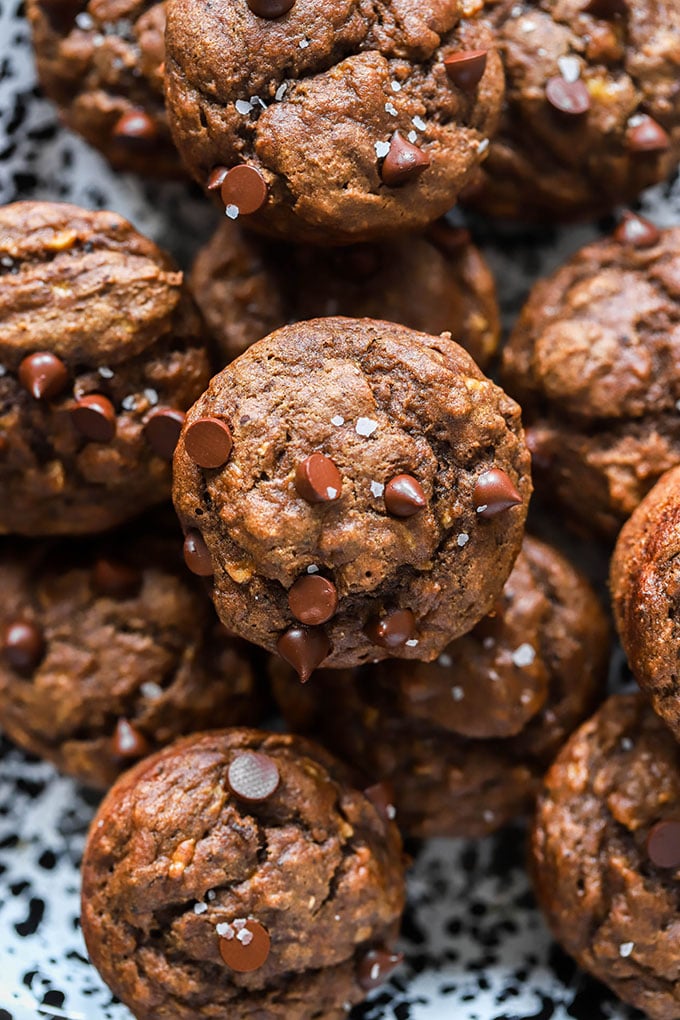 Frequently Asked Questions
Can you use frozen bananas for baking?
You sure can! I used a frozen banana in the first batch of these muffins I made. To use frozen bananas in baking, make sure that you give them bit of time to defrost. You'll notice that they release some liquid as they defrost – don't toss it! Just add that into your bowl with the rest of your wet ingredients.
How do you scoop muffin batter?
I like to use an ice cream scoop to add the batter to my muffin tin. It makes it so much easier to evenly fill each muffin well. One scoop full seems to be just the right amount of batter to fill each well 3/4 of the way full.
How long are banana muffins good for?
You can usually keep banana muffins in an airtight container on the counter for up to 3 days. After that, I would move them to the freezer. Muffins can be stored in the freezer for up to 3 months.
More Chocolate Recipes to Try: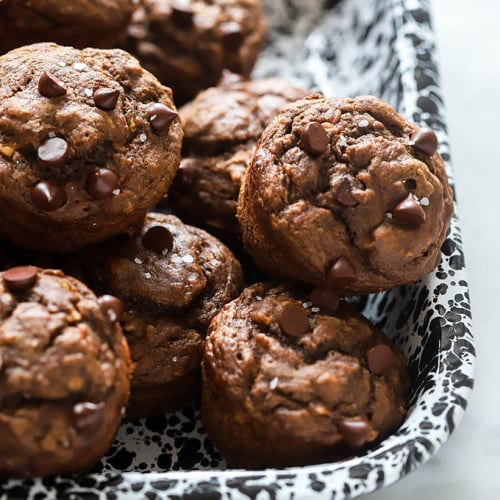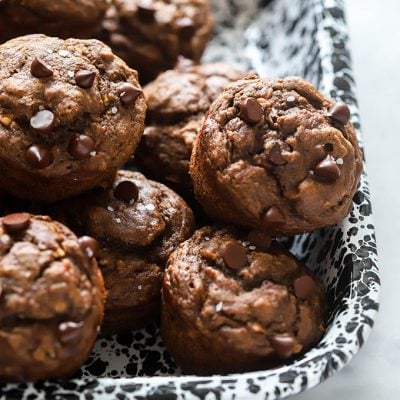 Double Chocolate Banana Muffins
Start your morning off right with one of these vegan double chocolate banana muffins and a cup of coffee. Vegan, dairy-free, and naturally sweetened – a perfect snack!
Ingredients
1 tablespoon ground flaxseed
3 tablespoons warm water
3 bananas
1/3 cup canola oil
1/3 cup plain, unsweetened soy milk
1/3 cup maple syrup
1 teaspoon vanilla extract
1 cup whole wheat flour
1/2 cup white all-purpose flour
1/3 cup natural unsweetened cocoa powder (or dutch process)
1 teaspoon baking powder
1 teaspoon baking soda
1/4 teaspoon sea salt
3/4 cup vegan chocolate chips
Instructions
Preheat oven to 350 degrees Fahrenheit. Grease your muffin tin with cooking spray

In a large mixing bowl, stir together the flax seed and water. Set aside for 5 minutes or until gel forms.

Add the bananas to the mixing bowl and mash the bananas well with a fork. Stir in the oil, soy milk, maple syrup, and vanilla. Set aside.

In a small bowl, whisk together the flours, cocoa powder, baking powder, baking soda, and salt.

Stir dry ingredients and flax/water mixture into the banana mixture until well combined.

Add the chocolate chips. Stir to combine.

Divide batter evenly between 12 muffin cups. 

Bake 18-20 minutes or until toothpick inserted into the center of a muffin comes out clean.
Notes
Store in airtight container on the counter for up to 3 days. 
These freeze well too! Store in an airtight container for up to 3 months. I just reheat for 30 seconds in the microwave whenever I am craving one. 
Whole wheat flour: If you do not have whole wheat flour, you can replace with the same amount of all purpose flour. 
Oil: Use any cooking oil you like – I have made these muffins with both canola oil and olive oil with good results.
Milk: Use any non-dairy milk that you like. I prefer soy milk but almond milk, oat milk or other plant-based milks also work.
Feel free to add nuts in this recipe as well! You could use in place of the chocolate chips or in addition. Add 1/2 cup chopped nuts (walnuts, pecans, or slivered almonds). 
Nutrition
Serving: 1muffin | Calories: 228kcal | Carbohydrates: 33g | Protein: 4g | Fat: 11g | Saturated Fat: 3g | Polyunsaturated Fat: 2g | Monounsaturated Fat: 4g | Trans Fat: 0.02g | Sodium: 180mg | Potassium: 218mg | Fiber: 4g | Sugar: 15g | Vitamin A: 46IU | Vitamin C: 3mg | Calcium: 63mg | Iron: 2mg
<div class="mv-video-target mv-video-id-e2qc4cczndrrpwsxhyqb" data-video-id="e2qc4cczndrrpwsxhyqb" data-volume="70″ data-ratio="16:9″ ></div>
Reader Interactions