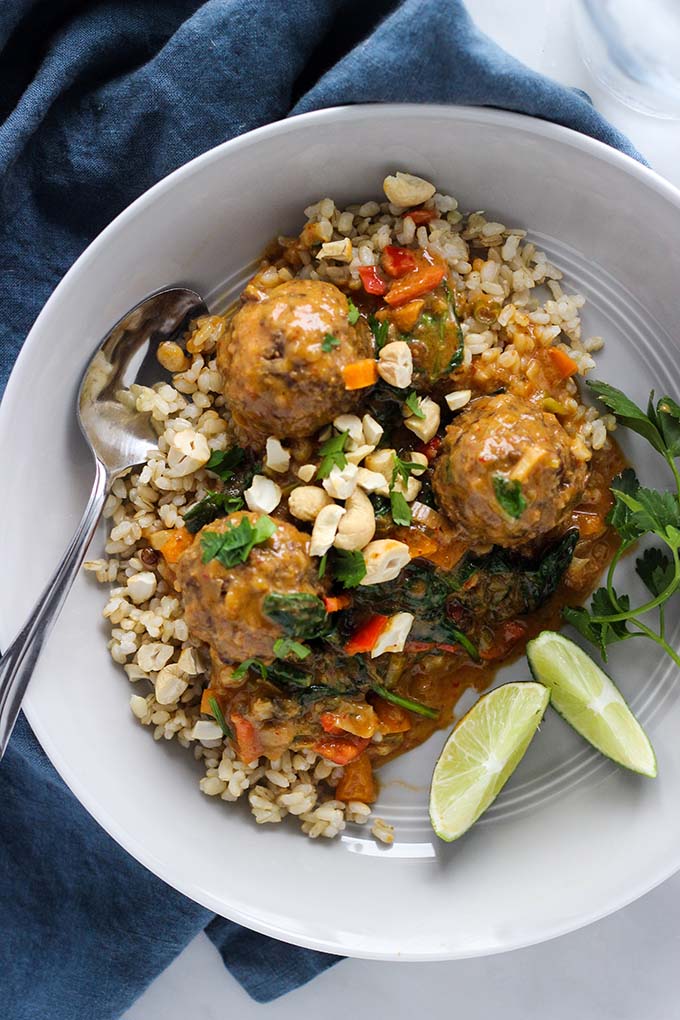 Lurking in the earliest archives of my blog, there used to be a lentil meatball recipe. However, I was so embarrassed by the photos, I have since deleted it. (Although, I have used one of the photos for a "what not to do" slide for a couple talks I've given on food photography! Lol.) Since that recipe was no longer living on the blog, it was about time I posted a new and very much improved lentil meatball one!
Since I already have a tasty Italian flavored vegetarian white bean meatball recipe, I wanted to create a "meat"ball that could could go well with a variety of different sauces. These lentil meatballs do just that! I've made them a couple of times and served them up with pasta sauce, this curry yogurt sauce, and now the yummy curry sauce I shared below.
Since it is just Will and I, we had plenty of leftovers from this recipe so I packed it up in my lunchbox for work the rest of the week.
Is Curry Paste Vegan?
To make sure this dish is vegan, just double check the curry paste as some contain fish sauce. You should be able to find the curry paste in the Asian section of most major grocery stores. We keep a couple of cans of coconut milk and curry paste in our pantry so we can easily make dishes like this one whenever the craving hits!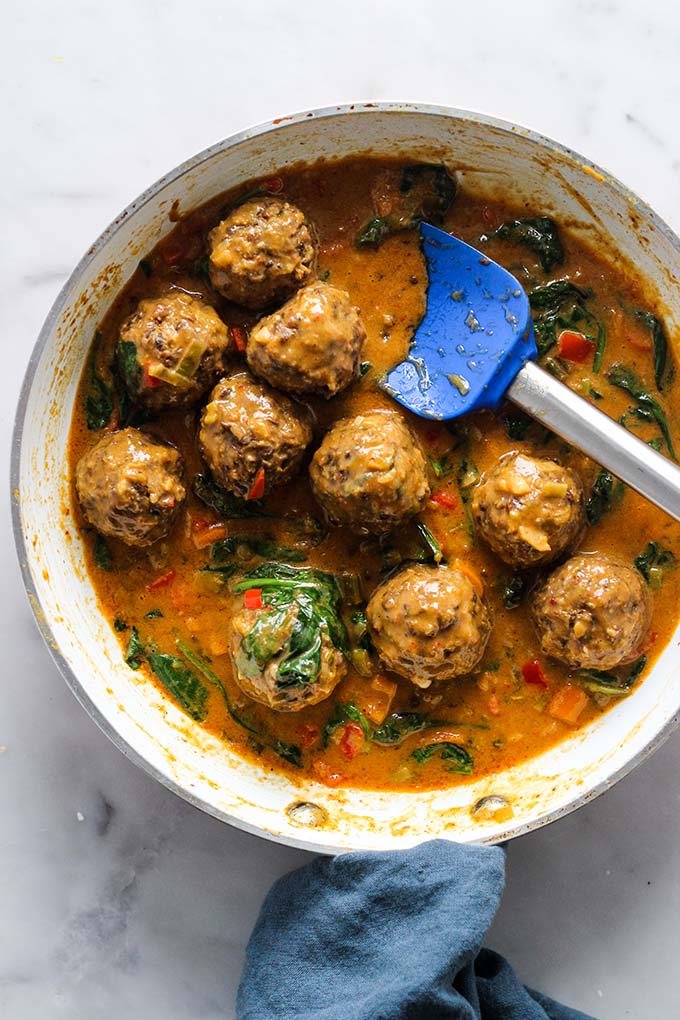 Tips for Making The Lentil "Meat"balls
Making the lentil meatballs can be a little tricky if you have never made vegetarian meatballs before. Here are some of my favorite tips for success when making lentil meatballs.
Don't overcook your lentils. After simmering your lentils for 12 minutes, I would try a couple. If they are still a little too tough, let them simmer a couple more minutes. You want the lentils to be chewy, not falling apart.
Don't over-process your lentils. As you can see in the video, you only want to pulse the lentils maybe 10-12 times just until it starts to clump together into a dough. The mixture should still have whole lentils visible. (You don't want to make lentil hummus!) I would check after every 2 pulses and stop when you are able to form a ball with the mixture.
The lentil dough will be kind of like a crumbly cookie batter. Give it a bit of a squeeze in your hand before shaping into a ball. You won't be able to roll it between your hands, you just want to gently squeeze it into a ball shape. (See video for how I do it!)
Be gentle when adding the lentil meatballs to the sauce in the end so that they don't just all fall apart! However, if you did the earlier steps right, they should have some structure so they aren't falling apart right away.
How to Serve These Lentil Meatballs with Curry Sauce
I like to dish it up over some cooked brown rice (or cauliflower rice if that's your thing) and then top it with some chopped cashews and fresh cilantro. Serve with a lime wedge on the side and squeeze it on just before eating.
Looking for more vegan recipes? These are some of my favorites!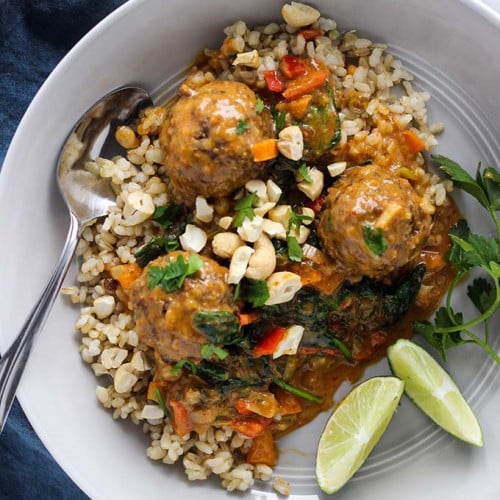 Lentil Meatballs with Curry Sauce
Who needs take-out when you can make these delicious vegan lentil meatballs with curry sauce served over brown rice and topped with chopped cashews?
Ingredients
For the Lentils
1 cup dried small brown lentils
2 cups vegetable broth
1 tablespoon olive oil
1/2 onion, chopped (~1 cup)
3 cloves garlic, minced
1/4 cup red wine
1 tablespoon reduced sodium soy sauce
1 tablespoon tomato paste
1 teaspoon oregano
1/2 teaspoon rosemary
1 tablespoon nutritional yeast
2 tablespoons breadcrumbs
For the Curry Sauce
1 tablespoon olive oil
1/3 cup chopped onion
6-7 baby bell peppers, chopped (~1 cup)
1 clove garlic, minced
2 tablespoons red curry paste (double check it is vegan)
1 teaspoon grated ginger root
1/2 tablespoon reduced sodium soy sauce
1 15 oz. can coconut milk (full fat OR lite are fine)
1/2 5 oz bag spinach
Instructions
Make the Lentil Meatballs
Preheat the oven to 350 degrees Fahrenheit.

Rinse the dried lentils in a colander under cold running water. Transfer to a medium saucepan and add the broth. Bring to a boil, then lower to a simmer. Cook uncovered for 10-15 minutes or until lentils are tender, but not mushy. (They should still have a little bit of a bite to them and hold their shape). Drain any additional cooking liquid. Set aside to cool. You should have about 2 cups of cooked lentils.

In a saucepan, add the oil and onion. Cook for 2-3 minutes until onion is translucent. Stir in the garlic, red wine, soy sauce, tomato paste, oregano, and rosemary. Sauté until liquid from wine has cooked off. 

Add the lentils, sautéed onion mixture, nutritional yeast, and breadcrumbs to the food processor. Pulse until lentils form a chunky dough that can be formed into balls. Too mushy? Add more breadcrumbs, 1 tablespoon at a time. Make sure you don't over-process the lentils or you will have trouble shaping it.

Spray a baking sheet with cooking spray or line it with parchment paper. Form 15 two inch balls with the lentil dough. Arrange in a single layer on your baking dish and bake for 20-25 minutes.
Make the Sauce
To make the curry sauce, add the oil, onion, and peppers to a skillet. Saute for 3-4 minutes until onion and peppers are tender. Add the garlic, curry paste, ginger, soy sauce, and coconut milk. Stir well to combine.

Bring to a simmer and then stir in the spinach and cook for 1-2 minutes until spinach is wilted.
Combine
Add the meatballs and gently stir to coat is sauce. Cook for another 1-2 minutes until meatballs and sauce are heated through.

Serve over cooked brown rice and top with chopped cilantro and chopped cashews.
Notes
Nutrition facts below based on full fat coconut milk. Total fat and kcals will be reduced if using lite canned coconut milk.
Nutrition
Serving: 1/5 Recipe | Calories: 439kcal | Carbohydrates: 45g | Protein: 15g | Fat: 24g | Saturated Fat: 17g | Polyunsaturated Fat: 7g | Sodium: 524mg | Fiber: 8g | Sugar: 3g
Reader Interactions