These blueberry dark chocolate muffins are a tasty way to enjoy some of the last of summer's fresh blueberries.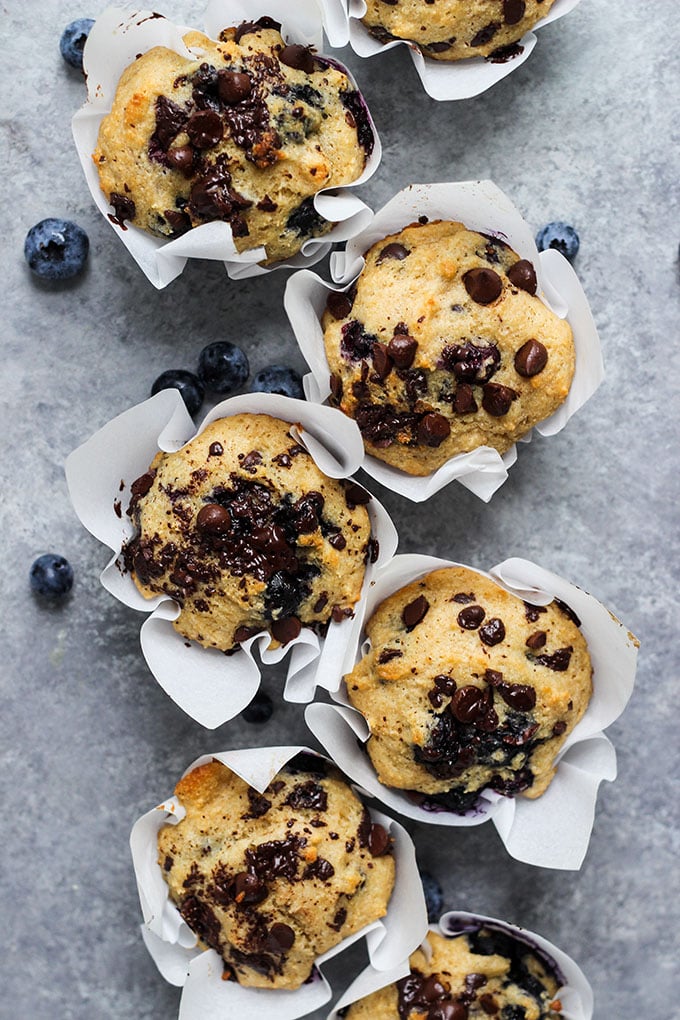 Happy Labor Day to all of my American readers! It is always a bittersweet holiday since the long weekend is great, but it is also marks the end of summer. I took advantage of the day off to do a little baking and then we're headed to a friend's BBQ this evening.
I wanted to pop in to share these tasty blueberry dark chocolate muffins since I've been holding out on sharing this recipe for far too long! (I meant to share them last week but it flew by before I had a chance to write out the post!) These muffins are a delicious way to enjoy some of the last of the summer's ripe blueberries.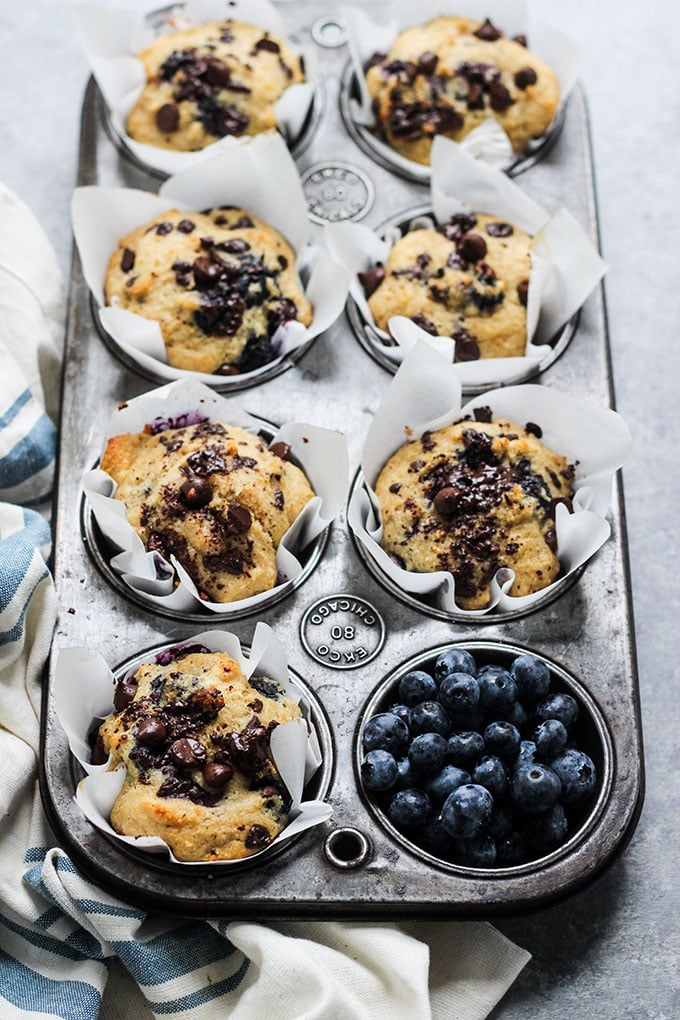 I made these muffins a couple of times and the recipe worked well with both white flour and whole wheat flour. The white flour creates more of a tender muffin, but both are equally delicious! Since I wanted something a little different than a traditional blueberry muffin, I tossed in some chopped dark chocolate and a few semi-sweet chocolate chips.
The other secret ingredient in these muffins is Greek yogurt. I used Fage yogurt which is extra thick and creamy so you may need to slightly adjust the liquid in the recipe with other Greek yogurts.
More Delicious Recipes You'll Love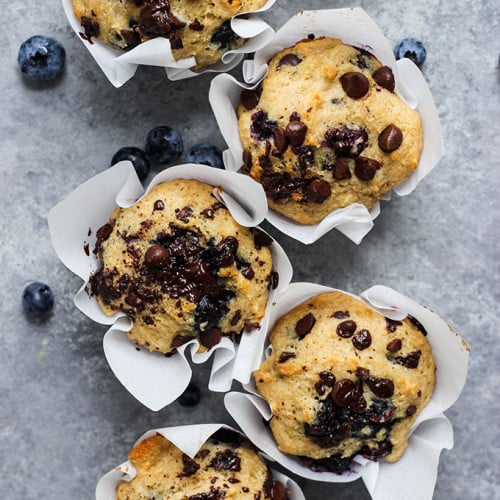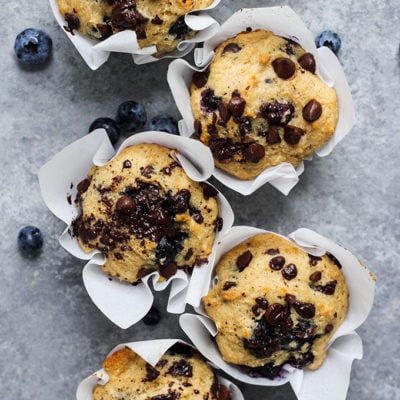 Blueberry Dark Chocolate Muffins
These blueberry dark chocolate muffins are a tasty way to enjoy some of the last of summer's fresh blueberries.
Ingredients
2/3 cup almond milk 1/2 cup if not using Fage brand yogurt
1/4 cup coconut oil melted
1 cup plain Fage Greek yogurt
1 egg
1 3/4 cup whole wheat flour
1/4 cup granulated sugar
2 1/2 teaspoons baking powder
1/2 teaspoon baking soda
1/2 teaspoon salt
1 heaping cup fresh blueberries
1 oz. dark chocolate chopped
1/4 cup semi sweet chocolate chips
Instructions
Preheat the oven to 400 degrees Fahrenheit. Line muffin tin with papers or spray well with oil.

In a small mixing bowl, stir together the milk, oil, yogurt, and egg until well mixed.

In a large mixing bowl, add the flour, sugar, baking powder, baking soda, and salt. Use a whisk to stir together.

Pour the wet ingredients into the large mixing bowl with the dry ingredients and stir with a wooden spoon just until combined.

Stir in the blueberries and chocolate.

Divide batter into 12 muffin tin wells. Top with additional chocolate if desired. Bake for 16-18 minutes or until golden brown on top and toothpick inserted into muffin comes out clean.
Notes
If using other brands of Greek yogurt other than Fage, you may want to start with 1/2 cup milk and add another couple of tablespoons if batter is too dry when combined with the dry ingredients.
Recipe adapted from this one from bettycrocker.com.
Nutrition
Serving: 1muffin | Calories: 110kcal | Carbohydrates: 11g | Protein: 1g | Fat: 7g | Saturated Fat: 2g | Polyunsaturated Fat: 5g | Cholesterol: 15.5mg | Sodium: 71mg | Fiber: 1g | Sugar: 9g
SaveSave
Reader Interactions