Make a big pot of this delicious vegan madras curry with eggplant, red lentils, and fire roasted tomatoes in about 30 minutes – tastes just like take-out but easy enough to make at home!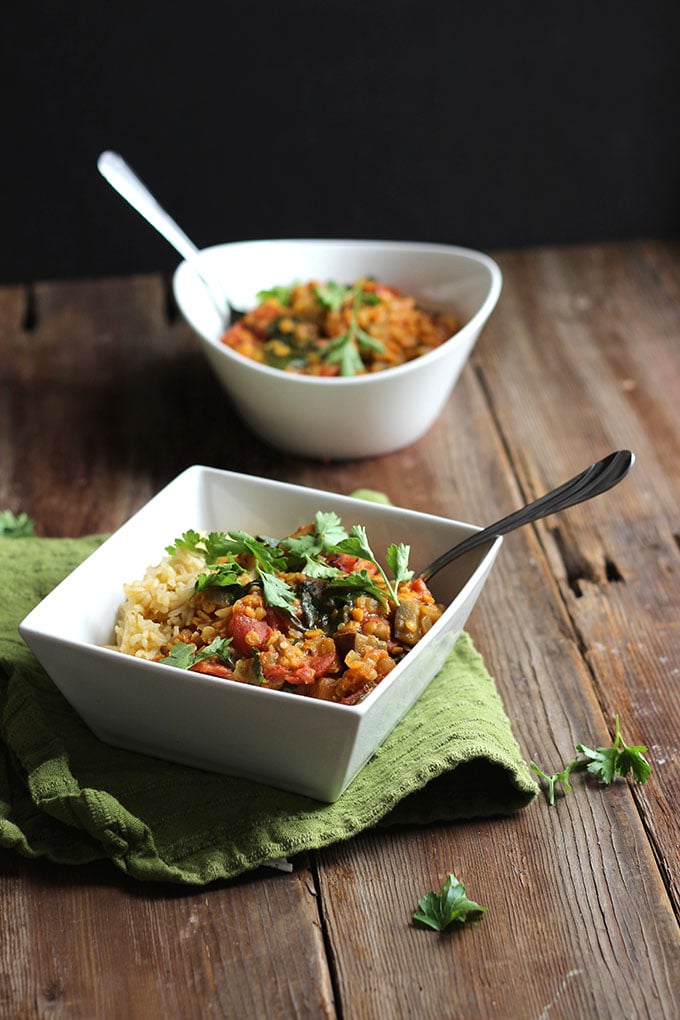 Growing up in a rural town in Pennsylvania, I had relatively little exposure to ethnic foods like sushi, curry, pho, and more. After moving around so much after college and living in the city now, I have had the opportunity to try all kinds of dishes.
One that I often come back to when cooking at home is curry. It is one of those dishes that you can make when you need to clean out the fridge. Almost any vegetable and protein pairing works well.
With the help of a pre-made Madras curry sauce, this meal came together in about 30 minutes. Perfect for a busy weeknight! We always try to keep a few of the ingredients like lentils, coconut milk, and stewed tomatoes on hand so we can whip up a curry dish like this on a weeknight without having to make a trip to the grocery store after work.
I served it over a bit of brown rice, but feel free to experiment with other grains as well – quinoa or buckwheat might be fun!
More Curry Recipes You'll Love
Did you love this recipe? Make sure to leave a ⭐️ rating and tag #dietitiandebbie on instagram!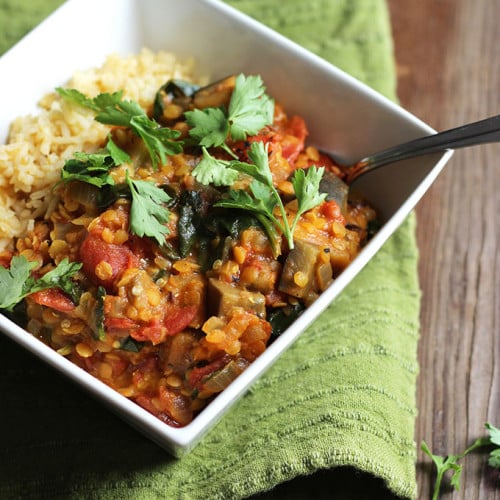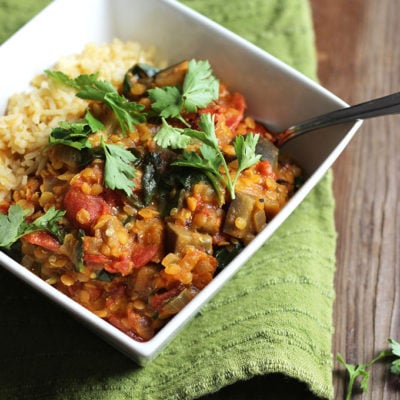 Vegan Madras Curry
Make a big pot of this delicious vegan madras curry in about 30 minutes – no need to order take-out!
Ingredients
2 small eggplants ~1 1/2 lbs, sliced
1 tablespoon olive oil
1 cup chopped yellow onion ~1/2 onion
2 cloves garlic minced
1 (15oz) can coconut milk (lite or full fat)
1 (28 oz) can diced fire roasted tomatoes
1 1/2 cups split red lentils
3 cups fresh spinach
Instructions
Place sliced eggplant into a colander and sprinkle generously with salt. Set aside.

Heat olive oil in a large stock pot. Add the onion and cook until translucent, about 5 minutes. Add the garlic and cook another 1-2 minutes or until fragrant.

Add the sauce, coconut milk, tomatoes, and lentils. Stir to combine.

Pat dry the eggplant with a towel, brushing off extra salt. Chop into 1/3″ cubes and add to the pot. Bring to a simmer, cover with lid and cook for 25-30 minutes or until lentils are tender. Stir occasionally.

Stir in the fresh spinach and cook another 2-3 minutes or until the spinach is wilted.

Serve over cooked brown rice or whole grain of your choice.
Nutrition
Calories: 420kcal | Carbohydrates: 43g | Protein: 15g | Fat: 24g | Saturated Fat: 19g | Polyunsaturated Fat: 5g | Cholesterol: 3mg | Sodium: 297mg | Fiber: 11g | Sugar: 9.5g
Reader Interactions