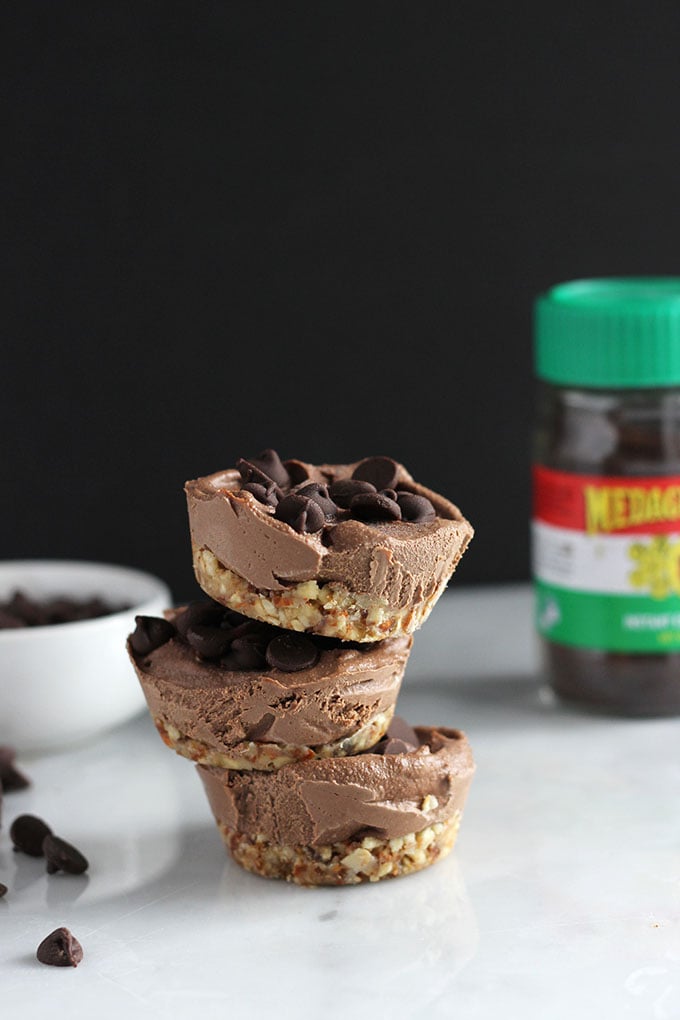 Let's celebrate Friday with these delicious vegan mocha cheesecakes! (I know I will be!) After I had long demolished my stash of these vegan mini blueberry cheesecakes in my freezer, it was time to restock my supply.
One of my absolute favorite things is coffee, so I thought I would incorporate a bit of coffee and chocolate in this newest version. Ummm… this might be the version that I forever remake on repeat! This girl loves her chocolate and coffee!!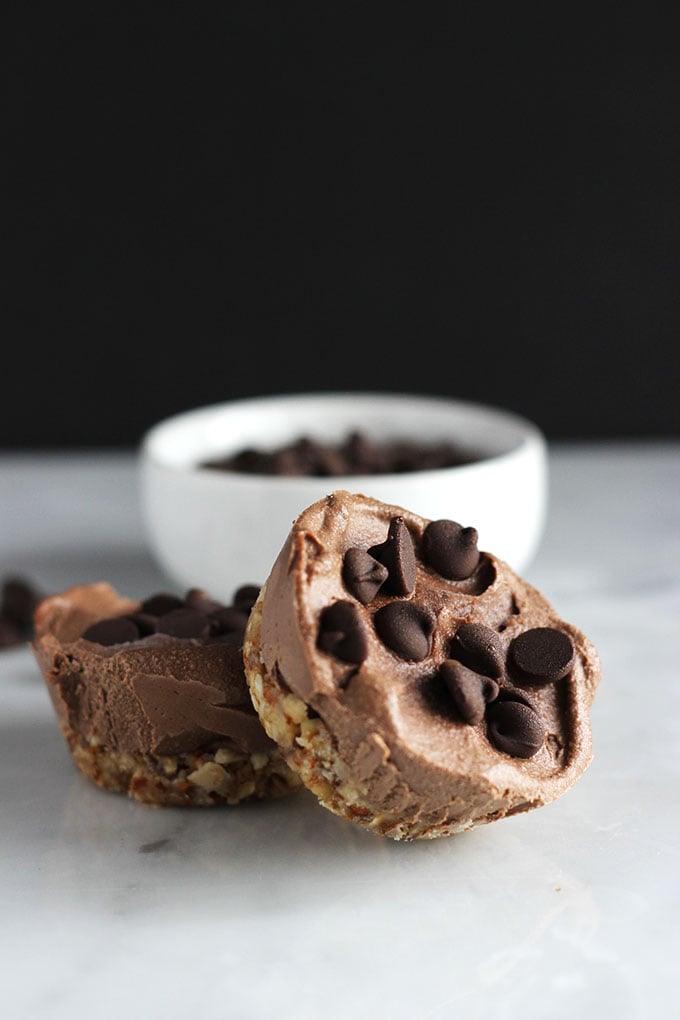 Tips for Making this Recipe
Make sure to soak the cashews for at least 2 hours. The longer you soak the cashews the easier it is to achieve a smooth puree.
Since I don't have a high-powered blender, I find that I get a smoother cashew puree when I puree them in batches in the single serving cup of my blender.
You may find that you need to add a little bit of extra soy milk to get the cashews started in the blender. I will usually start by adding 1/3 cup of soy milk and add 1 tablespoon at a time to thin the puree a bit. Your goal is to get to a hummus-like consistency.
Make sure to use a non-stick muffin tin for the cheesecakes. I grease the inside of each cup well with cooking spray before adding the cheesecake. You can also lay strips of parchment paper into each cup to create pull "tabs" to lift the cheesecakes out of the muffin tin. The well-greased muffin tin route has worked for me so far so I usually skip the parchment paper strips. 
More Vegan Dessert Recipes You'll Love
Did you love this recipe? Make sure to leave a ⭐️ rating and tag #dietitiandebbie on instagram!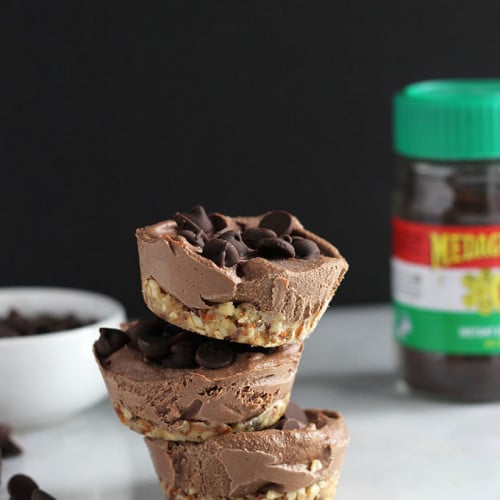 Vegan Mocha Cheesecakes
It's hard to beat the delicious combination of chocolate and coffee. These vegan mocha cheesecakes are the perfect, no-bake dessert for any occasion.
Ingredients
For the Filling:
1 1/2 cups raw cashews soaked or 2-3 hours
1/3 cup + up to 4 tablespoons soy milk
2 teaspoons instant espresso
2 tablespoons coconut oil
2 tablespoons cocoa powder
2-3 tablespoons maple syrup adjust to your liking
For the Crust:
¼ cup oats
½ cup almonds
½ cup dates ~5 dates, soaked 10 min in warm water
2 tablespoons coconut oil
Dash of salt
Instructions
Put your cashews in a large bowl and cover with water. Let them soak for at least 2-3 hours. Drain the soaking water from the cashews and then you are ready to use them in this recipe.

Combine all of the cheesecake filling ingredients in a blender and puree until smooth. (The finished consistency should resemble hummus.) Start with 1/3 cup of soy milk and add more milk by the tablespoon full to thin out the puree if needed. Store the finished cashew puree in the fridge until you finish the crusts.

To make the crusts, puree the oats and almonds together in a food processor until ground into a breadcrumb consistency. Now add the dates, coconut oil and salt. Puree until the mixture sticks together.

Evenly divide the crust mixture into 9 of the muffin cups. Use your fingers to press the crust mixture into the bottom of each muffin cup.

Spoon the cashew filling over the crusts. Sprinkle with chocolate chips, gently pressing them into the top of the cheesecake. Cover and freeze for 3 hours or overnight until cheesecakes are firm.

To serve, slide a knife along the edge of a cheesecake and pop it out of the muffin tin. Let stand at room temperature for 5 minutes and enjoy!
Nutrition
Serving: 1Cake | Calories: 309kcal | Carbohydrates: 28.2g | Protein: 7.3g | Fat: 20g | Saturated Fat: 8.7g | Polyunsaturated Fat: 11.3g | Sodium: 34.4mg | Fiber: 3.4g | Sugar: 15.5g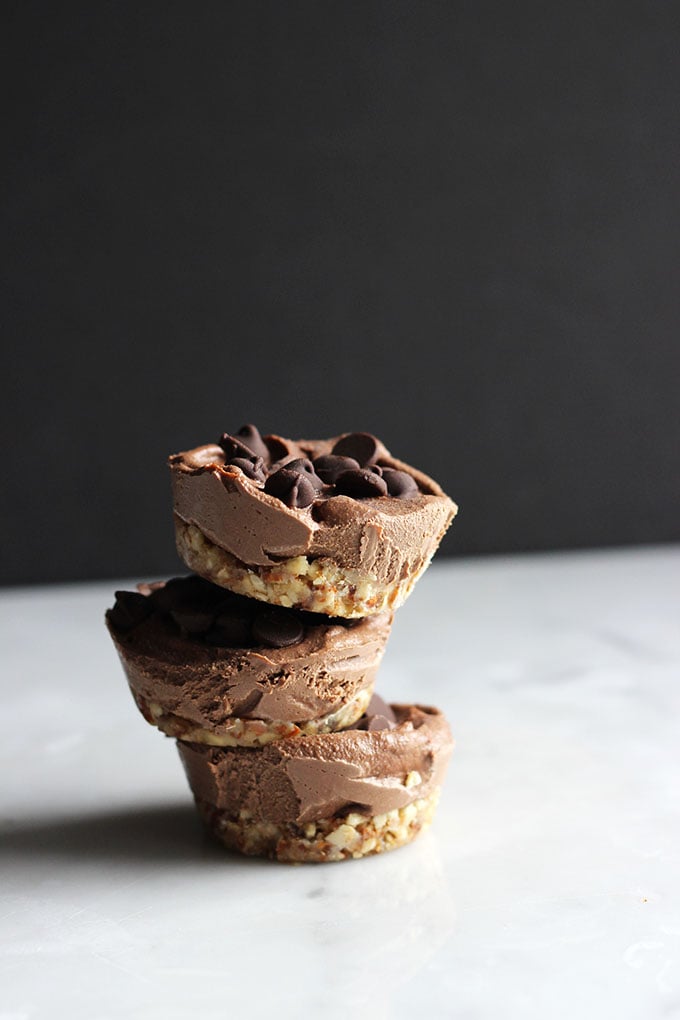 Reader Interactions