Serve up this pretty vegetarian lentil shepherd's pie made with lentils and chock full of root vegetables at Thanksgiving and your plant-based friends and family will love you forever.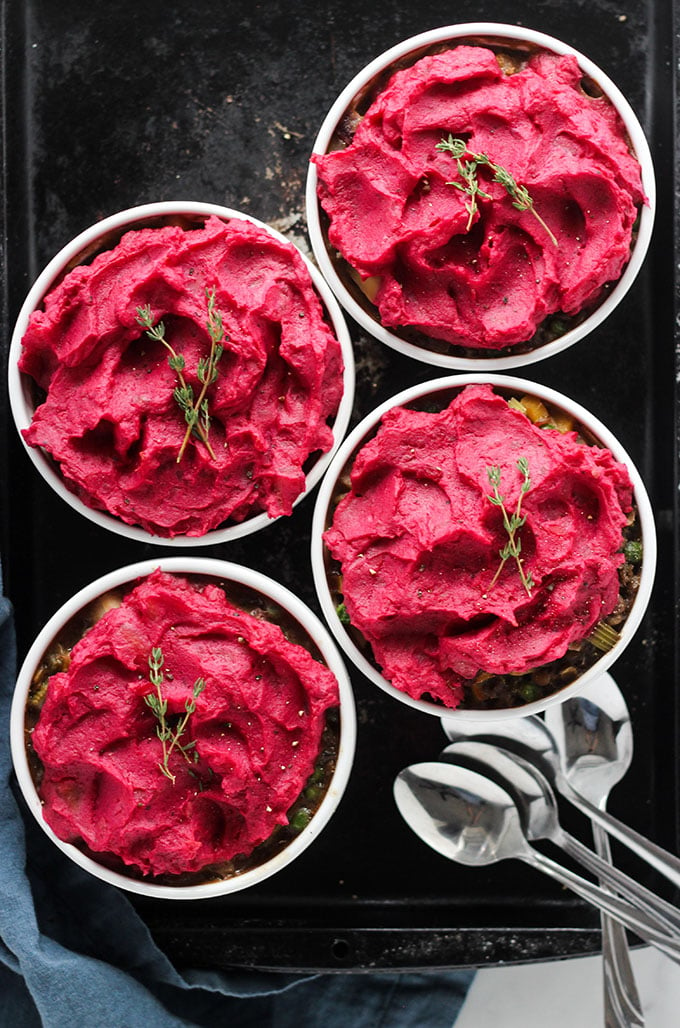 One of the benefits of being a vegetarian or vegan on Thanksgiving is that you can be as creative as you want with your main dish. In fact, Will and I made enchiladas from scratch one year for Thanksgiving!
I also love making hearty casserole dishes for Thanksgiving like this vegetarian lentil shepherd's pie which is filled with flavorful root vegetables and protein-packed lentils. For whatever reason, I often overlook the parsnips and rutabagas at the market or grocery store, but they are so good in dishes like this. I will definitely be picking them up more often this winter.
Obviously, this dish is a little more labor intensive so it is not the best for a quick weeknight meal, but it's all a labor of love when preparing it for Thanksgiving. Traditional shepherd's pie is topped with mashed potatoes which can honestly look a little boring. So, to add a pop of color to the dish, I stirred a pureed beet into the potatoes so that they turned a pretty purple.
To save myself some prep time, I roasted the beet ahead of time so I could easily puree it in when I was ready to make the shepherds pie. I just roasted it along with the other veggies I was already roasting on Sunday while prepping food for the week.
Although the recipe as written below is vegetarian, you can also easily adapt this recipe to be vegan too so anyone at your table can enjoy it!
More Delicious Recipes You'll Love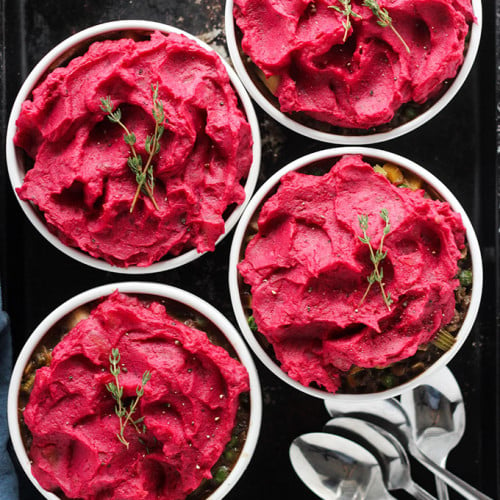 Vegetarian Lentil Shepherd's Pie
Serve up this pretty vegetarian lentil shepherd's pie at Thanksgiving and your plant-based friends and family will love you forever.
Ingredients
For the Lentils:
1 cup dried brown lentils
2 1/2 cups low sodium vegetable broth
For the Mashed Potatoes:
1 1/2 lbs. yellow skin potatoes ~6-7 potatoes, peeled if you prefer smooth mashed potatoes
2 tablespoons butter
1/4 cup whole milk
1 medium-sized 6 oz. roasted and peeled beet
1/8 teaspoon sea salt
1/8 teaspoon ground black pepper
For the Filling:
1 tablespoon olive oil
3 stalks celery chopped
3 carrots peeled and chopped
1/2 large yellow onion chopped
2 cloves garlic minced
2 parsnips peeled and chopped
1 rutabaga peeled and chopped
1 teaspoon dried oregano
1 teaspoon dried thyme
1 teaspoon dried rosemary
2 tablespoons all purpose flour
3 1/2 cups low sodium vegetable broth
1/8 teaspoon sea salt
1/8 teaspoon ground black pepper
1 1/2 cups frozen peas
Instructions
Preheat the oven to 350 degrees Fahrenheit.

In a medium saucepan, combine the lentils and broth. Bring to a simmer and cover. Cook for 12-15 minutes, or until most of the liquid is absorbed. Remove the lid and cook another 3-5 minutes or until the liquid is cooked off and lentils are tender. Set aside.

Add potatoes to a large pot and cover with 1" of cold water. Bring to a boil and cook for 12-15 minutes or until potatoes are fork tender. Use a colander to drain the potatoes and transfer to a large mixing bowl. Add the butter, milk, salt, and ground black pepper. Use a potato masher to mash by hand. Puree beet in a blender until smooth. (I found this worked best in a single serving blender cup attachment.) Stir into your mashed potatoes.

In a dutch oven, heat the olive oil. Add the celery, carrot, and onion. Cook for 3-5 minutes or until onion is translucent. Stir in the minced garlic and cook 1 more minute until fragrant.

Stir in the parsnips, rutabaga, oregano, thyme, rosemary, and flour. Toss to coat all the vegetables in the herb/flour mix. Cook for one minute.

Stir in the broth, salt, and black pepper. Bring to a simmer and cook for 30-35 minutes or until sauce is thickened and the rutabaga and parsnips are crisp-tender.

Stir in the lentils and frozen peas. Cook for another 2-3 minutes.

Transfer filling to an 8"x8" baking dish or four 16 oz. ramekins.

Spoon potatoes over the filling and use the back of a spoon to spread evenly. Transfer to the oven and bake for 20 minutes.
Notes
To make it vegan: use vegan butter or olive oil in place of the butter in the mashed potatoes and replace the whole milk with an unsweetened non-dairy milk .
To make it gluten free: replace the flour in the filling with 2 tablespoons of corn starch.
Nutrition
Serving: 1/4 recipe | Calories: 575kcal | Carbohydrates: 100g | Protein: 22g | Fat: 11g | Saturated Fat: 4.5g | Polyunsaturated Fat: 6.5g | Cholesterol: 16mg | Sodium: 750mg | Fiber: 20g | Sugar: 22g
Reader Interactions