This delicious pear arugula salad is one of my favorite recipes for the fall/winter season when pears and pomegranates are in season. It is super simple to whip up and a delicious healthy side for any cozy winter meal.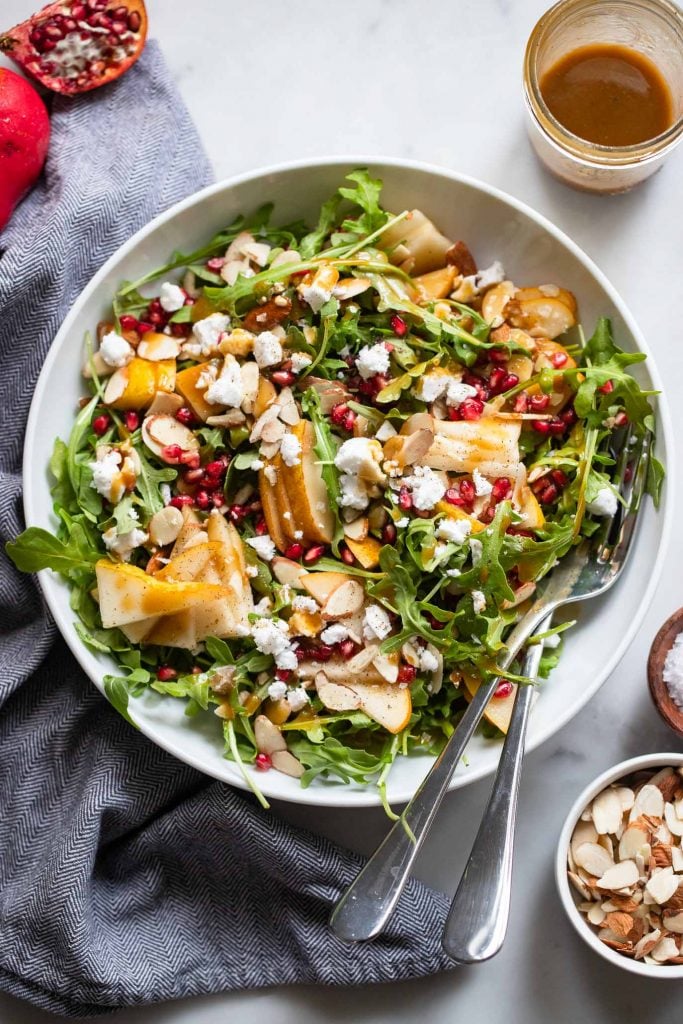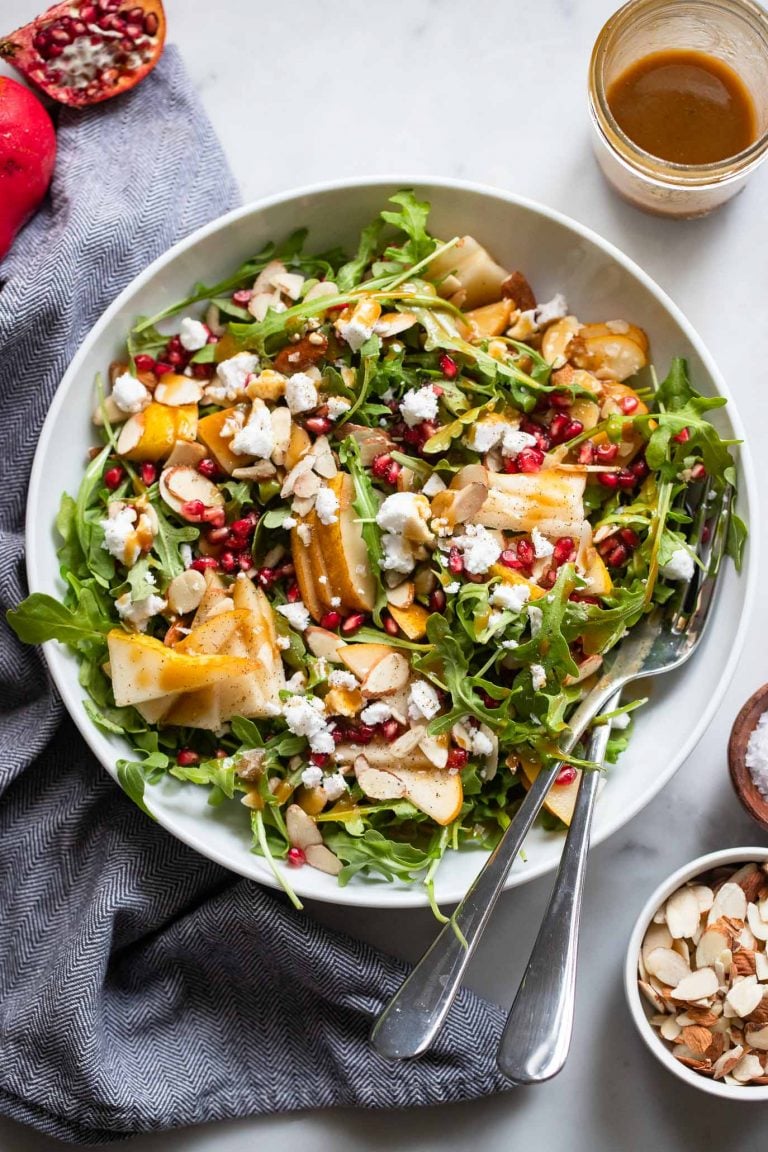 If you're looking for a refreshing and flavorful salad that's perfect for any occasion, then look no further than this pear arugula salad. This simple winter salad is a delightful combination of sweet and savory flavors, with the sweet pears perfectly complementing the peppery arugula. Whether you're looking to impress the dinner party guests at your holiday table or simply want a healthy lunch option, this easy-to-make salad is sure to satisfy your taste buds.
Ingredient Notes and Substitutions
Fresh Greens: I love using peppery baby arugula leaves (also known as rocket) for this recipe, but it also works well with other tender greens like a baby spinach or a baby kale mix.
Pear: You'll want to use sweet juicy pears for this salad rather than canned since canned pears are too soft. The best pears to use for this salad are: Bartlett, Anjou, or Comice. This pear guide can help you identify the right variety of pear next time you shop. Don't have pears? You could also use red or green apples.
Pomegranate: Love the sweet-tart flavor and crunch from pomegranate in this salad. If you don't like pomegranate or can't find it at the store, you can substitute dried cranberries. 
Almonds: Slivered almonds add a nice crunch. You can also use toasted walnuts or pecans instead if you'd like. 
Vegan Feta Cheese: You can skip this if you want, but I love adding a bit of vegan feta to this salad. I used VioLife vegan feta. You can also use goat cheese for a vegetarian version of this salad. Vegan parmesan cheese is also a great option for this salad.
Olive Oil: Use a nice extra-virgin olive oil as the base of the vinaigrette for this salad.
Balsamic Vinegar: Use this vinegar to whip up a simple dressing. I think balsamic pairs the best with pear and arugula but you could also use red wine vinegar or white wine vinegar.
Maple Syrup: Adds just a little sweetness to the vinaigrette.
Dijon Mustard: Rounds out the flavor of the balsamic dressing. Regular yellow mustard doesn't work well here, you'll want to use dijon or a whole grain mustard.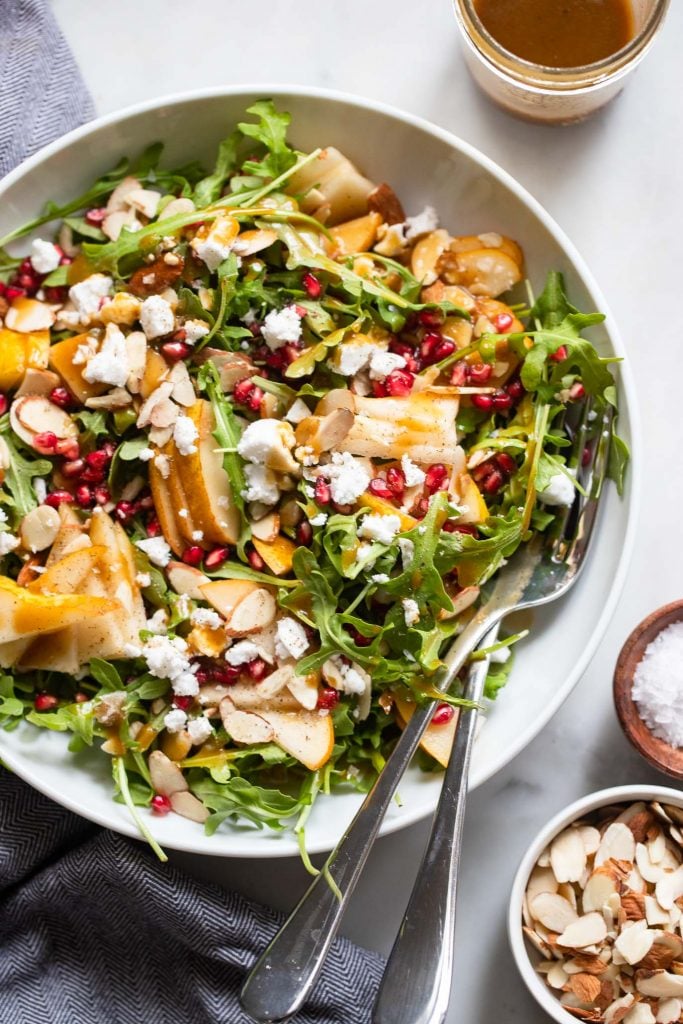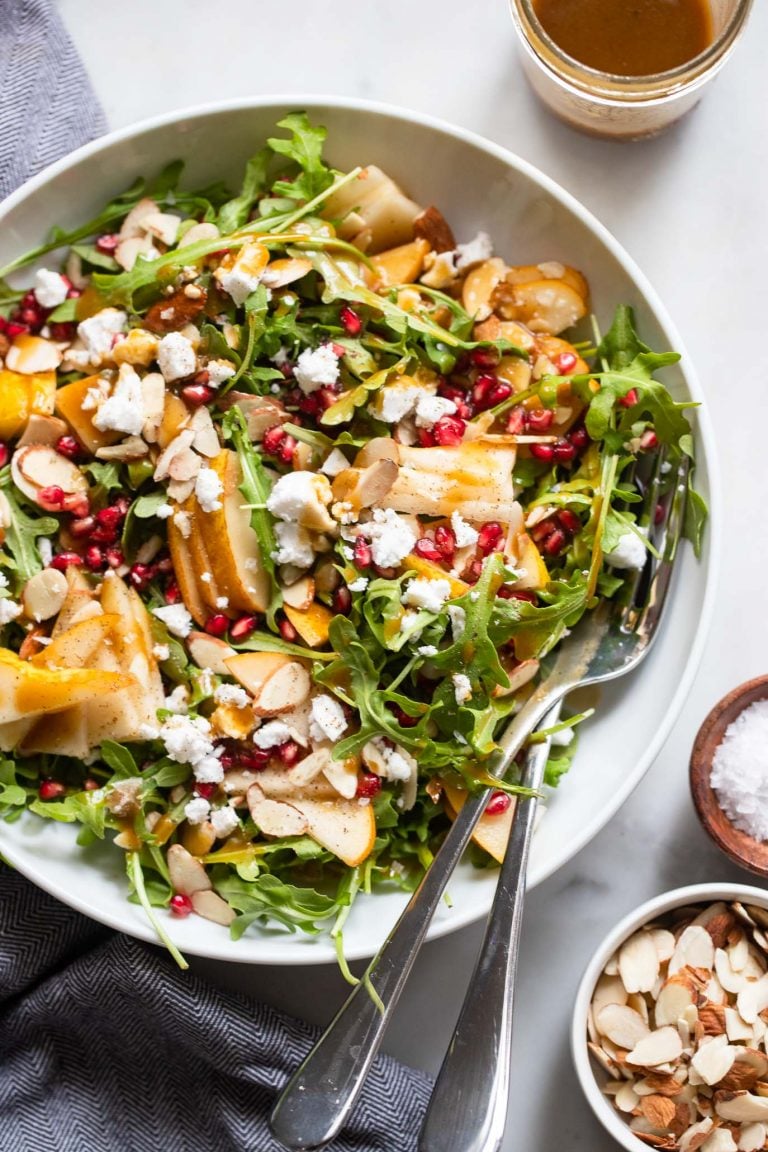 How to Make this Salad
This pear and rocket salad couldn't be any easier to make thanks to a simple homemade vinaigrette.
STEP 1: Add all of the salad dressing ingredients to a mason jar, screw on the lid, and shake to mix. You can make the dressing in advance if you'd like.
STEP 2: Prep the salad ingredients – slice your pears and take the pomegranate seeds out of the pomegranate (if using). Layer the arugula, pear slices, pomegranate seeds, crunchy almonds, and feta cheese in a large serving bowl. Drizzle with the simple balsamic vinaigrette, add a dash of black pepper, and serve immediately.
Health Benefits of This Recipe:
Nutrition benefits of arugula: arugula is rich in beneficial plant compounds like polyphenols and glucosinolates which can help prevent chronic diseases like cancer and heart disease. It is also a good source of vitamin K which plays a role in blood clotting and bone health.
Nutrition benefits of pears: pears are a great source of both soluble and insoluble fibers. Both types of dietary fiber are important for supporting a healthy gut microbiome.  
Nutrition benefits of almonds: Almonds are one of my favorite healthy snacks because they provide so many nutrients like vitamin E, calcium, phosphorus, riboflavin, and heart healthy fats.
Frequently Asked Questions
Can I make this pear arugula (rocket) salad ahead of time?
Arugula is a delicate salad green that can wilt quickly once it is coated in salad dressing. It is best to assemble this salad right before serving. You can make the salad dressing several days in advance and store in the fridge until ready to use.
Should you wash arugula?
I like to buy pre-washed baby arugula greens for salads like this one. If you need to walk the arugula, add to a salad spinner and rinse under cold water and then spin any excess moisture off of the leaves.
Can I use store-bought dressing for this salad?
Yes! Although, the balsamic vinaigrette salad dressing recipe included here is so simple and delicious. You can use your favorite balsamic dressing instead if you'd like.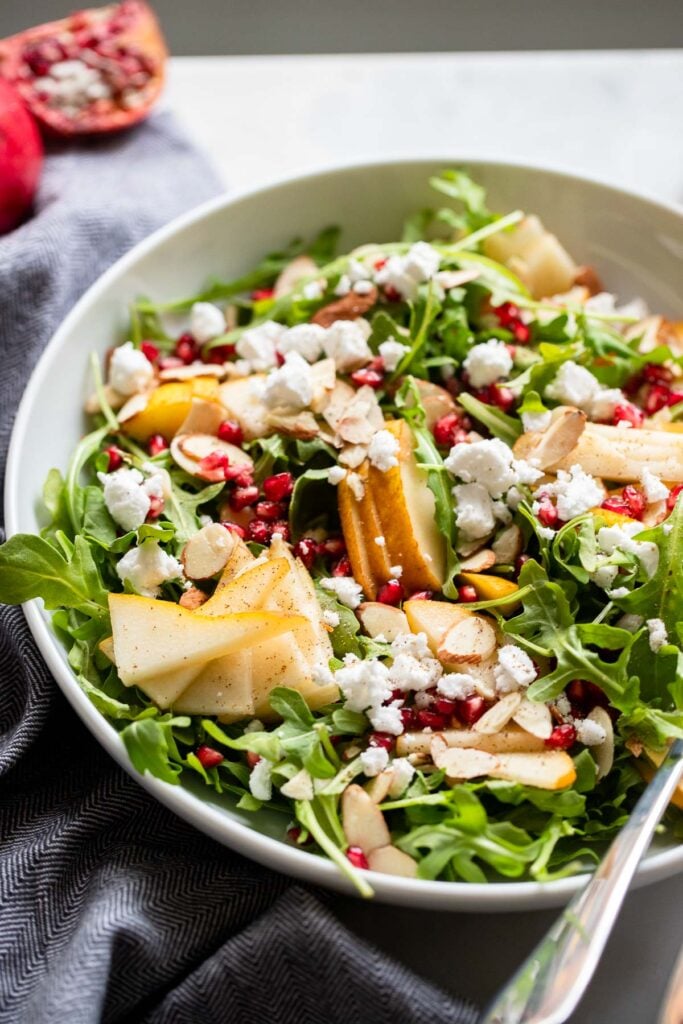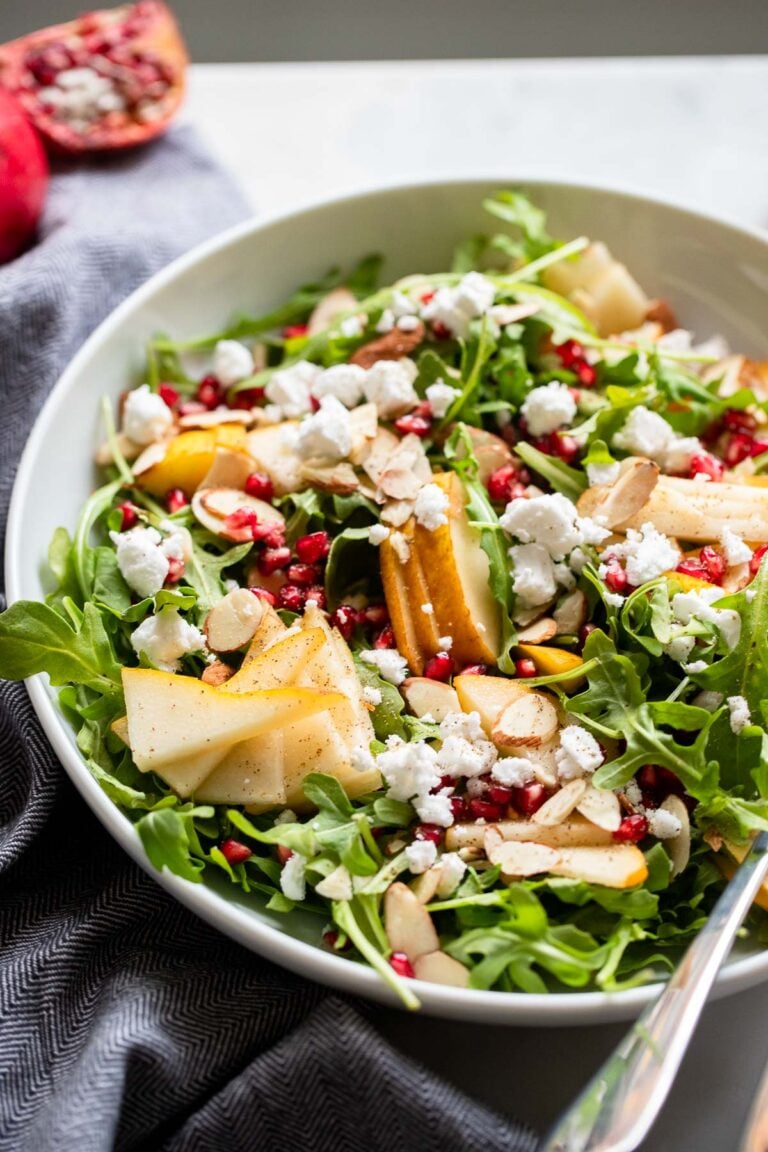 What to serve with this Easy Arugula Pear Salad
This pear salad recipe makes a great side dish paired with a hearty pasta dish like this vegan spinach lasagna or this vegan baked ziti recipe. You can also do a classic soup and salad pairing to round out the meal. This one pot red lentil pumpkin soup would be great as well as this vegan crockpot minestrone soup.
You can also make this delicious salad more filling by adding some cooked quinoa and/or some canned chickpeas.
More Salad Recipes You'll Love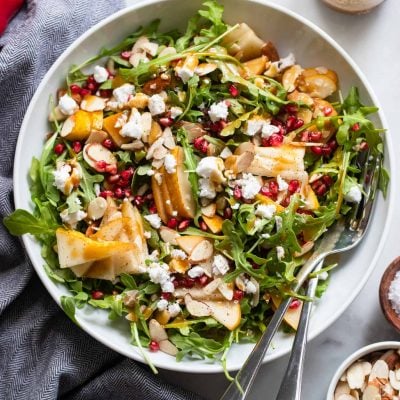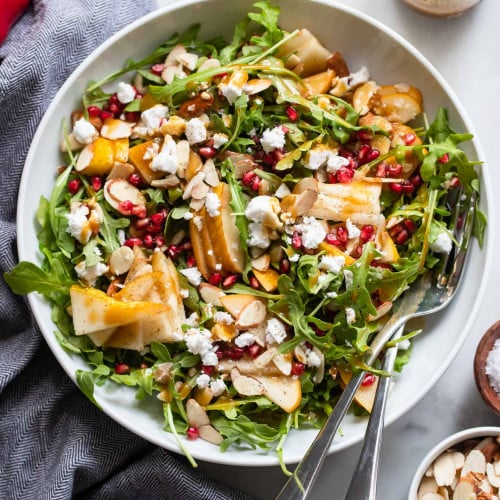 Pear Arugula Salad with Balsamic Dressing
This delicious pear arugula salad is one of my favorite recipes for the winter season when fruit like pomegranate is at its best. It is super simple to whip up and a delicious side for any cozy winter meal.
Instructions
Add all of your dressing ingredients to a jar and cover with lid. Shake well to combine.

Add all of the salad ingredients to a large bowl. Drizzle with dressing and toss to coat evenly.
Notes
This salad is best served just after you prepare it, especially if you are using arugula which can wilt quickly. Luckily, it comes together in a matter of minutes so prep is simple!
Store dressing separately if you want to prep in advance. 
Don't like arugula? Sub another leafy green like baby spinach, baby kale, or spring mix. 
Nutrition
Serving: 1/4 recipe | Calories: 218kcal | Carbohydrates: 9g | Protein: 3g | Fat: 20g | Saturated Fat: 2.5g | Polyunsaturated Fat: 17.5g | Sodium: 75mg | Fiber: 2g | Sugar: 5.5g
Reader Interactions