Blueberries are probably my favorite berry. My grandparents used to have a bunch of blueberry bushes around their house. Every summer we would flock to those bushes to grab up the sweet, tart little berries before the birds did!
When I noticed a pint of blueberries at the market on Thursday for the first time this season, I snatched them up. Normally, I enjoy them as a yogurt topping for breakfast, but this time I wanted to do something a little different with these berries.
In an attempt to use up the half a bag of white chocolate chips that were hanging out in my pantry, I decided to make up a batch of blueberry white chocolate chip cookies. You may be thinking it's a little weird to put blueberries in cookies, but trust me. These are amazing. I had seen this combo posted on a couple blogs and just had to try it out for myself.
I used Smitten Kitchen's thick, chewy oatmeal raisin cookie recipe for the base and added in the blueberries and white chocolate instead of raisins. I kept most everything in the recipe the same except for doubling the vanilla and omitting the cinnamon.
More Cookie Recipes You'll Love
Did you love this recipe? Make sure to leave a ⭐️ rating and tag #dietitiandebbie on instagram!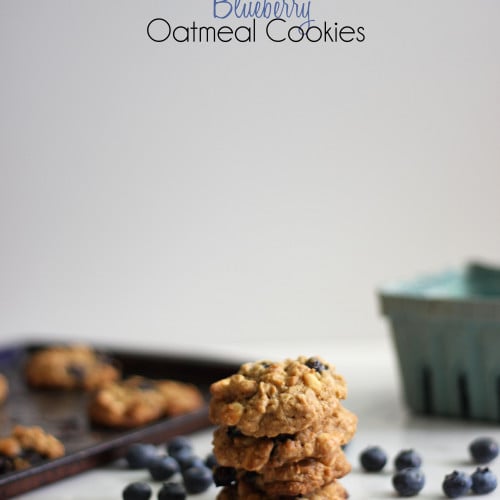 White Chocolate and Blueberry Oatmeal Cookies
A unique twist on the ordinary oatmeal raisin cookie – try these white chocolate and blueberry oatmeal cookies!
Ingredients
1 stick 1/2 cup butter, softened
2/3 cup brown sugar packed
1 egg
1 teaspoon vanilla extract
3/4 cup all purpose flour
1 1/2 cups oats
1/2 teaspoon baking soda
1/4 teaspoon salt
3/4 cup blueberries
3/4 cup white chocolate chips
Instructions
Preheat oven to 350 degrees Fahrenheit.

Combine the butter, brown sugar, egg, and vanilla in a mixing bowl and beat until smooth.

In a small bowl combine the flour, baking soda, and salt. Pour into the mixing bowl with the butter mixture and beat until mixed in.

Stir in the oats, blueberries, and chocolate chips.

Scoop onto a cookie sheet by rounded tablespoons.

Bake for 10-12 minutes or until golden brown.

Cool on a wire rack.
Reader Interactions