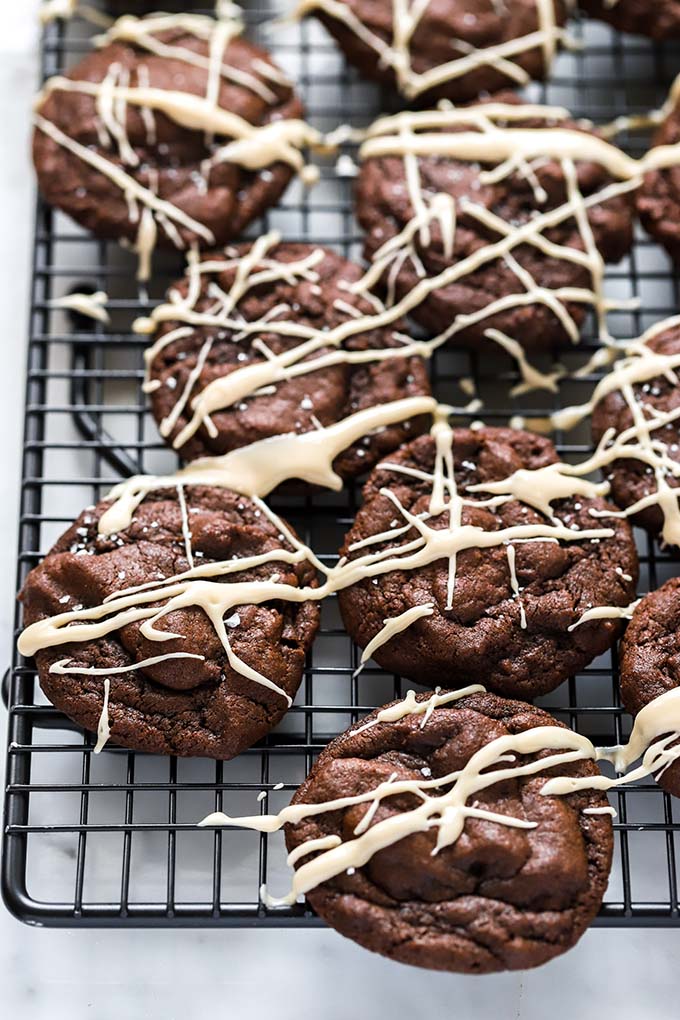 Helloooo cookie season! I don't often post many dessert recipes here because creating recipes for baked goods is a lot more intimidating than savory meals. Baking is more exact and there is some science involved to make sure everything goes right. I adapted this cookie recipe from the one on the flour I used (Market Pantry from Target). Then, I dressed them up with some super simple coffee glaze.
How to Make These Chocolate Cookies
This is a really straightforward cookie recipe since it doesn't require any fancy ingredients or chilling time. They work best with room temperature butter so you can either set your butter out on the counter a few hours before you plan on making these, or soften it in the microwave. I would microwave it for 5 seconds at a time, flipping the stick over after each 5 seconds until it is just softened. You don't want to melt it!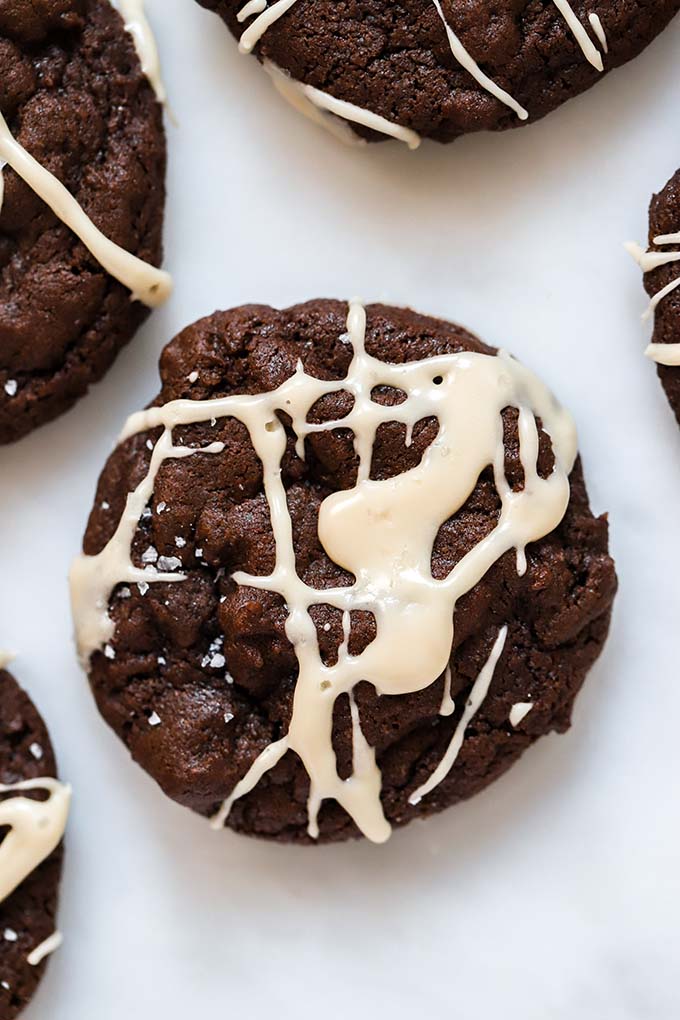 Beat together the egg, butter, and sugar in a stand mixer. Combine your dry ingredients in a bowl and then add to the mixture with the butter. Mix until everything is incorporated.
The dough will be soft and "shaggy" but don't worry, it won't spread too much when baking. However, if you feel like your dough is too soft or your kitchen is warm, add the dough to the fridge for 30 minutes before scooping onto baking sheets. You can also store the dough in the fridge between trays of cookies while baking to keep the dough pliable but not too soft.
How to Make the Coffee Glaze
I am a coffee-fiend so that was the first thing that came to mind when I was trying to come up with a good flavor to add to the glaze for these cookies. Rather than using milk or water to thin the glaze like you normally would, you will use extra strong brewed coffee.
I started with 2 tablespoons coffee in the glaze recipe and dripped in more coffee as needed until the glaze was thick but pourable. I then just drizzled it all over the cool cookies and sprinkled it with a bit of coarse salt.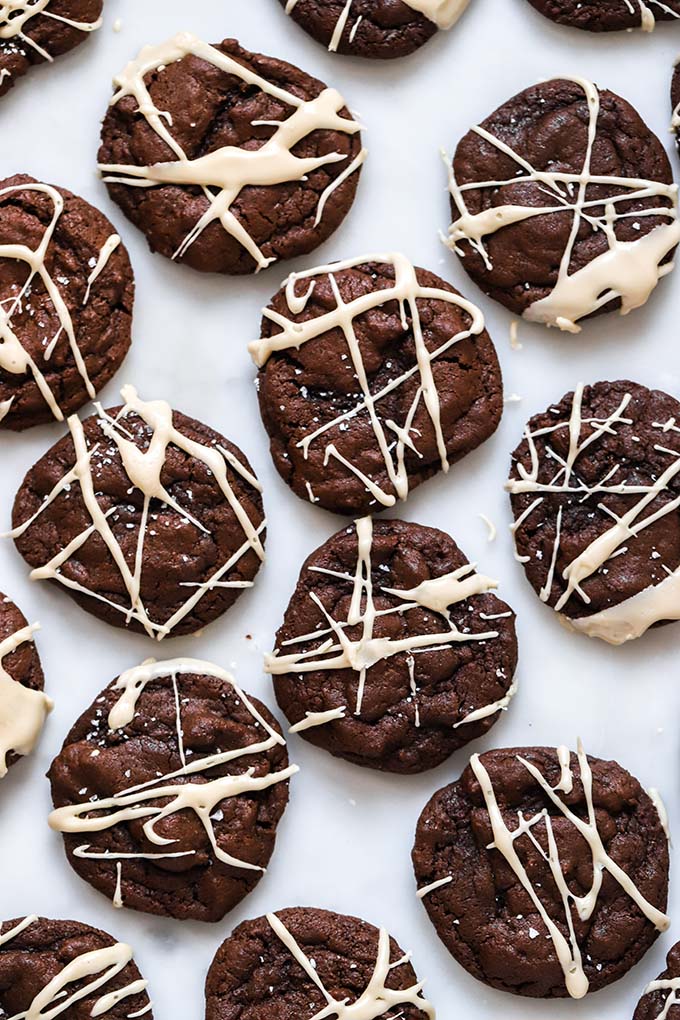 Can you freeze these cookies?
Yes! These cookies freeze well. You can freeze the raw dough wrapped in plastic wrap or you can freeze the baked cookies either with the glaze applied or without.
Looking for more recipes to try? Check out these!
Chocolate Cookies with Coffee Glaze
These chocolate cookies with coffee glaze taste like a brownie in cookie form! Dress them up with a simple coffee glaze. 
Ingredients
For the cookies: 
1 cup unsalted butter 2 sticks, room temperature
1 1/2 cups granulated white sugar
2 teaspoons vanilla extract
2 eggs
2 cups all-purpose white flour
2/3 cup cocoa sifted
1 teaspoon baking soda
1/2 teaspoon sea salt
Instructions
Preheat oven to 350 degrees Fahrenheit. Line baking sheets with parchment paper.

Add butter and sugar to bowl of standing mixer and beat until light and fluffy.

Add vanilla and eggs. Turn on beater until well mixed.

In a small mixing bowl, add flour, cocoa, baking soda and salt. Stir well. 

Add dry ingredients to wet ingredients with mixer on low speed. Mix until dough forms. Dough will be soft but moldable. (If you find it is too soft, place in the fridge for 30 minutes.)

Spoon 1 1/2 tablespoon size dough balls onto baking sheets. 

Bake for 8-10 minutes. Allow to cool on baking sheet for 1-2 minutes before transferring to wire rack to cool completely.

Once cookies are all cooled, make the glaze by whisking together 1 cup powdered sugar and 2 tablespoons of coffee. Gradually add coffee, 1/8-1/4 teaspoon at a time until glaze is thick but pourable. Drizzle cookies with glaze and set aside for an hour for glaze to fully harden. 
Notes
You can either freeze the prepared dough wrapped in plastic wrap OR you can freeze the baked and glazed cookies. Make sure to let the glaze harden before stacking these cookies to store them!
Nutrition
Serving: 1cookie | Calories: 103kcal | Carbohydrates: 13g | Protein: 1g | Fat: 5g | Saturated Fat: 3.5g | Polyunsaturated Fat: 1.5g | Trans Fat: 0.5g | Cholesterol: 14mg | Sodium: 112mg | Fiber: 1g | Sugar: 7g
Reader Interactions