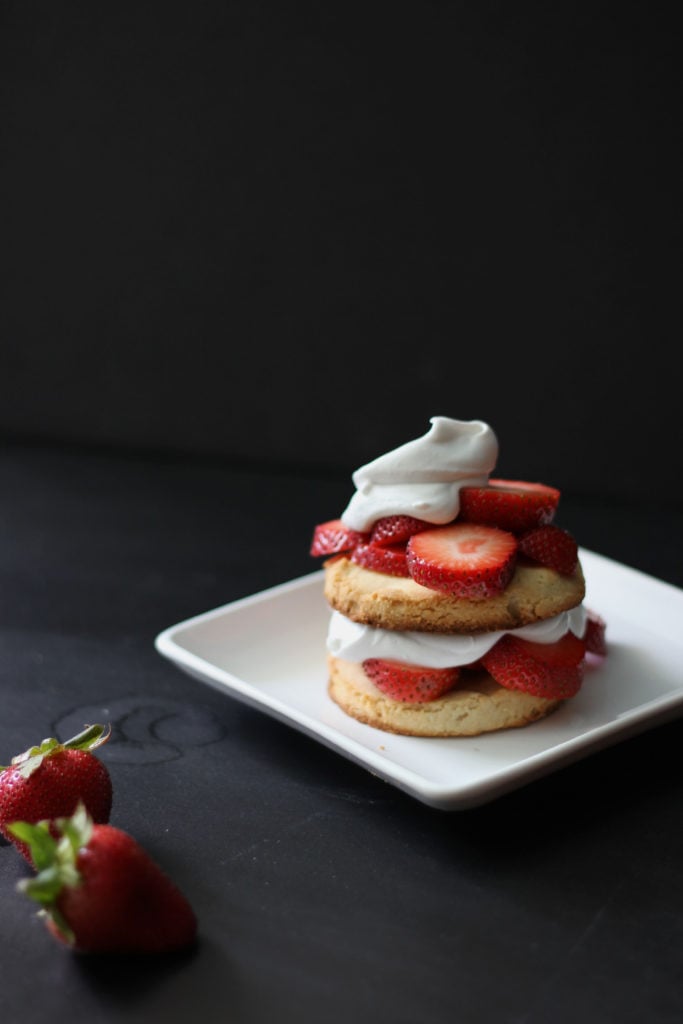 Did you know that June 14th is National Strawberry Shortcake Day? With juicy, sweet strawberries at the peak of their growing season, it's no wonder there's a reason to celebrate! In fact, people have been enjoying strawberries and shortcake since the 1850s when someone ingeniously paired the two together.
Since everyone should be able to enjoy the superb combination of strawberries and shortcake, I wanted to make a shortcake that is gluten-free, paleo and vegan! (Delicious too, of course.) Almond flour and extract add a hint of extra flavor that really pairs well with the strawberries. The whipped topping is made from chilled whipped coconut milk which is so delicious and super easy to make. Plus, it can be made without added sugar to boot!
Health Benefits of Strawberries
One cup of fresh strawberries has almost 150% of the RDA for Vitamin C!
Strawberries are low in calories; a single serving has only 47 calories. 
Strawberries are a good source of potassium, a nutrient important for blood pressure and fluid regulation.
More Dessert Recipes You'll Love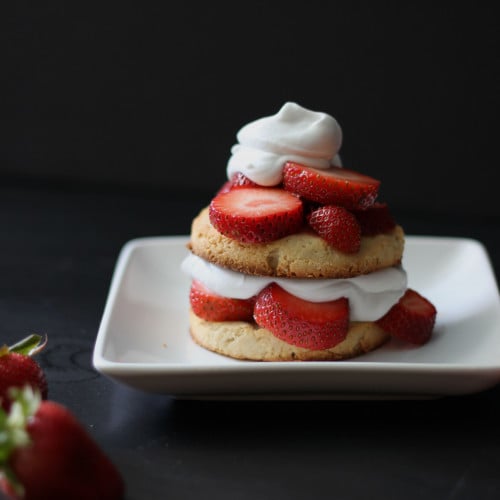 Almond Strawberry Shortcake
Celebrate the start of summer with this vegan, gluten free version of a classic dessert – strawberry shortcake!
Ingredients
For the Shortcake
1 1/2 cups almond flour
1/2 cup coconut flour
1/2 teaspoon baking powder
1/2 teaspoon almond extract
1/4 cup coconut milk
4 tablespoons coconut oil
3 tablespoons maple syrup
1 pint fresh strawberries
COCONUT WHIPPED CREAM:
1/2 can full fat coconut milk refrigerated overnight.
1 teaspoon maple syrup optional
Instructions
Preheat oven to 350 degrees Fahrenheit.

In a large mixing bowl, whisk together the almond and coconut flour and baking powder. Stir in almond extract, milk, and maple syrup.

Drop in the solid coconut oil and quickly crumble through the mixture using your fingers. (Similar to what you do when making a pie crust.)

Once oil is dristributed throughout dough in smaller than pea size pieces, begin to form crumbly dough into a ball.

Flour the counter with some more coconut flour and dump the dough out of the bowl. Roll dough out until about 1/4 inch thick. Cut out 3″ circles and place on a greased cookie sheet. (Should make about 6 pieces.)

Bake shortcake in the oven for 10-15 minutes or until golden brown around the edges. Let cool on a rack on the counter.

Meanwhile, cut the greens off of the fresh strawberries and slice. Set aside.

To make the coconut whipped cream: scoop the top cream layer off of the chilled can of coconut milk. Place in a chilled mixing bowl and beat on high with a blender until it begins to get a little fluffy and forms soft peaks. (Add a teaspoon of maple syrup to the cream before beating if you want it a little sweeter.)

Assemble strawberry shortcakes by layering cake with strawberries and coconut whipped cream.
Nutrition
Serving: 1shortcake | Calories: 707kcal | Carbohydrates: 51g | Protein: 16g | Fat: 54g | Saturated Fat: 24g | Polyunsaturated Fat: 1g | Monounsaturated Fat: 1g | Sodium: 119mg | Potassium: 334mg | Fiber: 16g | Sugar: 25g | Vitamin A: 19IU | Vitamin C: 93mg | Calcium: 210mg | Iron: 4mg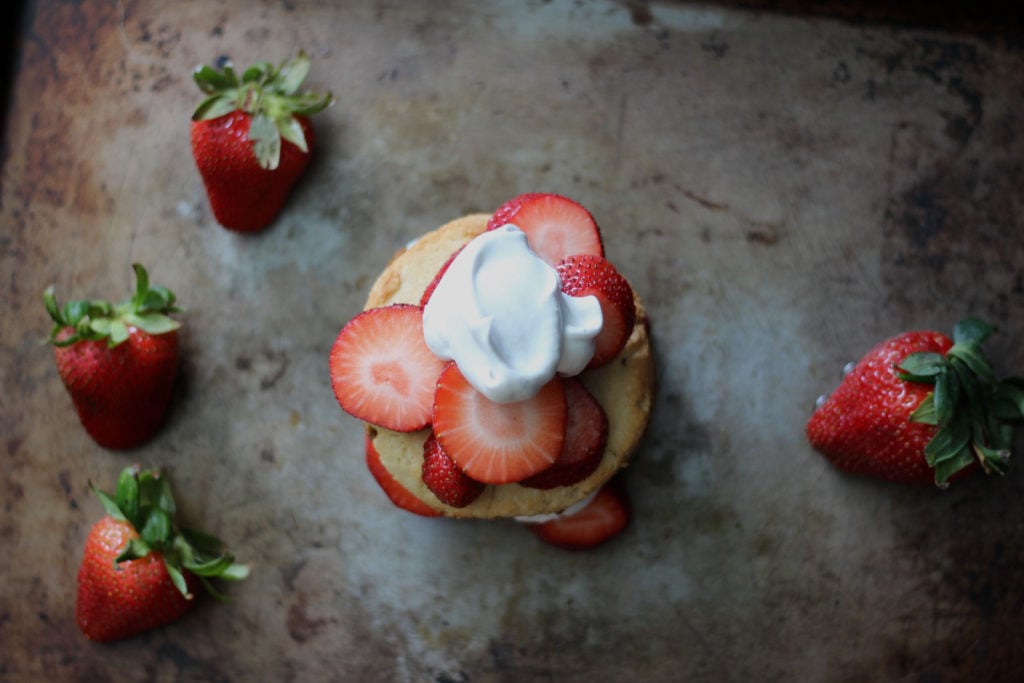 Reader Interactions