Growing up, we never really had pop tarts much for breakfast. We did go through a phase where we ate a LOT of toaster strudel though. The other day, I picked up a pie crust at the store without any real plans for it. I didn't really want to make a pie, but I was craving something sweet so I landed on pop tarts. I figured that the pears we had sitting on our counter would make for a tasty filling so these vegan ginger pear pop tarts were born.
I am obsessed with the filling for these and actually make something very similar to put on my oatmeal in the morning. It's super simple to make too, you just add sauté some chopped pears in coconut oil, water, ginger, maple syrup, and cinnamon until tender. As it cooks, it starts to form a syrupy sauce that is just heavenly. I'm thinking these ginger pear pop tarts would be perfect for a special holiday breakfast or brunch.
More Delicious Recipes You'll Love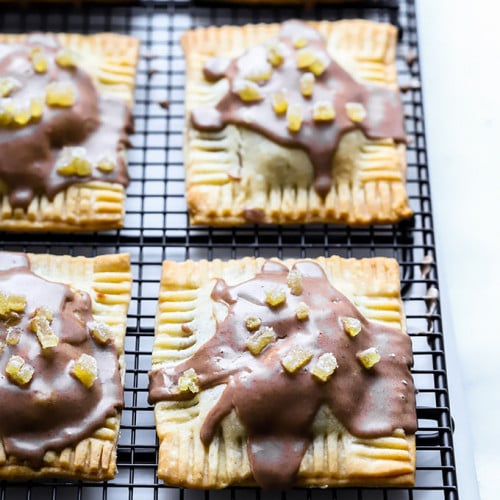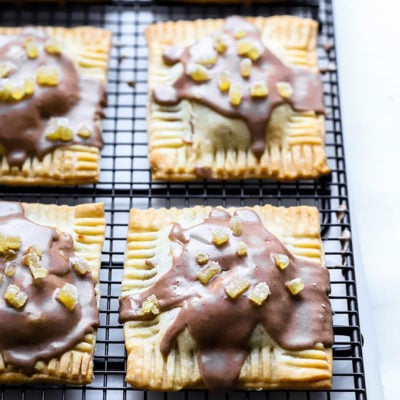 Ginger Pear Pop Tarts
The recipe for these ginger pear pop tarts is a delicious spin on your favorite childhood breakfast. Buy pie crust from the store and these are simple to whip up!
Ingredients
For the Pop Tarts
1 tablespoon coconut oil
2 pears chopped
3 tablespoons water
1 teaspoon grated ginger or dried ginger
1 teaspoon cinnamon
2 9 inch pie crusts
2 tablespoons vegan butter melted
For the Frosting
3/4 cup powdered sugar sifted
1 tablespoon almond milk
1/2 teaspoon cinnamon
1/4 teaspoon vanilla
3-4 pieces crystalized ginger chopped
Instructions
Preheat the oven to 350 degrees Fahrenheit.

Melt the coconut oil in a medium-size saucepan. Add the pear, water, ginger, and cinnamon. Bring to a simmer and cook until pear has softened and sauce has formed. Turn off the heat a set aside.

Line two baking sheets with parchment paper.

Spread a little flour onto your counter and add one of the pie crusts. Cut into 4 rectangles. (Mine were about 3″ x 4″). Arrange 4 rectangles onto a baking sheet. Top each sheet with 2 tablespoons of the pear filling. Brush edges of the crust with the vegan butter and then lay the top crust over. Use a fork to seal the filling inside.

Repeat with the second pie crust. Roll out the scraps and you should be able to shape enough dough to make 2 more pop tarts.

When pop tarts are assembled, poke holes in the top with a fork to allow steam to escape. Brush the tops with the rest of the vegan butter.

Place in the refrigerator for 15-30 minutes.

Bake pop tarts for 22-24 minutes or until edges are golden brown.

When the pop tarts are completely cool, make the frosting by stirring together the powdered sugar, almond milk, cinnamon, and vanilla with a whisk. Divide evenly between the pop tarts. Sprinkle ginger over top. Allow frosting to set, about 1 hour.
Nutrition
Serving: 1pop tart | Calories: 402kcal | Carbohydrates: 52g | Protein: 4g | Fat: 20g | Saturated Fat: 7g | Polyunsaturated Fat: 3g | Monounsaturated Fat: 8g | Trans Fat: 1g | Sodium: 267mg | Potassium: 129mg | Fiber: 4g | Sugar: 21g | Vitamin A: 195IU | Vitamin C: 3mg | Calcium: 25mg | Iron: 2mg
Reader Interactions