Blueberries, kale, and walnuts pair perfectly in this delicious vegan blueberry summer kale salad that is packed with antioxidants. Topped with a simple blueberry vinaigrette that you'll want to add to every salad this summer.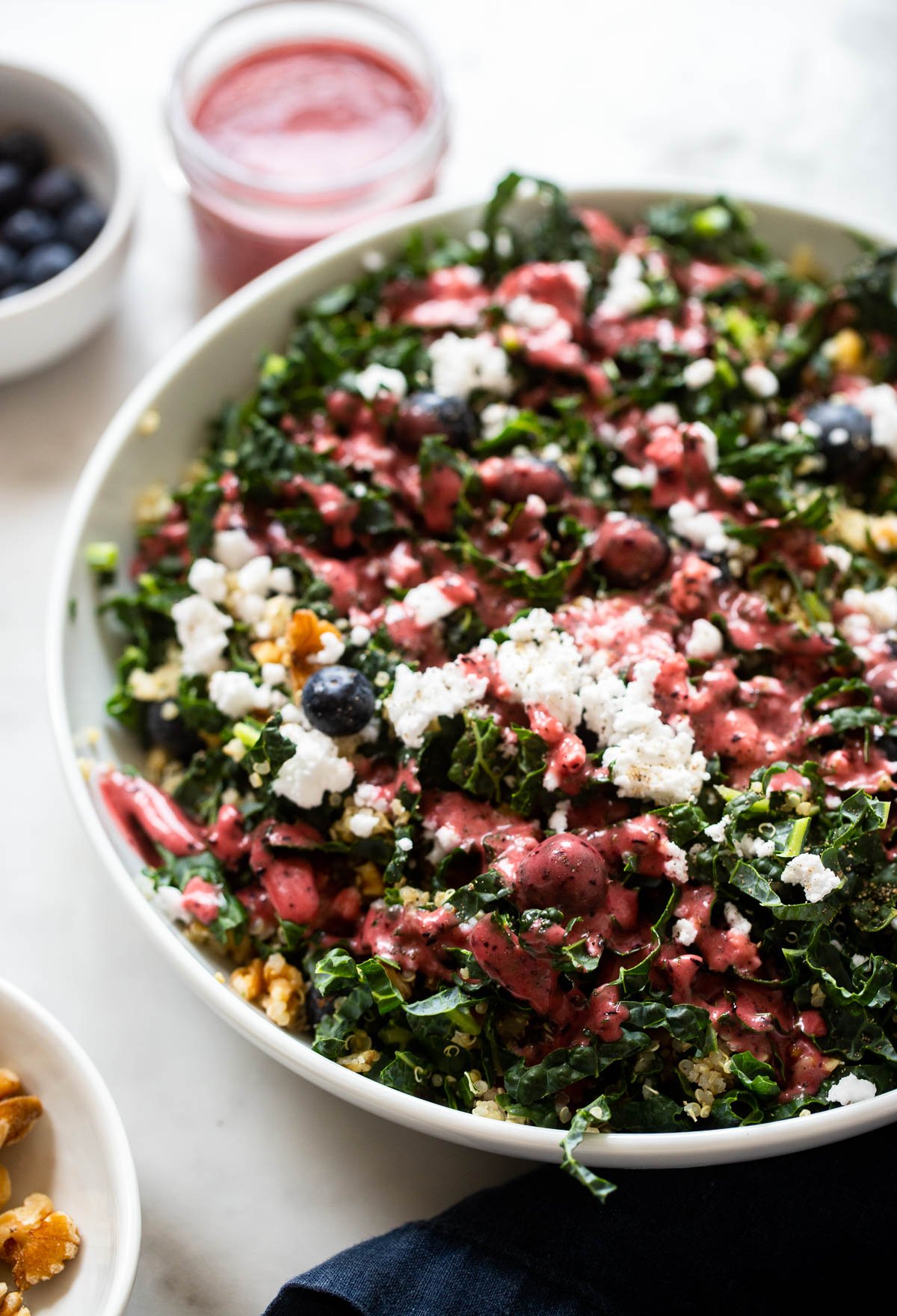 This post was originally published on July 9, 2014 but was updated with new photos and a couple of recipe tweaks to make it even better. I hope you love it!
Oh my goodness, I am so excited to tell you about this salad. Blueberry season is finally here and this salad is the perfect way to highlight their deliciousness. In fact, I put them on top of this salad as well as in the dressing. Mmm…
The best part about kale salads is that the flavors get even better when you serve the leftovers. I made this huge salad for myself and have been doling out single servings into containers for my lunch at work. It makes lunch prep when I am still half asleep in the mornings super easy!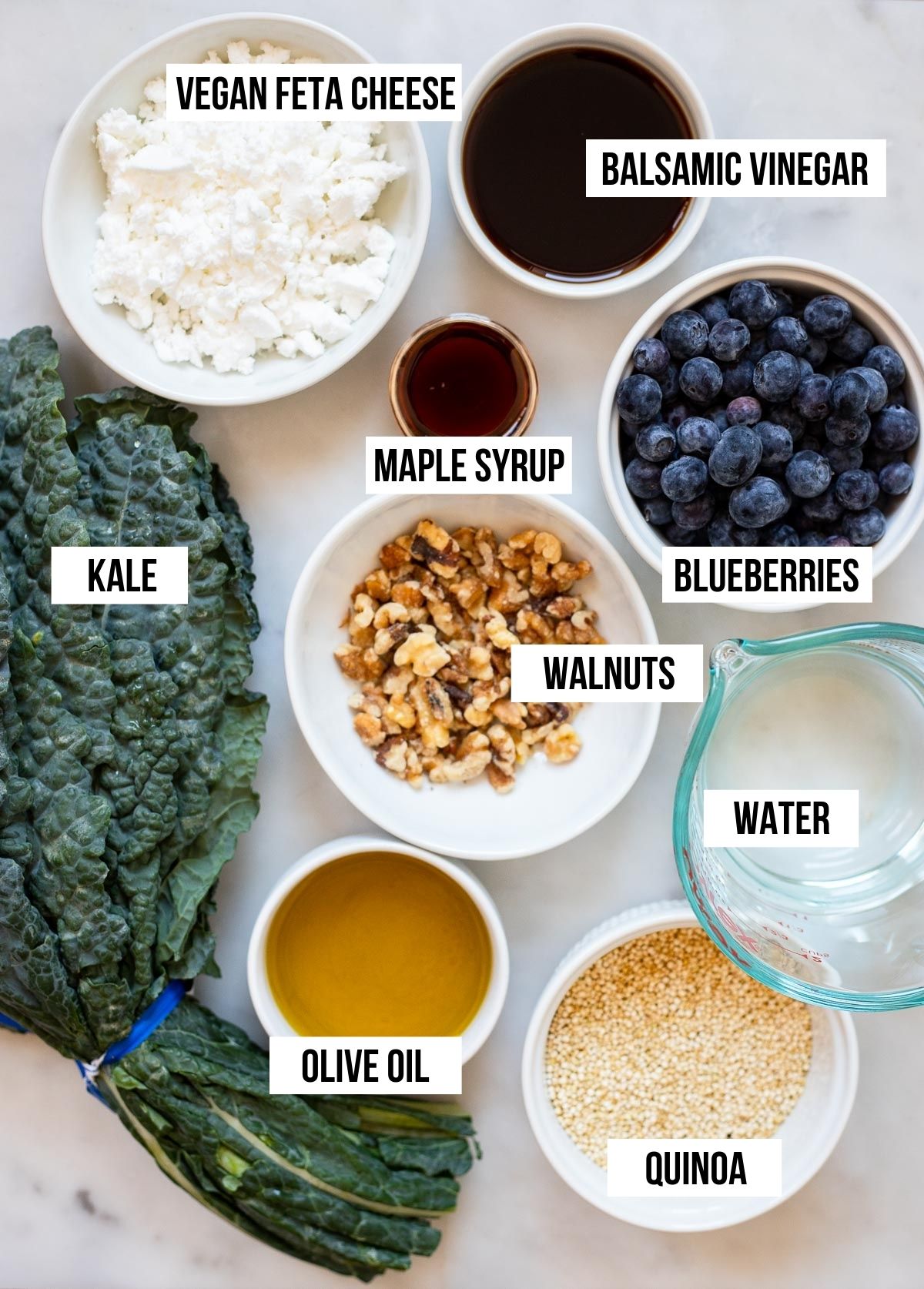 Ingredient Notes and Substitutions
Blueberries: Fresh blueberries are best for this salad because thawed frozen berries are just too mushy. Save this salad for berry season!
Balsamic Vinegar: Pairs so well with the blueberries in the homemade dressing for this salad.
Quinoa: Love adding quinoa to salads like this one to bump up the protein.
Kale: I like to use lacinato (ie. dino) kale for this salad but curly kale could work too.
Walnuts: Walnuts and blueberries just pair so well together! However, you could also use pecans, almonds, or sunflower seeds if you like.
Vegan Feta: The vegan feta is optional, but it is so good on this salad! I really like this one but there are a few different vegan companies that make feta now.
How to Make this Summer Kale Salad
STEP 1: Add quinoa to a fine mesh sieve and rinse well with cold water. Transfer to small saucepan and add water. Bring to a simmer and then cover. Cook for 12-15 minutes or until liquid has been absorbed. Set aside too cool.
STEP 2: While the quinoa cooks. Finely chop the kale and massage with 1 teaspoon olive oil. Add the blueberries, feta, and walnuts. Set aside.
STEP 3: Make the salad dressing by adding all the dressing ingredients to a blender cup and pureeing until smooth. It's best to pulse just until smooth. If you blend too long, you can make mayonnaise!
STEP 4: Assemble salad by adding cooled quinoa to the rest of the salad ingredients in a large mixing bowl. Drizzle with dressing and toss to coat.
Why This Salad is Good For You
Kale: We all know now that kale is super good for you. One cup of chopped raw kale has over 100% of your nutrient needs for Vitamins A, C, and K. That one serving has only 33 calories too.
Blueberries: These cute berries are high in polyphenols which research indicates play an active role in alleviating inflammation. Most recently, research has linked blueberries with a slower rate of cognitive decline with age.
Walnuts: Walnuts are a great source of heart healthy omega 3 fats. They are also especially high in antioxidants which can help lower risk of chronic disease.
Quinoa: Quinoa is naturally gluten free and is a great source of plant-based protein. One cup of cooked quinoa has 8 grams of complete protein since it includes all 8 essential amino acids.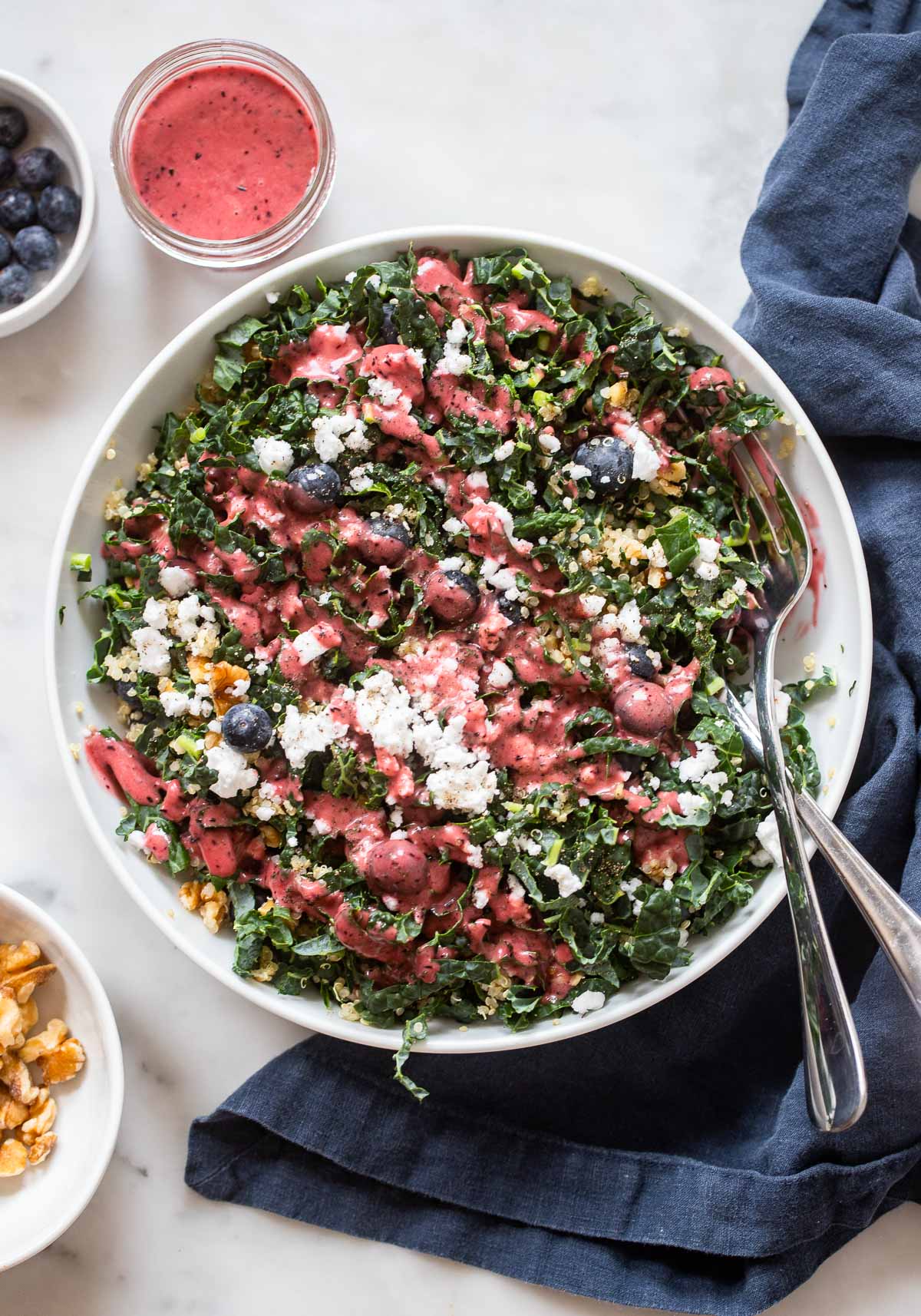 Recipe Notes:
To blend the dressing for this salad, I really like using the smoothie cup attachment for my NutriBullet Magic Bullet. This little appliance is seriously so useful! We use it all the time for small batches of sauces and dressings.
The secret to actually delicious kale salads is to make sure to finely chop your kale. The smaller the pieces, the more softer they get after massaging. Plus, no one likes trying to gnaw on big pieces of raw kale!
SEASON YOUR SALAD! Just like any other dish, salads taste so much better when sprinkled with the smallest dash of sea salt or finishing salt after plating. That little dash of salt can really make the flavors pop.
Switch it up with a different dressing. This strawberry balsamic dressing would be delicious on this salad!
Make Ahead and Storage
This salad will keep up to 3-4 days in the refrigerator when stored in an airtight container but tastes best when served right after making.
Prepare the quinoa and the salad dressing in advance so this salad can be assembled in just a few minutes when you are ready to serve. Store the quinoa in an airtight container up to 4 days in the fridge. Store the dressing in a jar in the fridge until ready to use.
More Salad Recipes You'll Love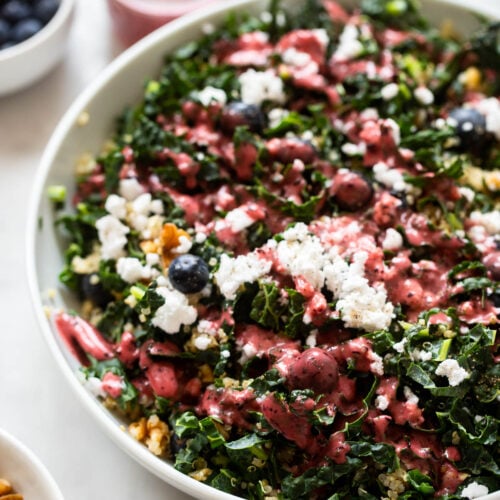 Blueberry Summer Kale Salad
Blueberries, kale, and walnuts pair perfectly in this delicious vegan blueberry summer kale salad that is packed with antioxidants. Topped with a simple blueberry vinaigrette that you'll want to add to every salad this summer.
Ingredients
FOR THE SALAD:
1/2 cup quinoa
1 cup water or vegetable broth
2/3 cup walnuts, chopped
4 cups curly or lacinato kale, chopped
1 teaspoon olive oil
1 cup fresh blueberries
2 ounces crumbled vegan feta cheese
FOR THE DRESSING:
1/3 cup fresh blueberries
5 tablespoons olive oil
3 tablespoons balsamic vinegar
1 tablespoon 100% pure maple syrup
Dash sea salt and black pepper
Instructions
Add quinoa to a fine mesh strainer and rinse well with cold water.

Combine the quinoa and water/broth in a small saucepan over medium heat. Bring to a simmer, then cover and turn heat down to low. Simmer for 15-20 minutes or until most of the liquid has been absorbed and the quinoa is softened. Fluff with a fork and set aside.

While the quinoa cooks, wash the kale, cut out the stems, and chop into thin strips. Massage with 1 teaspoon of olive oil to soften leaves.

To prepare the dressing, pour all the ingredients into a blender. (If your blender has a single serving cup, that works best.) Puree just until smooth.

To assemble the salad, put the kale into a bowl, top with blueberries, quinoa, walnuts, and vegan feta cheese. Pour dressing over top and toss to coat. Season with dash of sea salt and black pepper to serve.
Notes
Make salad prep even faster by cooking your quinoa ahead of time and storing in the fridge in an airtight container. 
You can also make the salad dressing a few days in advance and store in a mason jar in the fridge until ready to use.
Nutrition
Serving: 1/4 recipe | Calories: 325kcal | Carbohydrates: 32g | Protein: 9g | Fat: 34g | Saturated Fat: 5.5g | Polyunsaturated Fat: 28.5g | Cholesterol: 12.5mg | Sodium: 350mg | Fiber: 5g | Sugar: 12g
Reader Interactions