Don't let that rhubarb go to waste! Make this easy strawberry rhubarb compote recipe, a delicious fruit sauce that can be added to just about any of your favorite breakfast foods like oats, yogurt, french toast, and more.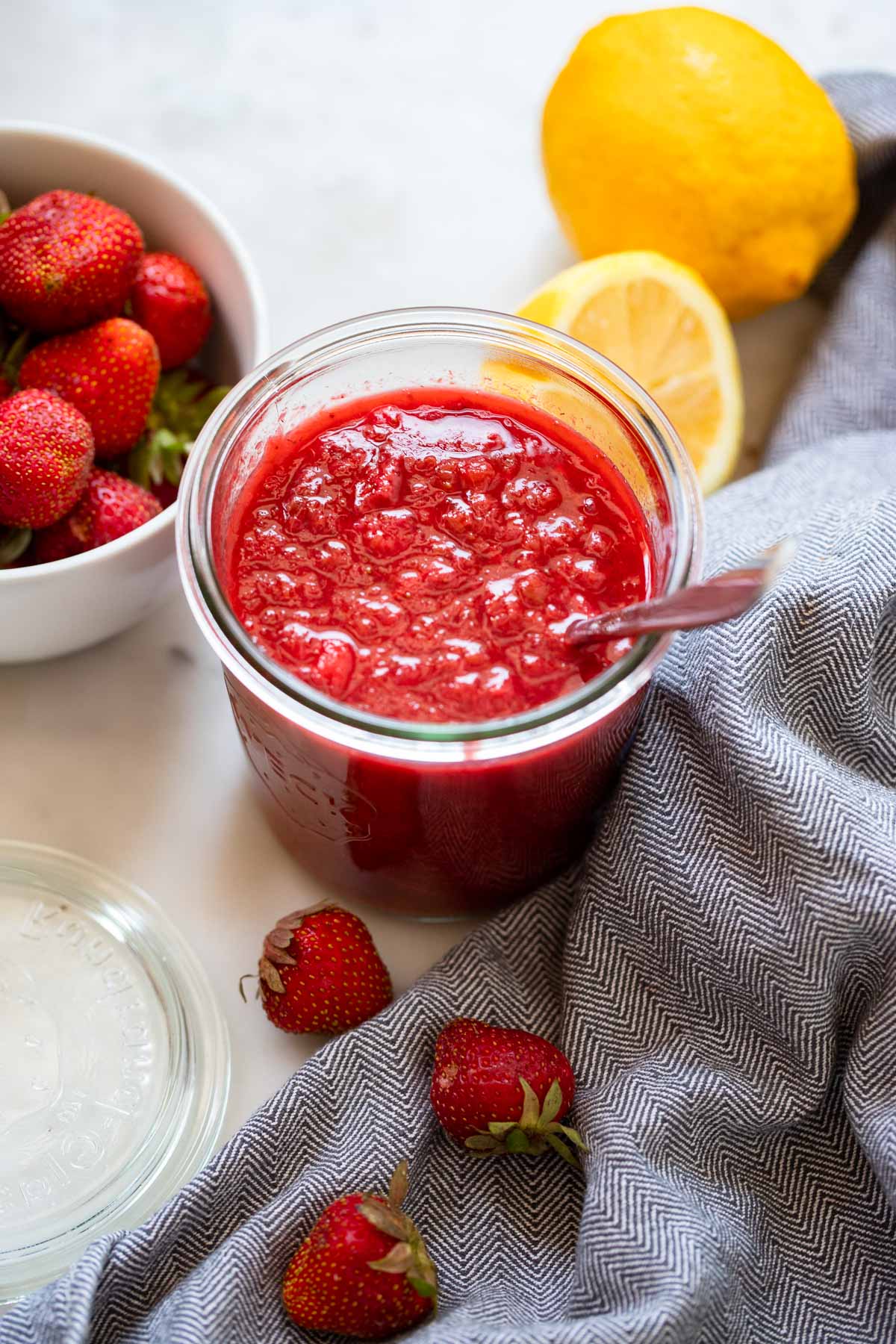 Strawberry and rhubarb season is finally here! I always impulsively buy rhubarb at the farmers market on the weekend in the spring since I crave that sour/tart flavor. Since strawberries are also in season in early summer, it makes for the perfect opportunity to combine rhubarb with the fresh strawberries to make this simple compote. It is one of my favorite things!
If you have an abundance of peaches, you'll also love my easy peach compote recipe. I am always adding these compotes to my basic stovetop oatmeal or vegan protein overnight oats.
What is Fruit Compote?
A compote is a mixture of fresh (or frozen) fruit, sugar, and spices simmered together to make tasty, chunky sauce. For this easy strawberry rhubarb compote, I sautéed fresh strawberries and rhubarb with some lemon and maple syrup.
You can make a compote of pretty much any fruit (peaches are another favorite of mine!) and it is a great way to extend the shelf life of fruit that may getting too ripe and avoid food waste.
Why You'll Love this Recipe
Just 5 simple ingredients.
Naturally sweetened with maple syrup.
A delicious way to use up sweet strawberries and tart rhubarb when they are in season.
Freezes well so it can be enjoyed all year round.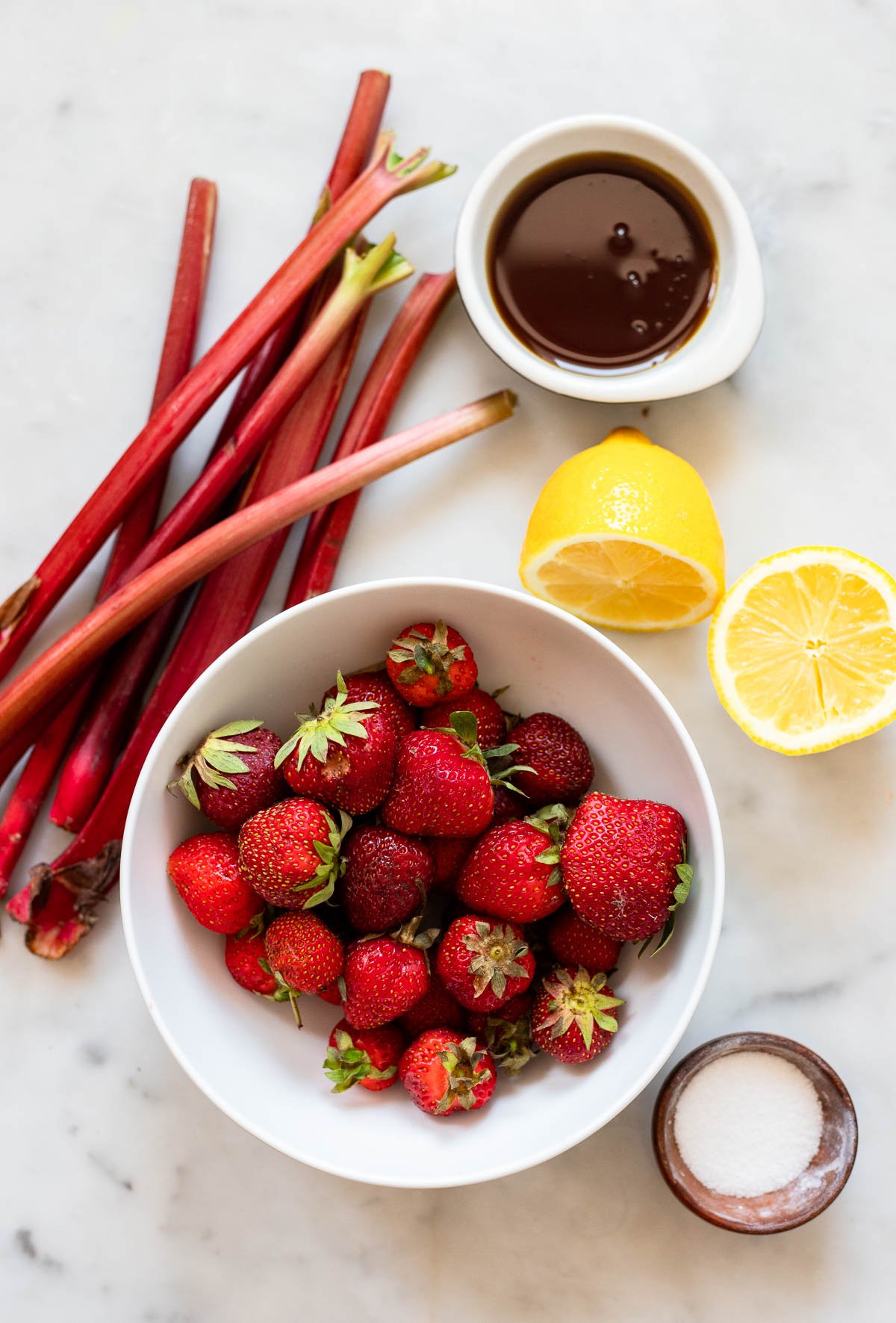 Ingredient Notes and Substitutions
Fresh strawberries: this recipe tastes best with fresh fruit, but you can use frozen strawberries as well.
Rhubarb: use fresh or frozen rhubarb for this sauce recipe.
Maple Syrup: naturally sweetens this recipe so that it has less sugar than many others you might find in other compote recipes. You can use brown sugar instead of maple syrup if you like.
Lemon: lemon adds a pop of brightness to this fruit compote recipe and pairs well with all the other spring flavors in this recipe. You can also use the same amount of orange juice and orange zest instead of lemon.
How to Make Strawberry Rhubarb Compote
STEP 1: Slice your rhubarb stalks into small pieces and chop your strawberries. You want your pieces of fruit to be about the same size.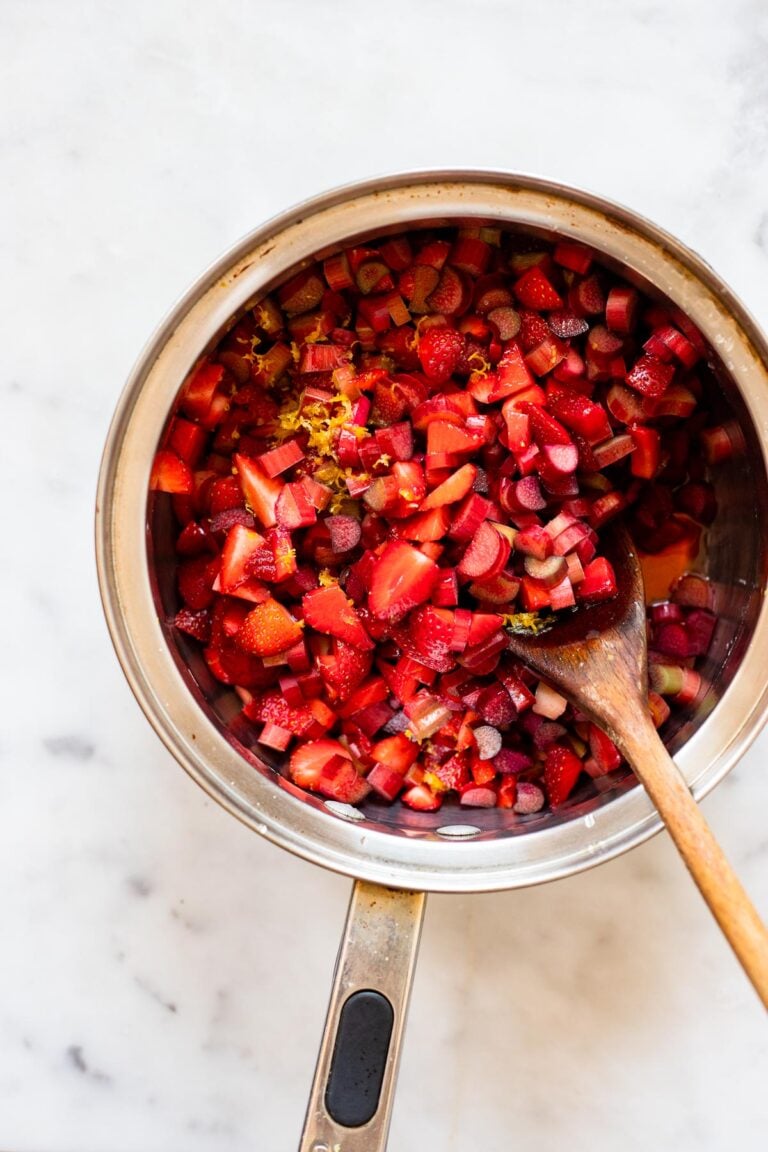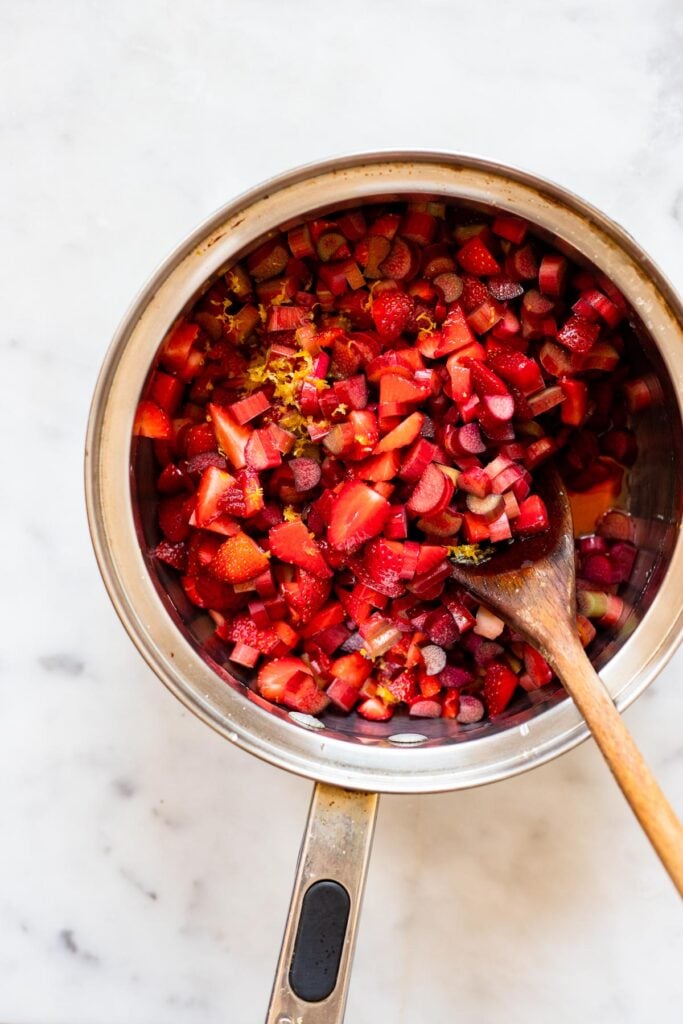 STEP 2: Add your fruit. lemon juice, lemon zest, maple syrup and pinch of salt to a medium saucepan over medium heat. You want to use a gentle heat to warm up the fruit until it starts to break down and form a thick sauce. Stir occasionally as it gently simmers, it usually takes about 15 minutes.
Recipe Notes:
Strawberry rhubarb sauce will thicken some as it cools. Makes about 2 cups of sauce.
This compote recipe is a great way to use up underripe or bruised/mushy strawberries. They still cook up into a delicious compote no matter how ugly they may look at the start!
Switch up the flavors in this strawberry rhubarb compote by adding a tablespoon or two of finely chopped crystallized ginger root. Ginger pairs really well with rhubarb!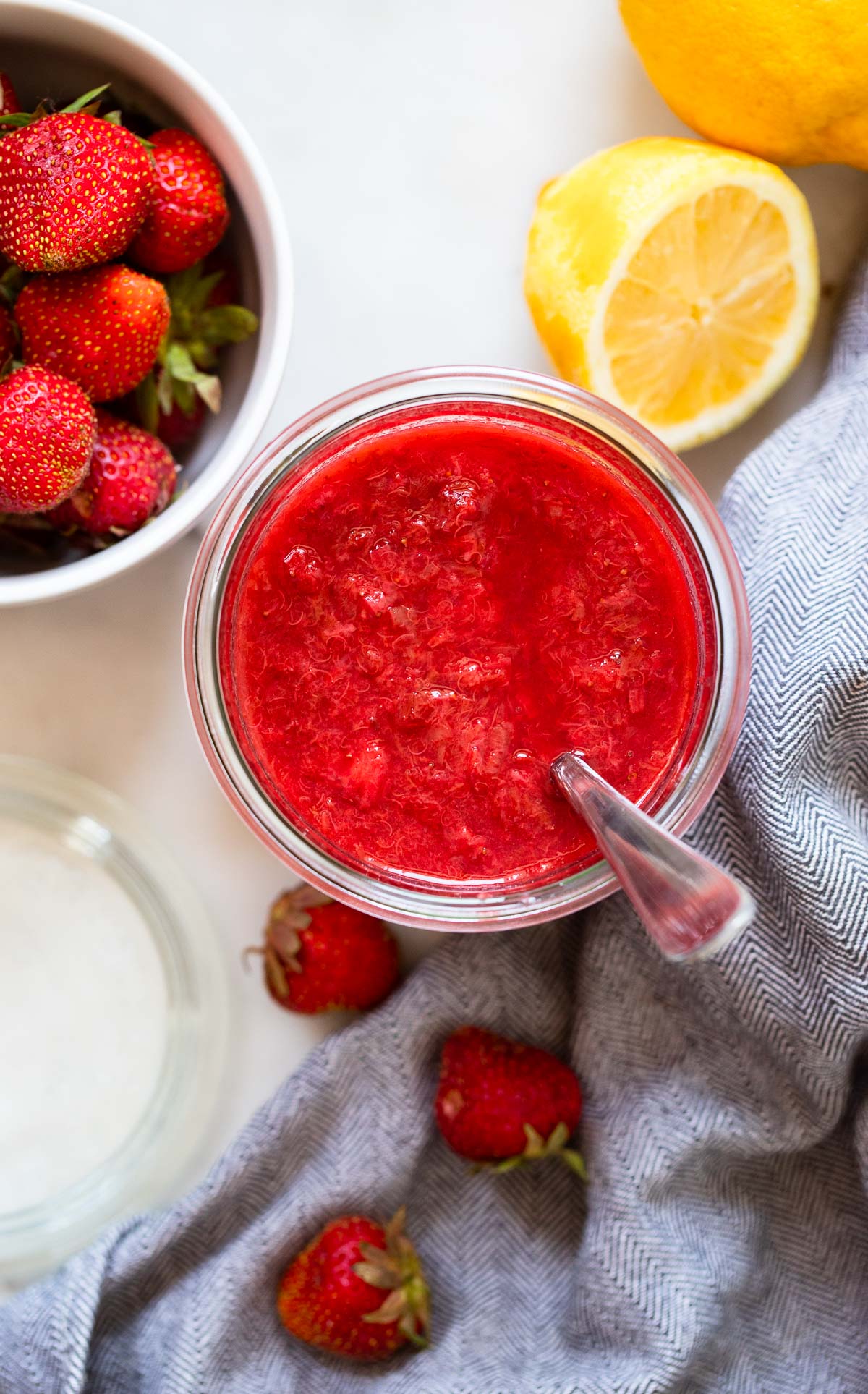 What to Serve with Strawberry Rhubarb Compote
Here are some of my favorite ways to use this delicious strawberry compote:
Waffles, French Toast and Pancakes: skip the maple syrup and add this compote instead.
Oatmeal or Baked Oats: it's no secret that oatmeal is one of my favorite foods. This fruity compote is a delicious addition to a bowl of oatmeal in the morning.
Overnight Oats: I love overnight oatmeal and this fruity sauce would make a delicious addition to your overnight oats.
Yogurt & Chia Pudding: jazz up a bowl of plain yogurt or some vanilla chia pudding with this strawberry rhubarb compote.
Ice Cream & Cake: serve this compote with ice cream or pound cake for a fresh and fruity dessert option.
Frequently Asked Questions
How Long will Rhubarb Compote Last?
This compote will last about 1 week in the fridge when stored in an airtight container. Store in the freezer for up to 6 months.
What is compote made of?
Compote is a sweet & chunky fruity sauce that is super simple to make with just fresh or frozen fruit and some sugar. Just cook the fruit and sugar together in a pot until the fruit breaks down and forms a sauce.
Can strawberry rhubarb compote be frozen?
Yes! You can freeze this compote recipe in an airtight container and store in the freezer for up to 6 months. Allow it to defrost in the fridge for a night before using or defrost in the microwave. 
More Recipes You'll Love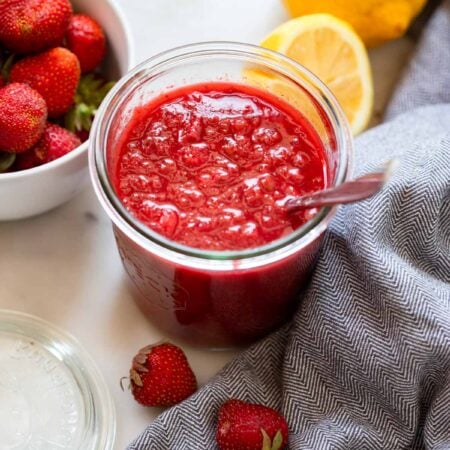 Strawberry Rhubarb Compote
Don't let that rhubarb go to waste! Make this deliciously simple strawberry rhubarb compote for a yummy topping for all sorts of summer breakfasts and desserts.  
Ingredients
2 cups fresh rhubarb chopped
2 cups fresh strawberries chopped
1/2 teaspoon lemon zest
1 teaspoon lemon juice
1/4 cup 100% pure maple syrup
1 pinch sea salt
Instructions
For the Compote
Add all of the compote ingredients to a saucepan over low heat. Bring to a simmer and cook until rhubarb has broken apart and thick sauce has formed, about 15-20 minutes. Turn off heat and transfer a jar. Cool completely in the fridge.

Turn off heat and transfer a jar. Cool completely in the fridge. Makes about 2 cups of sauce.
Notes
The rhubarb compote recipe makes about 2 cups which is more than enough for at least 5 servings of oats. 
Store in a jar or airtight container in the fridge for up to a week. Store in a container in the freezer for up to 6 months. 
For a delicious healthy breakfast, serve over this vegan overnight oats recipe or with this chia pudding. 
Nutrition
Serving: 1/3 cup | Calories: 60kcal | Carbohydrates: 15g | Protein: 1g | Fat: 1g | Saturated Fat: 1g | Polyunsaturated Fat: 1g | Monounsaturated Fat: 1g | Sodium: 10mg | Potassium: 222mg | Fiber: 2g | Sugar: 11g | Vitamin A: 47IU | Vitamin C: 32mg | Calcium: 58mg | Iron: 1mg
Reader Interactions