This simple peach and tomato panzanella salad is the best way to enjoy the best of summer produce at the peak of the season. Fresh peaches and tomatoes are dressed in a drizzle of olive oil and balsamic then tossed with crusty bread, basil, almonds, and goat cheese.
Do me a favor and visit the farmers market this weekend to buy some big, juicy tomatoes, basil, and fresh peaches. When you get home, make yourself this peach and tomato panzanella salad!  I forget where I saw the combo for tomato and peaches in a salad like this one, but ever since I couldn't get it out of my mind. Initially, I thought the combo might be too weird, but now that I've tried it, I am totally hooked! The sweetness from the peaches balances out the acidity of the tomatoes. To top it all off, I sprinkled on some crumbled goat cheese, basil, salt and pepper. A traditional panzanella is more of a bread based salad with some veggies, but I prefer it this way with mostly veggies and a little bread. Maybe that makes this more of a caprese salad with croutons? Either way, it is delicious!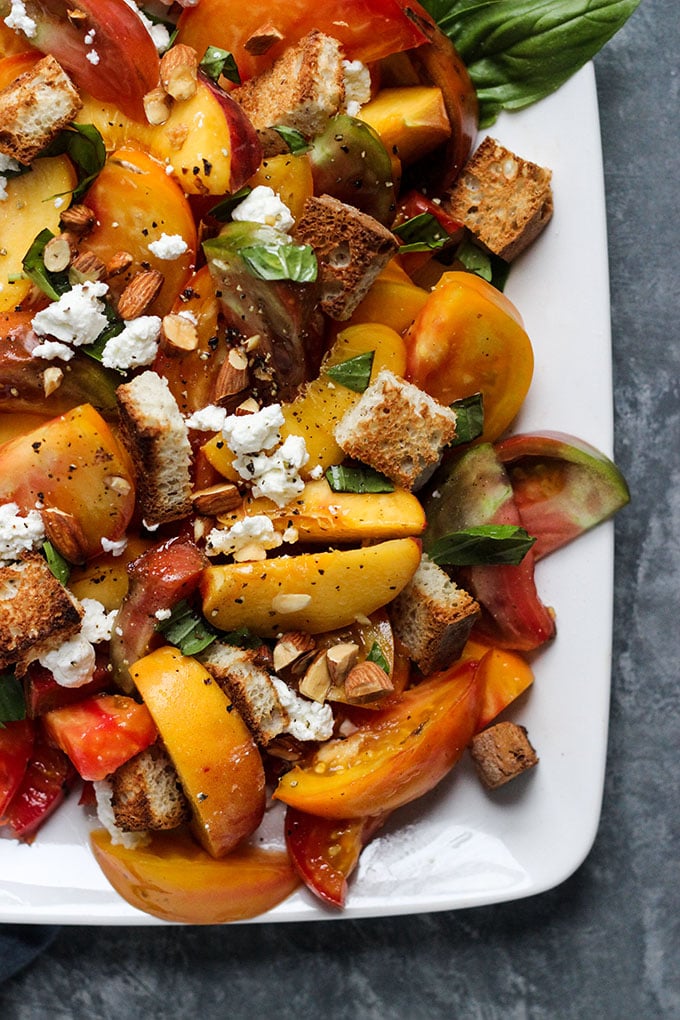 To keep things as simple as possible, I just chopped up my bread and toasted it in the toaster oven until golden. The thing I love most about this time of year is that the produce is so flavorful it needs hardly any prepping to taste delicious. This salad is a perfect example of that!
What to Serve with this Salad
I will often make a smaller version of this salad for a quick lunch meal during the middle of summer when I don't want to be standing near a hot stove. This salad goes great with any grilled protein like a vegan sausage, a plant-based burger, or this bbq tempeh. The peaches also make this salad a great option for summer brunch! Pair it with an egg dish or baked oatmeal or bagels and vegan cream cheese. Yum.
More Delicious Recipes for Summer
Peach and Tomato Panzanella Salad
This simple peach and tomato panzanella salad is the best way to enjoy the best of summer produce before it's gone!
Ingredients
3 large slices sourdough bread cut or torn into 1" cubes
2 large heirloom or beefsteak tomatoes ~3 lbs, sliced
2 peaches pits removed and sliced
2 1/2 tablespoons olive oil
1 tablespoon red wine vinegar or balsamic vinegar
2 ounces goat cheese crumbled
1/4 cup chopped fresh basil leaves
1/4 cup coarsely chopped almonds
Sea salt and Ground Black Pepper to taste
Instructions
Toast cubed bread in a toaster oven ~5 minutes or bake at 350 in the oven until golden brown. Brush with olive oil before toasting if desired.

Add all of your ingredients into a bowl and toast to mix. Serve immediately.
Notes
To make it vegan, use a vegan cheese (VioLife feta works great!) or simply leave out the cheese.
To make it gluten free, use a gluten free bread.
Nutrition
Serving: 1/4 recipe | Calories: 355kcal | Carbohydrates: 40.5g | Protein: 12g | Fat: 17.5g | Saturated Fat: 4g | Polyunsaturated Fat: 13.5g | Cholesterol: 6.5mg | Sodium: 390mg | Fiber: 5g | Sugar: 10.5g
SaveSave
Reader Interactions