This simple peach and tomato panzanella salad is the best way to enjoy the best of summer produce at the peak of the season. Fresh peaches and tomatoes are dressed in a drizzle of olive oil and balsamic then tossed with crusty sourdough bread and basil.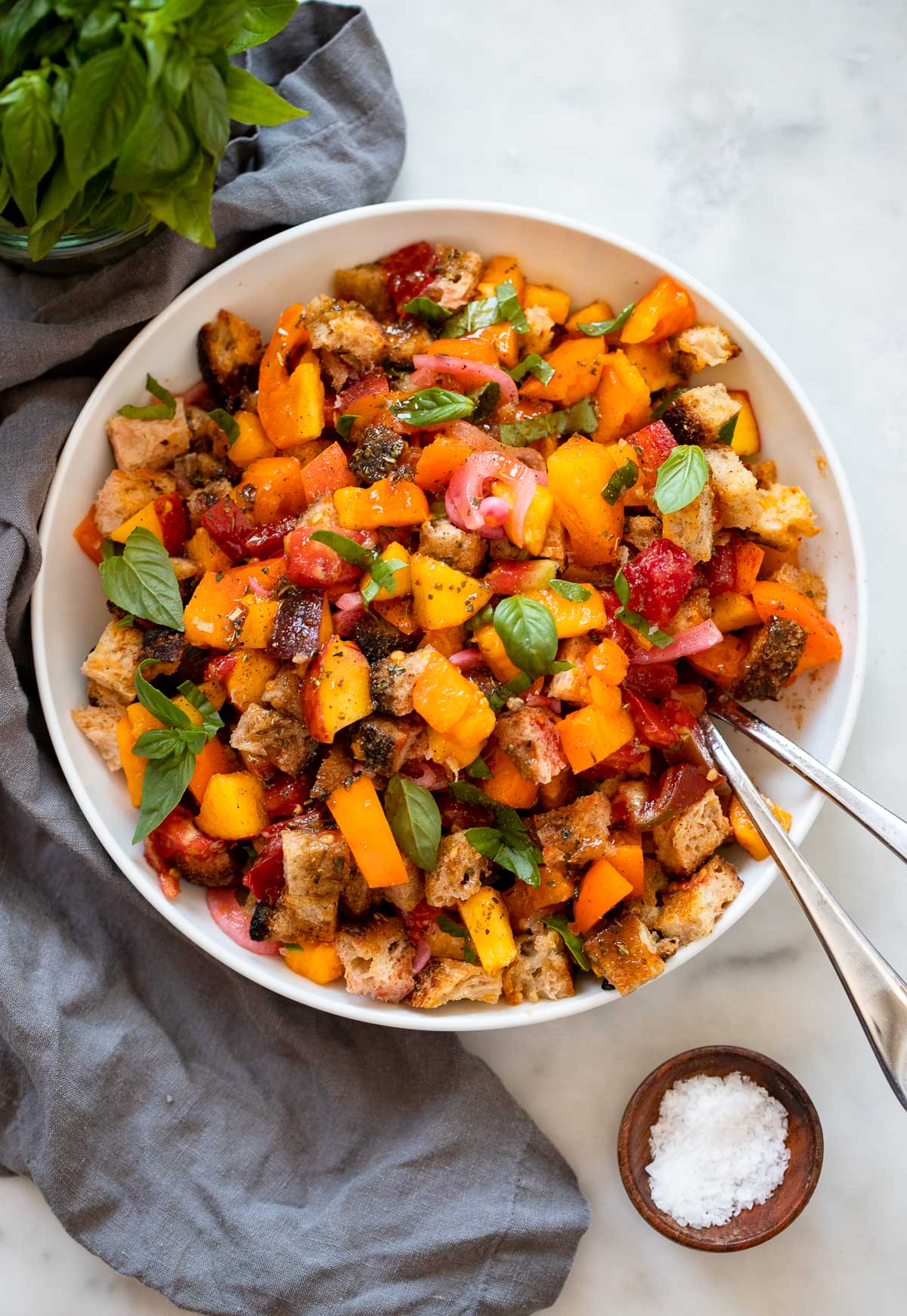 Do me a favor and visit the farmers market this weekend to buy some big, juicy tomatoes, basil, and fresh peaches. When you get home, make yourself this peach and tomato panzanella salad! I forget where I saw the combo for tomato and peaches in a salad like this one, but ever since I couldn't get it out of my mind.
Initially, I thought the combo might be too weird, but now that I've tried it, I am totally hooked! The sweetness from the peaches perfectly balances out the acidity of the tomatoes. This is my take on the classic Tuscany panzanella salad (or bread and tomato salad).
Why You'll Love this Recipe
Less than 10 ingredients.
A great way to use up stale bread so that it doesn't go to waste.
Highlights the delicious flavors of fresh summer produce.
Vegan and can be easily adapted to be gluten free as well.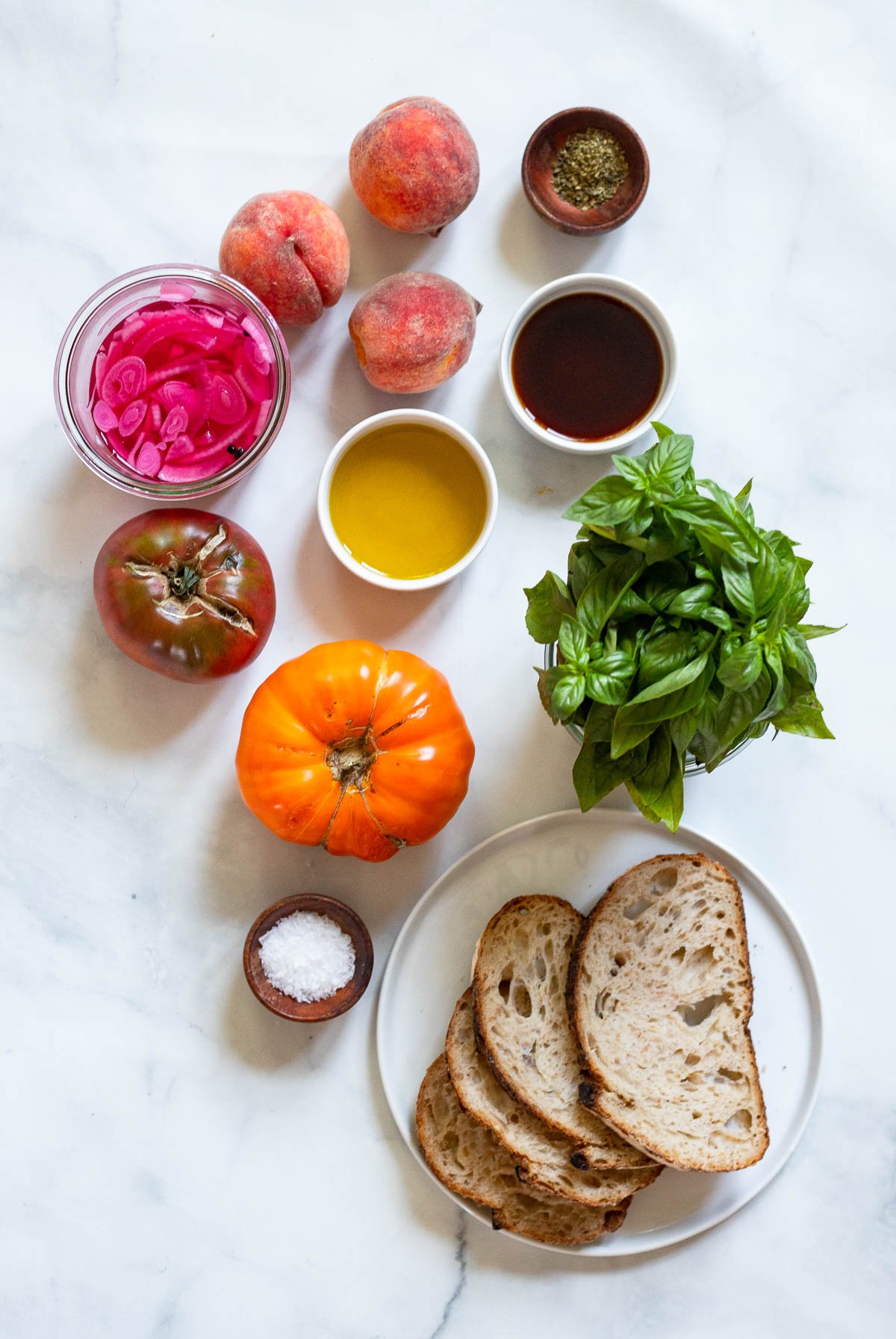 Ingredients You'll Need
Heirloom Tomatoes: big, beautiful heirloom tomatoes are the best one to use for this salad in my opinion. However, you could also use halved cherry/grape tomatoes. The key is you want very fresh, summer-ripe tomatoes.
Fresh Peaches: use peaches that are ripe but still just a little firm for best results. Canned or frozen peaches won't work for this recipe.
Sourdough Bread: treat yourself and buy a really nice loaf of sourdough bread for this salad. Many loaves are round so they have small ends that don't work well for sandwiches but are perfect for salads like this one.
Basil: chopped fresh basil leaves add a punch of flavor.
Olive Oil: salads like this one always taste better when you use a good quality extra virgin olive oil.
Balsamic Vinegar: use a good quality balsamic vinegar for the dressing.
How to Make this Salad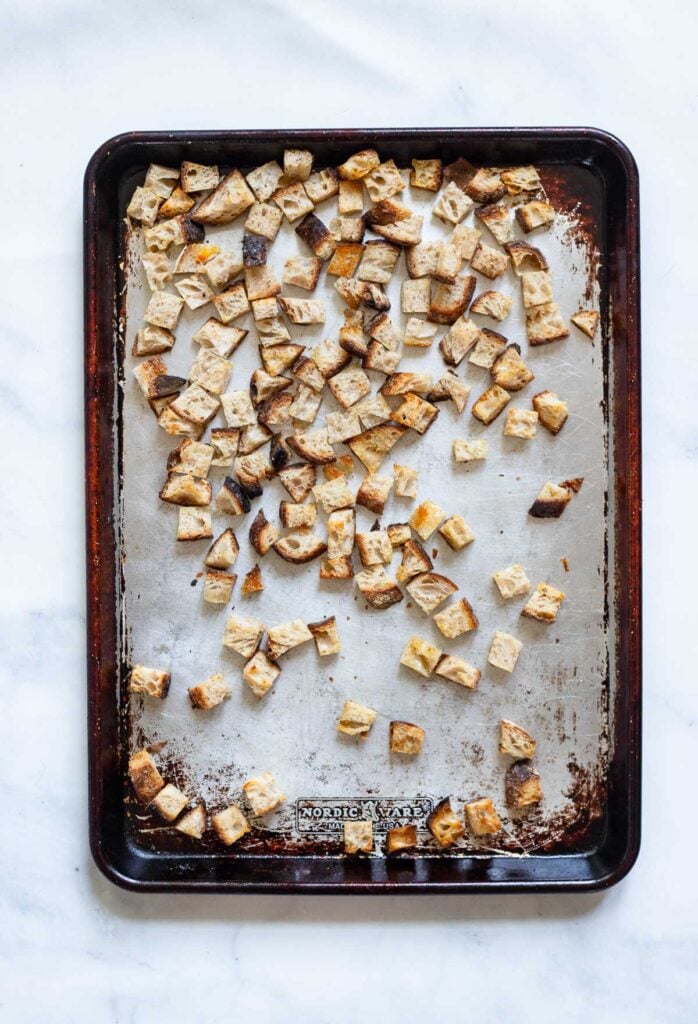 STEP 1: Preheat your oven to 400 degrees Fahrenheit and chop your sourdough pieces into 1 inch cubes. Spread into a single layer on a rimmed baking sheet. Drizzle with 2 tablespoons of the olive oil in the recipe. Toss to coat the bread in oil and then bake for 10-12 minutes or until golden brown. You can also toast your bread in a toaster oven in batches if you don't want to turn your oven on.
STEP 2: While the bread toasts, make the dressing by adding the rest of the olive oil (2 tablespoons), balsamic vinegar, and Italian seasoning to a small jar. Screw the lid on tightly and shake to combine.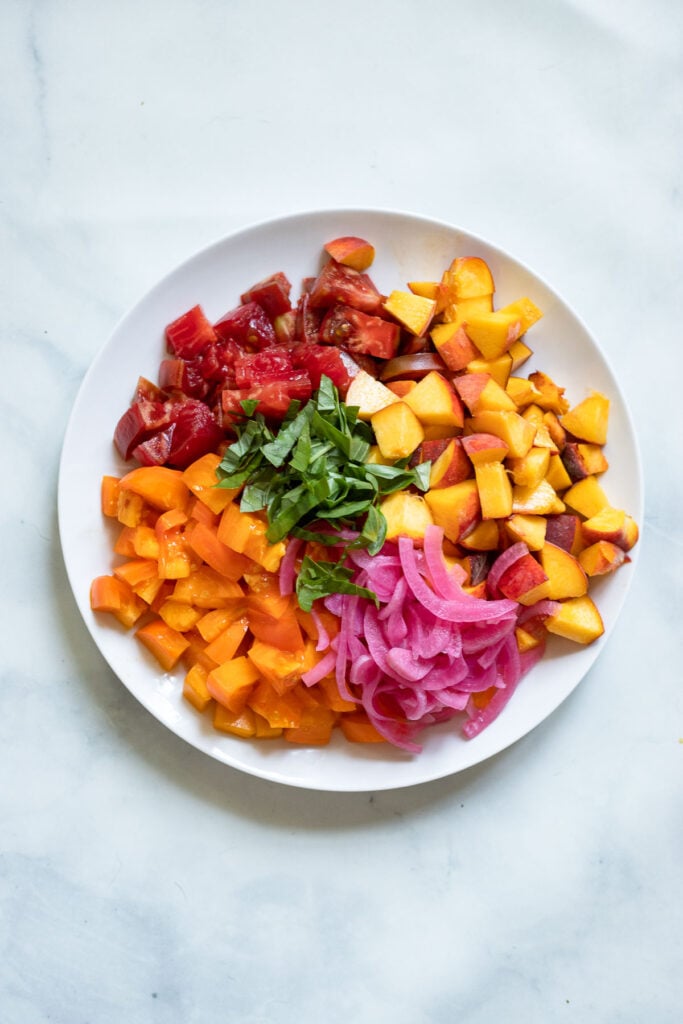 STEP 3: Chop your tomatoes, peaches, basil, and red onion.
STEP 4: Add the chopped tomato/peach mixture, bread, and dressing to a large bowl. Toss well to coat. Sprinkle with flakey salt and black pepper and toss again. Allow to sit for about 15-30 minutes to allow the bread to soak up some of the dressing. Serve immediately.
Expert Tips:
Choose tomatoes and peaches at peak ripeness. We like to use sweet heirloom tomatoes in this recipe.
Cut all of your salad ingredients (tomatoes, peaches, and bread) into the same size pieces. That way, each fork-full is a perfect balance of peach, tomato, and bread.
Buy good quality bread that will be able to maintain it's shape when soaking up the dressing. Look for a high quality sourdough, baguette, or ciabatta.
Tasty additions to this salad include: sliced cucumber, chopped red or yellow bell pepper, capers, olives or thinly sliced vegan parmesan (like VioLife).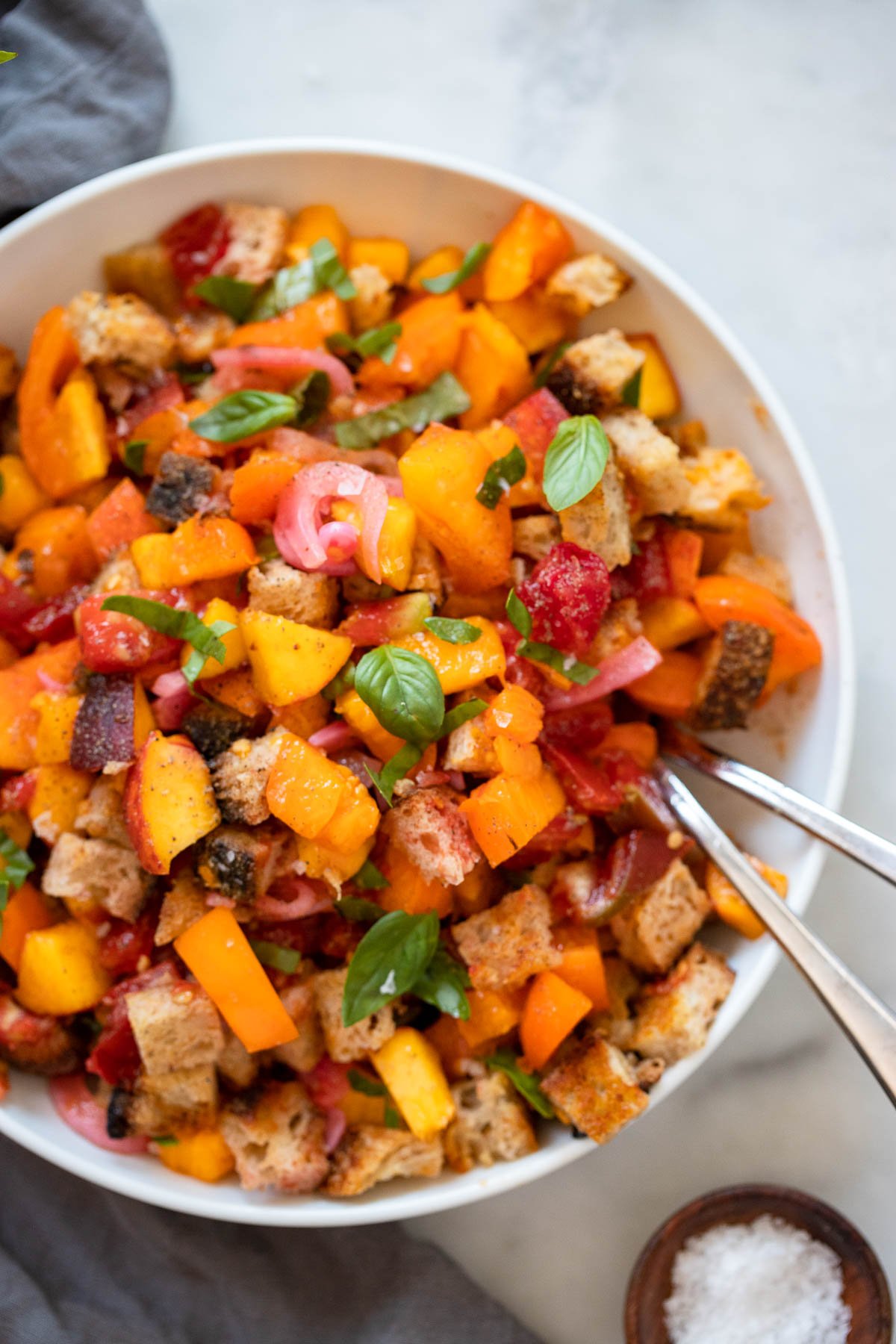 What to Serve with this Salad
I will often make a smaller version of this salad for a quick lunch meal during the middle of summer when I don't want to be standing near a hot stove. This salad goes great with any grilled protein like a vegan sausage, a plant-based burger, or this bbq tempeh. The peaches also make this salad a great option for summer brunch! Pair it with this Swiss chard frittata or lemon blueberry baked oatmeal or bagels and vegan cream cheese. Yum!
More Delicious Recipes for Summer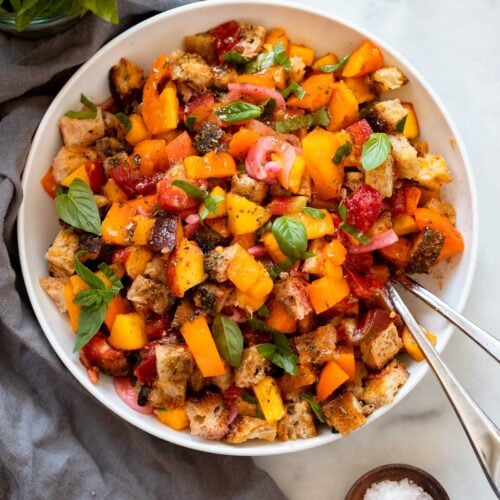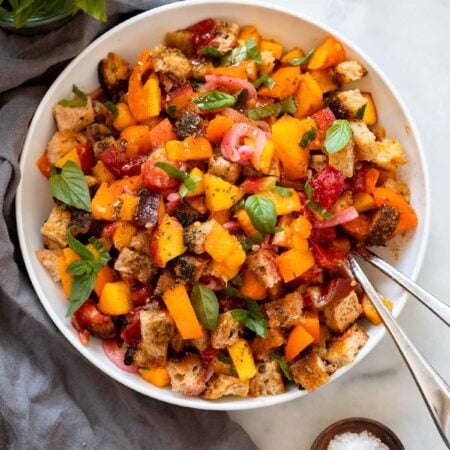 Peach and Tomato Panzanella Salad
This simple peach and tomato panzanella salad is the best way to enjoy the best of summer produce before it's gone!
Ingredients
4 1/2 cups cubed sourdough bread (1" cubes)
1/4 cup olive oil, divided
2 tablespoons red wine vinegar or balsamic vinegar
1/2 teaspoons Italian seasoning or dried oregano
2 medium-large heirloom or beefsteak tomatoes, chopped
2-3 small peaches, chopped
1/4 cup pickled red onion OR thinly sliced raw red onion
Flakey sea salt and Ground Black Pepper, to taste
1/4 cup chopped fresh basil leaves
Instructions
Preheat the oven to400 degrees. Add bread to a baking tray and drizzle with 2 tablespoons of the olive oil. Toss to coat in olive oil and then toast in the oven for about 10-12 minutes or until golden brown.

Add the remaining 2 tablespoon olive oil, balsamic vinegar, and italian seasoning to a jar. Cover tightly with lid and shake to combine.

Add the chopped tomatoes, peaches, red onion, toasted bread and basil to a large mixing bowl. Drizzle with dressing and toss gently to combine. Season with flakey sea salt and fresh ground black pepper.

Let salad sit for 15-30 minutes before serving.
Notes
To make pickled red onion: To a jar, add 1 thinly sliced small red onion, 1/2 cup hot water, 2/3 cup white vinegar, 1 teaspoon sea salt, 5-6 whole black peppercorns, and 1/2 teaspoon granulated white sugar. Stir and refrigerate for at least 3 hours to overnight before use.
To make ahead: store the bread, salad dressing, and salad ingredients (peaches, tomatoes, pickled onion, and basil) separately and then combine when ready to serve. The bread can get very soggy if you try to store overnight. 
Make it gluten free: swap the sourdough for your favorite gluten free bread.
Nutrition
Serving: 1/4 recipe | Calories: 355kcal | Carbohydrates: 40.5g | Protein: 12g | Fat: 17.5g | Saturated Fat: 4g | Polyunsaturated Fat: 13.5g | Cholesterol: 6.5mg | Sodium: 390mg | Fiber: 5g | Sugar: 10.5g
SaveSave
Reader Interactions