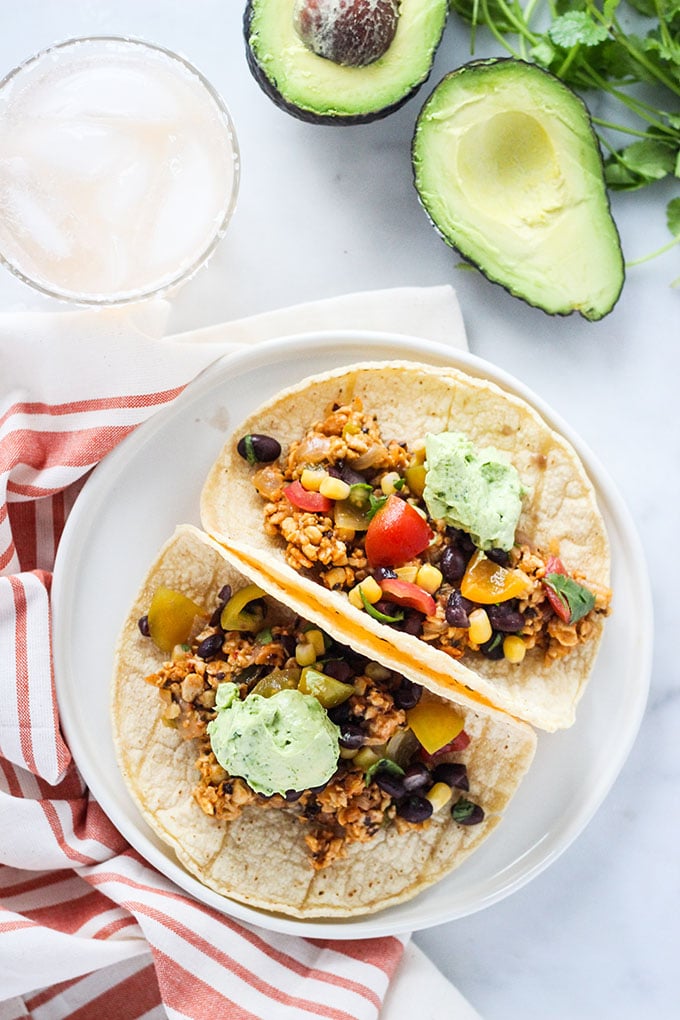 Happy Cinco de Mayo week! I am so excited to share a couple of Mexican-inspired dishes with you, starting with these tacos. In fact, these chipotle tempeh tacos with black bean salsa and avocado crema are extra special since I developed this recipe to share with a fellow Chicago blogger, Dasha from Windy City Wardrobe. This weekend I showed her how to make these tacos and she took me shopping. It was a blast! Since you don't see much of me on this food blog of mine, I can tell you that I can use all the style help I can get. Lol.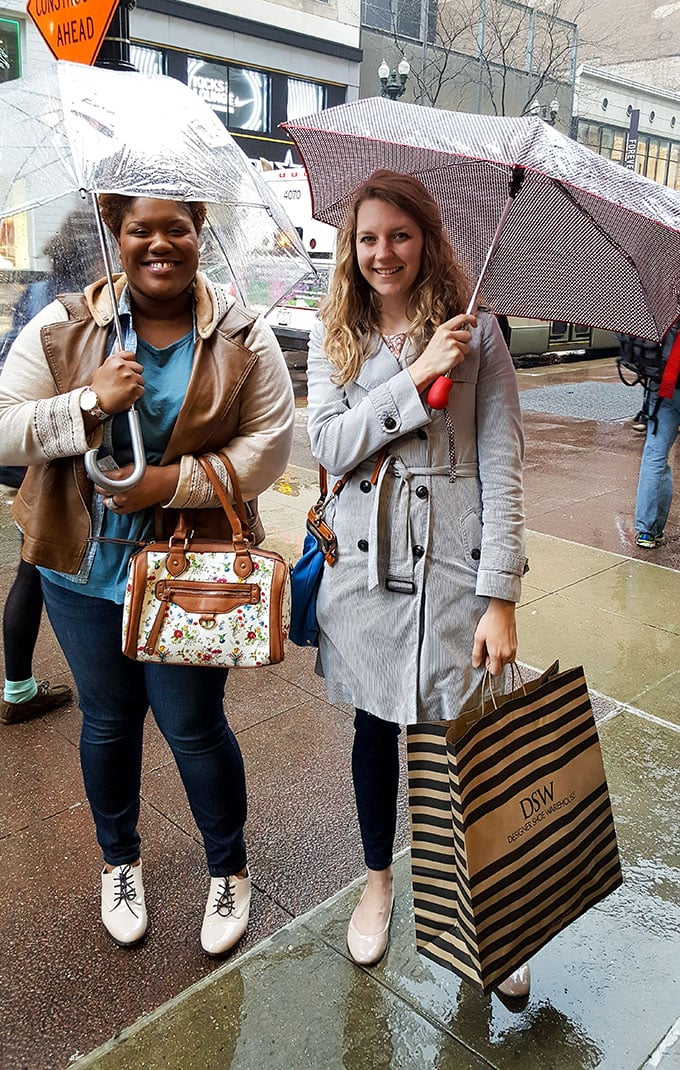 Here are a few tips I learned from my time shopping with Dasha:
Apparently I have a previously untapped love for everything nautical. 🙂
It's a sin that I currently do not own a jean jacket. So, I'm on a mission to find the perfect one after trying on a few this weekend and getting a sense of the style I would like the most.
Since I don't wear a lot of jewelry, I should look for clothes that have their own embellishments so that lots of jewelry isn't really necessary. (See the dress below for an example!)
Snapping a pic of yourself in every piece in the dressing room is so helpful when making your final decision on what to buy – no need to try things on a second time!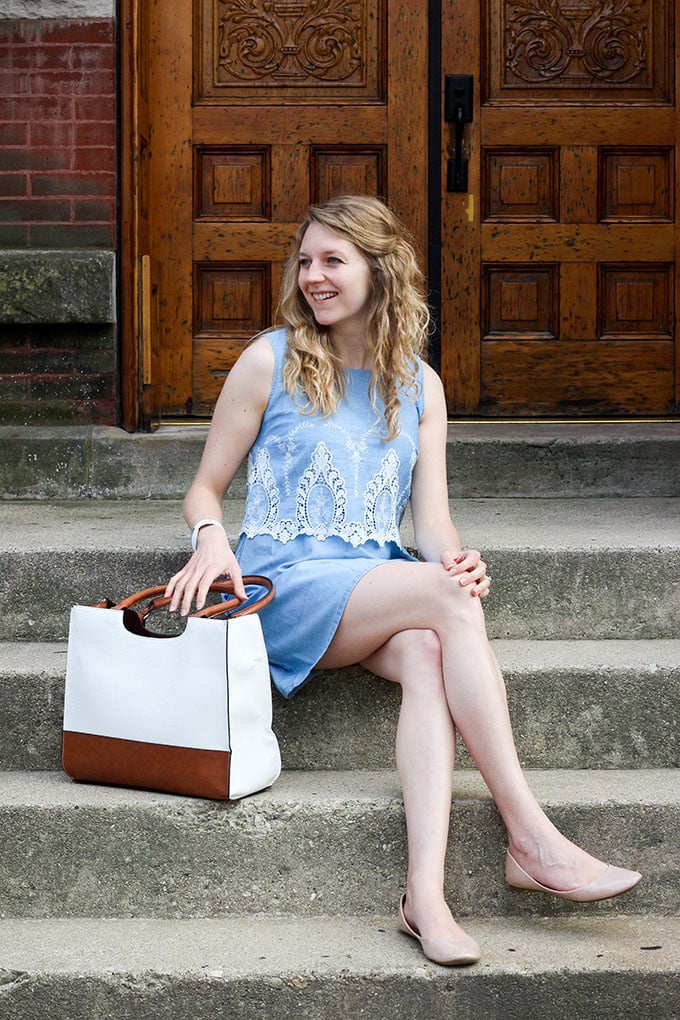 I probably wouldn't have picked up this dress to try on when shopping by myself, but Dasha suggested it and I love it. (Also, just ignore how ghostly pale I am. Lol.) Let's get back to those tacos?! If you've been reading along for a while, you know I am obsessed with tempeh – definitely my favorite vegetarian protein! In this recipe, it gets stir fried with some chipotle sauce and lots of spices. To serve, you'll add cheese, salsa, and that super simple avocado crema. (Don't skip the avocado crema!) 
More Recipes You'll Love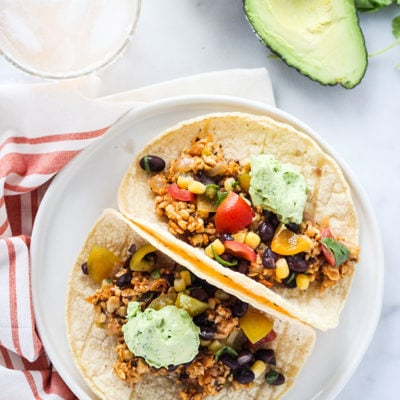 Chipotle Tempeh Tacos with Black Bean Salsa and Avocado Crema
No need to sacrifice flavor when celebrating Cinco de Mayo with a vegetarian dish! These chipotle tempeh tacos with black bean salsa and avocado crema are delicious.
Ingredients
For the tacos:
1 1/2 teaspoon cumin
1 1/2 teaspoon oregano
1/4 teaspoon coriander
Dash cayenne
2 tablespoons sauce from canned chipotle peppers
1/3 cup water
1 tablespoon corn starch
Dash Sea salt and ground black pepper
1 tablespoon olive oil
1 jalapeno, seed removed, chopped
1/2 onion, chopped
2 cloves garlic, minced
8 oz package tempeh
For the black bean salsa:
1 cup black beans
1/2 cup corn
1 cup cherry tomatoes, chopped
1/3 cup cilantro, chopped
1/4 cup red onion, chopped
Juice from 1 lime
1 tablespoon red wine vinegar
Salt and ground black pepper, to taste
For the Avocado Crema:
1 avocado
1/4 cup sour cream
Juice from 1 lime
1/3 cup cilantro, chopped
Salt to taste
To serve: Corn tortillas, shredded cheese
Instructions
In a small bowl, combine the cumin, oregano, coriander, cayenne, chipotle sauce, water, and corn starch. Stir well to combine and set aside.

Add oil to a non-stick skilled and add jalapeño and onion. Stir fry until onion is translucent and soft. Add the garlic and cook another minute. Stir in the tempeh and stir fry 1-2 minutes.

Stir in the chipotle and spice mixture and cook another 5-7 minutes. Add more water as needed, 1-2 tablespoons at a time until sauce coats tempeh.

To make the black bean salsa, combine all of the ingredients in a bowl and stir well to combine. Set aside.

To make the avocado crema, place all the ingredients in a food processor and puree until smooth.

To assemble, add tempeh to a corn tortilla and top with cheese, salsa, and a dollop of avocado crema.
Nutrition
Serving: 1taco | Calories: 294kcal | Carbohydrates: 28g | Protein: 14g | Fat: 17g | Saturated Fat: 4g | Polyunsaturated Fat: 3g | Monounsaturated Fat: 8g | Cholesterol: 7mg | Sodium: 290mg | Potassium: 714mg | Fiber: 8g | Sugar: 4g | Vitamin A: 525IU | Vitamin C: 25mg | Calcium: 113mg | Iron: 3mg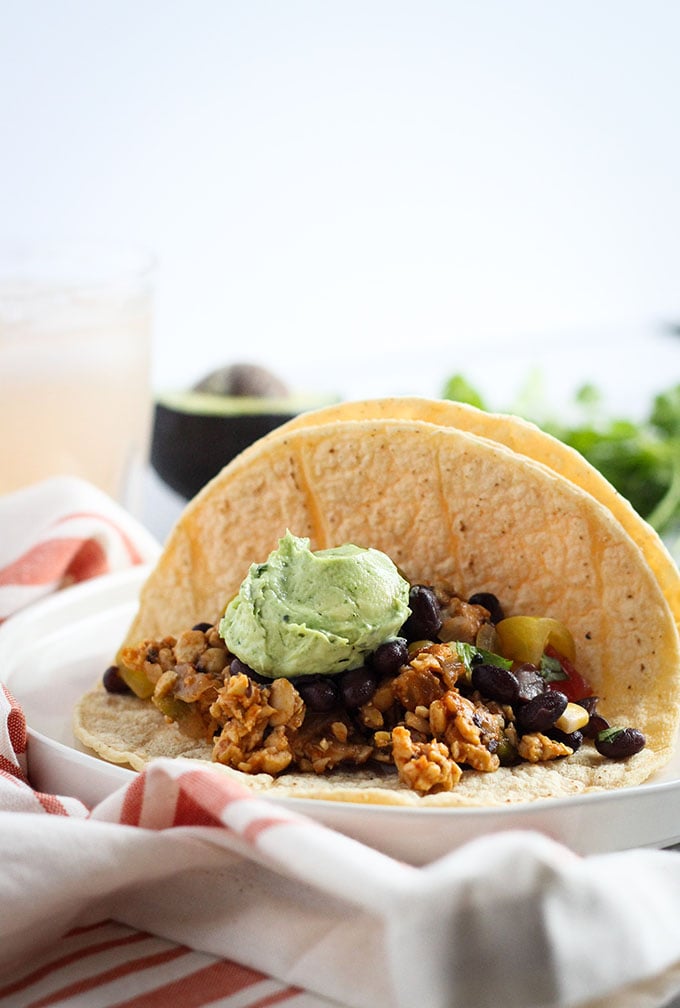 Reader Interactions