These vegan breakfast tacos have become a weekend staple in our house! Our co-op recently started carrying soft tofu from our favorite tofu company in the Chicago area. (Phoenix Bean if you want to check them out.) Will adapted my easy vegan tofu scramble recipe and used soft tofu instead of firm and they turned out so good, we thought we would share here! They remind us of soft, fluffy scrambled eggs.
How to Make these Easy Vegan Breakfast Tacos
These are super simple to whip up in just about 10 minutes. First, you'll melt some butter in a non-stick skillet and then add the drained tofu and all of the seasonings. Use a spatula to gently break apart the tofu as you cook. Sauté until the extra liquid from the tofu has cooked off. Stir in the shredded vegan cheese (I used Daiya brand), season with salt and pepper, and cook until cheese is melted which should only take minute. While you tofu cooks, heat up your tortillas and prepare any other toppings you desire like chopped cilantro, chopped tomatoes, sliced avocado, etc.
Possible Variations:
Add soyrizo: Spice things up by adding in some soyrizo. Trader Joe's carries one that is really good.
Add vegan breakfast sausage: Why not live it up and add some ground vegan breakfast sausage?
Add some beans: Beans would be a great addition for more fiber. You could serve the tofu up with black beans in a flour tortilla as a breakfast burrito. Yum!
Add more veggies: There's nothing stopping you from throwing some other veggies into the pan before cooking the tofu. We've added chopped bell pepper and onion before.
Other great vegan breakfast recipes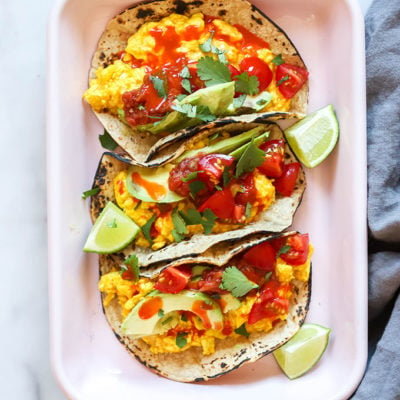 Easy Vegan Breakfast Tacos
These easy vegan breakfast tacos take just a few minutes to make from soft tofu which creates a soft, fluffy tofu scramble you can't resist. 
Ingredients
For the Eggs:
1 tablespoon vegan butter
1 16 oz package soft tofu, drained (Make sure it is NOT silken tofu)
3 tablespoons nutritional yeast
1/2 teaspoon garlic powder
1/2 teaspoon turmeric
1/4 teaspoon paprika
1/2 cup shredded vegan cheese
Salt and ground black pepper to taste
For the Tacos:
5-6 small corn tortillas
Salsa
Avocado
Hot sauce
Instructions
Add butter to a large skillet over medium-high heat to melt. 

Add the tofu, nutritional yeast, garlic powder, turmeric, and paprika. Use a spatula or wooden spoon to gently break apart tofu into large, bite size pieces. 

Sauté until most of the liquid from the tofu has cooked off. Stir in salt, pepper, and cheese. Cook over low heat until cheese is melted. 

Assemble tacos. Makes enough filling for about 6 tacos.
Notes
Nutrition info below is just for tofu egg filling, not for entire taco. 
Nutrition
Serving: 2tacos | Calories: 235kcal | Carbohydrates: 9g | Protein: 19g | Fat: 9.5g | Saturated Fat: 3.5g | Polyunsaturated Fat: 6g | Sodium: 550mg | Fiber: 2g | Sugar: 2g
Reader Interactions