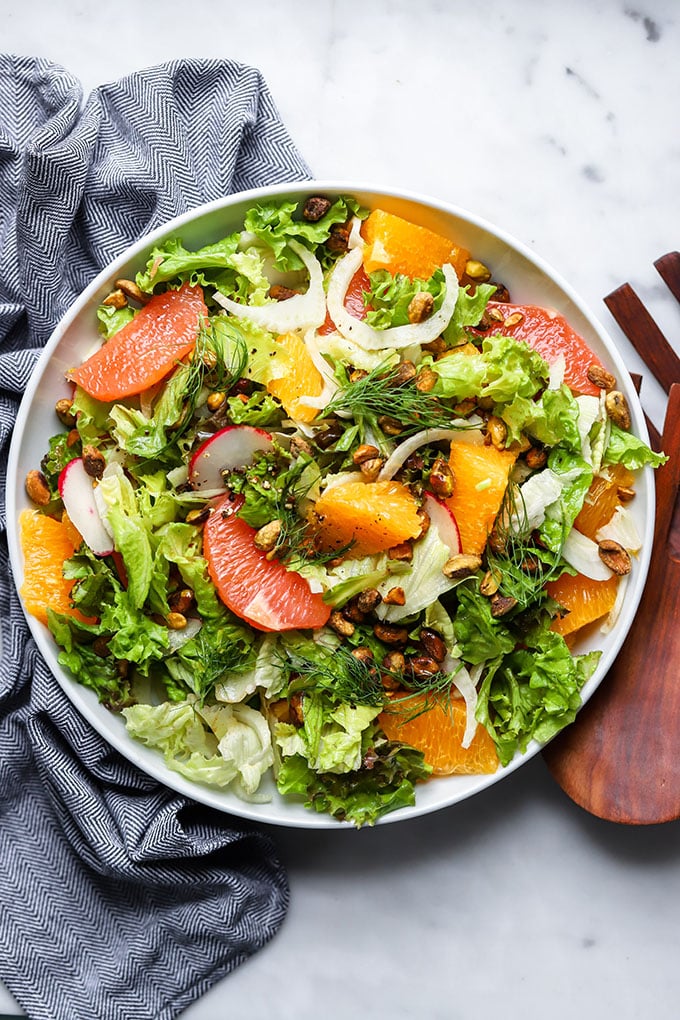 Disclosure: Imperfect Produce sent me a few weeks of free produce boxes to try. I loved it so much I wanted to share it with you! They are a produce delivery company that fights food waste by finding a home for 'ugly' produce by sourcing it directly from farms and delivering it to your door in a convenient subscription box.
Take advantage of the last of the winter citrus at the store and make this simple citrus and fennel salad. Fennel isn't something I usually pick up in the grocery store, but I received some in my recent Imperfect Produce box so I was curious to test it out in this salad recipe.
Imperfect Produce is a produce delivery service that also fights food waste by purchasing "ugly" produce directly from farmers that would otherwise go to waste because it didn't fit grocery store standards. The produce is still totally edible, delicious, and priced really well.
Ingredient Notes and Substitutions
If you are like me and haven't really given fennel a try, you totally should! It looks a lot like celery with a wider bulb at the bottom and feathery leaves. The flavor tastes like anise which is a little like licorice. It works really well when paired with citrus in this salad.
Instead of romaine, you can also use another lettuce like green leaf lettuce or butter lettuce.
For added crunch, I tossed in some salted, shelled pistachios which has been my go-to salad topper of late. If you aren't a big fan of pistachios, chopped almonds would also work well in this salad.
More Delicious Recipes You'll Love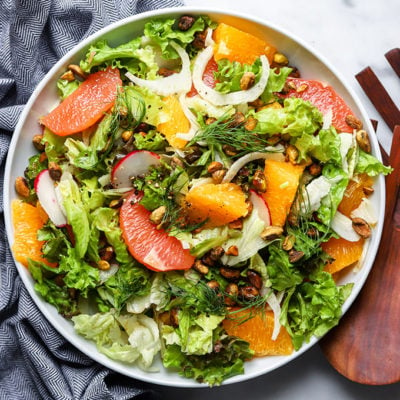 Simple Citrus and Fennel Salad
Savor the last of winter's citrus by whipping up this simple citrus and fennel salad with romaine, pistachios, and a simple vinaigrette. 
Ingredients
For the Salad
1 orange segmented
1 grapefruit segmented
4 cups chopped romaine
1 fennel bulb halved and thinly sliced
2 radish thinly sliced
1/3 cup chopped pistachios
Salad Dressing
2 tablespoons olive oil
2 tablespoons grapefruit juice
1 tablespoon red wine vinegar
1 dash Sea salt and ground black pepper
Instructions
For the Salad:
Combine the salad ingredients in a large bowl. 
For the Dressing
Add the dressing ingredients to a jar, cover with lid and shake vigorously until well mixed. Drizzle over salad ingredients and toss to coat. Serve immediately. 
Nutrition
Serving: 1Salad | Calories: 193kcal | Carbohydrates: 20g | Protein: 4g | Fat: 12g | Saturated Fat: 2g | Polyunsaturated Fat: 2g | Monounsaturated Fat: 8g | Sodium: 46mg | Potassium: 626mg | Fiber: 6g | Sugar: 12g | Vitamin A: 5009IU | Vitamin C: 49mg | Calcium: 84mg | Iron: 1mg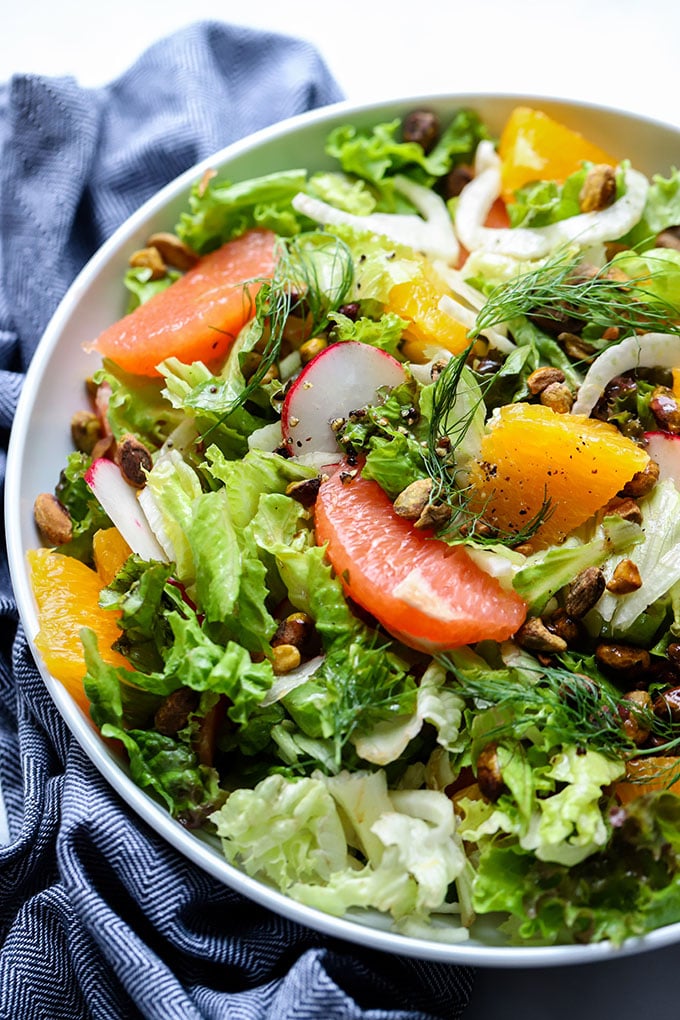 Reader Interactions