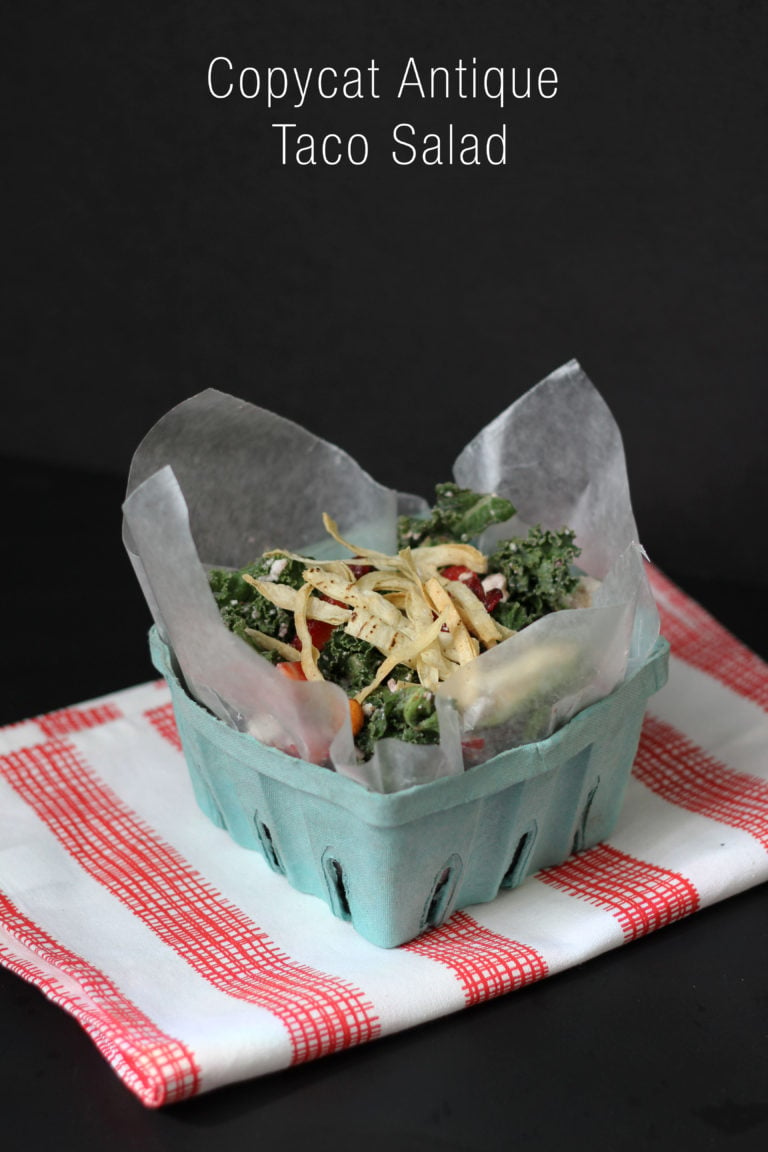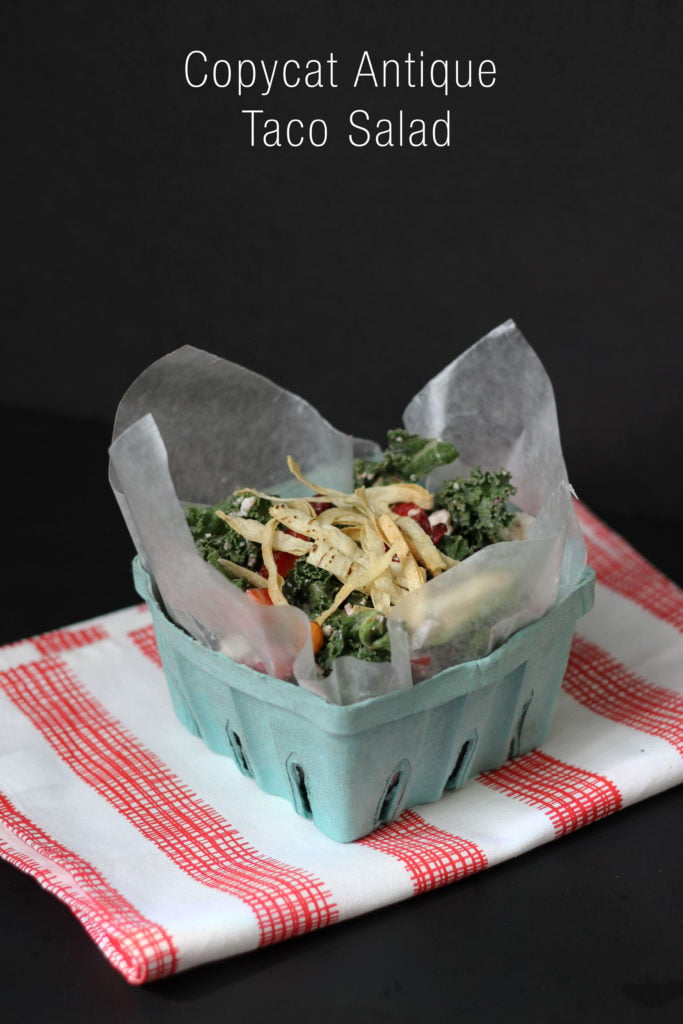 I first went to Antique Taco a few weeks after I started my new job here in Chicago with a sweet coworker. Now, it is one of my absolute favorite restaurants in my neighborhood! Whenever we have guests  from out of town we always seem to end up there at some point. Probably, because it is so conveniently located next to an arcade bar. Will and I will often make a date of it – grabbing a taco dinner and then heading over to play some arcade games. (Yes, I am a nerd!) Will is a total bad ass at the game Tapper, while I gravitate towards the pinball machines. 
Besides the hipster tacos, Antique Taco also serves this incredible kale and strawberry salad. Every time we order it to share, Will and I will sit there trying to guess the ingredients so we could try making it at home. Last weekend, I finally tried my hand at making it and I think I came pretty close.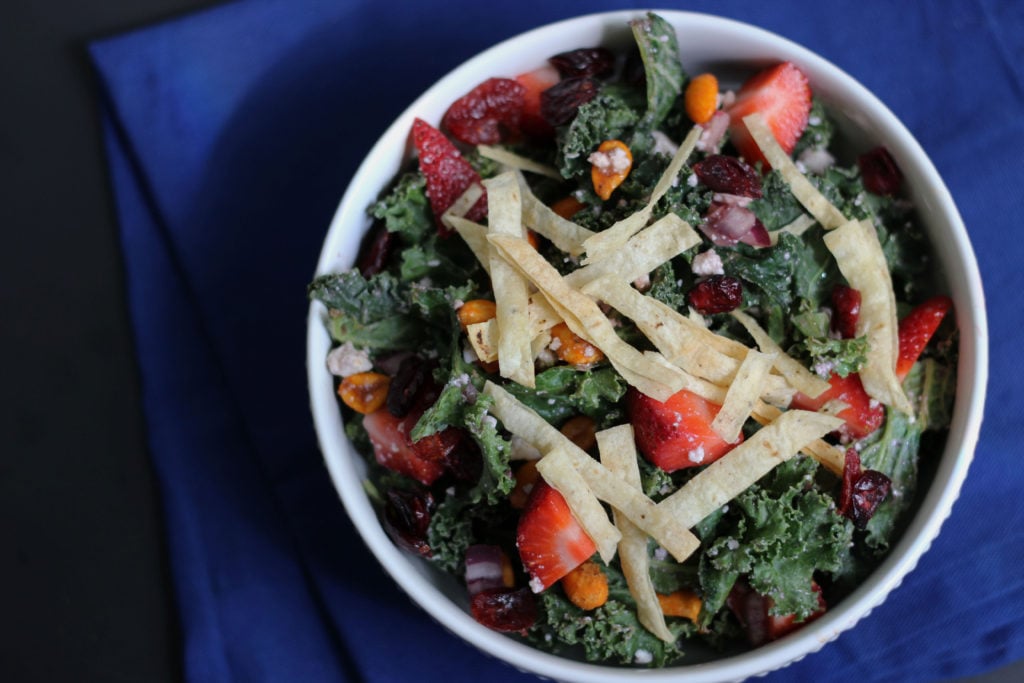 This salad has a lot going on – spicy peanuts, strawberries, kale, queso fresco, and pomegranate dressing meld into one fabulous healthy dish. Not exactly your normal "taco salad" with beans, cheddar cheese, and ground beef. However, I would prefer this salad over those other taco salads any day.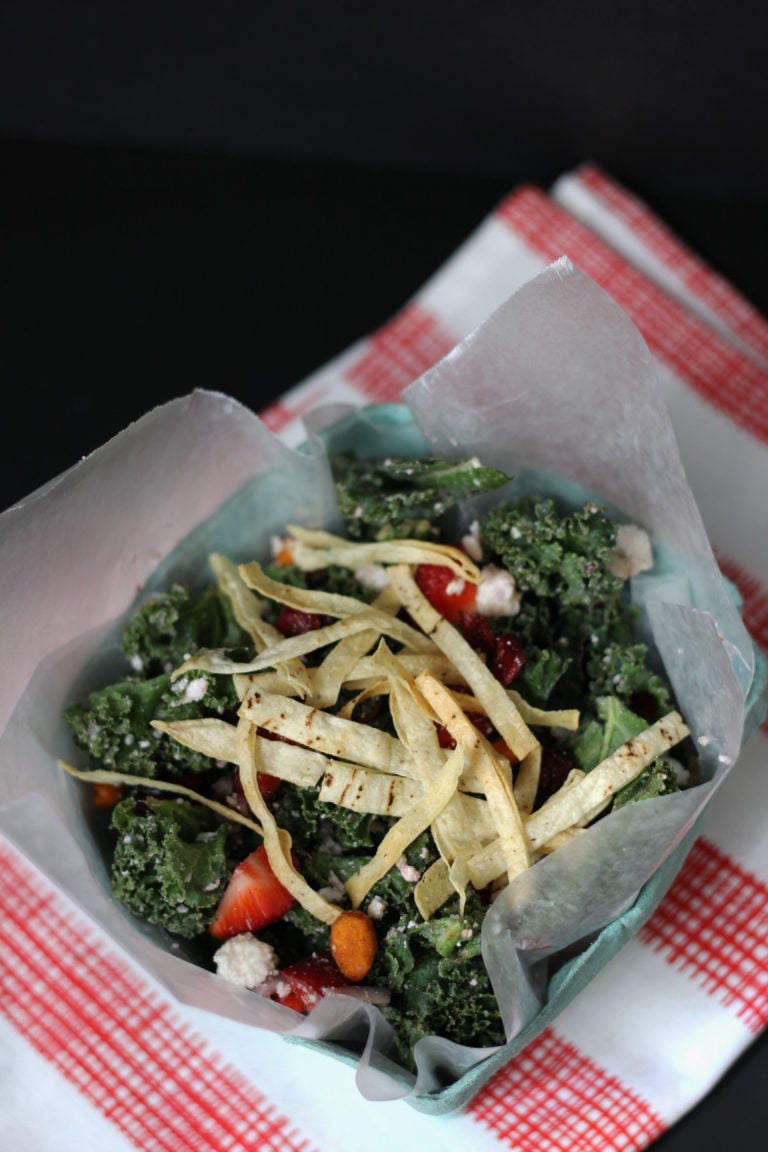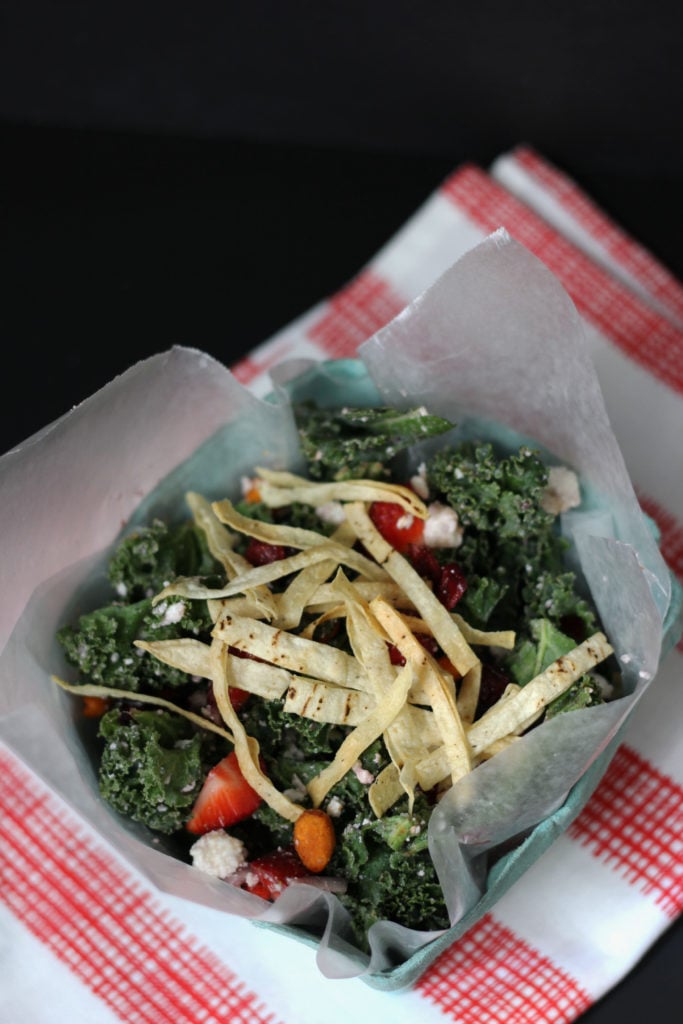 More Salads You'll Love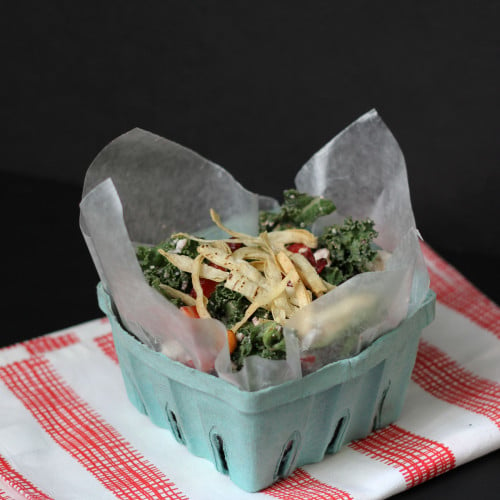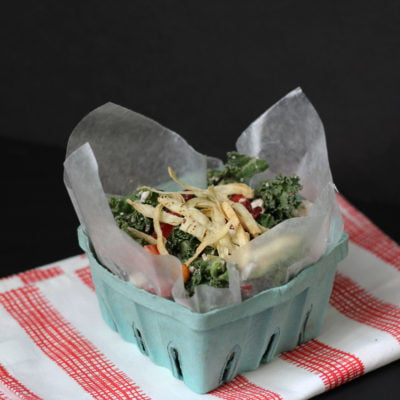 Copycat Antique Taco Salad
A copycat kale salad from Antique Salad. This salad is chock full of strawberries, queso fresco, spicy peanuts and more!
Ingredients
Salad Dressing:
1/4 teaspoon sesame oil
4 tablespoons pomegranate juice
3 tablespoons red wine vinegar
1 tablespoon maple syrup
Salad:
4 cups chopped kale stems removed
3 ounces queso fresco crumbled
1/4 cup dried cranberries
4 tablespoons finely diced red onion
6-8 large strawberries chopped
1/3 cup peanuts
Instructions
Make the Tortilla Strips
Preheat oven to 375 degrees Fahrenheit. Cut tortillas in half and then into 1/4 inch strips. Spray with cooking oil and spread in a single layer on a cookie sheet.

Bake tortillas for 10 minutes or until they begin to lightly brown and crispy.
Make the Salad Dressing:
Melt coconut oil in the microwave in a small bowl. Add sesame, vinegar, maple syrup, juice, salt and pepper. Stir together to combine.
Make the Salad:
Put kale into a large bowl. Pour dressing over the kale and lightly massage the leaves to soften them.

Top with the peanuts, cheese, cranberries, red onion, and strawberries.

Toss together and serve with tortilla strips.
Nutrition
Serving: 1salad | Calories: 460kcal | Carbohydrates: 38g | Protein: 14g | Fat: 31g | Saturated Fat: 17g | Polyunsaturated Fat: 5g | Monounsaturated Fat: 7g | Trans Fat: 1g | Cholesterol: 20mg | Sodium: 280mg | Potassium: 641mg | Fiber: 8g | Sugar: 17g | Vitamin A: 9157IU | Vitamin C: 99mg | Calcium: 444mg | Iron: 3mg
Reader Interactions