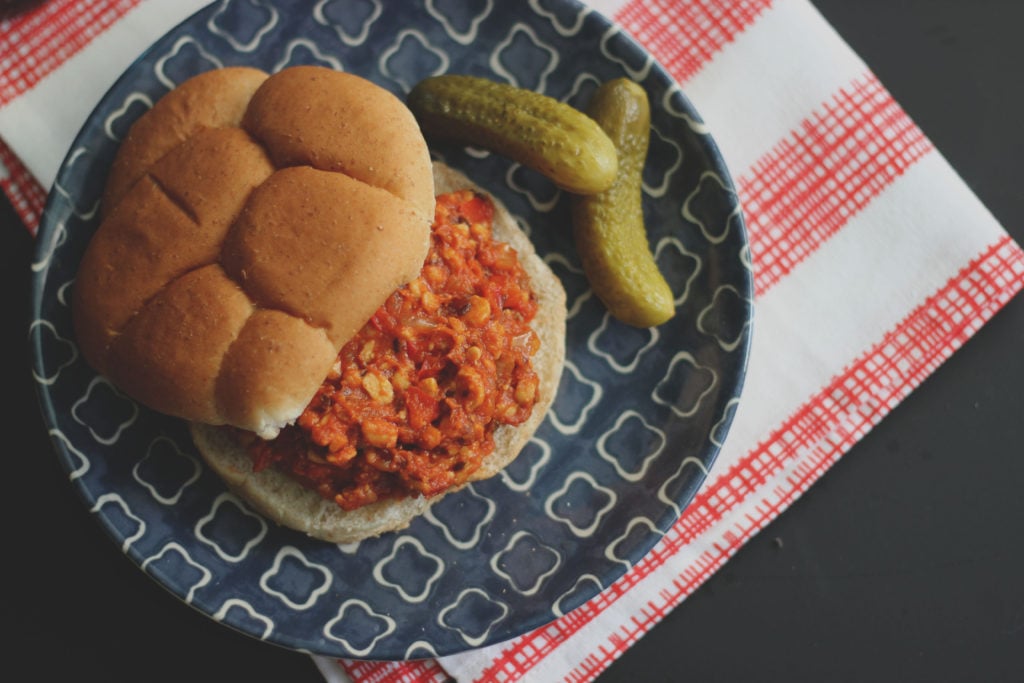 When I was younger, I remember requesting two foods for dinner whenever my birthday came around: carrot cake and sloppy joes. To this day, I still don't know what it was about sloppy joes that I loved so much. Maybe it was the name. Who is Joe anyway? Why did he love these sloppy sandwiches so much? Also, who in the world came up with that weird stuff in a can, better known as manwich? I can't even get over that name – does eating it make you a cannibal? Ew. No wonder I became a vegetarian, canned meat makes me cringe. Anyway…. let's talk about making a homemade version, shall we?
Today, on my birthday, I thought I would reminisce a little and make some sloppy joes for old times sake. Now that I'm a vegetarian, I had to change the game plan a bit. Crumbled tempeh is one of my favorite vegetarian substitutes for ground beef. If you aren't familiar with tempeh, it's fermented whole soybeans which are formed into a solid block. Check out this post for why fermented foods are so good for you!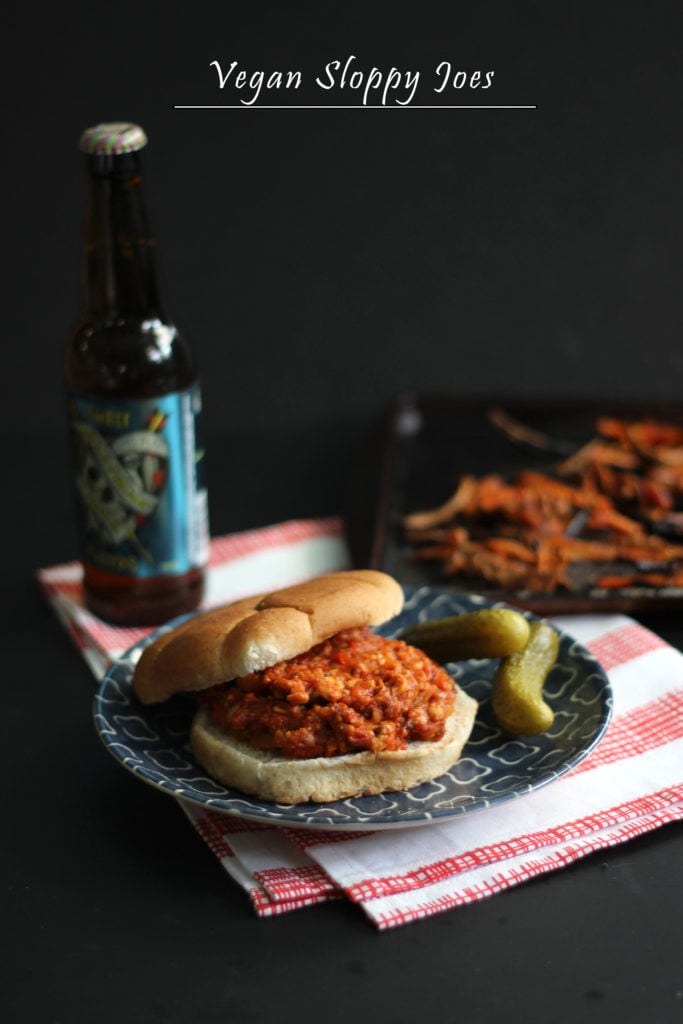 Vegan Tempeh Sloppy Joes
A healthy, vegan twist on the classic sloppy joe sandwich!
Ingredients
1/2 onion chopped
1/2 red bell pepper chopped
2 tablespoons canola oil
2 cloves garlic minced
16 ounces tempeh crumbled
1 cup ketchup
3 tablespoons green chile
1 cup vegetable broth
1/2 teaspoon chili powder
1/2 teaspoon smoked paprika
6 ounces tomato paste
1 tablespoon dijon mustard
1/4 teaspoon salt
1/4 teaspoon pepper
5 whole grain hamburger buns
Instructions
Heat canola oil in a large skillet. Add onion, bell pepper, and garlic to pan and saute until softened, about 5 minutes.

Add the tempeh and saute until lightly browned.

Stir in the ketchup, tomato paste, green chile, and vegetable broth. Cook for about 5 minutes, stirring occasionally.

Add chili powder, paprika, mustard, salt, and pepper. Cook for another 10 minutes over medium heat until sauce begins to thicken and ingredients are heated through.

Serve over a toasted bun with a side of chips or sweet potato fries.
Nutrition
Serving: 1sandwich | Calories: 438kcal | Carbohydrates: 53g | Protein: 23g | Fat: 17g | Saturated Fat: 3g | Polyunsaturated Fat: 6g | Monounsaturated Fat: 7g | Trans Fat: 1g | Sodium: 1296mg | Potassium: 966mg | Fiber: 3g | Sugar: 19g | Vitamin A: 1399IU | Vitamin C: 27mg | Calcium: 191mg | Iron: 5mg
Reader Interactions