We've gotten to that time of the year when I start daydreaming of going somewhere warm for vacation because winter seems like it will never end! Since I don't have any travel plans, I'll be hunkering down with my favorite comfort foods like these 10 healthy vegetarian soup recipes!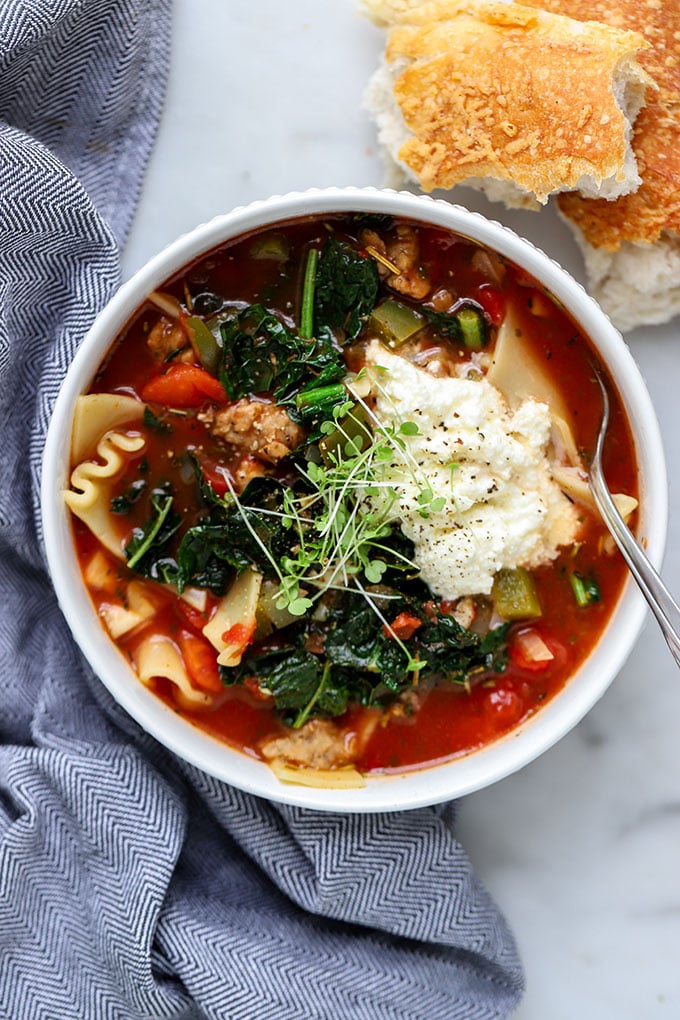 Vegetarian, Easily Vegan – This soup is one of my absolute favorites! I often don't have the time or patience to make lasagna so I whip up this soup instead. It is full of protein thanks to the seitan sausage which can be easily replaced with white beans if you prefer. You can also easily make this one vegan simply by skipping the ricotta cheese when serving!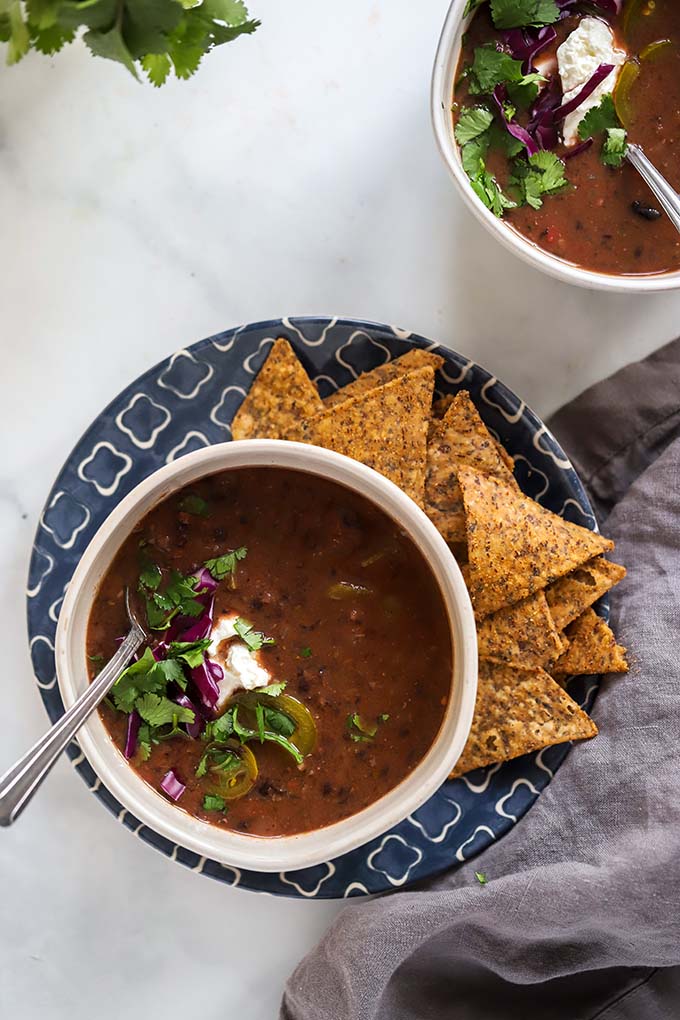 Vegan, Gluten Free – This soup could not be any easier to make since it relies on a lot of canned goods you probably already have in your pantry: black beans, diced tomatoes, and vegetable broth. Get creative with the toppings and serve it with vegan sour cream, sliced jalapeños, cilantro, tortilla chips, and more!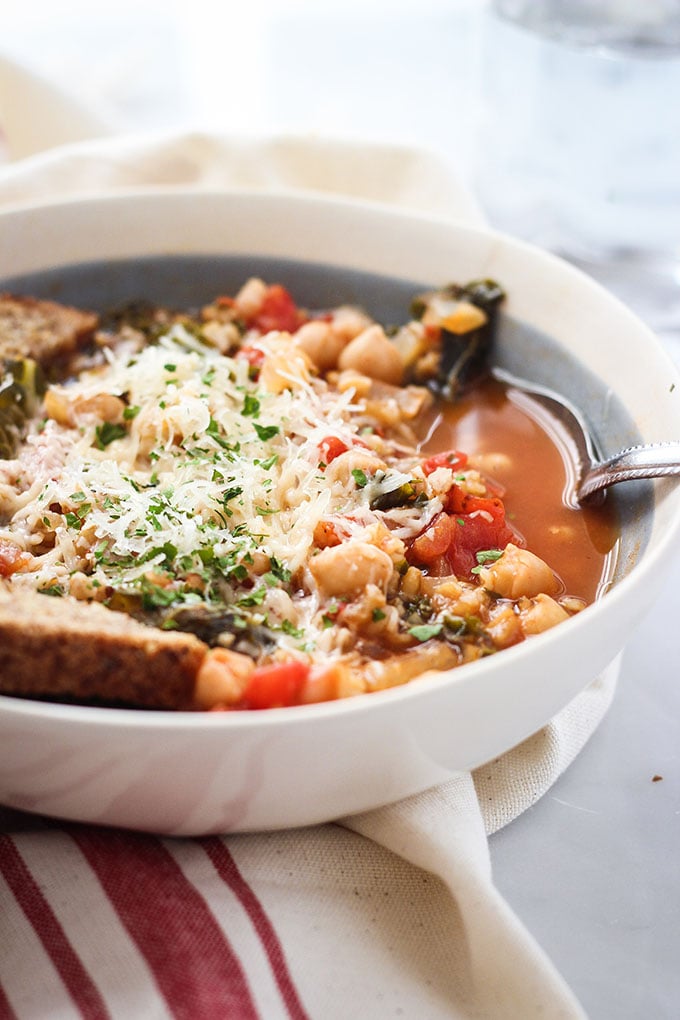 Vegan – This soup is a fan favorite! It takes a little longer than most since the key to a lot of the flavor is the roasted garlic, but it is so worth it. This one is an older one from my blog archives but one that I like to revisit. If you have never tried farro before this soup is a great recipe to test it out.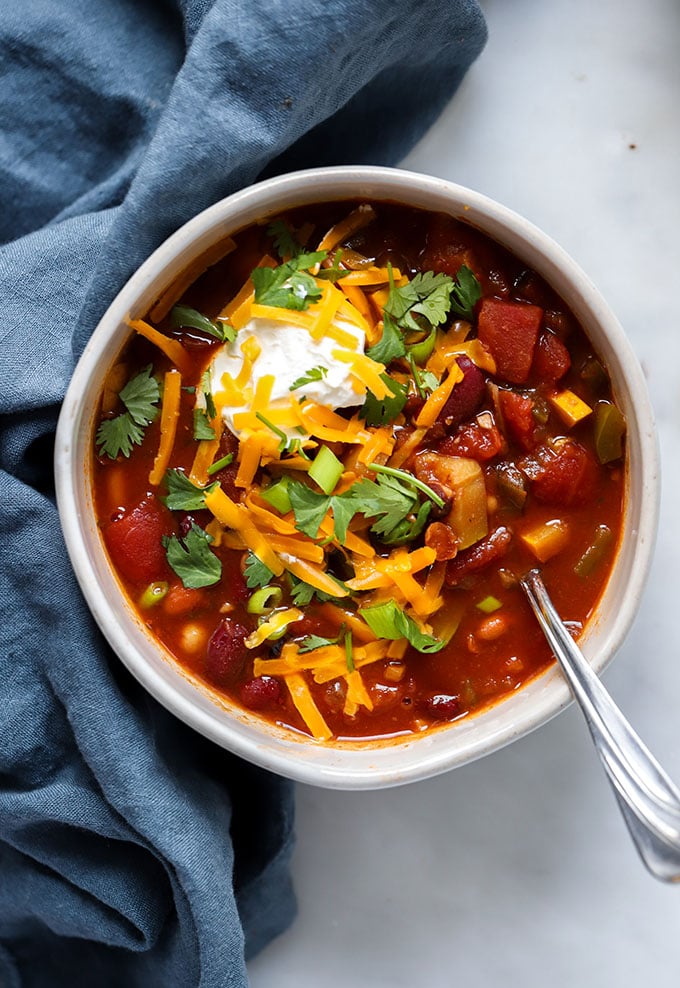 Vegan, Gluten Free – There is nothing better on a really cold night than a big bowl of chili. This vegan 4 bean crockpot chili is great for days when you don't feel like cooking after work. I put everything in the bowl of the crockpot, put it in the fridge, then start the crockpot the next morning before I leave for work. When I walk in the door, dinner is ready to be served.
Vegan – This is my favorite soup for anytime I may be feeling a little under the weather. Miso, which is a flavorful paste made from fermented soybeans commonly used in Japanese cuisine, adds a lot of great flavor to the broth in this soup. Feel free to vary the veggies in this, but my favorites are carrot, bok choy, and mushroom.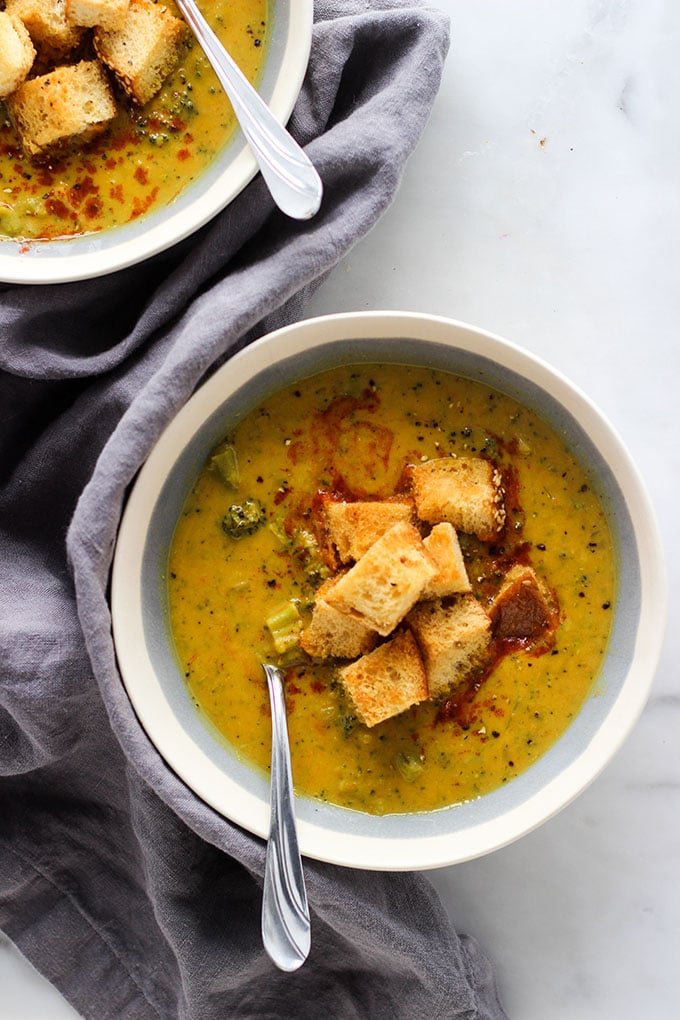 Vegan – Who knew a vegan broccoli cheddar soup could taste so good?! The secret to adding the "cheesy" flavor to this one without any dairy is nutritional yeast.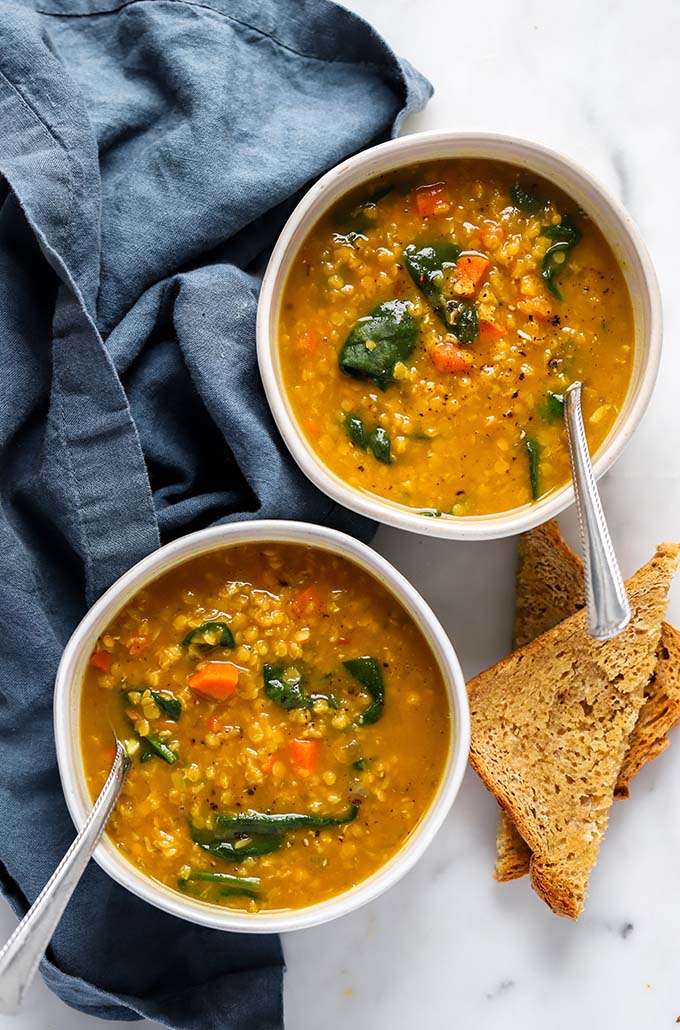 Vegan, Gluten Free – I love this simple red lentil soup. Red lentils cook up so quickly it makes this a great soup option for even the busiest of nights. I love stirring in some greens like spinach near the end of cooking but you could also use kale too.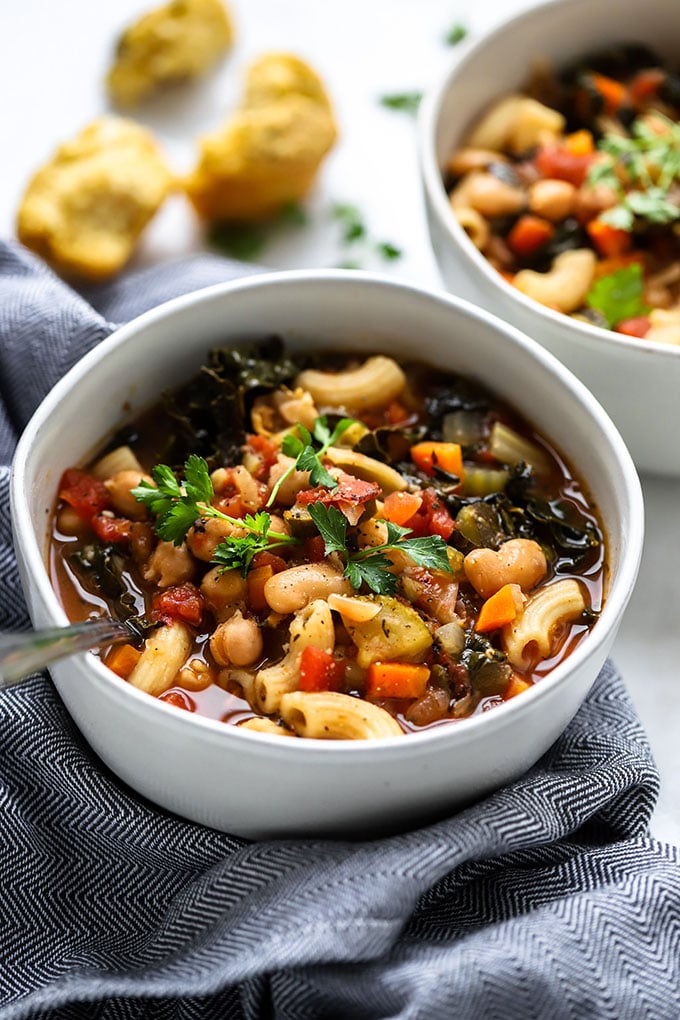 Vegan, Easily Gluten Free – This is another great recipe for cooking up in your crockpot while you are at work. One of the reasons I love minestrone soup recipes like this one is that you can really stuff it full of lots of veggies! Make this one gluten free simply by using gluten free macaroni noodles.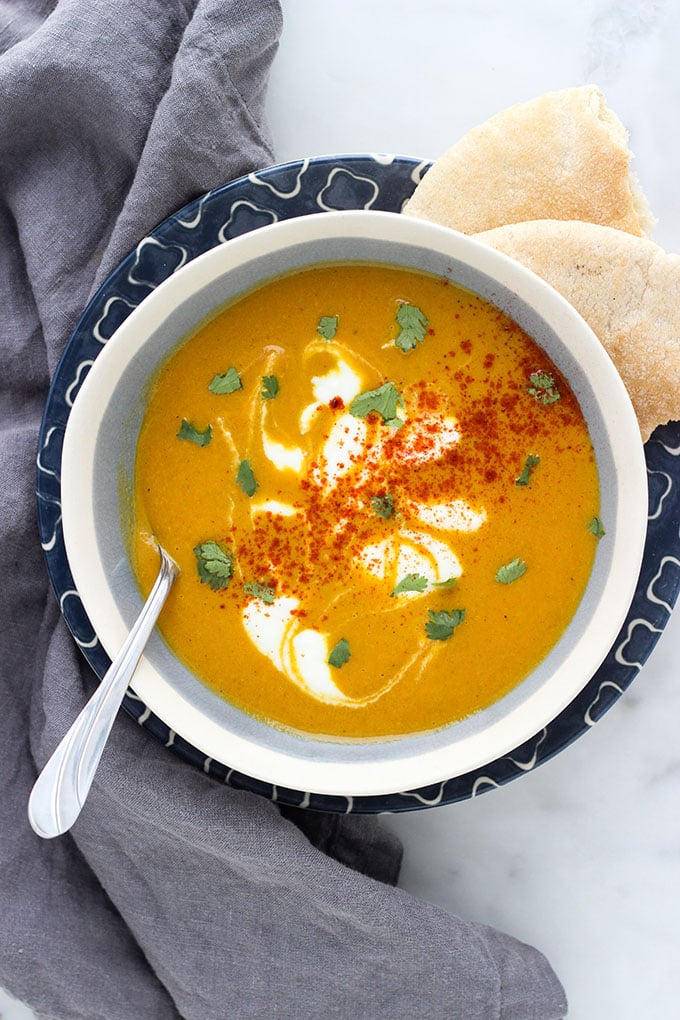 Vegan, Gluten Free – Get your daily dose of vitamin A with a bowl of this vegan creamy carrot soup loaded with warming winter flavors like cinnamon, nutmeg, and ginger. Serve it with a swirl of coconut milk (vegan) or yogurt (vegetarian).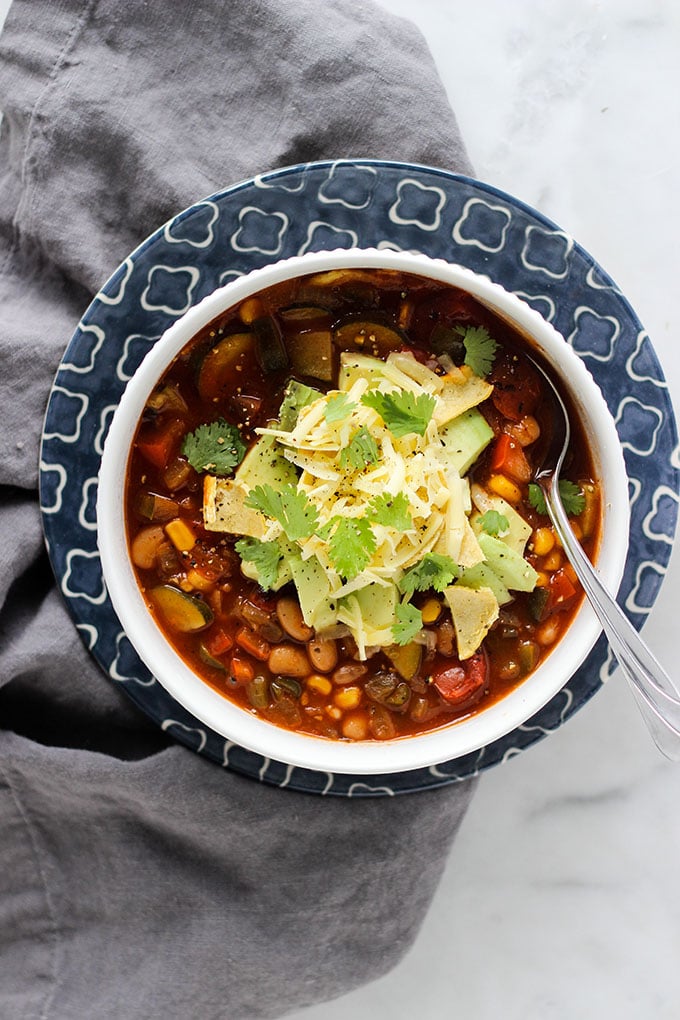 Vegan, Gluten Free – Curl up on a cold night with this vegetarian enchilada soup with just enough spice to warm you up and plenty of fiber and protein to satisfy your hunger. Get creative with your toppings for this tasty soup! I like avocado, vegan cheese shreds, and hot sauce.
Like these vegetarian soup recipes? Make sure to pin them for reference later! Did you make one of my soup recipes? Be sure to take a picture and share on Instagram with #dietitiandebbie. It seriously makes my day when I see what you've been making!