Is there anything better than a big, steaming bowl of soup on a cold night? If you have switched to a vegan diet and need some inspiration for making soup, here are 15+ healthy vegan soup recipes that are delicious and satisfying.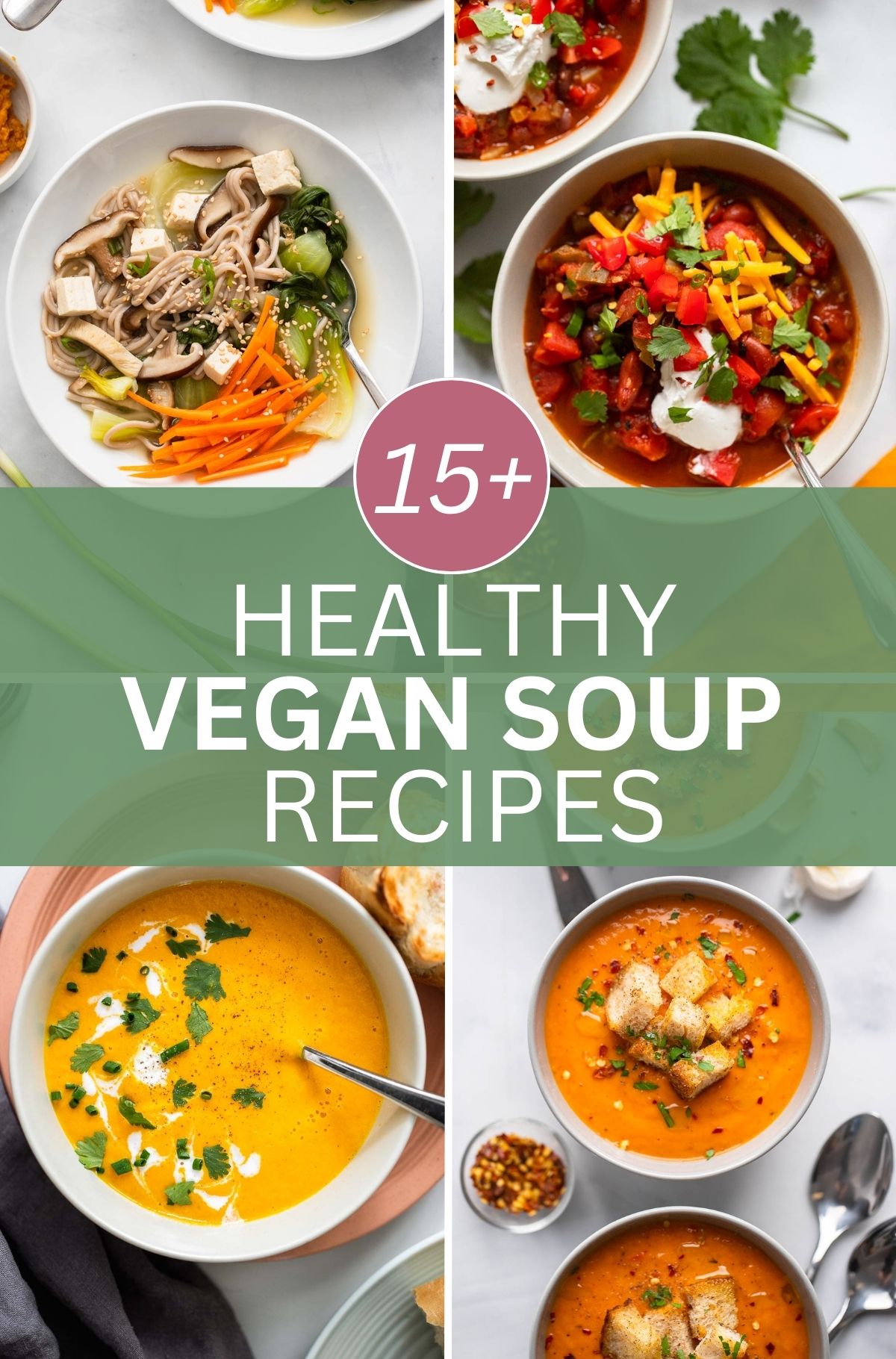 Post originally published February 2019; Updated February 2023.
We've gotten to that time of the year when I start daydreaming of going somewhere warm for vacation because winter seems like it will never end! Since I don't have any travel plans, I'll be hunkering down with my favorite comfort foods like these 15+ healthy vegan soup recipes.
In addition to the soup recipes, you'll find some of my favorite tips and tricks for making flavorful vegan soup recipes at home. Need some new ideas for what to serve with soup? I've got those too – keep reading to find out!
Tips for Making Vegan Soups
Want to make your favorite soup recipe vegan-friendly? Here are my tips for swapping animal-based products for plant based ones.
To Add Creaminess: There are several different ways that you an add creaminess to soup recipes without using heavy cream or dairy. My favorite way to add extra creaminess is full fat canned coconut milk. You don't taste the coconut in the final soup and it add tons of creaminess and fat. You can also use a non-dairy heavy cream, homemade cashew cream, nut or seed butters (peanut, almond, tahini), pureed canned white beans, or vegan cheese to add creaminess. Pureeing or partially pureeing your soup is also an easy way to add creaminess.
Broth Options: To make soup recipes vegan-friendly, you'll want to use vegetable broth instead of chicken or beef broth. There are tons of great broth options on the market that are animal based that come in either a liquid, powder, or puree/paste.
Adding Protein: Make vegan soups more filling by adding more plant-based protein in the form of beans, lentils, whole grains, tvp, soy curls, or plant-based meats like chick'n or seitan.
Add Flavor: Enhance the flavor of your favorite vegan soups by making sure you are seasoning it properly with enough salt. Adding some acid at the end of cooking like a couple teaspoons of lemon juice or vinegar can also brighten up all the flavors in your soup.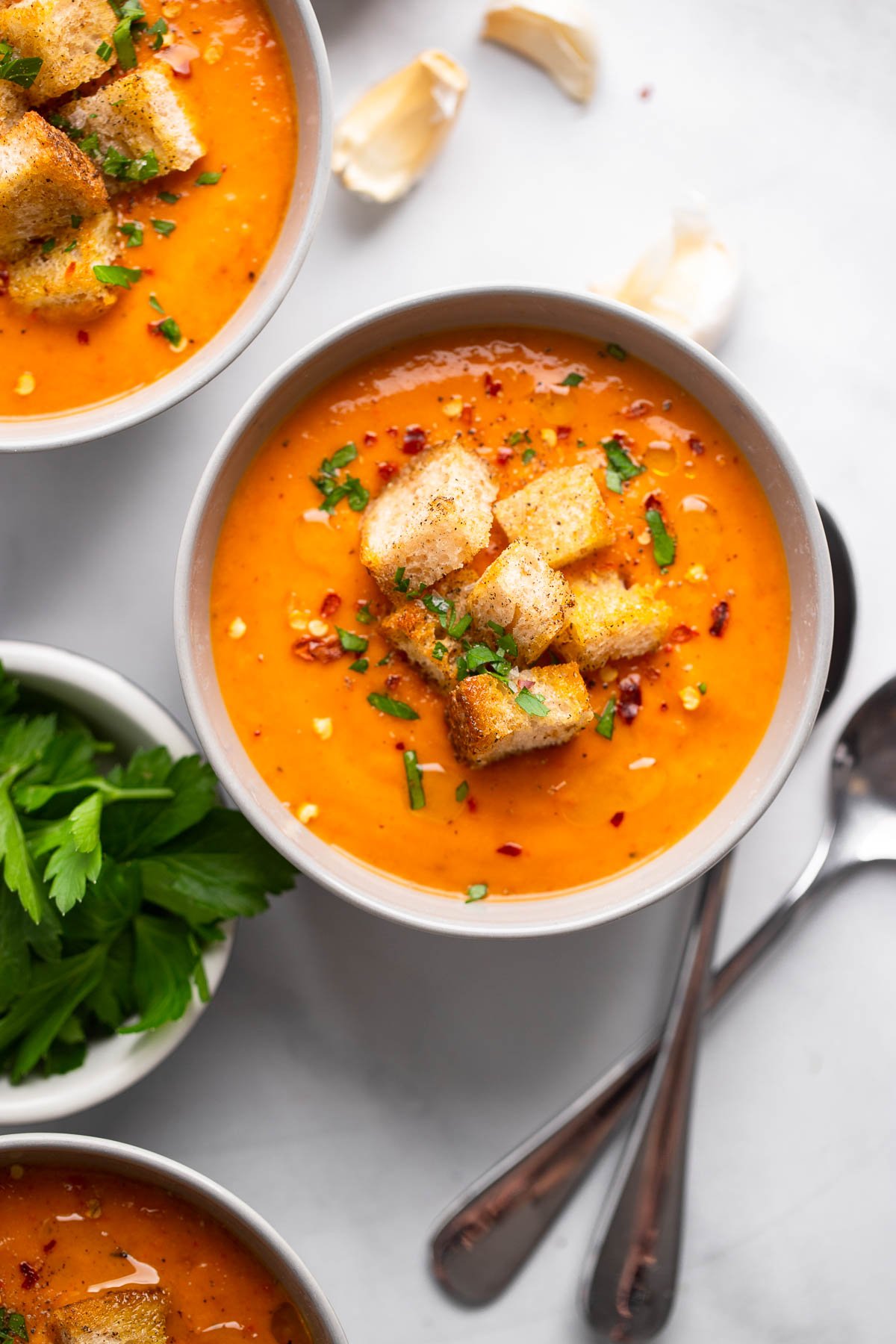 Best Equipment for Making Homemade Soup
Storage Tips
How to Refrigerate: allow the cooked soup to cool to room temperature before transferring to lidded containers to store in the fridge. Cooked soup lasts for 3-4 days in the refrigerator. Reheat in a saucepan on the stove or in the microwave.
How to Freeze Soup: add soup that has been cooled to room temperature to freezer safe storage containers. You can store in one large container or smaller since portion size containers. You can also store in mason jars in the freezer. Homemade soup lasts for up to 3-4 months in the freezer. Allow to defrost overnight in the fridge before reheating.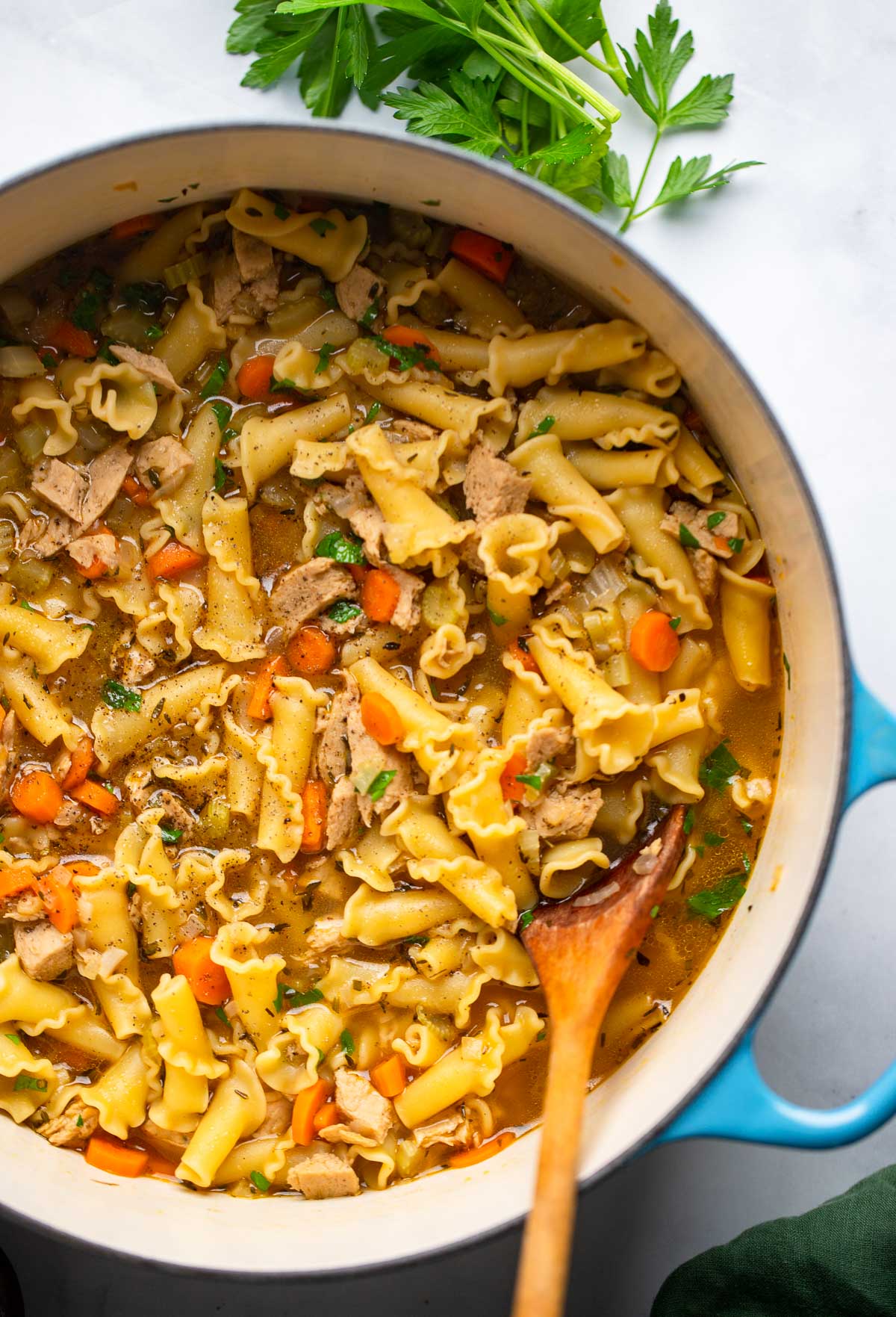 What to Serve with Vegan Soup
Soup can be a delicious meal by itself, or you can serve it with a variety of different sides to round out the meal. I often like to top my vegan soup recipes with some vegan cheese, croutons or crackers, fresh herbs, and ground black pepper when serving.
Frequently Asked Questions
Healthy Vegan Soup Recipes You'll Love