This vegan broccoli and cheese soup is a big bowl of comfort food for the rainiest of days. Made with a few simple ingredients like carrots, potato, broccoli, nutritional yeast, and coconut milk. Serve it up with some crunchy croutons and a sprinkle of paprika.
The last few rainy and cold days here in Chicago had me craving soup! What's your favorite soup on a rainy day? It has been ages since I had a good bowl of broccoli cheddar soup so I thought I would recreate a recipe I could share here. Rather than doing a traditional broccoli cheddar with cheese and milk, I made a vegan version which is just as creamy and delicious. The secret to the creaminess in this version is canned coconut milk and pureed potato and carrot. You won't even miss the cheese!
How to Make this Soup
First, you'll steam the carrot and potato together and then add to a blender with some broth, soy sauce, nutritional yeast, smoked paprika, and red wine vinegar and puree until smooth.
Meanwhile, cook the onion and broccoli together and then add the broth and coconut milk. Once that is simmering, you'll stir in the carrot/potato puree and bring to a simmer again.
Transfer 1/2 of the soup to the blender and puree or use an immersion blender to puree some of the soup. (Can puree fully if you like a smooth soup.) Add that back to the pot with the rest of the soup and stir. Stir in some shredded vegan cheddar cheese if desired.
Common Questions about this Vegan Broccoli and Cheese Soup
Can I make it with a different milk? I like using canned coconut milk in this recipe to really punch up the richness. A traditional broccoli cheddar soup has heavy cream or half and half so the coconut milk adds that same richness. You can't taste the coconut in the finished soup (at least I can't!), but if you are a coconut-hater, you can sub plain, unsweetened soy milk and it is just as tasty. I haven't tried it with all the plant-based milk varieties but soy and coconut are the richest of the bunch and likely the best options for this soup. Not vegan? Go ahead and use dairy milk if you aren't a fan of coconut milk.
Can I skip the nutritional yeast? Sorry, the nutritional yeast is a vital ingredient in this recipe since it gives it that cheesy flavor minus the cheese! It is relatively inexpensive (a bag from Bob's Red Mill is $4 and lasts a long time). You can usually find it in the bulk bins at stores like Whole Foods or Fresh Thyme if you don't want to buy a lot.
Do I need a high-powered blender or Vitamix to make this? I like to puree the carrots and potato in my Vitamix, but you don't have to have a high powered blender for that step. Since there are no cashews and your carrots and potatoes should be falling apart after steaming, any blender or food processor should be able to handle it.
Is this soup gluten free? Yes! Just use tamari instead of soy sauce and you can enjoy this soup.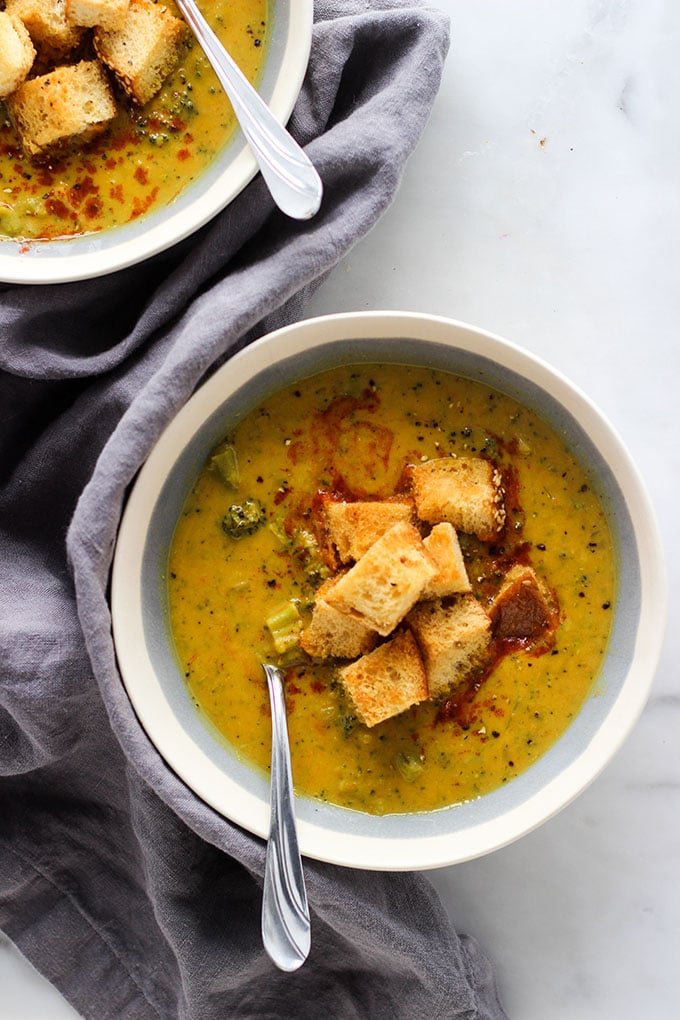 How to Serve this Vegan Broccoli and Cheese Soup
One recipe makes enough for 5 large filling bowls of soup and the leftovers keep well in the refrigerator for up to 3 days.
Top your soup with coconut bacon (my favorite!), chopped green onion, croutons, vegan cheddar cheese shreds, or a drizzle of olive oil.
Looking for more tasty soup recipes? Check out these!
Vegan Broccoli and Cheese Soup
This vegan broccoli and cheese soup is a big bowl of comfort food for the rainiest of days. Serve it up with some crunchy croutons and a sprinkle of paprika.
Ingredients
2 large carrots peeled and sliced (6.5 oz)
1 large russet potato peeled and cubed (10 oz)
1 tablespoon olive oil
1 cup chopped yellow onion 1/2 onion
8 cups chopped broccoli Two 10 oz broccoli crowns
3 cups vegetable broth or water
1 15 oz. can full fat coconut milk OR 2 cups plain, unsweetened soy milk
1/2 cup nutritional yeast
1/2 teaspoon smoked paprika
1 tablespoon reduced sodium soy sauce use tamari if gluten-free
1 teaspoon red wine vinegar
Sea salt and ground black pepper to taste (start with 1/4 teaspoon each and adjust as needed)
1/2 cup vegan cheddar cheese shreds I like VioLife, optional
To serve: croutons sliced green onion, vegan shredded cheese, coconut bacon
Instructions
Fill a saucepan with 1" water and add steamer basket. Bring to a boil and add the carrots and potato to the steamer basket. Cover and cook until fork tender, about 10-15 minutes. Transfer to a food processor or blender and allow to cool off for a few minutes.

Meanwhile, add the olive oil and onion to a large pot. Saute for 3-5 minutes or until onion is translucent and tender. Stir in the broccoli, 2 cups of the broth, and milk. Bring to a simmer. 

Add the reserved 1 cup of vegetable broth, yeast, paprika, and soy sauce to the food processor/blender with the carrots and potato. Puree until smooth and stir into the pot with the broccoli. Cook for 7-10 minutes or until mixture is starting to simmer.

Stir in the red wine vinegar and season with salt and pepper.

Pour about 1/2 of the soup into the same food processor/blender and blend until smooth OR use an immersion blender to puree some of the soup. (I still like to leave some broccoli pieces whole). Transfer back into the pot with the rest of the soup. Stir in vegan cheddar cheese if using. 

To serve, divide into bowls and top with croutons, paprika, vegan cheese, coconut bacon, or whatever other toppings you have on hand.
Notes
Recipe makes about 7 cups of soup.  Nutrition facts below include plain soy milk.  Psst! Don't toss your broccoli stems! Peel them so that you are left with the tender core and chop up with the rest of your broccoli. You won't even be able to tell they are there in the finished soup!
Nutrition
Serving: 11/2 cups | Calories: 185kcal | Carbohydrates: 27g | Protein: 15g | Fat: 5.5g | Saturated Fat: 0.5g | Polyunsaturated Fat: 5g | Sodium: 460mg | Fiber: 3g | Sugar: 4.5g
Reader Interactions