This year I was thinking I needed to add more super simple, 10 ingredient or less type of recipes to the blog. In keeping with that goal, I created this healthy bean dip! It literally takes 5 minutes to make and only requires 8 ingredients. In fact, if you keep a can of white beans in your pantry, you'll basically be able to whip up this lemon herb white bean dip whenever you need a quick healthy snack or easy appetizer. Serve it with some colorful chopped veggies and pita chips and you are all set!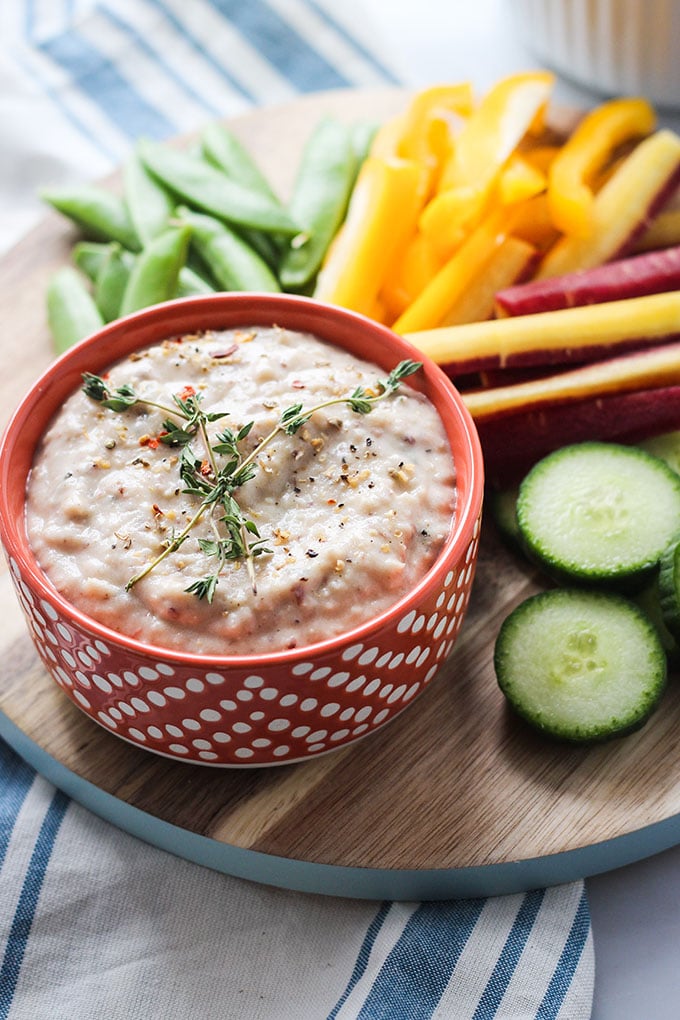 I loved the combination of rosemary, thyme and lemon for the dip, but feel free to experiment with other fresh herbs. I'm sure there are other combinations that are likely just as tasty. I am predicting that this lemon herb white bean dip will quickly become my go-to for potlucks or parties. It's also fun to pack for lunch at work with lots of veggies for dipping. I just pack it up with an apple and yogurt for a super simple meal. It is almost like a grown up version of a lunch-able!
Lemon Herb White Bean Dip
Keep a can of white beans in your pantry and you'll likely be able to whip up this delicious lemon herb white bean dip for a vegan and gluten free treat.
Ingredients
1 15 oz. can white (cannelini) beans
2 tablespoons olive oil
3 cloves garlic minced
1 teaspoon chopped fresh thyme
1 teaspoon chopped fresh rosemary
3 tablespoons fresh lemon juice
Salt and pepper to taste
Instructions
Drain and rinse your beans and transfer to a food processor.

Heat olive oil in a skillet. Add the garlic, thyme, and rosemary and cook just until aromatic, about 1 minute.

Transfer olive oil and herbs to the food processor. Add lemon juice.

Puree until smooth. Season with salt and pepper to taste.
Nutrition
Serving: 1/4 Recipe | Calories: 181kcal | Carbohydrates: 22g | Protein: 7g | Fat: 7g | Saturated Fat: 1g | Polyunsaturated Fat: 6g | Sodium: 80mg | Fiber: 7g | Sugar: 0.5g
Reader Interactions