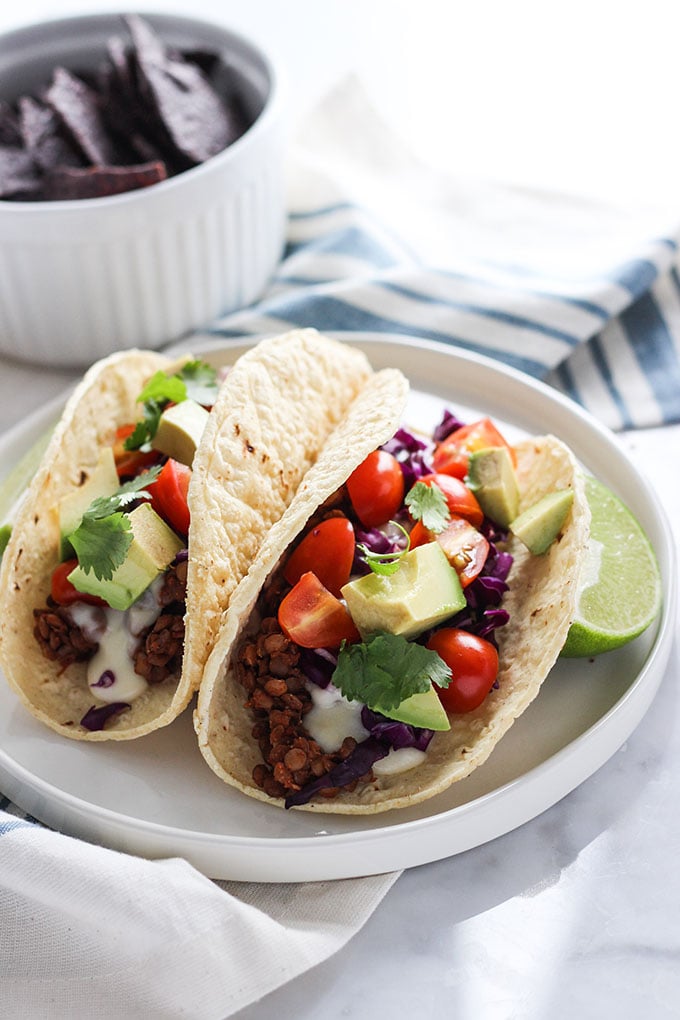 Just looking at the photos of these lentil tacos with spicy cheese sauce has me drooling. They were so good! Unfortunately, I can't get my mouth open far enough to eat tacos at the moment since I had my wisdom teeth taken out last week. Ouch! It was a pretty quiet weekend around here as I recovered on the couch with lots of Dexter and soup. Not that I really wanted to leave the house since the temperatures here in Chicago dropped below freezing. To cheer things up, I did treat myself to this pretty winter bouquet. Speaking of treating yourself, these tacos are the way to go!
It had been entirely too long since I shared a taco recipe on the blog! I've totally been crushing on everything chipotle lately. I just can't get enough of the smoky, spicy flavor and included it in the lentil filling for these tacos. Wanting to try something different than my usual shredded cheese and sour cream topping, I decided to make a spicy cheese sauce. Such a great decision! Add some color to your tacos by adding some chopped avocado, tomato, and purple cabbage and you have a yummy dinner ready in just about 45 minutes.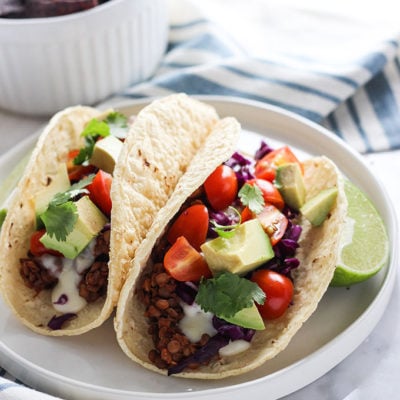 Lentil Tacos with Spicy Cheese Sauce
These lentil tacos with spicy cheese sauce are sure to please at your next taco night! Add some color by topping them with chopped tomatoes, avocado, and chopped cabbage.
Ingredients
Lentil Filling:
1 cup brown lentils
1 1/2 -2 cups vegetable broth
1/2 cup tomato sauce
2 tablespoons sauce from canned chipotles in adobo sauce
1/2 teaspoon cumin
For the Cheese Sauce:
1/2 jalapeno diced
1/4 cup onion chopped
1 1/2 tablespoons butter
1 tablespoon all-purpose flour
1/2 cup milk
1/2 cup shredded mozzarella cheese
To serve:
Corn tortillas
Chopped avocado
Shredded purple cabbage
Salsa
Lime
Instructions
In a medium saucepan, combine the lentils, 1 1/2 cups of the broth, tomato sauce, chipotle, and cumin. Bring to a simmer and cover. Cook for 20-25 minutes, then uncover and stir. Add an additional 1/2 cup of broth if all of the liquid has already been cooked off. Otherwise, continue to simmer until liquid has cooked off and lentils are tender. Set aside.

In a small saucepan, heat the jalapeño, onion, and butter. Cook until onion is translucent.

Sprinkle in flour and stir. Add the milk and stir. Continue to heat and stir until sauce begins to thicken.

Stir in the mozzarella cheese and stir until melted and sauce thickens. Sprinkle with black pepper and set aside.

To assemble tacos, add 1/3 cup of lentils to a corn tortilla and top with cheese sauce and other toppings.
Notes
Nutrition information for filling only.
Nutrition
Serving: 1Taco | Calories: 272kcal | Carbohydrates: 38g | Protein: 18g | Fat: 6g | Saturated Fat: 3.5g | Polyunsaturated Fat: 2.5g | Cholesterol: 17mg | Sodium: 575mg | Fiber: 6g | Sugar: 5g
Reader Interactions