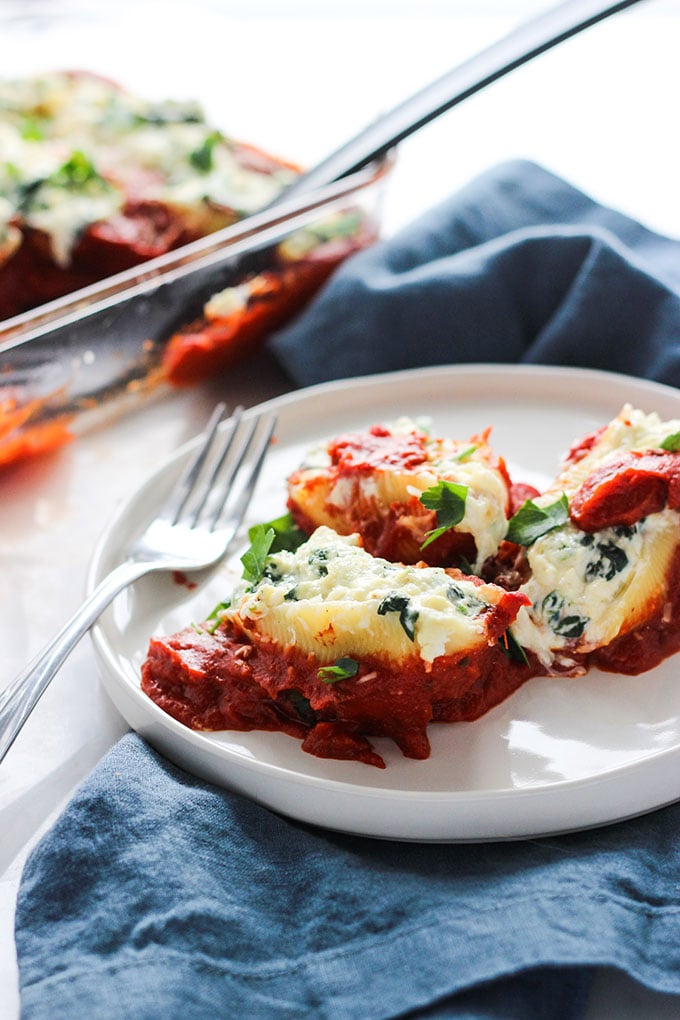 I don't make pasta dishes often, so when I do it feels almost like a special occasion! These stuffed shells with harissa spiced tomato sauce may dirty a few pots and pans (sorry!), but they are totally worth it. Also, if you are still looking for a great meal to make for your date on Valentine's Day, this would be a perfect option! Wink. Wink. Pair these tasty shells with a side salad and a couple of glasses of wine and you are all set.
If you aren't familiar with harissa, you should definitely give it a try. Seriously, don't skip it in this recipe, it totally takes it to the next level. This spicy condiment made from red chile paste and spices is common in North Africa and Middle Eastern dishes. I think the flavor is kind of reminiscent of sriracha sauce, but a bit smokier. A little can go a long way, so feel free to start with only 2 tablespoons in the sauce if you don't like a lot of spice. I love heat, so 3 tablespoons was just perfect. I really liked this harissa I found at Whole Foods and used in this recipe.
Stuffed Shells with Harissa Spiced Tomato Sauce
Add some heat to your traditional stuffed shell recipe by adding some harissa spiced tomato sauce to this tasty vegetarian dish.
Ingredients
15 jumbo pasta shells You need only 12, but you'll want extra in case any break
1 tablespoon olive oil
1/2 cup chopped onion
4 cups chopped spinach
2 cloves garlic minced
1 egg
15 oz. ricotta cheese
1/2 cup shredded mozzarella cheese
1/4 cup shredded parmesan cheese +2-3 Tablespoons for garnishing
For the Sauce:15 oz. canned tomato sauce
6 oz. canned tomato paste
2-3 tablespoons harissa adjust based on your spice preference
1 teaspoon dried oregano
1 teaspoon onion powder
Dash of salt and ground black pepper
Instructions
Preheat oven to 350 degrees Fahrenheit.

Bring water to boil in a large pot. Add the pasta and cook according to package directions. When finished, drain through a colander and set cooked pasta aside.

In a skillet, heat the olive oil and add the chopped onion. Saute until onion is softened and lightly browned. Stir in the spinach and garlic. Cook until spinach has wilted. Remove from heat and transfer to a large bowl to cool off.

In the same skillet, add the tomato sauce, tomato paste, harissa, oregano, and onion powder. Stir well to combine and cook until sauce just begins to simmer.Turn off the heat, stir in a dash of salt and black pepper and set aside.

Once the spinach mixture has cooled, stir in the egg, ricotta, mozzarella, and parmesan cheese.

In a 9"x9" baking dish, pour in the sauce and spread evenly in the pan. Stuff each shell with ~1 heaping tablespoon of cheese filling. Press into the sauce in the pan, allowing the sauce to fill in around the sides of the shell. Repeat until you've filled about 12 shells and run out of cheese filling. Sprinkle with the extra 2-3 tablespoons of parmesan.

Cover the pan with aluminum foil and bake for 20 minutes. Remove the foil and bake for an additional 5-7 minutes. Serve!
Nutrition
Serving: 3Shells | Calories: 324kcal | Carbohydrates: 29g | Protein: 19.5g | Fat: 16g | Saturated Fat: 8g | Polyunsaturated Fat: 8g | Cholesterol: 50mg | Sodium: 395mg | Fiber: 6g | Sugar: 8g
Reader Interactions