For someone who writes a food blog, I am actually really terrible at keeping up with all the food holidays. Most of the time, I only know it is a certain food holiday when I see it trending on my instagram feed. This recipe for vegan tempeh nachos is a great example of how out of the loop I am with food holidays! The Super Bowl is long gone and most everyone is talking about Easter recipes at the moment and I'm over here with a delicious pan of vegan tempeh nachos. 😉
Honestly though, there isn't a bad time to enjoy these vegan tempeh nachos in my opinion! This recipe was inspired by the vegan nachos we often order from a Chicago vegan restaurant called Upton's on the weekend when we don't feel like going out. I have been wanting to try and recreate them at home for ages and I finally got around to it last weekend.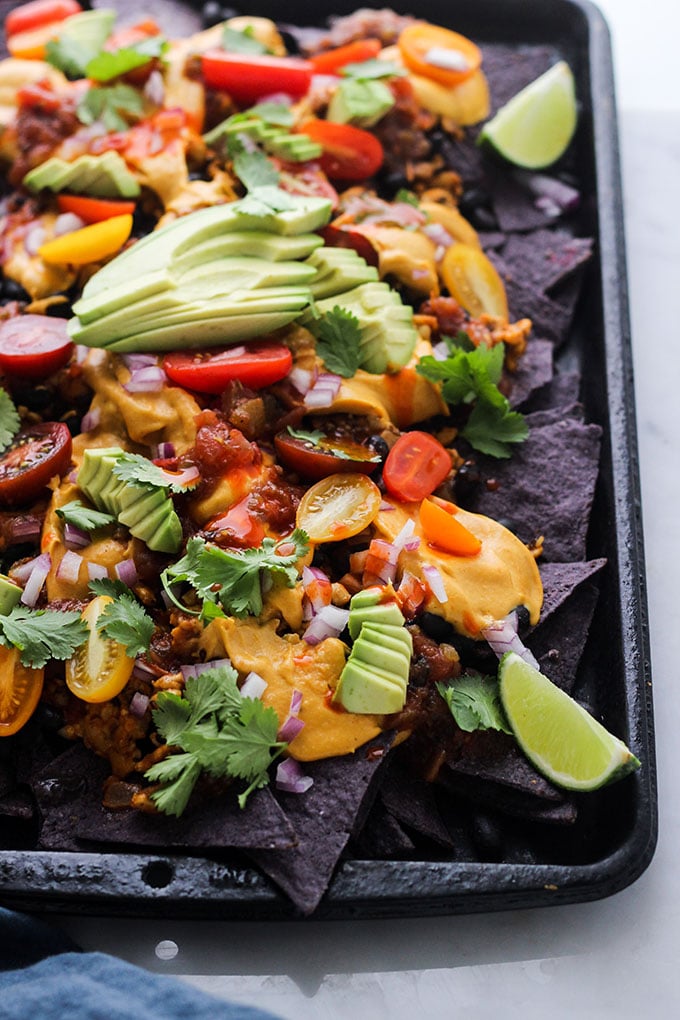 Tips for making this vegan tempeh nacho recipe
The "cheese" sauce for these nachos may be my favorite part. If you don't have a high powered blender, I found that I can get a creamier nut based cheese sauce if I puree the cashews in the single serving smoothie cup. I'll start with the cashews, broth, and some of the steamed vegetables and let it puree until smooth. I then transfer it to the food processor and add in the rest of the ingredients and let it puree until smooth and creamy. This sauce is actually kind of addicting. I tested it a couple times for this recipe and was happy to have the leftovers around. I wanted to add it to everything!
The cheese sauce thickens as it cools, so it is best when served hot right after you make it. If you want to make the cheese sauce in advance, you may need to add some more broth/water/milk to thin it out again when you reheat it.
How to Serve these Vegan Tempeh Nachos
Use your favorite tortilla chips for this recipe. I love blue corn chips and they look so pretty when combined with the cheese sauce and other veggies! I also like to top with some black beans, salsa, avocado (or guacamole), chopped tomatoes, chopped red onion, and fresh cilantro. Squeeze a bit of lime on there as well if you'd like too. Honestly, the more toppings the better. 😉
Other Tasty Vegan Recipes to Try: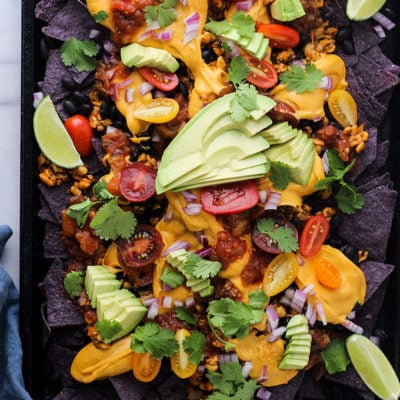 Vegan Tempeh Nachos
Rather than ordering take-out nachos, make these delicious vegan tempeh nachos at home. They are drizzled with a vegan "cheese" sauce you'll want to put on everything!
Ingredients
For the "Cheese" Sauce:1/2 cup raw cashews
1 large ~4 oz carrot, peeled and cut into coins
1 russet potato ~9 oz, peeled and cubed
2-3 tablespoons liquid water, soy milk, vegetable broth - they all work well
1/4 cup nutritional yeast
1 teaspoon soy sauce
1/2 teaspoon smoked paprika
1 teaspoon apple cider vinegar
Sea salt and hot sauce I like Cholula, to taste
For the Tempeh:1 tablespoon olive oil
1/3 cup chopped red onion
1 clove garlic minced
1/2 teaspoon cumin
1/2 teaspoon oregano
1 8 oz. package tempeh, crumbled
2/3 cup enchilada sauce
To Serve:Tortilla chips salsa, chopped red onion, avocado, tomatoes, lime, fresh cilantro
Instructions
To Make the "Cheese" Sauce:Bring a few cups of water to boil and turn off heat. Add cashews and allow to soak for 15 minutes. Drain and set aside.

Add a steamer basket to a saucepan filled with 1" of water. Add the carrot and potato. Cover and steam until fork tender, about 10-12 minutes.

In a high powered blender or single serving blender cup, add the cashews, steamed veggies, nutritional yeast, soy sauce, paprika, and apple cider vinegar. Add just 1 tablespoon of liquid and turn on blender to puree everything. If too thick, add another 1 tablespoon of liquid and repeat until cheese sauce is desired consistency. (I usually use 2 tablespoons.) Puree until smooth and season with salt  and hot sauce to taste.

To Make the Tempeh:Add oil and onion to a non-stick skillet and saute over medium-high heat until onion is tender. Add the rest of the ingredients and bring to a simmer until most of the liquid from the enchilada sauce has cooked off.

To Serve:Arrange tortilla chips on a serving dish and top with tempeh, cheese sauce, and chopped vegetables and salsa.
Notes
When storing leftover vegan "cheese" sauce in the fridge, it will thicken up. To thin it out again when you are ready to eat it, stir in 1-2 tablespoons of broth as you reheat it on low heat in a saucepan. **Note: nutrition facts are for cheese sauce and tempeh only.**
Nutrition
Serving: 1/5th recipe | Calories: 297kcal | Carbohydrates: 30g | Protein: 17g | Fat: 14g | Saturated Fat: 2.5g | Polyunsaturated Fat: 11.5g | Sodium: 650mg | Fiber: 3.5g | Sugar: 4g
Reader Interactions