Put those cans of black beans that have been lingering in your pantry to good use in this super simple vegan black bean soup. Add some subtle heat and smoky flavor to this delicious soup with a canned chipotle.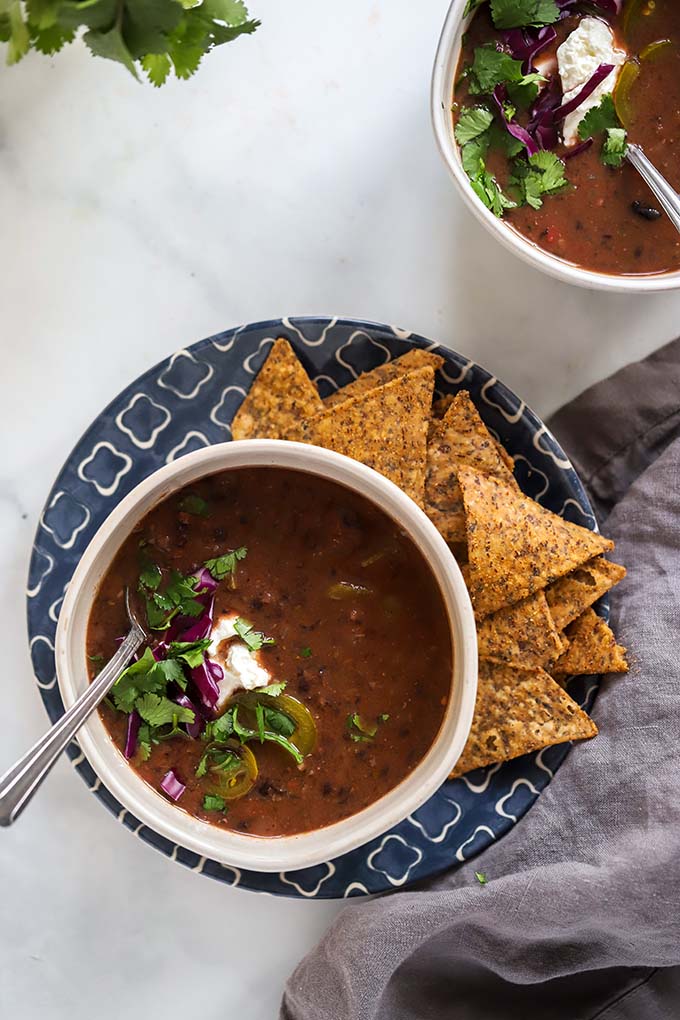 Do you have a couple cans of black beans hanging out in the back of your pantry that have been collecting dust? It's time to brush them off and put them to good use in this vegan one pot black bean soup! You can whip this soup up in just about 30 minutes with little effort since most of the steps just involve dumping things into your pot. If you don't have an immersion blender, you may need to dirty your blender too, but this soup is still super simple to make.
Why You'll Love this Recipe
This soup is vegan, gluten free, and super simple to make!
All you need for this soup is a handful of pantry staples like onions, canned black beans, and canned diced tomatoes.
Make it all in one pot if you have an immersion blender. Fewer dishes for the win!
This soup freezes well so you can make a double batch and save the leftovers for future use.
Ingredient Notes and Substitutions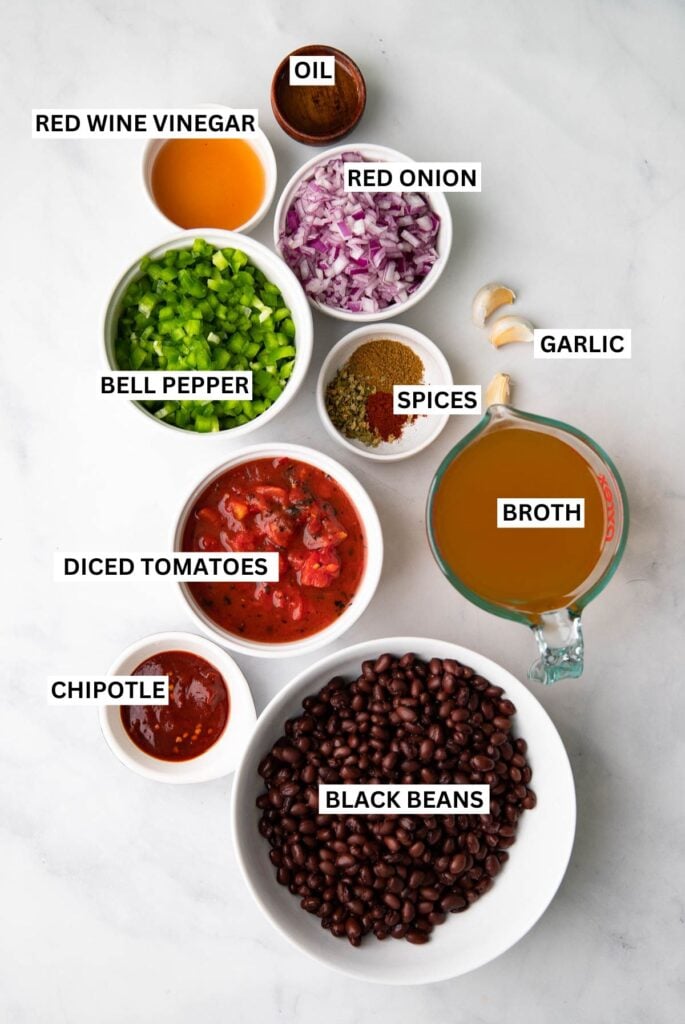 Black Beans: You'll need just 2 cans of black beans for this recipe. Use low sodium beans if you need to limit your salt intake. You could also use canned pinto beans.
Diced Tomatoes: Use fire roasted diced tomatoes if you can find them.
Red Onion/Garlic: Add lots of flavor to this soup. You can use onion and garlic powder in a pinch (~1 teaspoon of each), but fresh tastes much better in this recipe.
Canned Chipotles in Adobo Sauce: Add a bit of heat and smokiness to this soup that I love! You can skip if you want or simply add a few dashes of your favorite hot sauce.
Broth: Use low sodium vegetable broth to lower to salt in the finished dish. You can also use 1 cup water and 1 cup water if you would like.
Step by Step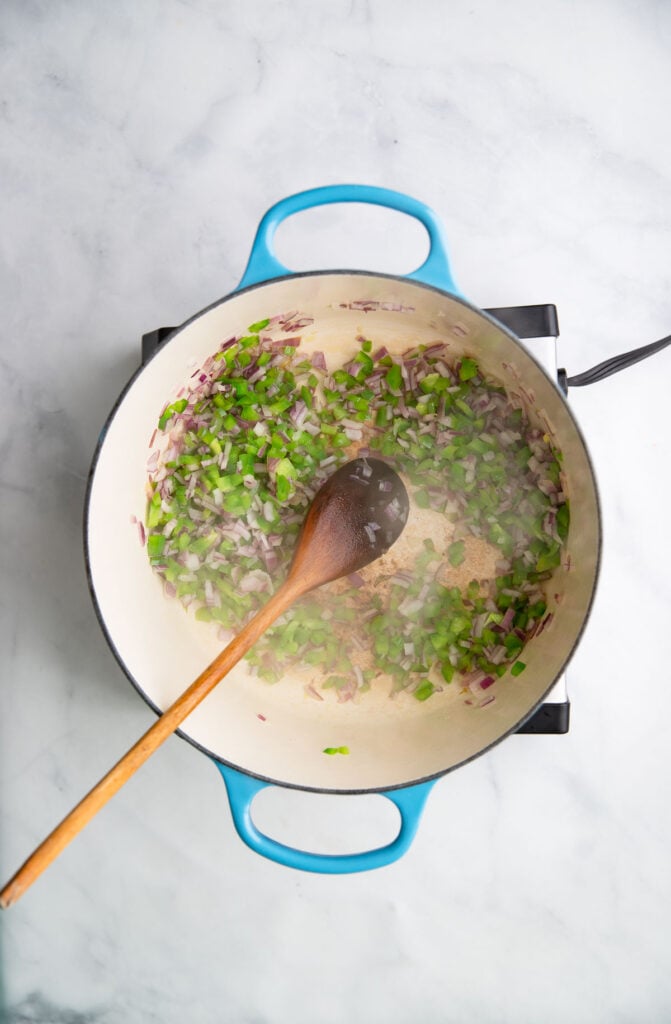 STEP 1: Add the oil, red onion, and green pepper to a dutch oven and sauté until softened, about 5 minutes. Stir in the garlic and spices (smoked paprika, cumin, and oregano). Cook for about 1 minute
STEP 2: Add the broth, canned black beans, diced tomatoes, and chipotle. Stir well and bring to a simmer.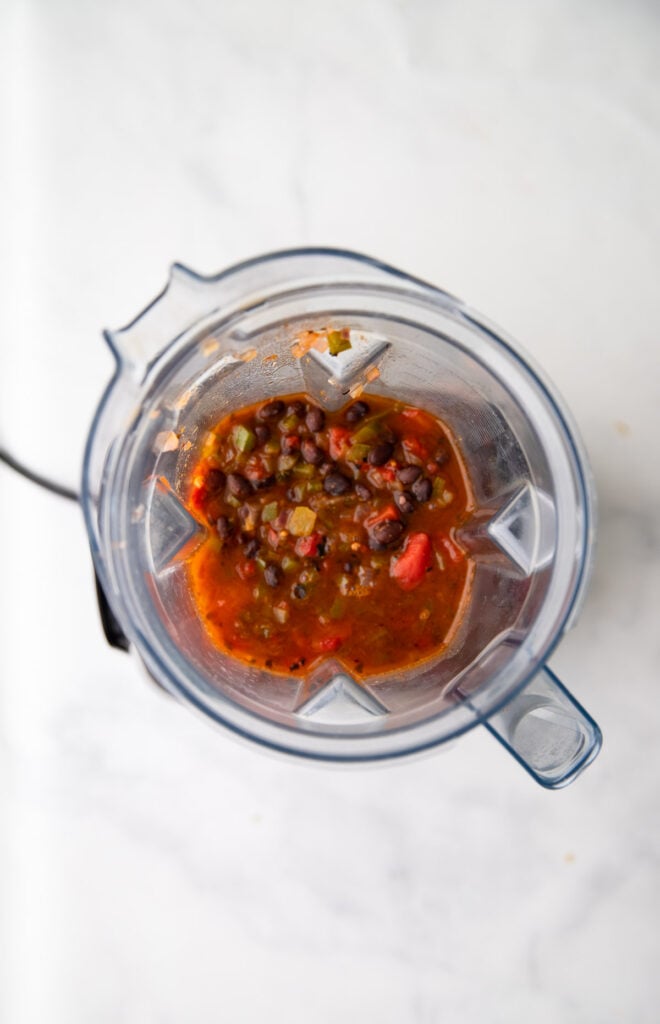 STEP 3: Transfer about 1/2 of the soup to a blender and puree until smooth. (If you have an immersion blender, you can partially puree the soup in the pot.)
STEP 4: Pour pureed soup back into the the pot and stir in the red wine vinegar. Bring back to a simmer for about 5 minutes and then turn off heat. Taste and season with more salt if needed.
What are the health benefits of eating black beans?
Like other legumes, beans are a great source of plant-based protein and fiber. In fact, a 1 cup serving of black beans has 15 grams of protein!
Speaking of fiber, a bowl of this soup provides up to 1/2 of your daily needs for fiber (25-35 g/day). Getting enough fiber in your diet can help lower "bad" LDL cholesterol levels and reduce your risk of heart disease.
Black beans are a great source of potassium which is important for regulating your blood pressure.
Many Americans don't get enough magnesium in their diet which is important to note since magnesium deficiency has been associated with cardiovascular disease, osteoporosis, hypertension, and diabetes. Regularly incorporating foods that are high in magnesium in your diet like black beans will help you meet the recommended intake for magnesium.
Expert Tips
Like most soups, this black bean soup gets cooked up in one large pot which means fewer dishes to wash!
This soup requires less than 15 ingredients; most of which you likely already have at home! Fridge looking bare? You can probably still whip up this tasty soup since you basically need just a few canned goods and spices.
I like to partially puree this soup because I like it to be chunky but you can definitely puree it smooth if you prefer. Don't skip the pureeing step because it helps thicken the soup!
Black Bean Soup Topping Suggestions
Cilantro: chop fresh cilantro leaves and add after plating for color and a hint of fresh flavor.
Sour Cream: use plant-based/vegan sour cream if desired.
Avocado: add sliced or chopped avocado for extra fiber, healthy fats, and color.
Chives/Green Onion/Red Onion: adds a pop of color and fresh flavor.
Tortilla Chips: add some delicious crunch to your soup by topping it with some crushed tortilla chips.
Cheese: both dairy or non-dairy cheese will work as a topping for this soup. I really like the vegan cheddar from VioLife.
Pickled jalapenos: my husband's favorite topping option for this soup!
Hot sauce: add a bit more heat by serving this soup with a couple dashes of hot sauce. Cholula is my personal favorite.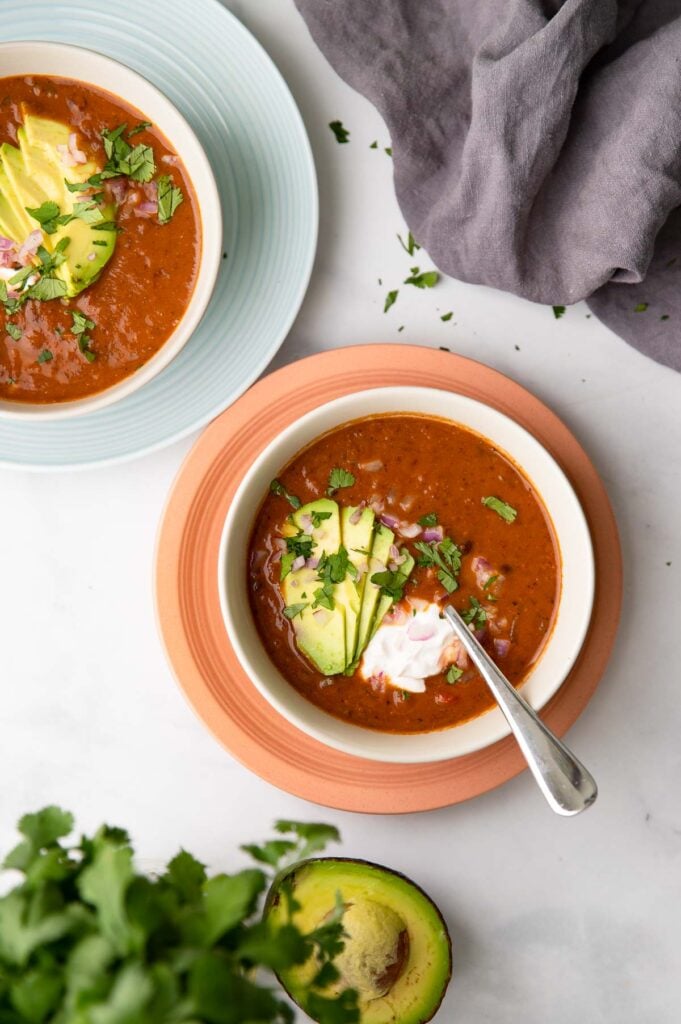 Recipe FAQs
Can I freeze this black bean soup?
Yes! This soup is freezer friendly so you could save any leftovers for later or make a double batch and freeze for future use. Just let soup cool to room temperature and store in airtight containers in the freezer for up to 3 months.
What do you serve with black bean soup?
There are some many great options! You could make some cheese quesadillas for dipping or serve with a side salad like this chickpea taco salad. It would also be tasty paired with a roasted sweet potato.
Why do you add vinegar to bean soup?
The vinegar helps brighten up the flavors of the soup and breaks down some of the indigestible sugars in the beans making them easier to digest.
More Soup Recipes You'll Love
Did you love this recipe? Make sure to leave a ⭐️ rating and tag #dietitiandebbie on instagram!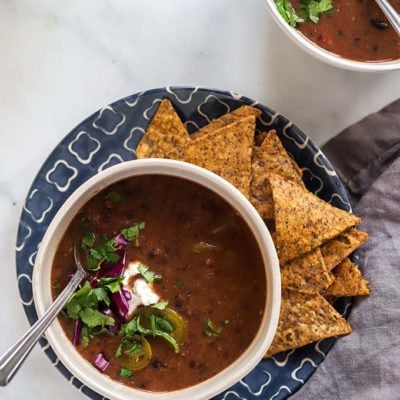 Vegan Black Bean Soup
Put those cans of black beans that have been lingering in your pantry to good use in this super simple vegan black bean soup.
Ingredients
2 tablespoons olive oil
1/2 red onion chopped
1 bell pepper chopped
3 cloves garlic minced
2 cups low sodium vegetable broth
2 (15.5 oz) cans black beans
1 (14.5 oz) can diced tomatoes
2 tablespoons red wine vinegar
1 teaspoon oregano
1 teaspoon cumin
1-2 tablespoons pureed canned chipotles in adobo sauce
1/4 teaspoon sea salt plus more to taste if needed
Instructions
In a large dutch oven, heat oil, pepper, and onion over medium high heat for 5 minutes or until onion begins to soften and become translucent.

Add the garlic and sauté for another minute.

Add the broth, black beans, tomatoes, and red wine vinegar. Stir well.

Add the oregano, cumin, cayenne, salt and pepper. Allow soup to simmer for about 10 minutes.

Use an immersion blender to partially puree the soup, leaving some beans/vegetables whole. (You can also transfer 1/2 of the soup to a blender and puree it until smooth and then add back into the pot.) Bring to a simmer again for another 10-15 minutes or until soup has reached desired consistency.

Serve with sour cream, cilantro, jalapeño, avocado, etc. 
Notes
Recipe makes about 5 1/2 – 6 cups of soup depending on how long you simmer it as it thickens the longer you cook it over the stove. 
Leftover soup can be stored in the fridge for up to 3-4 days. 
Soup can be stored in the freezer for up to 3 months. Allow to thaw in the fridge overnight before reheating. 
Topping suggestions include: cilantro, chives, cheese, sour cream, avocado or sour cream. 
Nutrition
Serving: 1g | Calories: 398kcal | Carbohydrates: 62g | Protein: 22g | Fat: 9g | Saturated Fat: 1g | Polyunsaturated Fat: 1g | Monounsaturated Fat: 5g | Sodium: 162mg | Potassium: 1083mg | Fiber: 22g | Sugar: 5g | Vitamin A: 1080IU | Vitamin C: 49mg | Calcium: 114mg | Iron: 6mg
Reader Interactions