Do you have a couple cans of black beans hanging out in the back of your pantry that have been collecting dust? It's time to brush them off and put them to good use in this vegan one pot black bean soup! You can whip this soup up in just about 30 minutes with little effort since most of the steps just involve dumping things into your pot. If you don't have an immersion blender, you may need to dirty your blender too, but this soup is still super simple to make.
What are the health benefits of eating black beans?
Like other legumes, beans are a great source of plant-based protein and fiber. In fact, a 1 cup serving of black beans has 15 grams of protein!
Speaking of fiber, a bowl of this soup provides up to 1/2 of your daily needs for fiber (25-35 g/day). Getting enough fiber in your diet can help lower "bad" LDL cholesterol levels and reduce your risk of heart disease.
Black beans are a great source of potassium which is important for regulating your blood pressure.
Many Americans don't get enough magnesium in their diet which is important to note since magnesium deficiency has been associated with cardiovascular disease, osteoporosis, hypertension, and diabetes. Regularly incorporating foods that are high in magnesium in your diet like black beans will help you meet the recommended intake for magnesium.
Tips for making this vegan one pot black bean soup
Like most soups, this black bean soup gets cooked up in one large pot which means fewer dishes to wash!
This soup requires less than 15 ingredients; most of which you likely already have at home! Fridge looking bare? You can probably still whip up this tasty soup since you basically need just a few canned goods and spices.
I like to partially puree this soup because I like it to be chunky but you can definitely puree it smooth if you prefer. Don't skip the pureeing step because it helps thicken the soup!
To serve, add a dollop of vegan sour cream, chopped cilantro, jalapeno, salsa, crumbled tortilla chips, etc. Honestly, whatever toppings you may use on a taco go great on this soup!
This soup is…
Vegan, gluten free, and super simple to make!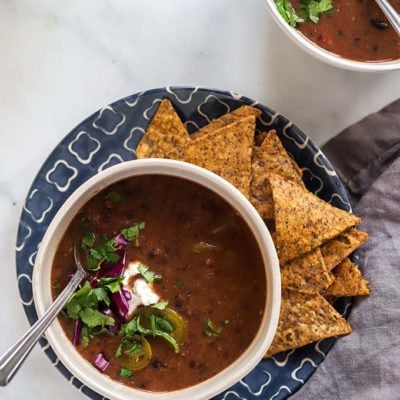 Vegan One Pot Black Bean Soup
Put those cans of black beans that have been lingering in your pantry to good use in this super simple vegan one pot black bean soup.
Ingredients
2 tablespoons olive oil
1/2 red onion chopped
1 bell pepper chopped
2 cloves garlic minced
2 cups low sodium vegetable broth
2 15.5 oz cans black beans
1 14.5 oz can diced tomatoes
2 tablespoons red wine vinegar
1 dried bay leaf
1 teaspoon oregano
1 teaspoon cumin
1/4 teaspoon cayenne pepper
1/4 teaspoon sea salt plus more to taste if needed
Instructions
In a large dutch oven, heat oil, pepper, and onion over medium high heat for 5 minutes or until onion begins to soften and become translucent.

Add the garlic and sauté for another minute.

Add the broth, black beans, tomatoes, and red wine vinegar. Stir well.

Add the bay leaf, oregano, cumin, cayenne, salt and pepper. Allow soup to simmer for about 10 minutes.

Use an immersion blender to partially puree the soup, leaving some beans/vegetables whole. (You can also transfer 1/2 of the soup to a blender and puree it until smooth and then add back into the pot.) Bring to a simmer again for another 10-15 minutes or until soup has reached desired consistency.

Serve with sour cream, cilantro, jalapeño, avocado, etc. 
Notes
Recipe makes about 5 1/2 - 6 cups of soup depending on how long you simmer it as it thickens the longer you cook it over the stove. 
Nutrition
Serving: 11/2 Cup | Calories: 312kcal | Carbohydrates: 47g | Protein: 15.5g | Fat: 8g | Saturated Fat: 1.2g | Polyunsaturated Fat: 6.8g | Sodium: 634mg | Fiber: 18.5g | Sugar: 5.5g
Reader Interactions