This elegant, yet simple dessert is light and airy and perfect for summer! Balance out the pavlova's sweetness with a bit of blueberry sauce spiked with brandy.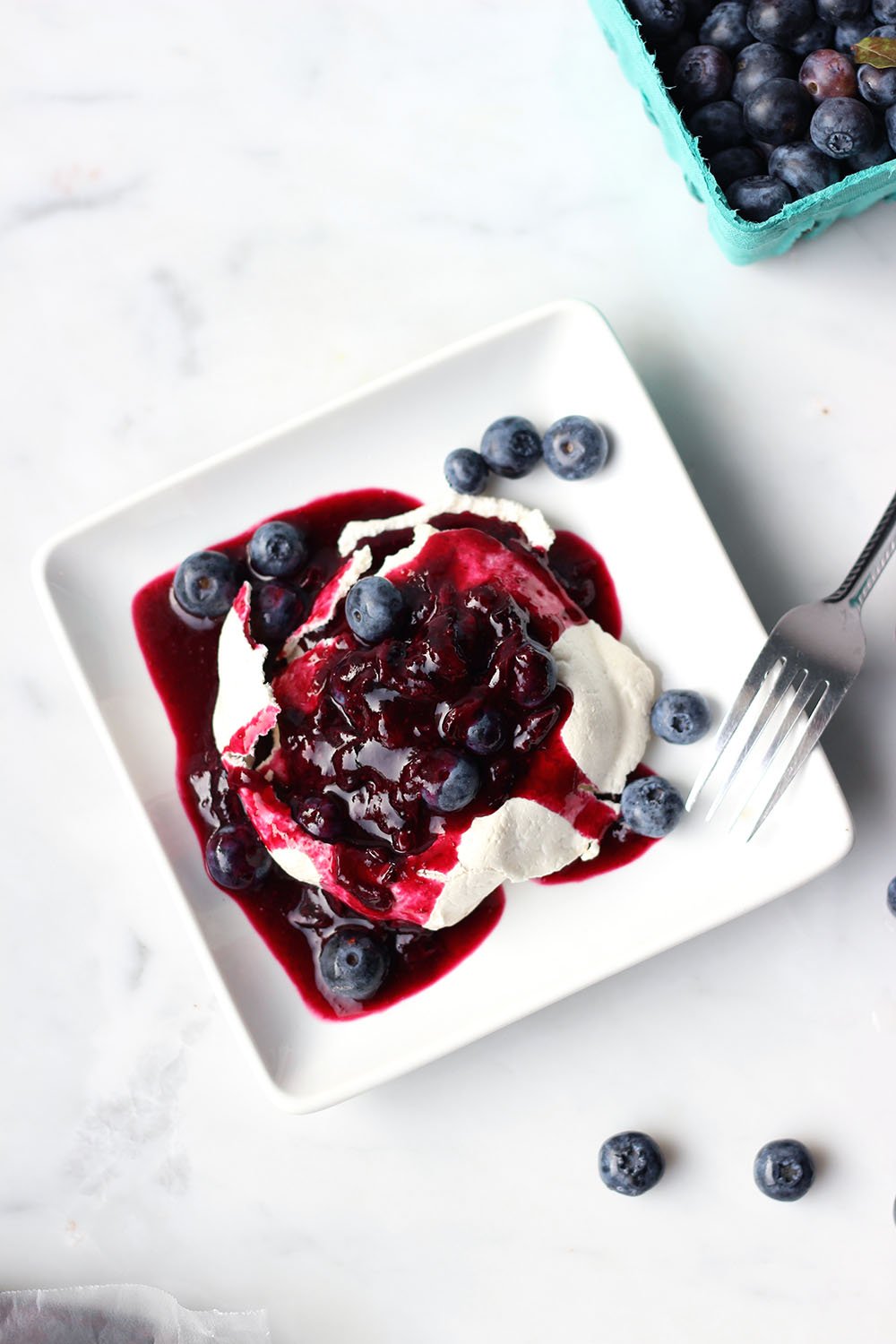 One of my favorite courses in college was food science. I loved that we got to spend lab time cooking and learning why cookies brown when baking or how soufflés hold their structure. Making the meringue for this pavlova recipe took me back to those college days.
Several blogs I read have published delicious recipes and gorgeous photos of this meringue based dessert. It seemed like the perfect dessert for a summer – light, airy, and doused in seasonal fruit. This boozy berry sauce was the perfect topping. The little bit of brandy in the berry sauce really balanced out the sweetness of the meringue.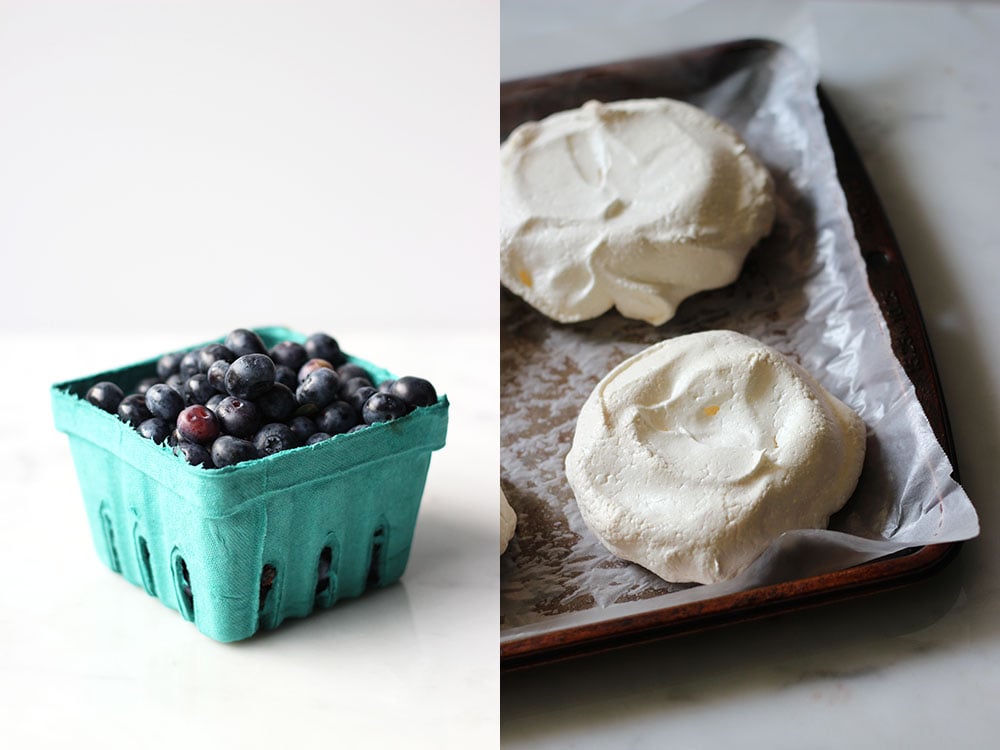 Don't be intimidated by this recipe. I was totally nervous about making a meringue but it was actually much easier than I thought. Nothing to be scared about. 🙂 I used this pavlova recipe I found on The Kitchn for my pavlova and it turned out great the first time around.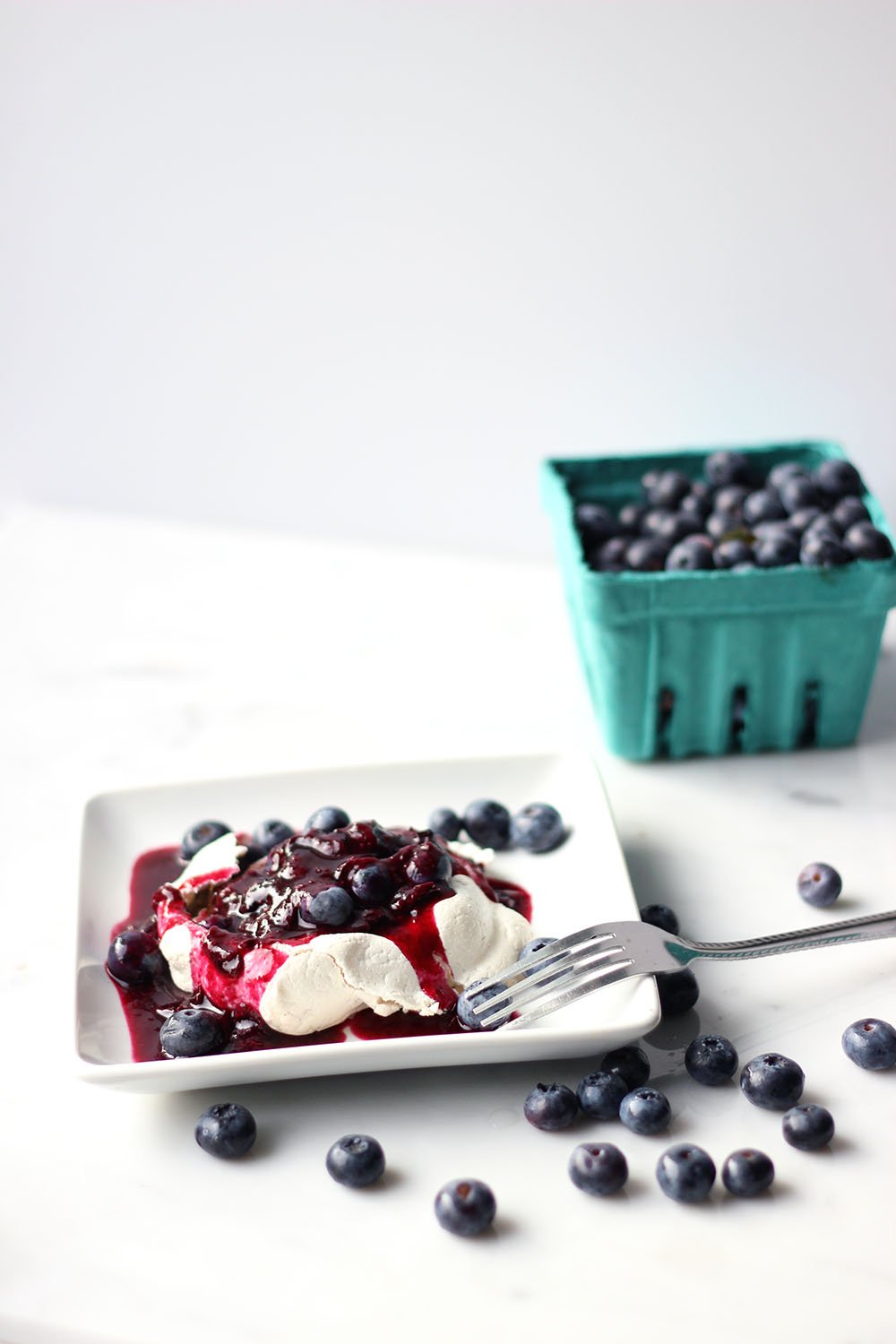 More Delicious Dessert Recipes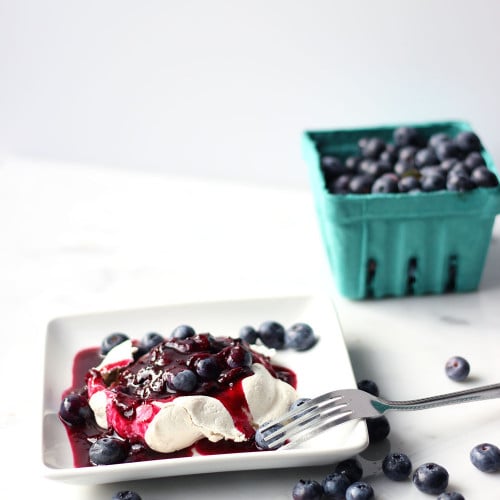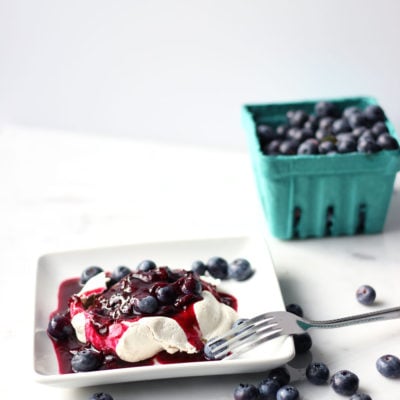 Pavlova with Boozy Berry Sauce
This elegant, yet simple dessert is light and airy and perfect for summer! Balance out the pavlova's sweetness with a bit of blueberry sauce spiked with brandy.
Ingredients
4 egg whites
1 cup granulated sugar
1/2 tablespoon cornstarch
1 teaspoon distilled white vinegar
1 teaspoon vanilla extract
2 cups blueberries
1 tablespoon granulated sugar
2 tablespoons lemon juice
2 tablespoons brandy
Instructions
Separate egg whites from 4 eggs into a bowl. Let the whites sit out until they are room temperature.

Preheat oven to 275 degrees.

Line a cookie sheet with wax paper. Use a glass to trace 6 three inch circles onto the parchment paper. Flip the paper over so the side you drew on is facing the cookie sheet. (So you don't get marker/pen on your pavlova.)

In a small bowl, whisk together the sugar and cornstarch. In another small bowl, combine the vanilla and vinegar.

In a clean mixing bowl, whip egg whites until they reach

soft peak stage

. Begin adding the sugar/cornstarch mixture a couple tablespoons at a time. Keep whipping until you have added all of the sugar. (The peaks should begin to stiffen.)

Sprinkle the vinegar/vanilla mixture over the eggs. Whip until combined and eggs look shiny with

stiff peaks

.

Use a spatula or large spoon to scoop the meringue into the circles made on the cookie sheet. Spread meringue up the edges of the circles, smoothing out any small peaks. Make a slight depression in the meringue in the center of each circle (for filling later).

Place meringues in the oven and immediately turn the heat down to 250 degrees Fahrenheit. Bake for 45-55 minutes or until meringues sound hollow when tapped.

Leave the meringues in the oven but turn off the heat and leave the oven door ajar. Let meringues cool completely in the oven.

To make the sauce, heat the blueberries, lemon juice, and sugar in a medium saucepan over medium-high heat. Stir occasionally. After about 5 minutes, the berries should begin to break down and form a sauce. Use a potato masher to break apart the berries even more. Once a thick sauce is formed turn off heat and stir in the brandy. Set aside to cool.

To assemble the pavlova, top each meringue with a 1/4 cup of fresh blueberries and pour cooled sauce over top.
Nutrition
Serving: 1/6 recipe | Calories: 65kcal | Carbohydrates: 44g | Protein: 2.5g | Sodium: 38mg | Fiber: 1g | Sugar: 40.5g
Reader Interactions