Are you still recovering from your Halloween celebrations last night? Or maybe you ate just a few too many pieces of candy yesterday? (To be honest, I know I did!) Hit the reset button this morning with this refreshing pear green smoothie. This smoothie has everything you need to get back on your feet. An added bonus is that a lot of the ingredients in this smoothie are also great for your skin, so you could think of it as a sippable beauty treatment.
Almond butter provides healthy fats and Vitamin E which plays an important role in preventing tissue damage – ie. wrinkles.
This smoothie provides over 100% of your daily needs for Vitamin A which also is important for building and maintaining healthy skin, teeth, and bones.
A good balance of healthy fiber, protein, and fat in this smoothie helps you feel satisfied and full for longer than a fruit and vegetable based juice.
A couple tips for those of you who may have tried spinach in your smoothies before and been disappointed when it was chunky: use baby spinach leaves and put the spinach into the blender first and layer the other ingredients over top. Investing in a more powerful blender also makes green smoothies more palatable. I remember the first time I tried to make a green smoothie in my $20 Target blender, it was chewy and gross. I never tried a green smoothie again for a long time after that! I put off investing in a better blender for a long time, but now I can see that it is totally worth every extra penny.
Pear Green Smoothie
Hit the reset button on healthy eating with this pear green smoothie.
Ingredients
1 handful baby spinach leaves ~1 cup
1 ripe banana
1 pear
1 teaspoon vanilla
1/2 teaspoon cinnamon
Dash of nutmeg
1 tablespoon of almond butter
1/4 cup yogurt plain or vanilla
1/3 cup milk
Instructions
Pour all the ingredients together in a blender. (Place the spinach in first so the rest of the ingredients can weigh the leaves down to help it puree up better.)
Nutrition
Serving: 1Smoothie | Calories: 415kcal | Carbohydrates: 68g | Protein: 12g | Fat: 13.2g | Saturated Fat: 3g | Cholesterol: 12mg | Sodium: 106mg | Fiber: 11.5g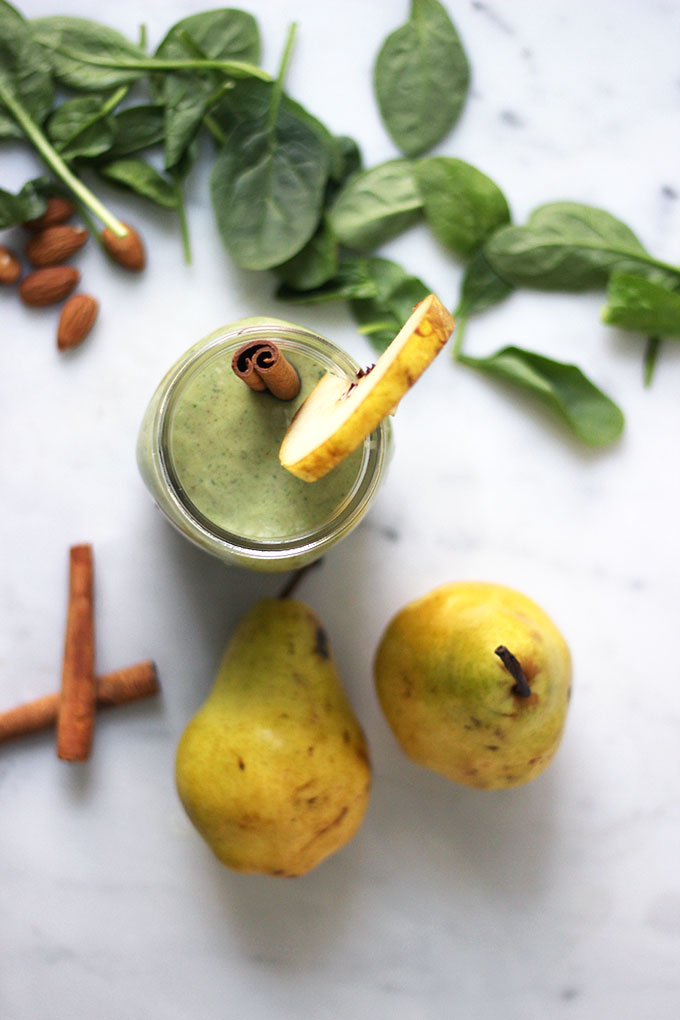 Reader Interactions