Smoothies are a delicious way to incorporate more fruits and vegetables into your diet as well as healthy fats and fiber. In case you need some smoothie inspiration, here is a roundup to 15+ delicious vegan smoothie recipes that you are sure to love.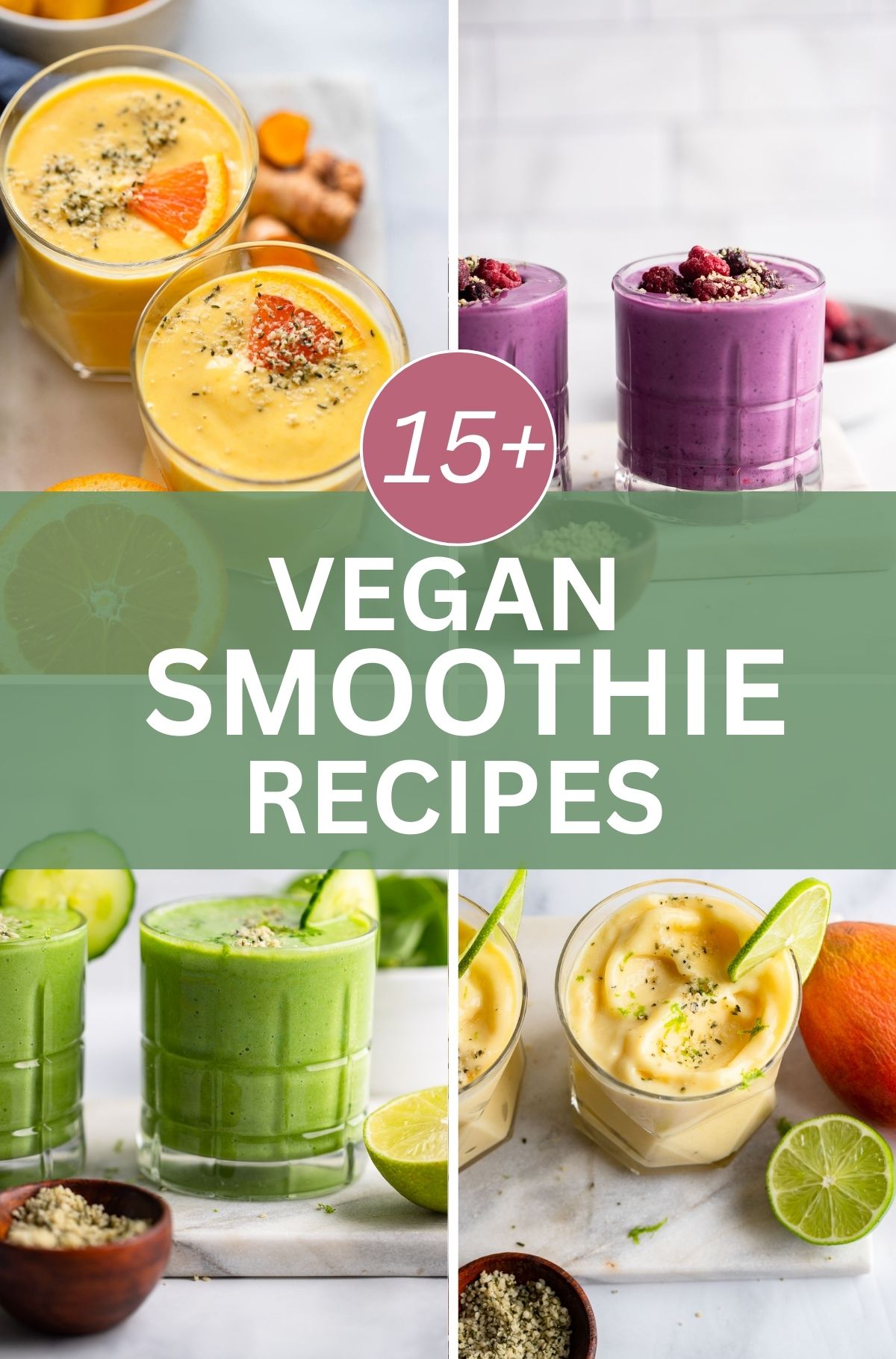 This post was first published February 2015; updated February 2023.
A delicious smoothie is the perfect way to start off the day, especially hot summer days! Even those who are pressed for time can whip up a quick, nutrient dense smoothie in the morning. This is a roundup of 15+ healthy vegan smoothies that provide antioxidants, healthy fat, and protein to keep you fueled.
All you need to create a healthy vegan smoothie at home is a handful of simple ingredients and a blender. You don't have to buy any expensive powders or supplements to make them healthy!
Are Smoothies Healthy?
Smoothies are a great way to incorporate more fruits and vegetables into your day. Even the pickiest of little eaters may be more tempted to drink a smoothie with veggies in it according to this study.
Since everything is simply pureed for a smoothie, you still maintain all of the healthy fiber from the produce. Insufficient fiber intake is associated with many chronic health conditions like heart disease and cancer. Just 5% of Americans are getting the recommended amount of fiber on a daily basis!
Sipping on a healthy smoothie made with fiber rich fruits and veggies can help you reach your fiber intake goals. Plus, those same fruits and veggies offer plenty of other health benefits like vitamins A and C as well as antioxidants.
Best Blender for Vegan Smoothies
You don't have to have the best blender on the market to start making delicious smoothies at home. The best blender is the one that you already have!
However, if you are transitioning to a vegan or vegetarian diet or maybe just interested in eating a more plant-based diet – you may find yourself using your blender a lot more often. I made the investment in a better blender when I went vegan because there are so many vegan cheese recipes where you need to blend cashews!
Best High-Power Blender: The blender I own is this Vitamin Ascent A3500. I've had it for several years and we use it almost on a daily basis. It is easy to clean and I haven't had any issues with it.
Best Single Cup Blender: If you are looking for a single blender cup, I love my Nutribullet one! It's petite so doesn't take up much room in my small kitchen and it is much more powerful than it looks. Besides smoothies, we use the blender cup all the time for dressings and sauce.
How to Make a Vegan Smoothie
Whipping up healthy plant-based smoothies isn't much different than one that includes milk or other animal products. Luckily, there are so many delicious plant-based milks and vegan yogurt options available now! Here are the basic steps for creating vegan smoothies at home:
Step One – Gather your ingredients: double check your recipe and gather everything you'll need to add to your blender. If you like thick smoothies, use more frozen ingredients. When using frozen fruits and veggies, you don't have to add ice to thicken it which can dilute the flavor!
Step Two – Blend: Add all of your ingredients to your blender and puree until smooth. If the blender is having trouble pureeing the ingredients together, add a splash of milk or whatever liquid you are using for your smoothie.
Step Three – Sip: Add your pureed smoothie to a cup and enjoy! Sometimes I like to sprinkle my smoothie with some hemp hearts or add something crunchy like my homemade vegan granola.
Favorite Vegan Smoothie Ingredients
Create interesting and delicious vegan smoothies by using a variety of basic ingredients like: fruits, vegetables, milks, and nutrition boosters. Use fresh or frozen fruit and vegetables (frozen produce makes extra thick and frosty smoothies – my favorite!).
Fruit: bananas, raspberries, blueberries, pear, pineapple, mango, peaches, oranges, grapefruit.
Vegetables: spinach, baby kale, cauliflower, zucchini, pumpkin, beets, sweet potato, cucumber.
Milk: use any dairy-free milk that you love (my fave is soy milk!). For lower sugar smoothies, use plain and unsweetened plant-based milks.
Yogurt: use any plant-based yogurt that you love. I prefer to use plain, unsweetened vegan yogurt for a smoothie with no added sugar.
Nutrition Boosters: chia seeds, ground flax seeds, hemp seeds, nut butter (almond butter, peanut butter), oats, vegan protein powders.
Flavor Enhancers: fresh ginger, vanilla extract, cocoa powder, cold brew coffee, peanut butter, lemon zest, nutmeg, cinnamon.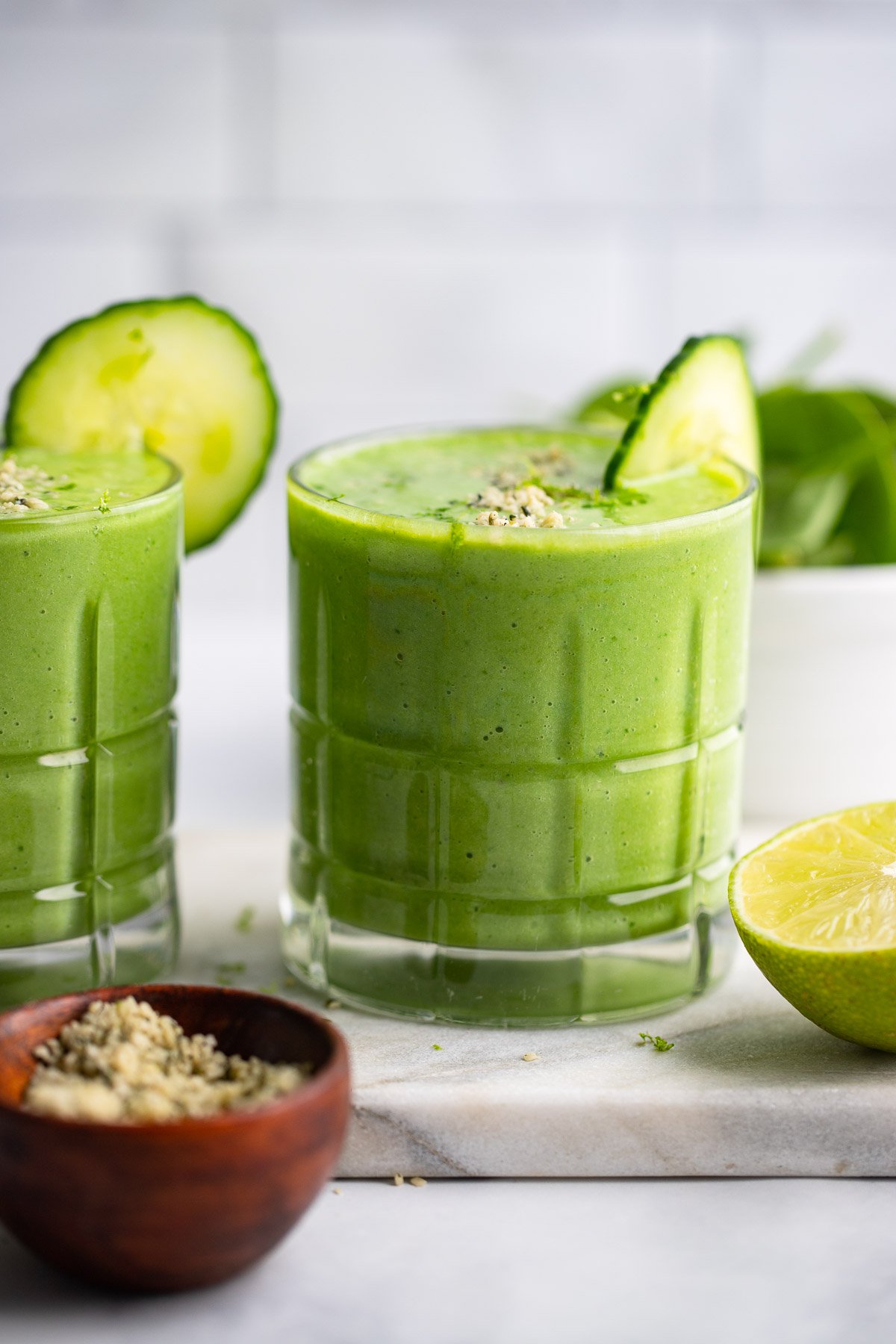 How to Add Protein to Smoothies without Protein Powder
Although vegan protein powder can be a convenient way to add more protein to a vegan smoothie, they can also be expensive. Here are a few other ways to make a protein-packed smoothie without a protein powder.
Chia Seeds: adding just 2 tablespoons of chia seeds provides an additional 4.5 grams of protein and 10 grams of fiber as well as some omega 3 fatty acids.
Hemp Hearts: add 3 tablespoons hemp hearts for 10 grams protein and 1 gram of fiber.
Ground flaxseeds: add 3 tablespoons ground flax seed for 4.5 grams of protein as well as heart healthy omega 3 fats.
Almond Butter: add 1 tablespoon almond butter for an extra 3 g protein as well as heart healthy fats.
High Protein Plant Milks: use soy milk which has 8 grams of protein per cup or a plant milk with pea protein added like Ripple which also has 8 grams of protein per serving.
Vegan Protein Yogurt: choose a plant-based yogurt that is higher in protein. (Double check the label because the protein content can vary wildly between brands!) Some brands even offer a vegan Greek-style yogurt that may be higher in protein. A couple of examples: Kite Hill Greek style yogurt has 17 grams of protein per serving; Siggi's brand vanilla plant-based yogurt has 11 grams of protein per serving.
FAQs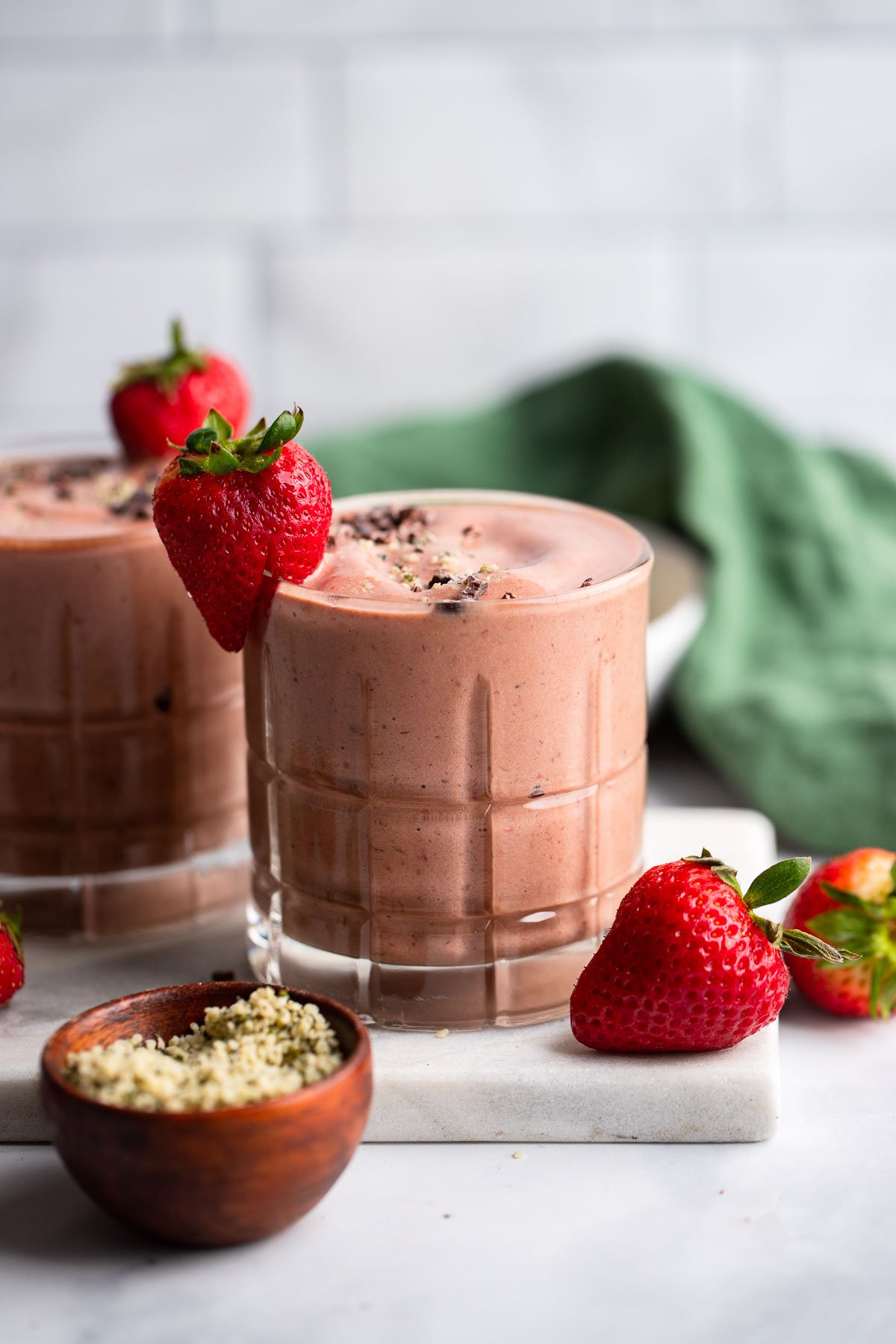 The Best Vegan Smoothie Recipes