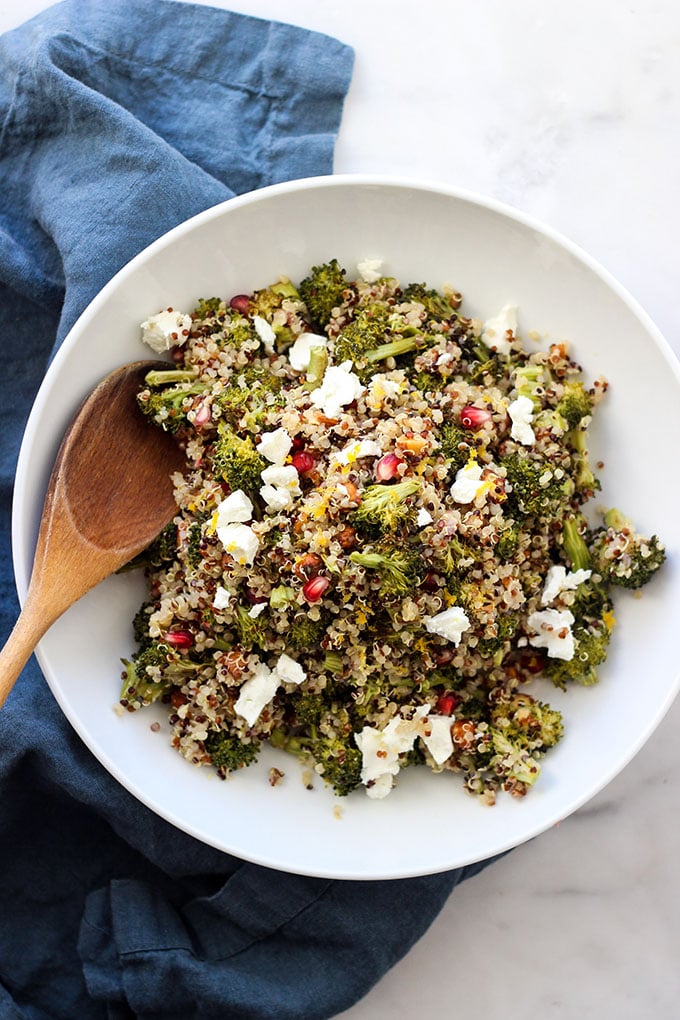 Whew. You guys, we made it through one tough election week! I won't say much else here because I'm sure we've all heard the uncertainty, frustration, elation, and more shared on social media everywhere. Luckily, one bright spot in the very near future we have to look forward to is Thanksgiving! What better time than now to gather with those you love and think about what you have to be grateful for, no matter your political views.
This roasted broccoli quinoa salad is the perfect addition to any Thanksgiving table. It's loaded with lots of great flavor as well as Vitamins A, K, E, and C. One of my strategies for navigating holiday parties is to bring dishes like this one so I know at least one dish will be healthy! Usually I'll load my plate up with nutrient rich foods like this salad first, then head for the treats so I'm less likely to overeat those. (Because I have quite the sweet tooth!)
If you have any leftovers, this salad is also delicious the next day! Since it makes several servings, I had a bit extra that I enjoyed for lunch at work. So good. 🙂
PS – you can easily make this vegan by leaving out the goat cheese!
Roasted Broccoli Quinoa Salad
This roasted broccoli quinoa salad is loaded with flavor as well and antioxidants! It's the perfect healthy side dish for Thanksgiving or holiday potlucks.
Ingredients
For the Salad:8 cups chopped broccoli ~1 large head
2 tablespoons olive oil
1 cup quinoa
2 cups vegetable broth or water
Seeds from 1 pomegranate
1/2 cup chopped almonds
1 tablespoon orange zest
3 ounces crumbled goat cheese
1/8 th teaspoon sea salt
1/8 th teaspoon ground black pepper
For the dressing:1 tablespoon olive oil
Juice from 2 small oranges
3 tablespoons red wine vinegar
1/2 teaspoon Dijon mustard
1/8 th teaspoon sea salt
1/8 th teaspoon ground black pepper
Instructions
Preheat the oven to 350 degrees.

Toss broccoli and olive oil together in a bowl and transfer to a baking sheet. Bake for 25-30 minutes or until tender and browned on the edges. Set aside.

Rinse quinoa well in a fine strainer under cold water. Transfer to a saucepan and add broth. Bring to a simmer and cover. Cook 15 minutes or until broth has been absorbed. Fluff with a fork. Set aside.

In a large mixing bowl, add the broccoli, quinoa, pomegranate seeds, almonds, orange zest, salt and pepper.

In a jar, add all of the dressing ingredients. Cover and shake until emulsified. Pour over salad ingredients and toss to coat. Serve!
Nutrition
Serving: 1/5 recipe | Calories: 391kcal | Carbohydrates: 46g | Protein: 15g | Fat: 17.5g | Saturated Fat: 5.5g | Polyunsaturated Fat: 12g | Cholesterol: 18mg | Sodium: 450mg | Fiber: 8.5g | Sugar: 13.5g
Reader Interactions