This curry roasted fall vegetable salad will make sure you still love salad even when the weather cools down! Chickpeas, squash and carrots are roasted in curry spices and tossed with pistachios, raisins, and goat cheese. | Vegetarian, Gluten Free
My absolute favorite fall squash started showing up at the farmers market! You guys, I may get a bit overly excited about delicata squash season. I love that they are a smaller, more manageable size than other squash and that you can eat the skin. That makes them so much easier to prep! (Sometimes I feel like I'm battling with other fall squashes with my chef's knife forever to get them all peeled and chopped up.)
This curry roasted fall vegetable salad is the perfect transition salad for the early fall season. Although I start to crave more soups and comfort foods as the weather cools, I still like to include some salads in my diet. This is the perfect time to start incorporating roasted squash and other root vegetables to salads to add variety.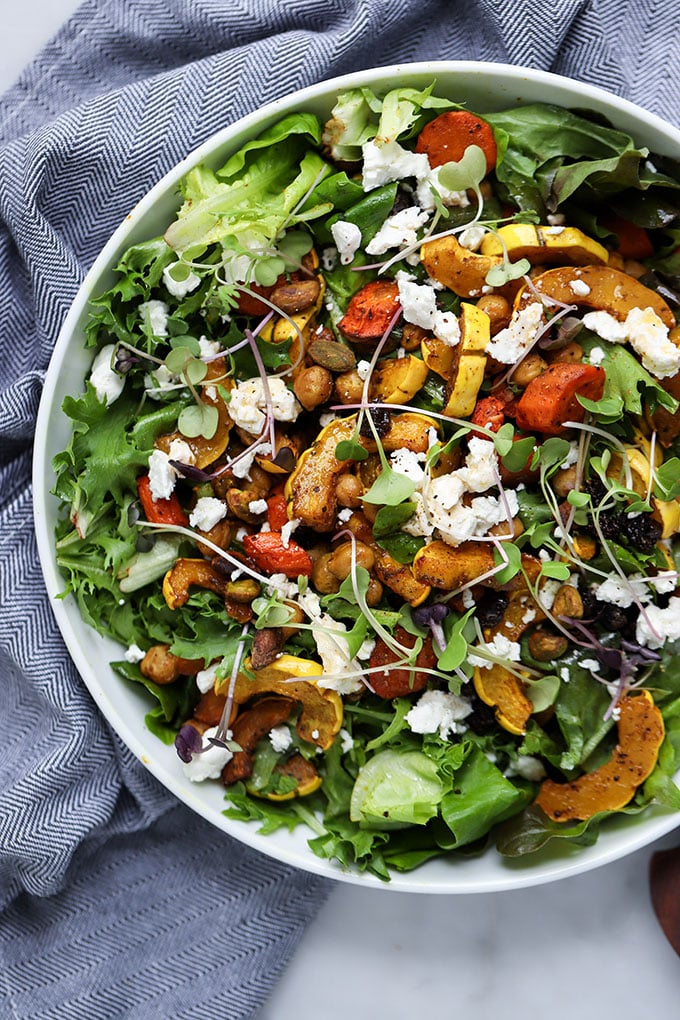 Thanks to a salad chain called Sweet Green that recently started popping up in Chicago, I became obsessed with curry roasted cauliflower. Over time, I've branched out at started using curry powder on other roasted vegetables too like I did for this salad. Not only does curry powder taste good, but it also high in antioxidants since one of the main spices is turmeric.
For a touch of sweetness, I tossed in some raisins since they pair so well with the curry flavor. Roasted pistachios add a bit of crunch as well as healthy fats, potassium, thiamine, and B6. Basically, this salad has it all and is great as a smaller side salad but also hearty enough to serve as a main dish.
More Salad Recipes You'll Love
Curry Roasted Fall Vegetable Salad
This curry roasted fall vegetable salad will make sure you still love salad even when the weather cools down! Chickpeas, squash and carrots are roasted in curry spices and tossed with pistachios, raisins, and goat cheese. | Vegetarian, Gluten Free
Ingredients
For the Roasted Vegetables
1 carrots peeled
1 delicata squash halved and seeds removed
1 tablespoon olive oil
1 teaspoon curry powder
1/8 teaspoon salt
1/8 teaspoon ground black pepper
For the Chickpeas
15.5 oz can chickpeas, rinsed
1/2 teaspoon curry powder
1 teaspoon olive oil
Dash of salt and ground black pepper
Dressing
3 tablespoons red wine vinegar
1 teaspoon maple syrup
1/3 cup olive oil
1/8 teaspoon salt
1/8 teaspoon ground black pepper
For the Salad
5 oz bag salad greens
1/3 cup roasted and salted pistachios
1 oz goat cheese
1/4 cup raisins
Instructions
For the Roasted Squash:Preheat oven to 350 degrees Fahrenheit.

Cut peeled carrots into 1/2″ long pieces and place on baking sheet. Cut delicata squash into 1/3″ slices and then halve them. Arrange on the same baking sheet. Drizzle with oil and sprinkle with the curry powder, salt, and black pepper. Stir with a wooden spoon to coat in oil/spices.

Bake for 45 minutes until softened.

For the Roasted Chickpeas:Meanwhile, drain your chickpeas and dry them well by rolling them between halves of a kitchen towel. Transfer to a baking sheet and add curry powder, oil, salt, pepper. Stir with a wooden spoon to coat chickpeas in oil and spices. Bake for 25 minutes. (I add them to the oven at when 25 minutes are left on the squash so they are both done at the same time.)

To make the dressing:Add all of your salad dressing ingredients to a jar and shake well to combine.

To assemble salads:Arrange greens in bowls and top with roasted squash, chickpeas, pistachios, goat cheese, and raisins. Drizzle with vinaigrette.
Nutrition
Serving: 1serving | Calories: 542kcal | Carbohydrates: 54g | Protein: 15g | Fat: 32g | Saturated Fat: 5g | Polyunsaturated Fat: 5g | Monounsaturated Fat: 20g | Cholesterol: 3mg | Sodium: 208mg | Potassium: 1029mg | Fiber: 12g | Sugar: 10g | Vitamin A: 4652IU | Vitamin C: 26mg | Calcium: 125mg | Iron: 5mg
Reader Interactions