Does your workplace have good lunch options? If so, I am jealous! Since mine doesn't have many tasty or healthy options, I've learned to get creative with what I pack for lunch everyday. To be honest, most often I am packing a salad or leftovers (love them!). However, other weeks I am feeling more ambitious and prep a few ingredients over the weekend so I can pack something fun like these yummy vegan tempeh wraps with peanut sauce!
What is tempeh?
Tempeh is made from fermented soybeans that have been pressed into cake. Although that may sound unappetizing, tempeh is a great plant-based protein option for quick and easy meals! We use it a lot because it doesn't have a lot of flavor so it is relatively versatile. Tempeh is also gluten free but you have to read the ingredient list carefully as some brands add other grains into their tempeh that may contain gluten.
Tips for making these tempeh wraps
The smaller you slice your tempeh, the crispier it gets when you sauté it. I usually cut the rectangle block into 1/2 inch strips, then cut those in half horizontally so they are thinner, and then into triangles.
I always try to keep the ingredients I need for the peanut sauce on hand because I like being able to whip it up when the craving strikes. 🙂 If buying ginger root for the sauce, store it in the freezer instead of on the counter so that it lasts longer. I also find it is much easier to grate with my microplaner when it is frozen vs raw. Trader Joe's also sells tubes of ginger paste which are really handy for recipes like this!
Trying to limit your carbs and want to use something other than a wrap? I've also used collard greens like in the photo below!
Use whatever vegetables you have on hand to fill up your wrap. I like to try and incorporate a lot of color so I used: carrot, purple cabbage, radish, bell pepper, and spinach.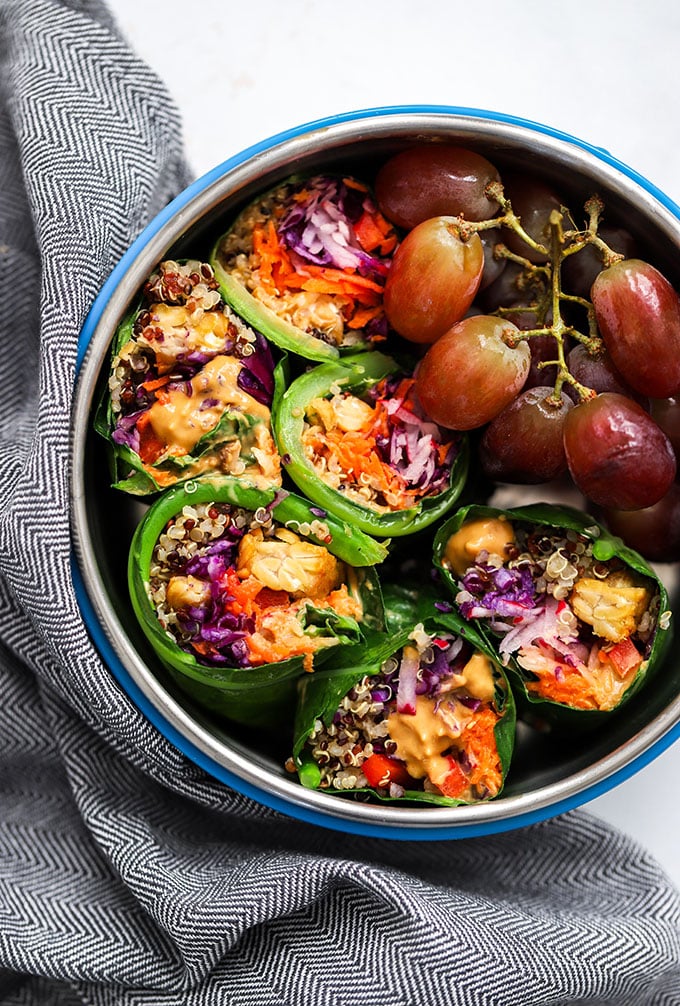 How to Make a Collard Wrap
Want to try your tempeh wrap with peanut sauce in a collard green leaf? Buy large, intact collard greens and steam them in a large steamer basket set over a pot filled with a couple inches of water. It should only take a couple minutes until they are tender. Transfer them from the pot to a bowl of ice water to cool them off and preserve their bright green color.
Use a knife to cut out the hardy part of the stem so that the leaf can be folded. Use two leaves to create a wrap. I am still working on my collard wrap technique as the ones above were the only ones that held together after making a lot of wraps!
Looking for more tempeh recipes?
Check out these ones!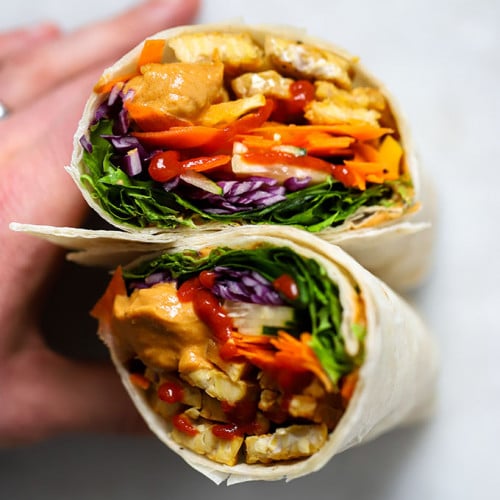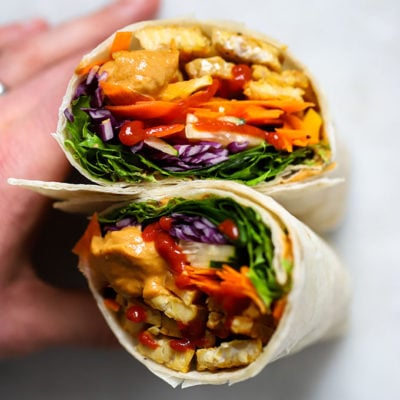 Tempeh Wrap with Peanut Sauce
Add lots of color and flavor to your packed lunch with this vegan tempeh wrap with peanut sauce that is super simple to make!
Ingredients
For the Tempeh:
8 oz. package tempeh cut into 1/2 in triangles
3 tablespoons neutral oil
6 tablespoons water Plus more if needed to thin out sauce
1/2 cup creamy peanut butter
2 tablespoons reduced sodium soy sauce
1 tablespoon rice wine vinegar
1 tablespoon ginger paste OR 1/2 in. fresh grated ginger root
1 tablespoon sriracha sauce
To Assemble: 
4 wraps chopped vegetables of choice (cucumber, cabbage, spinach, carrot), sriracha
Instructions
Cut tempeh into 1/2 inch triangles. (Or whichever shape you prefer. The smaller and thinner the pieces the better as they cook faster.)

Add oil to a non-stick skillet over medium-high heat for 1 minute. Add tempeh and stir fry for 3-4 minutes on one side until golden brown. Flip each piece and cook on the second side until golden brown. Turn off heat and set aside.  

Make the peanut sauce by stirring all the sauce ingredients together in a small mixing bowl until smooth sauce forms. Add more water, 1 tablespoon at a time if a thinner sauce is desired.

Assemble wraps by dividing tempeh between 4 wraps, topping with chopped vegetables, peanut sauce, and sriracha. 
Notes
Nutrition information below is an estimate – does not include vegetables as those will vary depending on what you have on hand.  Note, you can decrease the carbohydrate content to 14 grams by using a collard green leaf as the wrap. 
Nutrition
Serving: 1Wrap | Calories: 540kcal | Carbohydrates: 38g | Protein: 22g | Fat: 35g | Saturated Fat: 7g | Polyunsaturated Fat: 28g | Sodium: 593mg | Fiber: 3g | Sugar: 5.5g
Reader Interactions