Eat the rainbow for dinner when you make this tofu stir fry with peanut sauce that is packed with vegetables, high protein tofu, and a peanut sauce loaded with heart healthy fats. Ready in just about 30 minutes – perfect for a busy weeknight!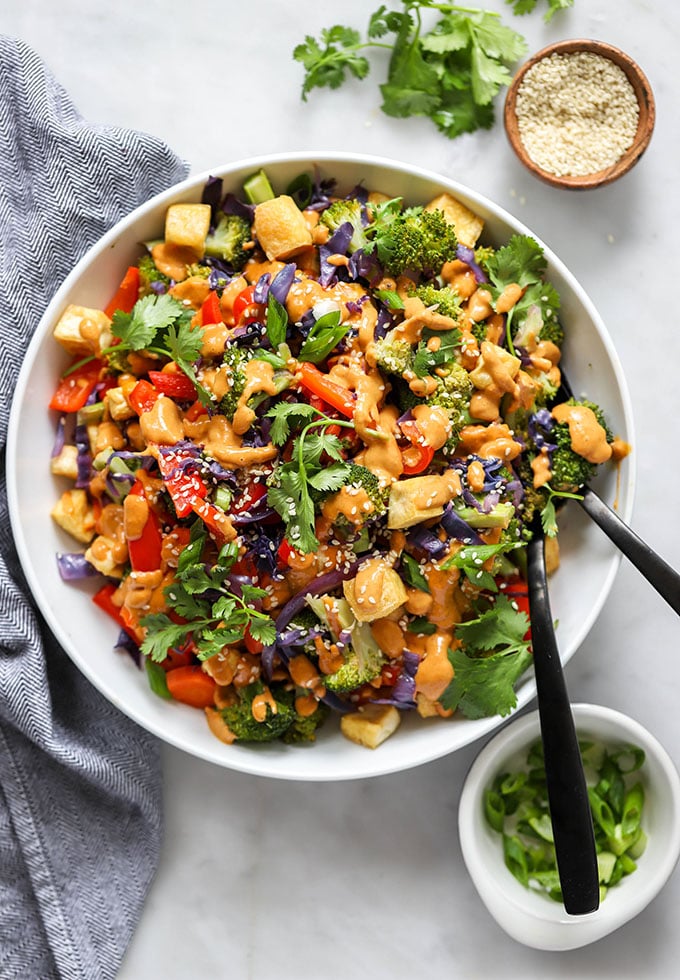 Finally, after shooting this tofu stir fry with peanut sauce recipe 3 times(🙄), I am so excited to share it with you! One of the unglamorous parts of being a blogger is that some dishes are really hard to photograph so it takes me a few times to get it right. It isn't all bad though since it means I get to test the recipe a few more times and enjoy it for dinner on repeat. 😋
I love meals like this stir fry that you can mix and match the ingredients with what you have on hand. If you are looking for a couple more assemble-your-own meals, here are a few: vegan tex mex bowls, southwest sheet pan meal, hummus bowls with shawarma cauliflower.
How to Make this Tofu Stir Fry with Peanut Sauce
This tofu stir fry with peanut sauce is a great weeknight meal option since it cooks up relatively quickly on the stovetop. I start by chopping everything up, then I brown the tofu in the skillet with some oil. Once the tofu is done, I transfer it to a plate and start sautéing the veggies.
While the veggies are cooking, I add all of the peanut sauce ingredients to a food processor and blend them up. If I am serving this with rice, I'll put that in the microwave to heat up and then this dish is ready to assemble for dinner.
The great thing about stir fry recipes like this one is that the type of veggies you add in can vary based on the season or what you have in the fridge that night. In the one I made for this post I included purple cabbage, carrot, red bell pepper, and broccoli. Other great vegetable options include: sugar snap peas, asparagus, cauliflower, bok choy, green beans, Brussels sprouts, mushrooms, etc.
Is Tofu Healthy?
Yes! I have been meaning to do a post on here sometime about all the reasons you don't have to fear soy and/or tofu. Tofu is a great source of plant-based protein as a 1/2 cup serving of firm tofu has ~10 grams of protein. Also, tofu is a "complete protein" which means that it contains all 9 essential amino acids. Tofu is also a good source of iron, calcium, and magnesium.
Unlike some plant-based meat alternatives, tofu isn't heavily processed. In fact, the process for making tofu is similar to the method used to make dairy cheese. To make tofu, a coagulant is added to soy milk to make it curdle and then the curds are pressed into a block to make tofu. Look for organic tofu if you are concerned about avoiding GMO soy.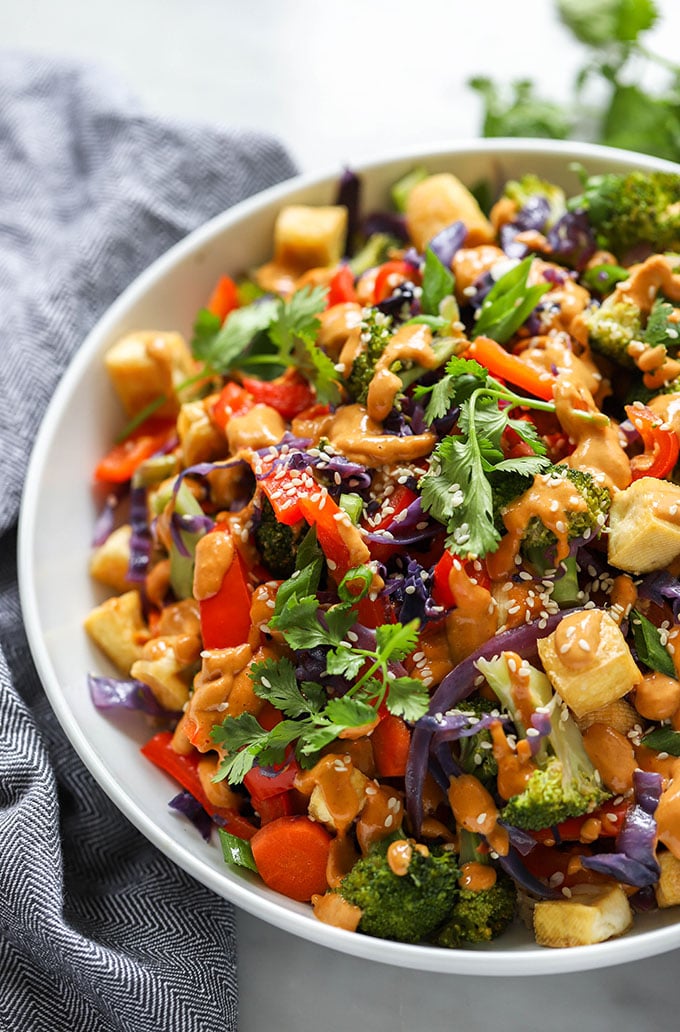 Tips for Cooking Tofu
First off, you'll want to buy firm or extra firm tofu for making this stir fry. We really like the extra firm one from Phoenix Bean. We've tried a variety of ways to cook tofu and these are the two methods that I like best for dishes like this stir fry:
Stove-Top: Add enough oil to cover the bottom of your non-stick skillet and heat over medium-high. Add tofu but do not stir. Allow to cook on one side for 3-5 minutes. When golden brown, turn with a fork and repeat until golden brown on all sides.
Baked: Line a baking sheet with parchment paper and toss cubed tofu in a little bit of cornstarch. Add to baking sheet and spray with cooking spray. Bake at 350 degrees Fahrenheit until golden brown. –> I sometimes do this method if I want to spend less time babysitting my tofu as it browns in the pan. I'll just toss it in the oven and then stir fry my veggies and whip up the peanut sauce.
What to Serve with this Tofu Stir Fry
Serve this stir fry with any of your favorite grains! I keep a few packets of 90-second microwave brown rice on hand to serve with stir fry dishes like this one. When I want a quick and easy meal, I don't want to have to wait for brown rice to cook! You can also serve this over rice noodles.
Looking for other tofu based recipes? Check out these!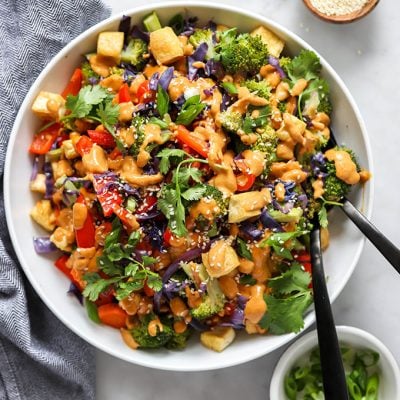 Tofu Stir Fry with Peanut Sauce
This tofu stir fry with peanut sauce makes an easy, healthy weeknight meal with lots of color and flavor. #vegan #plantbased
Ingredients
Stir Fry:
3 tablespoons canola oil
1 14 oz package firm tofu
7-8 cups mixed chopped vegetables I used broccoli, peppers, carrot, and purple cabbage
Cooked brown rice
Peanut Sauce
3/4 cup peanut butter
3 tablespoons soy sauce use tamari if gluten free
2 tablespoons sriracha
1 tablespoon seasoned rice vinegar
1/2 cup water
1/2 inch piece fresh ginger root
2 cloves garlic
1 tablespoon sesame oil
Instructions
Add canola oil to a deep non-stick skillet over medium-high heat. Do not stir, but allow tofu to cook on each side for 3-5 minutes or until golden brown. (Turn each piece of tofu over with a fork individually to brown all sides.) Transfer to a plate and set aside. 

Add the vegetables to the same pan with the leftover oil from the tofu. Sauté for 2 minutes. Cover with lid and cook another 8-10 minutes or until vegetables are crisp tender. Stir tofu into cooked vegetables to reheat. 

While the vegetables cook, add all of the peanut sauce ingredients to a food processor and puree until smooth. Pour sauce over the cooked vegetables and tofu or add once plated. 

To serve, add rice to serving dishes and top with vegetables, tofu, and peanut sauce. Garnish with fresh cilantro, sesame seeds, and chopped green onion, if desired. 
Notes
Nutrition information below does not include brown rice.  Adjust the calorie content of this recipe by using less peanut sauce. (We sometimes have some leftover depending on how much the vegetables cook down.)
Nutrition
Serving: 1/5 recipe | Calories: 535kcal | Carbohydrates: 27g | Protein: 28g | Fat: 39g | Saturated Fat: 6g | Polyunsaturated Fat: 33g | Sodium: 466mg | Fiber: 10g | Sugar: 11g
Reader Interactions