Eat the rainbow for dinner when you make this tofu stir fry with peanut sauce that is packed with vegetables, high protein tofu, and a peanut sauce loaded with heart healthy fats. Ready in just about 30 minutes – perfect for a busy weeknight!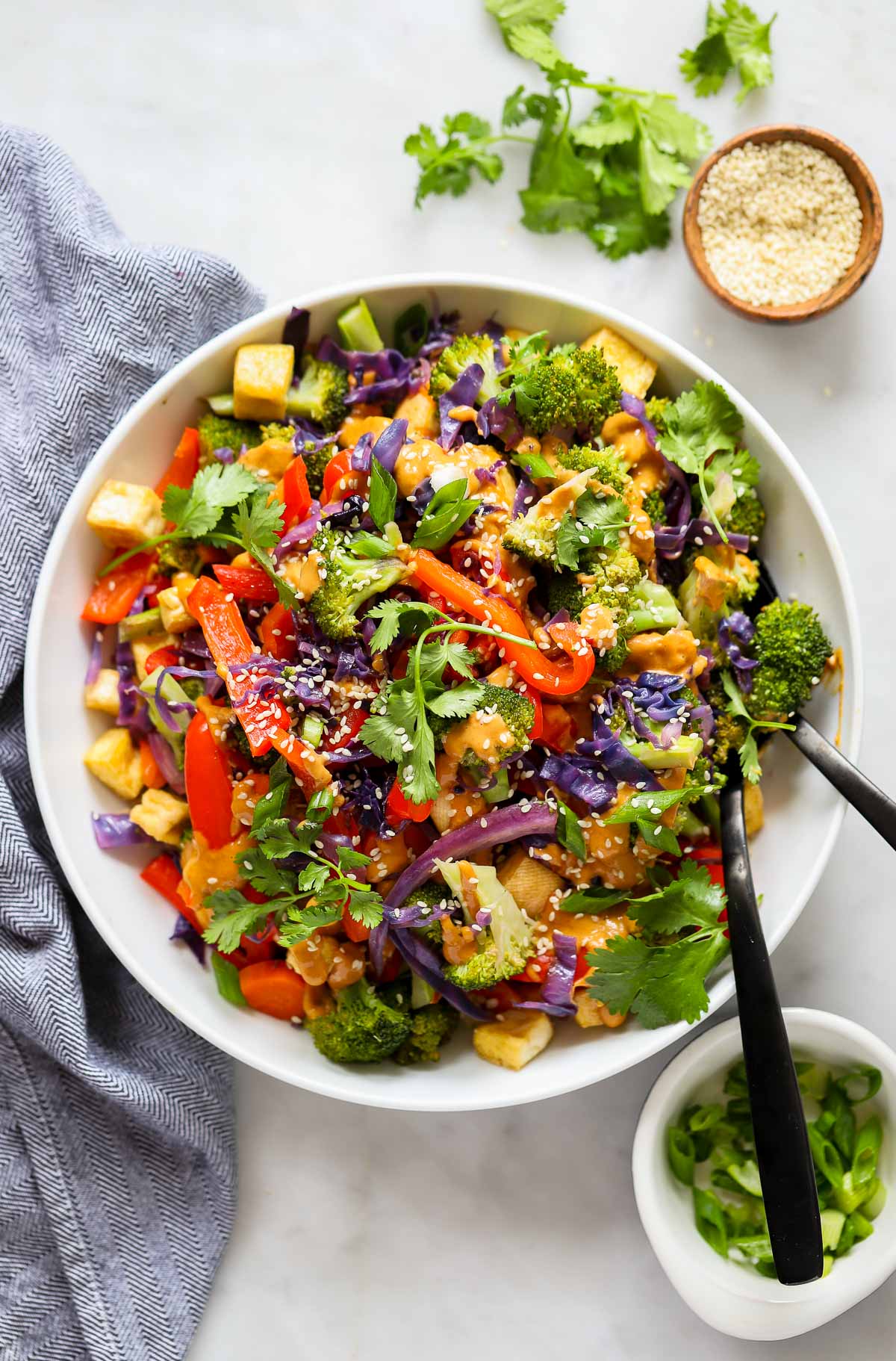 As a plant-based dietitian, but also a busy mom, I love healthy meal options like this stir fry that you can mix and match the ingredients with what you have on hand. This tofu stir fry with peanut sauce is easily adaptable to whatever veggies you need to use up in the fridge and comes together in just a few minutes. We love keeping the fridge stocked with this peanut stir fry sauce – not just for this recipe but also for wraps and salads too.
If you are looking for a couple more assemble-your-own meals, here are a few: vegan tex mex bowls, southwest sheet pan meal, hummus bowls with shawarma cauliflower.
Why You Should Make this Recipe
Quick and Easy: The most time intensive part of this recipe is chopping up all the veggies, but after that everything comes together quickly for this vegan stir-fry.
A Family-Favorite: Our toddler loves this meal too! I usually set aside a little bit of each component (rice, veggies, tofu, sauce) and serve it all separately on a plate for him.
Diet and Allergen Friendly: This peanut sauce stir fry recipe is vegan, dairy free, and egg free. You can easily make it gluten free as well by using tamari instead of soy sauce in the peanut sauce.
Ingredients You'll Need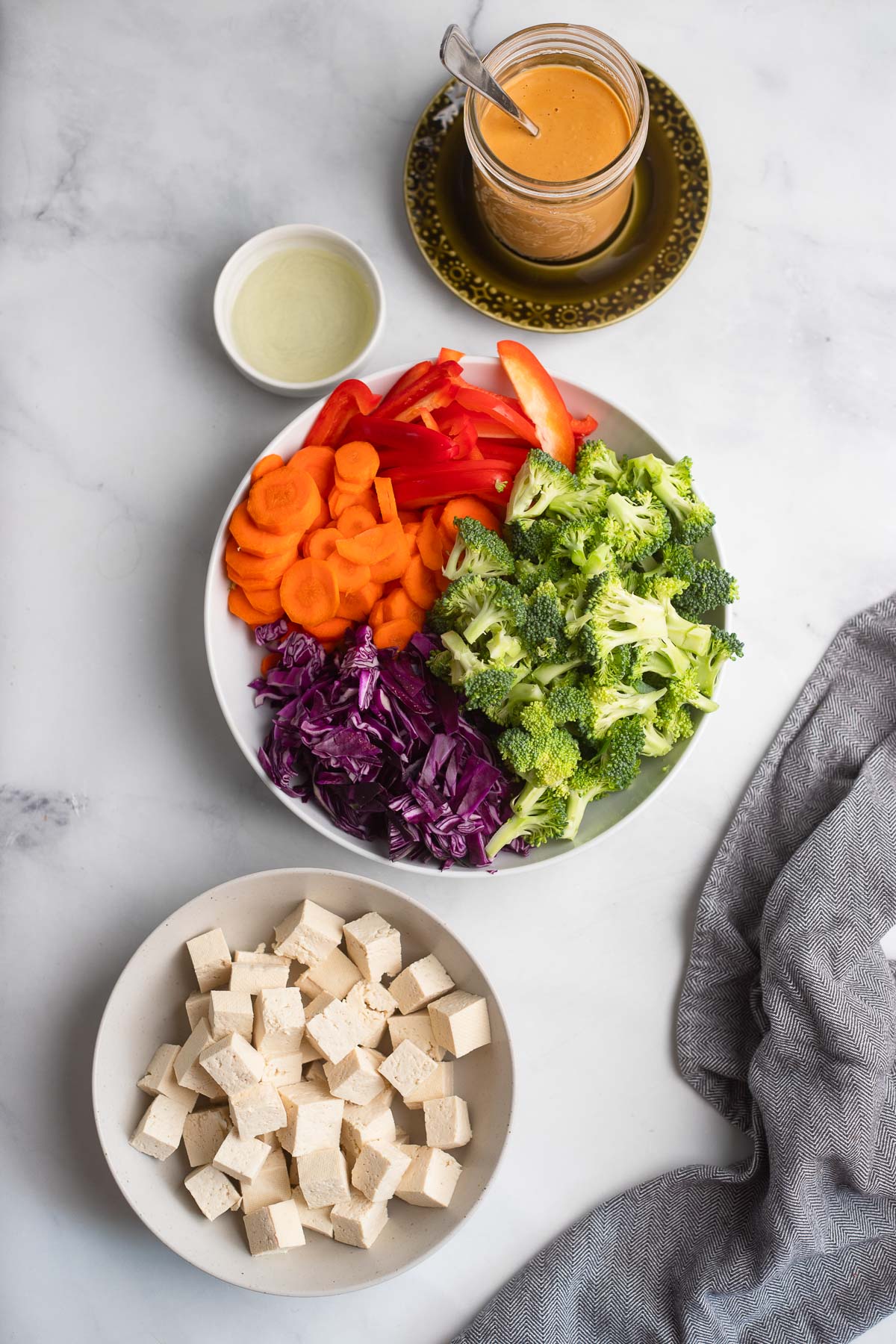 Firm or Extra-Firm Tofu: You want to use a firmer texture tofu for stir fry so that it does not fall apart when cooking. For even crispier tofu, make sure to press it for at least 5 minutes under something heavy or with a tofu press.
Stir-Fry Vegetables: The great thing about stir fry recipes like this one is that the type of veggies you add in can vary based on the season or what you have in the fridge that night. In the one I made for this post I included purple cabbage, carrot, red pepper, and broccoli. Other great vegetable options include: sugar snap peas, asparagus, cauliflower, bok choy, green beans, Brussels sprouts, mushrooms, etc.
Rice: Serve this stir fry over rice. We usually make white rice, but you can serve it with brown rice. If you aren't a fan of rice, this is also delicious over ramen noodles or soba noodles.
Peanut Butter: We love peanut butter – no jar lasts very long in our house! Creamy peanut butter serves as the base for the delicious rich peanut butter stir fry sauce. Use traditional or natural creamy peanut butter – creamy is best, but chunky can be used as well. (For chunky peanut butter, you may have to puree a bit longer.) To season the easy peanut sauce, you'll add sesame oil, rice vinegar, brown sugar (or maple syrup), garlic (or garlic powder), and fresh ginger.  
How to Make Tofu Stir Fry with Peanut Sauce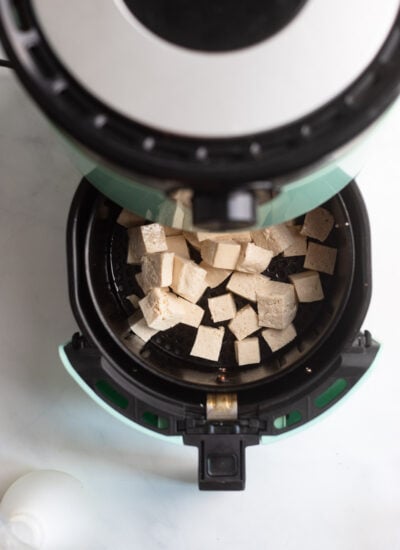 Cook the Tofu: Press the tofu for about 5-10 minute in a tofu press or on a plate, wrapped in a towel, with a heavy object placed on top. You can either pan fry the tofu in a skillet on the stovetop over medium-high heat or throw it in the air fryer until crispy. (We usually air fry it at 400 degrees Fahrenheit for 15-18 minutes.)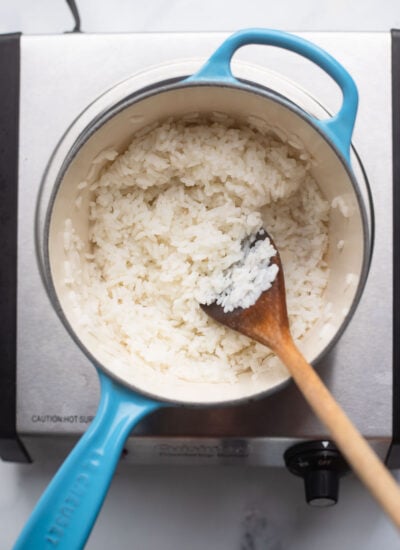 Make Your Rice: While the tofu is cooking, get started on cooking your rice. For a faster weeknight meal, we use a minute rice and cook it up in a saucepan. You can also serve this stir fry over noodles.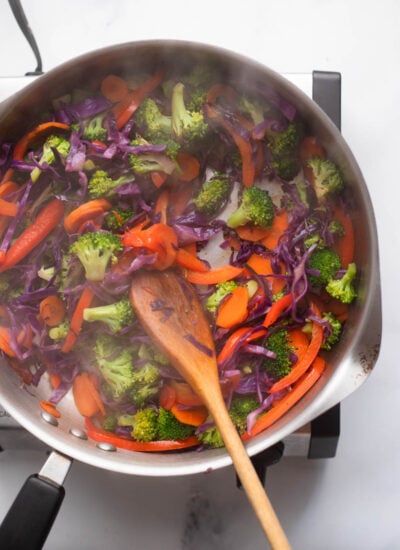 Stir Fry the Vegetables: If cooking the tofu in a large skillet, I transfer it to a plate and start sautéing the veggies in the same pan. If air frying the tofu, you can start cooking the veggies at the same time.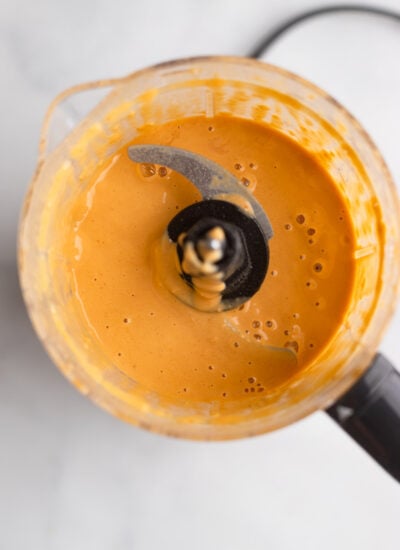 Make the Peanut Sauce: While the veggies are cooking, I add all of the peanut sauce ingredients to a food processor and blend them up. Stir sauce into the veggies and tofu after they are done cooking.
Serve: After everything is prepped, you'll just assemble! You don't need to cook the stir fry in the creamy peanut sauce, just add it over the cooked ingredients to serve. We love to top it with some fresh cilantro, chopped green onions, and sesame seeds. You could also add a squeeze of lime juice.
Is Tofu Healthy?
Yes! As a plant-based Registered Dietitian, I can tell you there is no need to fear soy or tofu. Tofu is a great source of plant-based protein as a 1/2 cup serving of firm tofu has ~10 grams of protein. Also, tofu is a "complete protein" which means that it contains all 9 essential amino acids. Tofu is also a good source of iron, calcium, and magnesium.
Tips for Cooking Tofu
First off, you'll want to buy firm or extra firm tofu for making this stir fry. We've tried a variety of ways to cook tofu and these are the two methods that I like best for dishes like this stir fry:
Stove-Top: Add enough oil to cover the bottom of your non-stick skillet and heat over medium-high. Add tofu but do not stir. Allow to cook on one side for 3-5 minutes. When golden brown, turn with a fork and repeat until golden brown on all sides.
Baked: Line a baking sheet with parchment paper and toss cubed tofu in a little bit of cornstarch. Add to baking sheet and spray with cooking spray. Bake at 350 degrees Fahrenheit until golden brown. –> I sometimes do this method if I want to spend less time babysitting my tofu as it browns in the pan. I'll just toss it in the oven and then stir fry my veggies and whip up the peanut sauce.
Air Fryer: Press the tofu and cut into cubes. Add to the basket of your air fryer and spray with cooking spray. Cook in the air fryer until browned and crispy at 400 degrees Fahrenheit for 15-18 minutes.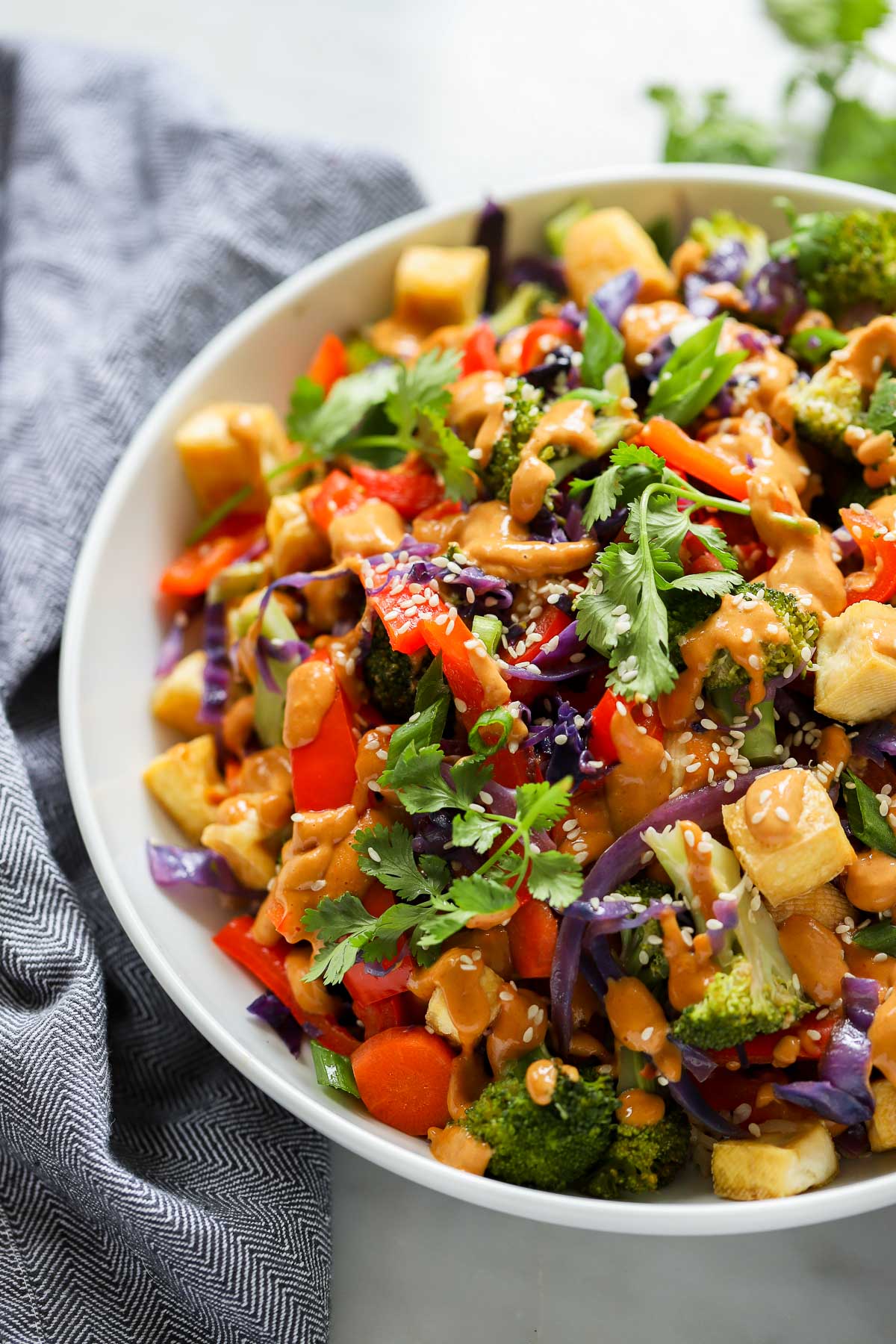 Recipe FAQs
What type of tofu is best for stir fry?
You'll want to use the firm or extra firm variety of tofu for stir fry because it is better at holding its shape. For extra crispy stir fried tofu, press the tofu for at least 5-10 minutes before you cut it up to add to the stir fry.
What happens if you don't press tofu before cooking?
Pressing tofu helps remove excess moisture so you get a more crispy outer texture after cooking. It also helps it maintain its shape better when stir frying.
Should you always drain tofu?
When you buy tofu from the store, it is often packaged in water. When making a stir fry, you want to drain the tofu before you use it. For pretty much any tofu recipe, you'll discard the water that comes in the tofu package.
Make Ahead and Storage
Make Ahead: make the peanut butter stir fry sauce up to 3 days in advance and store in the fridge in an airtight container. You can also pre-chop all your veggies a couple days ahead of time.
Storage: allow stir fry to cool and store in an airtight container in the fridge for up to 3-4 days. You can also freeze the stir fry. Allow to thaw overnight and then reheat in the microwave.
What to Serve with this Tofu Vegetable Stir Fry
Serve this stir fry with any of your favorite grains! I keep a few packets of 90-second microwave brown rice on hand to serve with stir fry dishes like this one. When I want a quick and easy meal, I don't want to have to wait for brown rice to cook! You can also serve this over rice noodles like I did for these soba noodles w/peanut sauce.
Looking for more tofu recipes? Check out these!
Did you love this recipe? Make sure to leave a ⭐️ rating and tag #dietitiandebbie on instagram!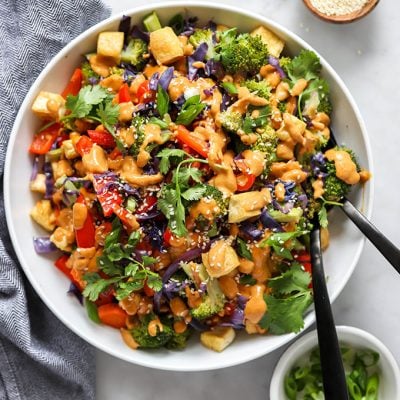 Tofu Stir Fry with Peanut Sauce
This tofu stir fry with peanut sauce makes an easy, healthy weeknight meal with lots of color and flavor. #vegan #plantbased
Ingredients
Stir Fry:
3 tablespoons canola oil
1 14 oz package firm tofu
7-8 cups mixed chopped vegetables I used broccoli, peppers, carrot, and purple cabbage
Cooked brown rice
Peanut Sauce
3/4 cup peanut butter
3 tablespoons soy sauce use tamari if gluten free
2 tablespoons sriracha
1 tablespoon seasoned rice vinegar
1/2 cup water
1/2 inch piece fresh ginger root
2 cloves garlic
1 tablespoon sesame oil
Instructions
Add canola oil to a deep non-stick skillet over medium-high heat. Do not stir, but allow tofu to cook on each side for 3-5 minutes or until golden brown. (Turn each piece of tofu over with a fork individually to brown all sides.) Transfer to a plate and set aside. 

Add the vegetables to the same pan with the leftover oil from the tofu. Sauté for 2 minutes. Cover with lid and cook another 8-10 minutes or until vegetables are crisp tender. Stir tofu into cooked vegetables to reheat. 

While the vegetables cook, add all of the peanut sauce ingredients to a food processor and puree until smooth. Pour sauce over the cooked vegetables and tofu or add once plated. 

To serve, add rice to serving dishes and top with vegetables, tofu, and peanut sauce. Garnish with fresh cilantro, sesame seeds, and chopped green onion, if desired. 
Notes
Nutrition information below does not include brown rice.  Adjust the calorie content of this recipe by using less peanut sauce. (We sometimes have some leftover depending on how much the vegetables cook down.)
Nutrition
Serving: 1/5 recipe | Calories: 535kcal | Carbohydrates: 27g | Protein: 28g | Fat: 39g | Saturated Fat: 6g | Polyunsaturated Fat: 33g | Sodium: 466mg | Fiber: 10g | Sugar: 11g
Reader Interactions