As the weather begins to warm up, I find myself building big salads as meals more frequently. The trick to making salads filling enough to stand as an entree is to incorporate protein and some healthy fat. My favorite vegetarian protein options include: beans, nuts, tempeh, and baked tofu. In this case, I stir fried crumbled tempeh in taco seasoning and piled it high on a spring green salad. So good!
The other elements that I added to this salad to make it great include: baked sweet potato, avocado, sliced radishes, and ranch dressing. Not only do these toppings add a lot of nutrients, they also added fun pops of color to the salad. If you prep the roasted sweet potatoes on the weekend, it makes this salad come together super quick later in the week.
More Tempeh Recipes You'll Love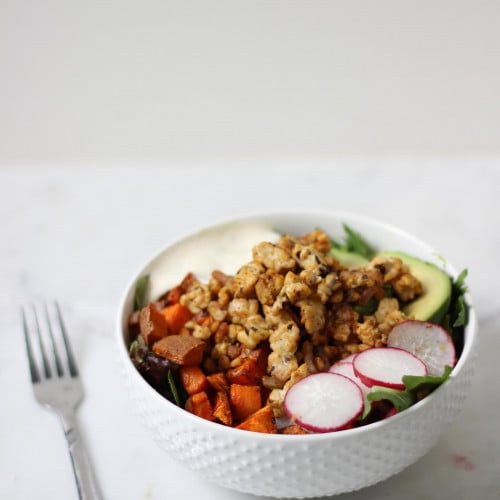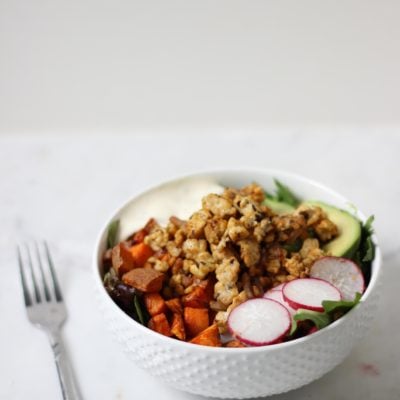 Tempeh Taco Salad
Replace traditional taco meat with tempeh in this vegan/vegetarian tempeh taco salad. Hearty enough to serve as an entree for lunch or dinner.
Ingredients
1 tablespoon olive oil
1 sweet potato chopped into 1/2" pieces
8 ounces tempeh crumbled
2 tablespoons canola oil
1 teaspoon garlic powder
1 teaspoon cumin
1/2 teaspoon oregano
1/2 teaspoon coriander
1/4 teaspoon cayenne
2-3 radishes thinly sliced
1/2 avocado sliced
6 tablespoons vegan ranch dressing
5 cups spring mix lettuce
Instructions
Preheat oven to 350 degrees Fahrenheit.

Toss chopped sweet potato in oil and spread in a single layer on a baking sheet. Bake for ~45 minutes or until softened and lightly browned. Set aside to cool.

Heat 2 tablespoons canola oil in a non-stick skillet over medium-high heat. Toss in crumbled tempeh and cook until lightly browned - about 5-7 minutes.

Sprinkle tempeh with seasonings and stir. Cook another minute and then remove from heat.

Build salads by dividing spring mix into two bowls. Top with tempeh, radishes, avocado, and ranch dressing.
Nutrition
Serving: 1/3 recipe | Calories: 475kcal | Carbohydrates: 26g | Protein: 17.5g | Fat: 35g | Saturated Fat: 5g | Polyunsaturated Fat: 30g | Sodium: 335mg | Fiber: 11g | Sugar: 4g
Reader Interactions