You really can't go wrong these vegan loaded sweet potatoes! The black bean filling is super simple to whip up and can be served up over a salad too. I also love adding a dollop of the avocado topping to spice things up rather than just sliced avocado.
Tips for Making these Vegan Loaded Sweet Potatoes
I roasted my sweet potatoes in the oven, but you can speed up this step by cooking them in the microwave. I actually do that often when I just want to add a sweet potato to a meal as a side. If microwaving your potatoes, you can skip the oil.
The black bean filling is so simple to whip up and would be tasty on its own if you want to use is as a topping for a salad.
I love the avocado topping for these vegan loaded sweet potatoes. Will and I love spicy foods, so feel free to adjust the amount of jalapeño you use to make it less spicy. You can also add more water when pureeing it in the food processor if you want it to be more of a sauce.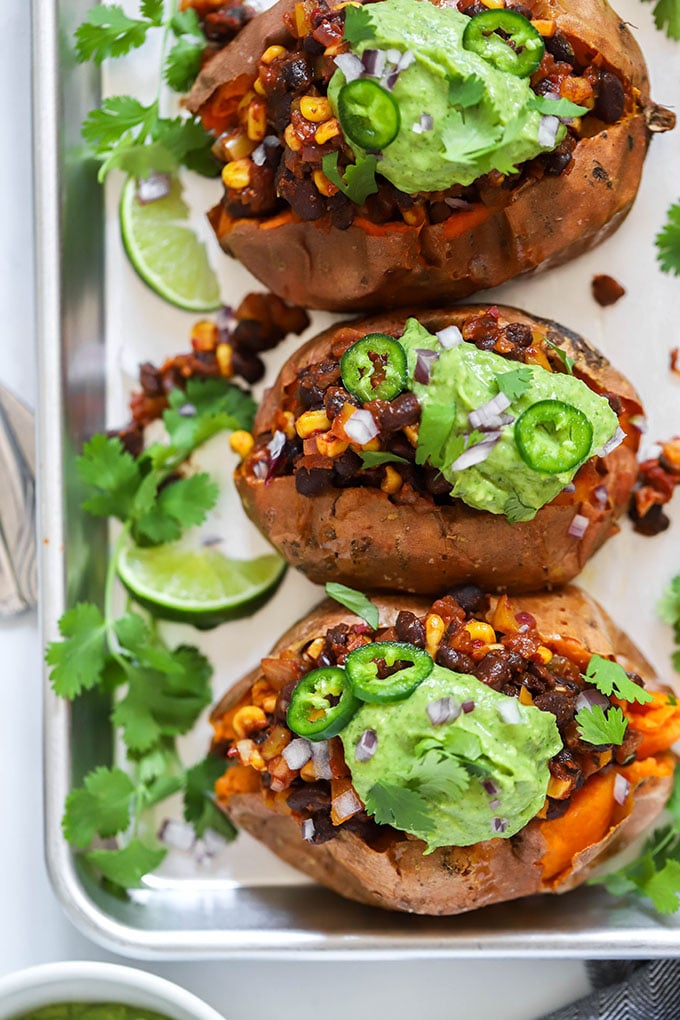 Are these vegan loaded sweet potatoes healthy?
These vegan loaded sweet potatoes are a simple meal to recreate that is also loaded with good for you nutrients. Here are some of the reasons why the main ingredients in this dish are healthy.
Black beans: Many population based research studies have found that those who have a diet that incorporates more beans and legumes are often less likely to have many chronic diseases like heart disease and cancer. Black beans are loaded with fiber (~15 g/cup) which is something many Americans do not get enough of in their diet. They are also a good source of protein and many nutrients like folate, magnesium, and iron.
Avocado: Avocados are loaded with heart healthy monounsaturated fat as well as fiber (10 g/avocado!). They are also a good source of potassium and vitamins B6 and C.
Sweet Potato: I personally love sweet potatoes and eat them often. They not only taste good, but they are loaded with vitamins A and C.
Looking for more sweet potato recipes?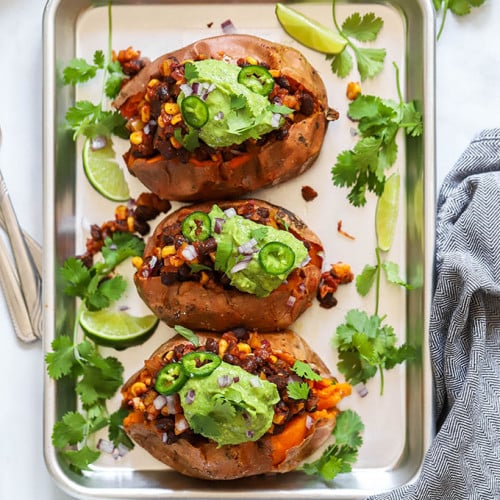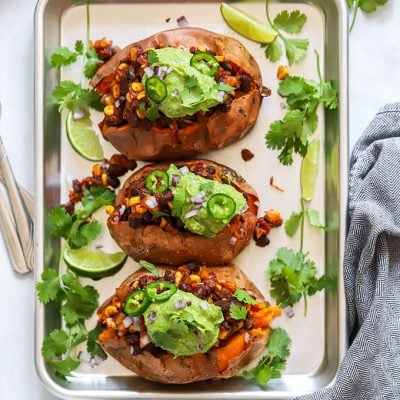 Vegan Loaded Sweet Potatoes
These vegan loaded sweet potatoes are sure to become a weeknight favorite. It's super simple to whip up and makes for filling plant-based dinner with black beans, corn, and avocado-lime topping.
Ingredients
4 sweet potatoes
1/2 tablespoon olive oil
For the Filling:
1 tablespoon olive oil
1/2 cup chopped red onion ~1/2 small red onion
1/2 bell pepper chopped
1 tablespoon taco seasoning
2 cloves garlic minced
1 15 oz can black beans, drained and rinsed
1/3 cup salsa
3/4 cup frozen or fresh corn
For the Avocado Topping:
1 avocado
1 jalapeno seeds and stems removed (use 1/2 to make it less spicy)
1 clove garlic
1 green onion
2 tablespoons water More to thin if desired
Juice from 1 lime
Sea salt to taste
Instructions
Preheat the oven to 400 degrees Fahrenheit. 

Wash sweet potatoes and poke a few times with a fork. Place on a baking sheet. Drizzle with oil and use your hands to make sure each potato is evenly coated in oil. Bake for 45-55 minutes or until potatoes are easily pierced with a fork. Set aside. 

While the potatoes bake, add the olive oil and onions and pepper to a non-stick skillet over medium-high heat. Sautés until onions are translucent. Stir in the taco seasoning and garlic and sauté for 1 minute.

Stir in the black beans, salsa, corn, and ~1/4 teaspoon sea salt. Cook for 2-3 minutes. Taste and add more salt if needed. Set aside.

Add all of the avocado topping ingredients to a food processor and blend until smooth. I prefer a thick sauce that I can dollop on the potatoes, but you can add more water (1 tablespoon at a time) to make it thinner if you prefer. 

To assemble, cut potatoes in half lengthwise and use fork to fluff insides. Top with 1/4 black bean filling and add a dollop of avocado topping. Garnish with sliced jalapeños, chopped red onion, and cilantro if desired. 
Nutrition
Serving: 1/4 recipe | Calories: 325kcal | Carbohydrates: 43.5g | Protein: 11.5g | Fat: 13g | Saturated Fat: 2g | Polyunsaturated Fat: 11g | Sodium: 355mg | Fiber: 14g | Sugar: 4g
Reader Interactions