This past weekend, I was really craving a big batch of homemade chili for the colder weather we have finally been having. As I looked back in my archives to check if I had ever posted a vegetarian chili recipe here yet. I did actually find one from all the way back in 2011. It definitely could use some improving – both in photo and recipe quality! So, I made this uber delicious vegetarian chipotle chili version. It's spicy and hearty and perfect for warming you up from the inside out.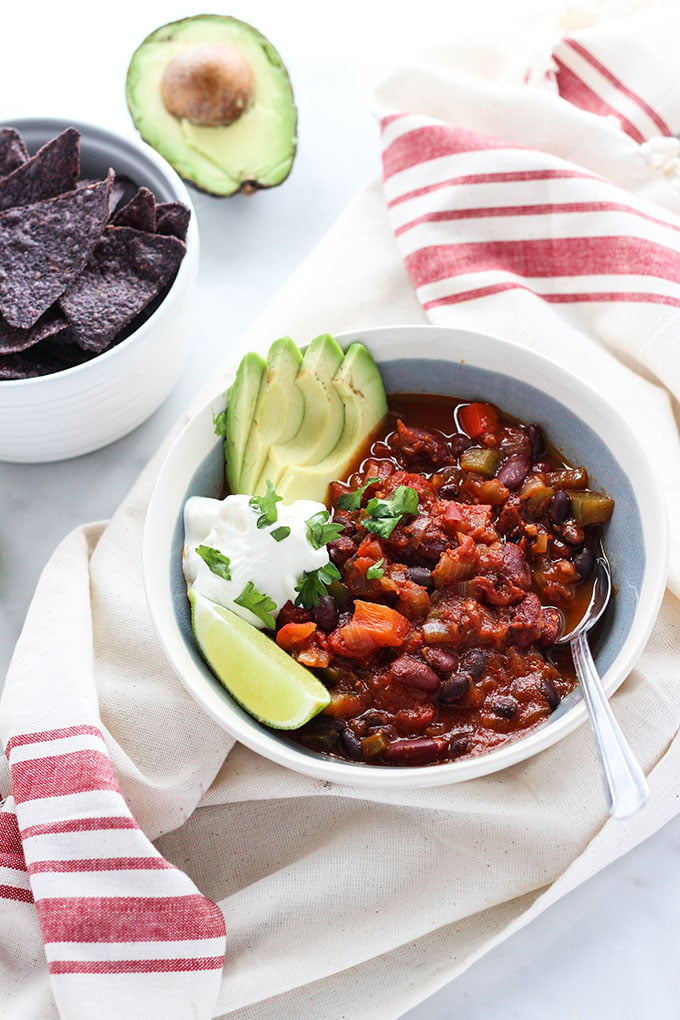 In every bowl of this vegetarian chipotle chili you'll find filling beans, red peppers, spicy chipotle, and chopped tomato. All of which add lots of fiber to help keep you feeling full for hours afterwards. To add more depth to the flavor, I added some dark beer to the early stage of cooking. I used a porter from Great Lakes for mine, but you could easily use a stout as well. We like things spicy, so if you aren't a big fan of spice, I would halve the amount of chipotle or leave it out if you'd prefer. Otherwise, enjoy the heat! To serve, I like adding a dollop of sour cream, avocado, a spirt of fresh lime and some crumbled tortilla chips.
Vegetarian Chipotle Chili
This hearty vegetarian chipotle chili is the perfect way to warm up from the inside out on a chilly night. Top with sour cream, avocado, tortilla chips, and a squirt of fresh lime when serving.
Ingredients
2 tablespoons olive oil
1 onion chopped
2 bell peppers chopped
3 cloves garlic minced
3/4 cup porter beer or sub vegetable broth
1/4 cup canned chipotle peppers in adobo sauce
2 14.5 oz cans fire roasted chopped tomatoes
3 1/2 cups or 2 14.5 oz. cans beans (I used kidney and black beans)
2 cups vegetable broth
1 tablespoon tomato paste
1 teaspoon cumin
1 teaspoon oregano
Salt and Black Pepper to taste
To serve: avocado sour cream, shredded cheese, fresh cilantro, lime wedges, tortilla chips
Instructions
In a large dutch oven, heat up the olive oil and sauce the onion and bell peppers together until onion is translucent and softened, about 7-10 minutes.

Add the garlic and cook another minutes.

Stir in the beer. Let it simmer about 5-7 minutes.

Puree the 1/4 cup chipotle peppers with 1/2 cup of the canned tomatoes until smooth. Add to the dutch oven with the rest of the canned tomatoes, beans, broth, and tomato paste.

Stir in the cumin and oregano. Bring to a simmer and cook for 25-30 minutes or until thickened.

Serve with toppings of your choice.
Nutrition
Serving: 1/6th Recipe | Calories: 249kcal | Carbohydrates: 40g | Protein: 11g | Fat: 5.7g | Saturated Fat: 1g | Polyunsaturated Fat: 4.7g | Sodium: 842mg | Fiber: 12g | Sugar: 12g
Reader Interactions