Canned chipotle peppers in adobo sauce add a nice layer of smoky flavor and spice to this simple but delicious vegetarian chipotle chili. This vegetarian chili is loaded with filling fiber and plant-based protein thanks to all the vegetables and beans in this recipe.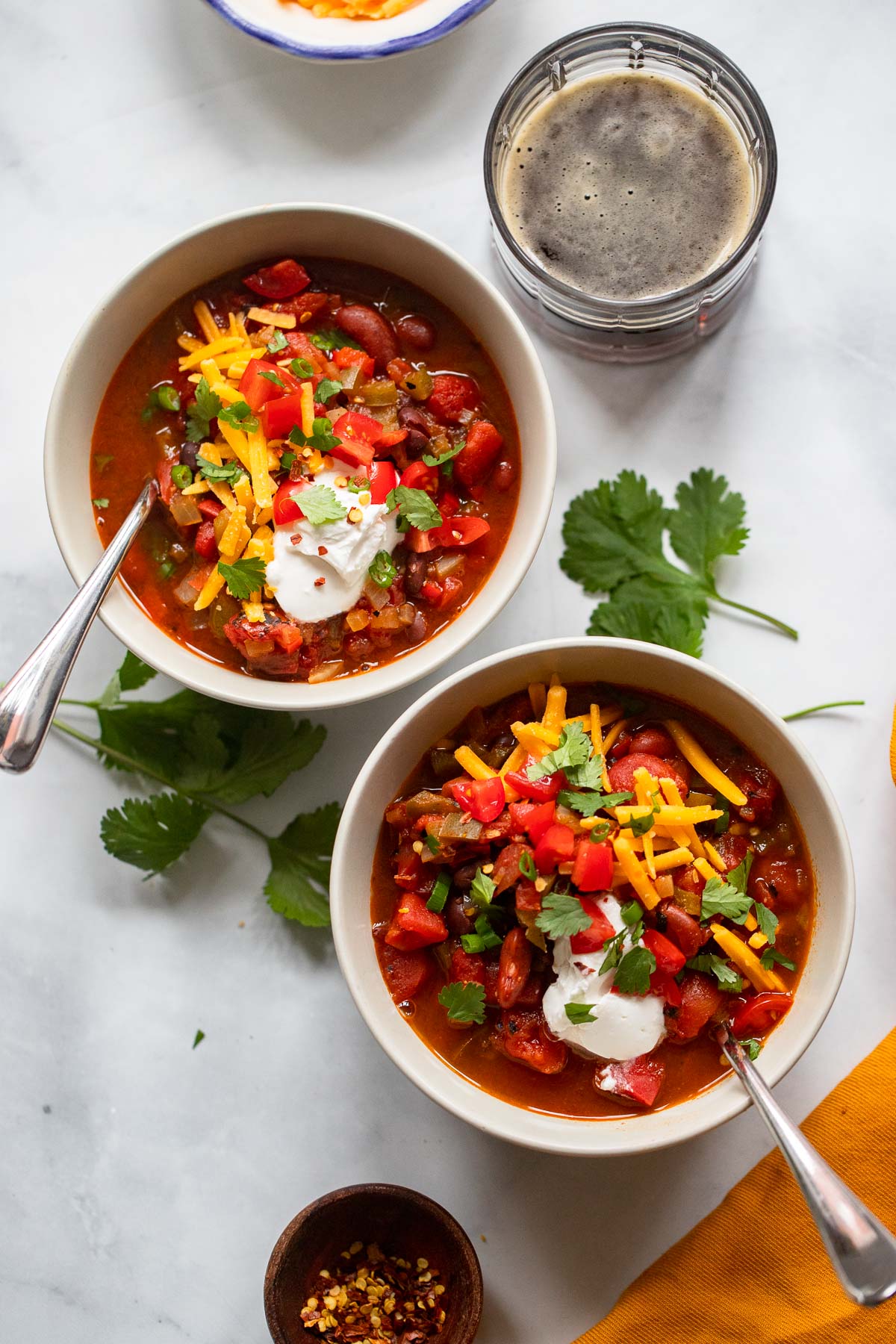 This post was originally published December 2015; updated January 2023.
This past weekend, I was really craving a big batch of homemade chili for the colder weather we have finally been having – so this chili was born! In every bowl of this vegetarian chipotle chili you'll find filling beans, red peppers, spicy chipotle, and chopped tomato. All of which add lots of fiber to help keep you feeling full for hours afterwards!
Why You'll Love this Recipe
Hearty and Filling: Two different types of beans provide plenty of plant-based protein in this chili – you don't even need any meat!
Meal Prep and Freezer Friendly: Since we are small family of 3, we usually have some leftover chili that we can serve for lunch later in the week. It also freezes well if you want to save it for future meals!
This recipe is vegetarian but can easily be adapted to be vegan and gluten free as well.
Ingredients You'll Need
Please scroll down the page to find the complete recipe card with ingredient measurements and instructions. The following sections provide ingredient substitutions and step by step photos for a visual reference.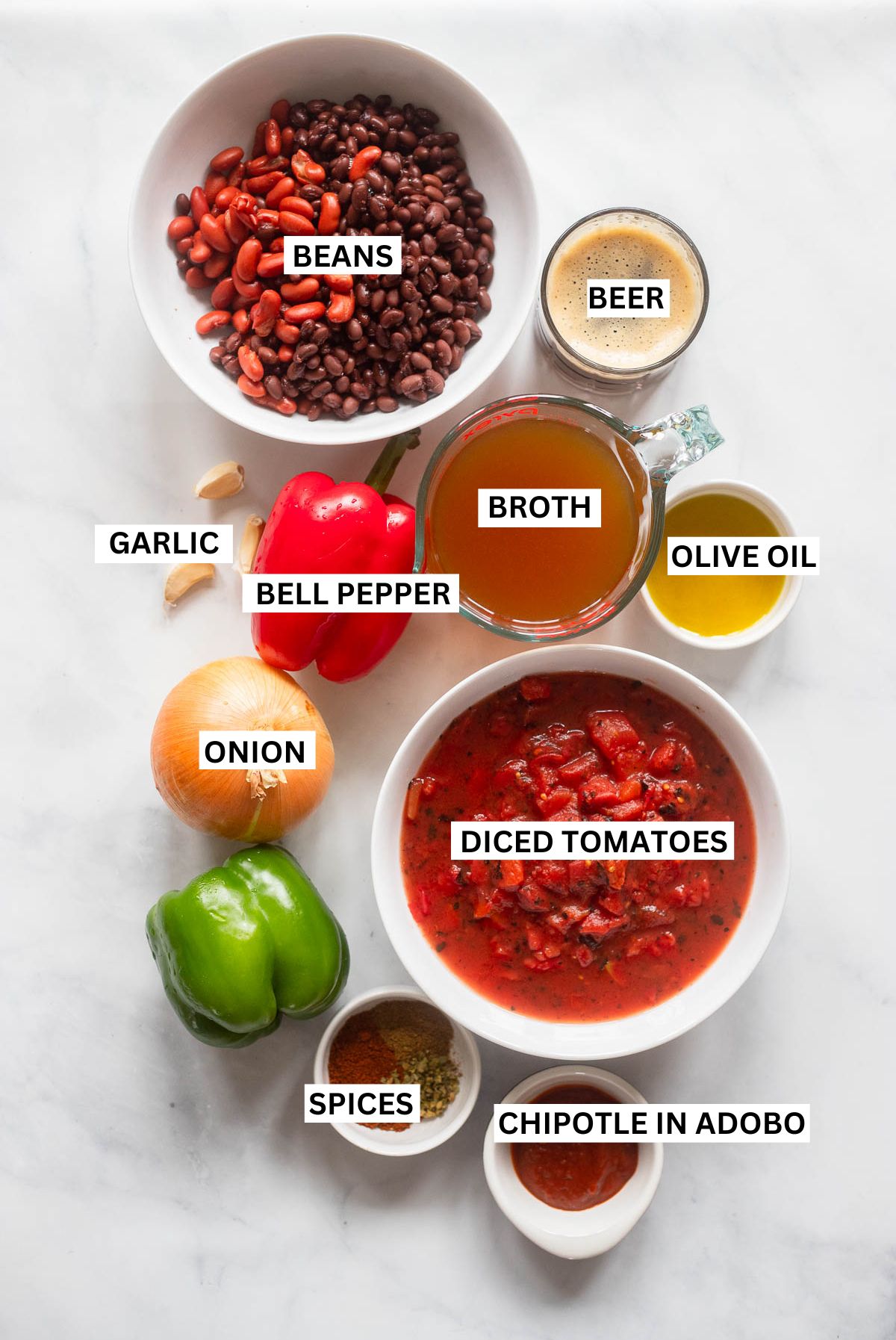 Beans: I used a combination of black beans and kidney beans, but you could use just one or the other. If you don't have either, you could also use pinto beans or white beans. Beans are packed with beneficial nutrients – I provide more info in my black beans vs pinto beans post.
Pepper & Onion: Add lots of flavor as well as fiber to help make this chili more filling. I love adding lots of veggies to my chili to bulk it up and make it easier to get in another serving of veggies for the day.
Chipotle Peppers in Adobo: The secret to this super flavorful chili! You can usually find canned chipotle peppers in adobo sauce in the grocery near the canned beans or hot sauces. You can either chop them up to add to this chili or toss the contents of the can into the blender and use it like a sauce. (I prefer the blended option.) If you can't find them, you could add either 1-2 teaspoons of smoked paprika OR 1 teaspoon liquid smoke and a dash of cayenne pepper to this chili instead. (If you love chipotle, you'll also enjoy my Chipotle Tempeh Tacos with Black Bean Salsa and Avocado Crema.)
Beer: Using beer as some of the cooking liquid for this chili adds a bit of sweetness and a little bit of malty flavor. I like to use a porter for this recipe, but you could use any beer you like.
Diced Tomatoes: Round out your soup with a can of diced tomatoes. I really like to use fire roasted canned tomatoes for a little bit of smoky flavor that pairs well with the chipotle.
Step by Step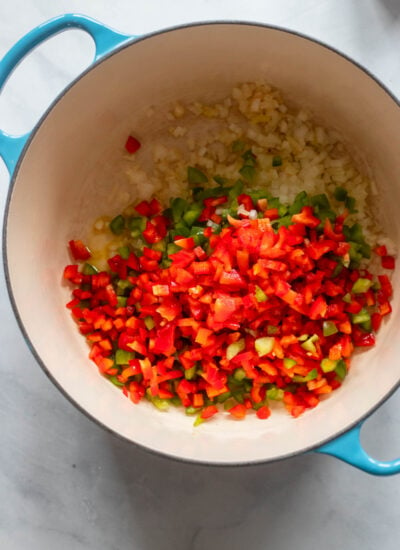 Step One: Add olive oil, onion, and peppers to a large soup pot or dutch oven.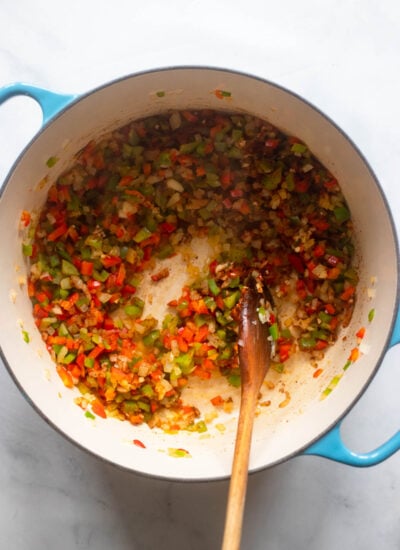 Step Two: Sauté onion and peppers until tender. Stir in the garlic, chipotles in adobo sauce, and spices and cook another 1-2 minutes.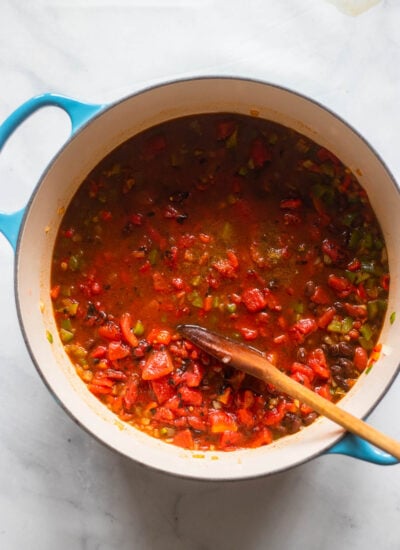 Step Three: Add the broth, canned tomatoes, and beer. Bring to a simmer. Cook for 30-40 minutes or until thickened. Season with salt if needed.
Step Four: Dish chili into bowls and garnish with desired toppings such as sour cream, shredded cheese, chives, cilantro, and chopped tomatoes.
Slow Cooker Directions
You can also make this recipe is your slow cooker or crockpot rather than the stovetop and it is actually very simple. Add all of your ingredients to the slow cooker and stir. Cover and cook on high for 1-2 hours or low for 3-4 hours.
Expert Tips
Switch up the protein: You can use basically any kind of bean you have on hand for this recipe. I used a combination of black beans and kidney beans but you could use pinto beans or white beans too. If you don't have beans, you could also add 1 1/2 cups rehydrated TVP, frozen ground beef (like Gardein brand), or a package of ground Beyond Meat.
Beer optional: I like to add a bit of beer to this chili for extra flavor but you can simply sub the beer with extra broth.
Topping suggestions: Some of our favorite chili toppings include: sour cream, shredded cheese, chopped tomatoes, cilantro, crumbled crackers or tortilla chips, and hot sauce.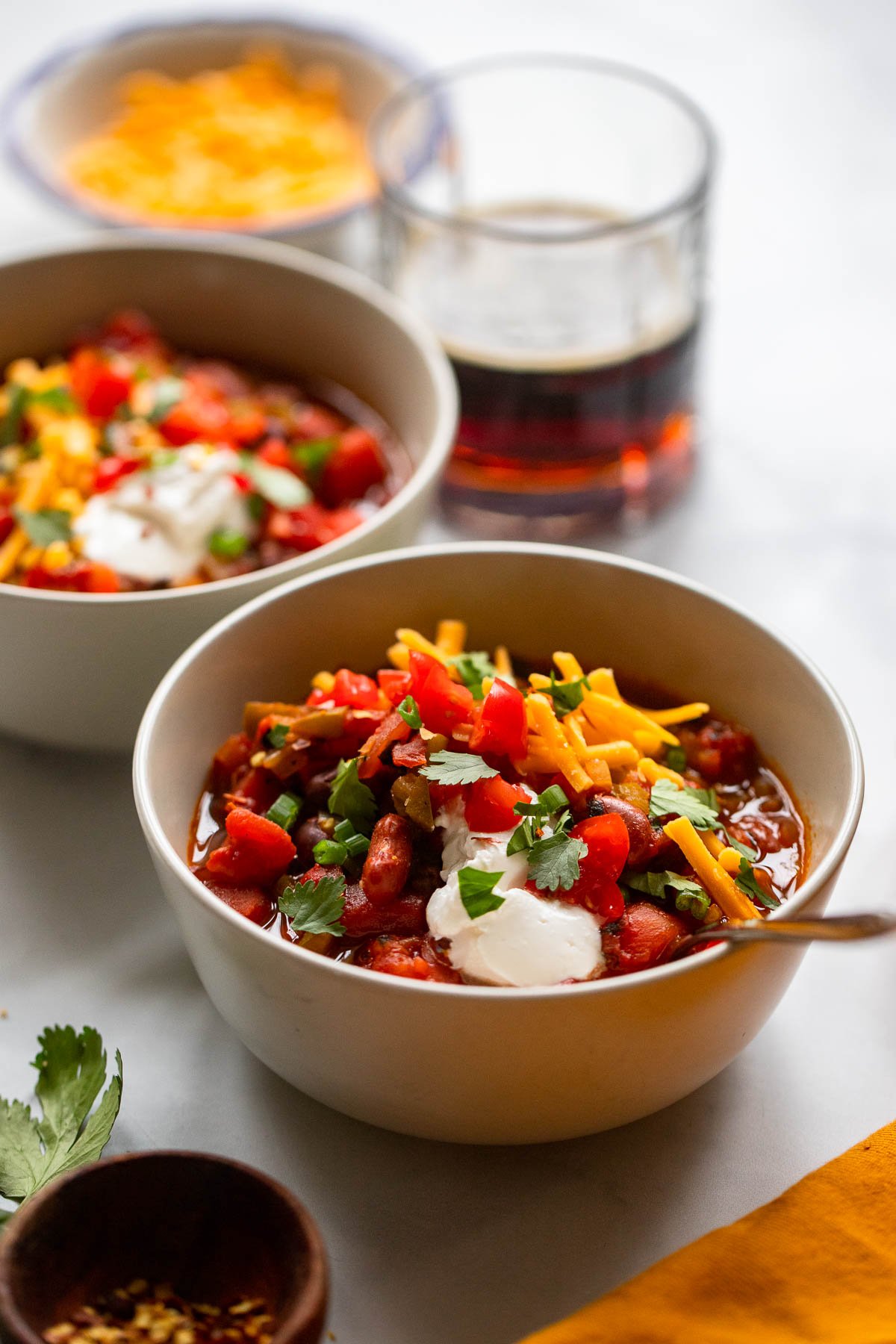 Recipes FAQs
How long is leftover chili good for?
Leftover chili can be stored in an airtight container in the fridge for up to 3-4 days. To reheat, add to a pot over medium heat until hot OR pop it into the microwave to warm it up.
How do you freeze chili with beans?
Yes! This chili freezes well if you want to save leftovers for future meals. Just transfer the cooled chili to lidded containers and store for up to 3 months in the freezer. Allow to thaw in the fridge overnight before reheating.
What can I do if my chili is too spicy?
It happens to the best of us! My favorite way to counteract the spiciness in a chili it to add a tablespoon or two of red wine vinegar or lime juice. The acidity helps cut out the spice. You could also try adding an extra can of diced tomatoes or stirring in a tablespoon of brown sugar.
Did you love this recipe? Make sure to leave a ⭐️ rating and tag #dietitiandebbie on instagram!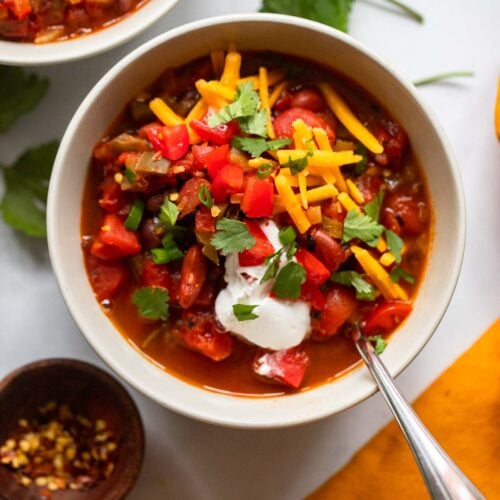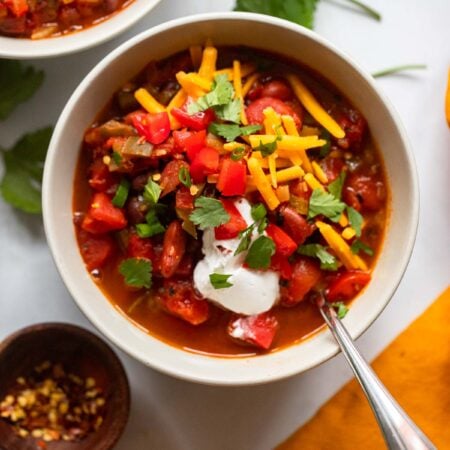 Vegetarian Chipotle Chili
This hearty vegetarian chipotle chili is the perfect way to warm up from the inside out on a chilly night. Top with sour cream, avocado, tortilla chips, and a squirt of fresh lime when serving.
Ingredients
2 tablespoons olive oil
1 onion, chopped
2 bell peppers, chopped
3 cloves garlic, minced
1 tablespoon chili powder
1 teaspoon oregano
1 teaspoon cumin
1-2 tablespoons pureed chipotle peppers in adobo sauce
2 (14.5 oz) cans fire roasted diced tomatoes
1 (14.5 oz) can black beans, drained and rinsed
1 (14.5 oz) can kidney beans, drained and rinsed
2 cups low sodium vegetable broth
1 cup porter beer (or vegetable broth)
sea salt, to taste
To Serve:
Avocado, sour cream, shredded cheese, fresh cilantro, lime wedges, tortilla chips
Instructions
In a large dutch oven, heat up the olive oil and sauté the onion and bell peppers together until onion is translucent and softened, about 5 minutes.

Add the garlic, chili powder cumin, oregano, and chipotle peppers and cook another 1-2 minutes.

Stir in the diced tomatoes, beans, broth, and beer. Bring to a simmer and cook for 30-40 minutes until thickened and flavor has developed.

Taste and add salt if needed. Serve with toppings of your choice!
Notes
To Store: add cooled leftovers to airtight containers and store in the fridge for up to 3-4 days. 
To Freeze: add cooled leftovers to airtight container and store in the freezer for up to 3 months. Allow to thaw in the freezer overnight before reheating.
To Reheat: add to a pot and reheat over medium heat until warmed through. You can also reheat in the microwave for 2-3 minutes or until hot. 
Nutrition
Serving: 1serving | Calories: 275kcal | Carbohydrates: 42g | Protein: 12g | Fat: 7g | Saturated Fat: 1g | Polyunsaturated Fat: 1g | Monounsaturated Fat: 4g | Sodium: 793mg | Potassium: 965mg | Fiber: 14g | Sugar: 9g | Vitamin A: 2173IU | Vitamin C: 81mg | Calcium: 131mg | Iron: 5mg
Reader Interactions