This vegan tortilla soup tastes like it was cooking on the stove for hours but can actually be whipped up in about 30 minutes! #vegan #glutenfree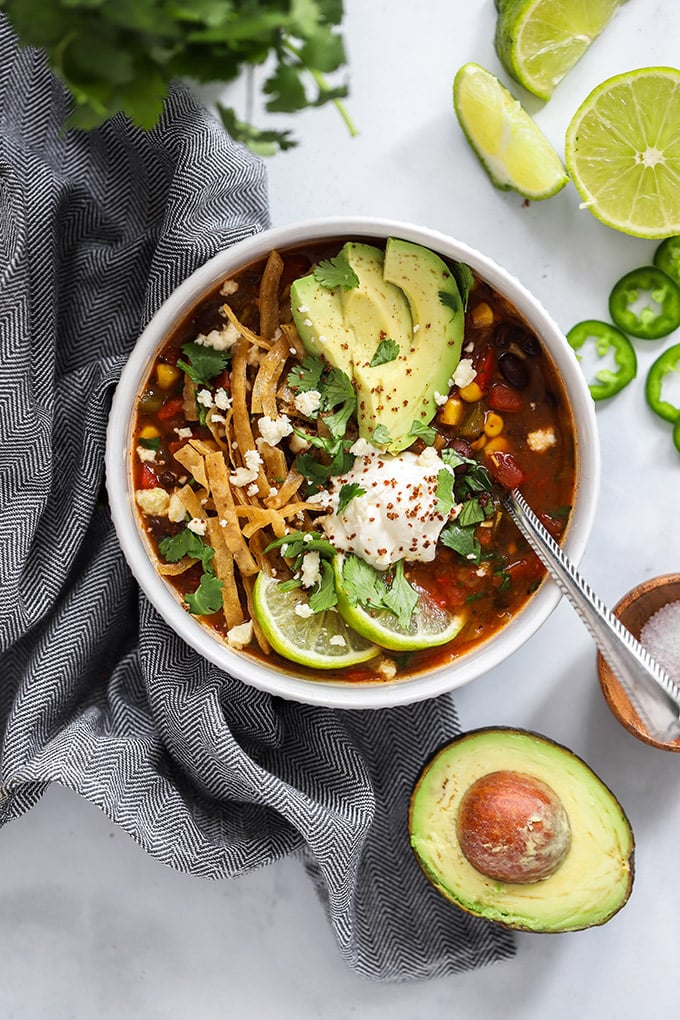 Spring has arrived, but if you live in the midwest like me it is still cold enough for hearty soups! This vegan tortilla soup is super simple to make and the perfect dish for a cozy night in. It reminds me a lot of my vegetarian chipotle chili which has the same warm and cozy vibes.
What is tortilla soup?
Tortilla soup is a Mexican dish that his traditional made from a chicken broth combined with roasted tomatoes, onion, garlic, chiles, and fried tortilla strips. A lot of recipes often incorporate shredded chicken into the soup but this vegan version includes canned black beans.
How to make vegan tortilla soup
This soup couldn't be easier to make! You essentially just toss everything in to a large pot and let it simmer. I think the flavors develop some over time and it tasted even better when eating it the next day!
If you can, try your best to buy fire roasted canned tomatoes for this soup. They may cost just a little more but they add such rich flavor to this simple soup.
Use reduced sodium or low sodium canned beans, broth, and tomatoes to help reduce the sodium content to this soup if you need.
Feel free to sneak extra veggies into this soup if you'd like! I think some chopped zucchini or summer squash would be a great addition.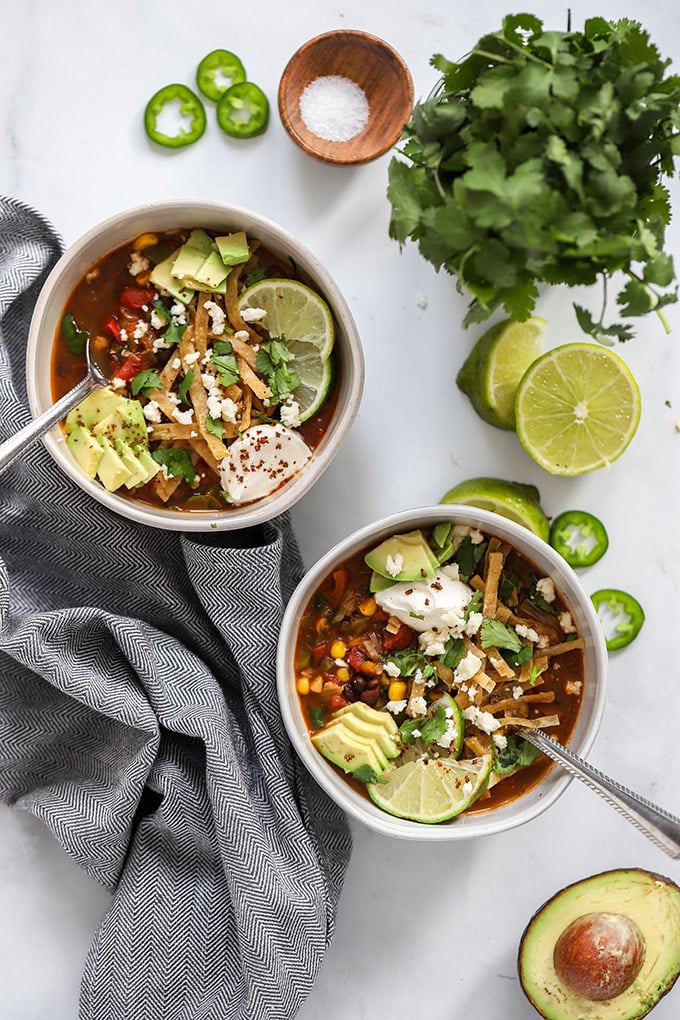 How to Fry the Tortilla Strips
You'll definitely want to top your tortilla soup with some fried tortilla strips! While the soup simmers, you can make the fried tortilla by thinly slicing 4-6 corn tortillas in to 1/3 inch strips. Add enough canola oil to a skillet to coat the bottom and heat on high. Add tortilla strips in batches (you don't want to overcrowd them) and fry them until they start to turn golden brown. Transfer to a plate lined with a paper towel and sprinkle with salt. As they cool they will start to crisp up.
Looking for more Mexican-inspired recipes? Try one of these!
Did you love this recipe? Make sure to leave a ⭐️ rating and tag #dietitiandebbie on instagram!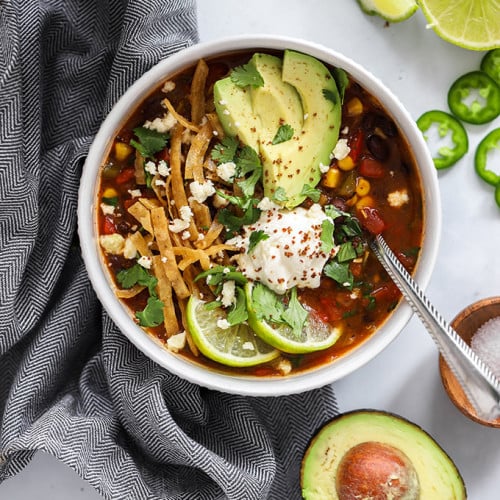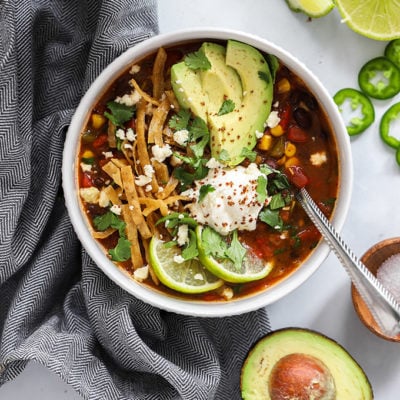 Vegan Tortilla Soup
This vegan tortilla soup tastes like it was cooking on the stove for hours but can actually be whipped up in about 30 minutes!
Ingredients
For the Soup:
2 tablespoons olive oil
1 cup chopped yellow onion 1/2 onion
1 jalapeno seeds removed and finely chopped (use less if sensitive to spice)
2 cloves garlic minced
1 teaspoon chili powder
1 1/2 teaspoons cumin
1 teaspoon dried oregano
1 cup frozen corn kernels fresh works too
1 1/2 cups water
1 1/2 cups vegetable broth
1 15 oz can black beans, drained
1 28 oz can fire roasted tomatoes
1 4 oz can mild hatch green chiles
Juice from 1/2 lime
1/4-1/2 teaspoon sea salt adjust to taste
To Serve: 
4-6 corn tortillas sea salt, 2-3 tablespoons canola oil
Lime wedges sour cream and cheese (if not vegan), fresh cilantro
Optional: a sprinkle of Trader's Joe's chili lime seasoning I love that stuff!
Instructions
Add the olive oil, onion, and jalapeño to a large pot or dutch oven. Sauté for 4-6 minutes or until onion is translucent. 

Stir in the garlic, chili powder, cumin, and oregano. Sauté for 1 minute. 

Stir in the corn, water, broth, black beans, tomatoes, and green chiles. Bring soup to a simmer and cook for 10-15 minutes. 

Turn off heat and add lime juice and salt. Taste and season more if needed. 

Dish soup out into bowls and top with your favorite toppings: avocado, sour cream, cheese, lime wedges, fresh cilantro, and tortilla strips.
To Make the Tortilla Strips:
Thinly slice tortillas into ~1/3 inch strips. 

Heat 2-3 tablespoons canola oil in a large non-stick skillet.

Add tortilla strips in batches and cook until golden brown. Transfer to a plate lined with paper towels and sprinkle with sea salt. (They will crisp as they cool.)
Notes
Recipe makes ~8 cups soup total. Each serving is 1 1/2 cups of soup.
Nutrition
Serving: 11/2 cups | Calories: 193kcal | Carbohydrates: 27g | Protein: 7g | Fat: 7g | Saturated Fat: 1g | Polyunsaturated Fat: 6g | Sodium: 317mg | Fiber: 8.5g | Sugar: 5.5g
Reader Interactions