Make your own falafel at home rather than ordering take-out with this simple recipe for baked falafel with dill yogurt sauce served with pita or on top of a salad.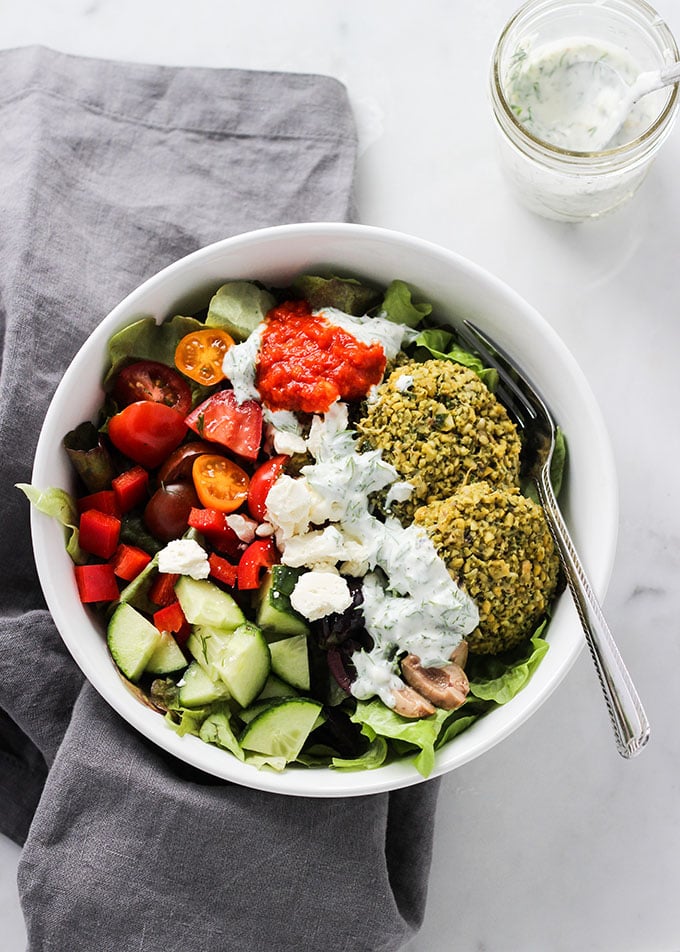 As a vegetarian, I've learned to embrace beans as a staple in my diet. I love that they are inexpensive, full of healthy nutrients, and can be used in numerous ways in recipes. Beans are not only a good source of protein (~7-8 g protein per 1/2 cup serving), they are also high in folate, manganese, iron, zinc, potassium and more!
Also, they are packed with soluble and insoluble fiber making them a low glycemic food. We know that the glycemic index, which measures how much certain foods raise your blood sugar after eating them, isn't completely reliable. However, in general foods that are low on the glycemic index are typically healthy foods that are unprocessed and high in fiber like non-starchy vegetables. Some population studies show that a diet that is higher in low glycemic foods (like high fiber beans) may decrease your risk of chronic diseases like diabetes. All the more reason to make eat beans more often!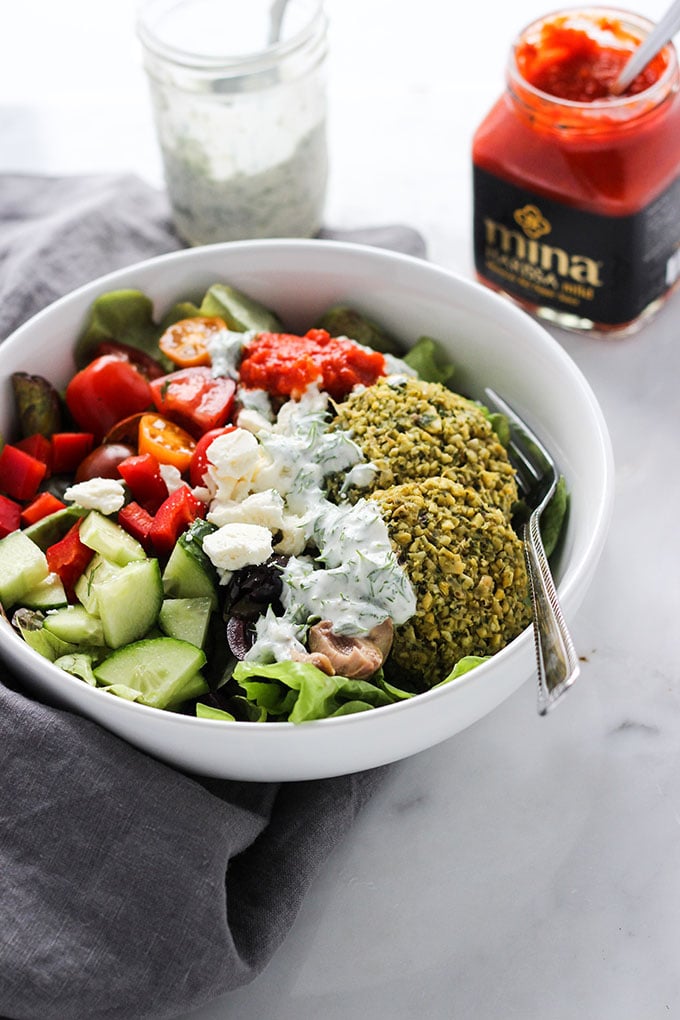 One of my favorite way to enjoy chickpeas is in falafel form, of course. This baked falafel with dill yogurt sauce recipe is surprisingly simple and so yummy! You can serve your falafel tucked into a pita with some greens OR you can use them to top a salad like I did. When making these falafel, it is important to use the dried chickpeas you would purchase in a large bag or from a bulk bin. I've found that the canned chickpeas lead to soggy falafel that just fall apart when you try to make them into patties or cook them in a pan.
Some of my favorite salad additions to go with the falafel include: cucumber, red pepper, tomatoes, feta cheese, and olives. I also added some spice with a tablespoon of Mina harissa (sponsored).  I packed this exact salad for lunch a couple of days in a row for work and found it so filling. All the fiber, healthy fats, and protein kept me going until dinner time!
More Delicious Recipes You'll Love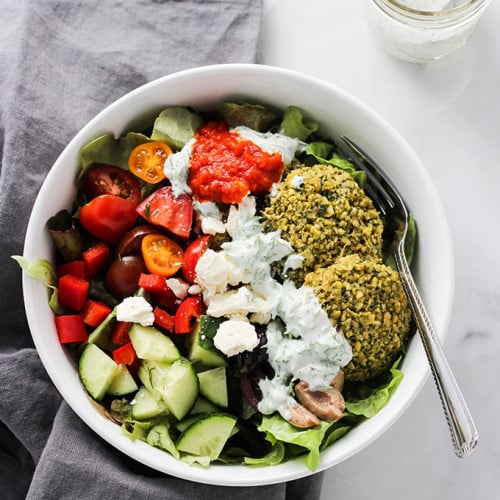 Baked Falafel with Dill Yogurt Sauce
Make your own falafel at home rather than ordering take-out with this simple recipe for baked falafel with dill yogurt sauce served with pita or on top of a salad.
Ingredients
For the Falafel:
1 cup dried chickpeas Do not substitute canned chickpeas here
3 tablespoons tahini
3 tablespoons olive oil
1/2 cup packed fresh parsley
1/2 cup packed cilantro
1 cup large handful spinach leaves
1/3 cup chopped red onion
1 1/2 teaspoon cumin
2 tablespoons lemon juice
3 cloves garlic
1/4 teaspoon paprika
1/2 teaspoon sea salt
1/4 teaspoon ground black pepper
For the Dill Yogurt Sauce:
1/2 cup plain full fat yogurt
1/4 cup fresh dill chopped
1 tablespoon lemon juice
1 teaspoon garlic powder
Ground black pepper and sea salt to taste
To Serve:
Lettuce tomatoes, feta cheese, cucumbers, olives, harissa
Instructions
Place dried chickpeas in a small mixing bowl and cover with water. Allow to soak overnight in the fridge. After soaking, the volume of chickpeas will double to ~2 cups. When ready to make falafel, drain water and rinse.

Preheat the oven to 350 degrees Fahrenheit.

In a food processor, puree the tahini, oil, parsley, cilantro, spinach, onion, cumin, lemon juice, garlic, and paprika. Puree until greens are finely chopped, you want it to have the consistency of pesto.

Add the chickpeas and pulse until mixture starts to stick together and chickpeas are minced, but not yet pureed. (You don't want to make hummus!)

Use a spoon out bean mixture and use your hands to form into ~21/2 inch patties. Place patties on a baking sheet.

Bake falafel for 30-40 minutes or until lightly browned.

To make dill yogurt sauce, stir together all the ingredients until well mixed.
Nutrition
Serving: 1/4 recipe | Calories: 275kcal | Carbohydrates: 18.5g | Protein: 10g | Fat: 20g | Saturated Fat: 3.5g | Polyunsaturated Fat: 16.5g | Cholesterol: 4.5mg | Sodium: 490mg | Fiber: 4.5g | Sugar: 2.5g
Reader Interactions