Add this vegan Mexican breakfast scramble to your bunch rotation OR whip it up for a tasty weeknight dinner on the go when wrapped up as a burrito.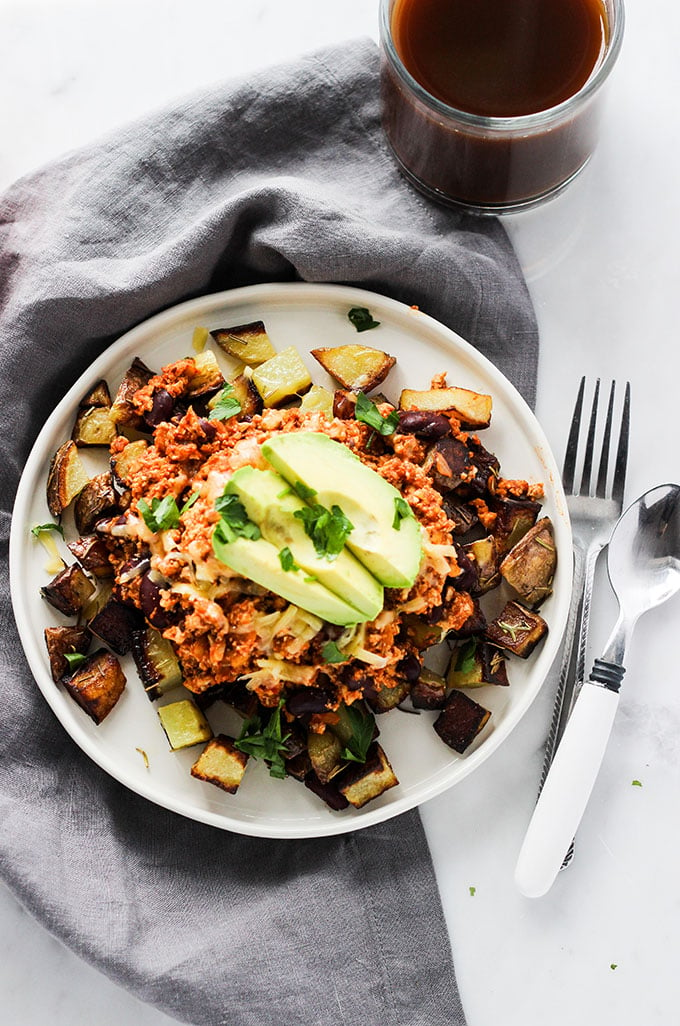 This vegan breakfast scramble is inspired by a breakfast scramble I had at The Mission in San Diego a couple of weeks ago. With the first forkful, I knew I had to try and recreate something similar at home!
With my testing, I still haven't quite nailed the soy chorizo, but I did create a tasty Mexican inspired tofu/tempeh scramble that I thought I would share. I like to think of this recipe as tofu scrambled eggs on steroids. Plus, I love the addition of tempeh and beans to the mix for some more texture.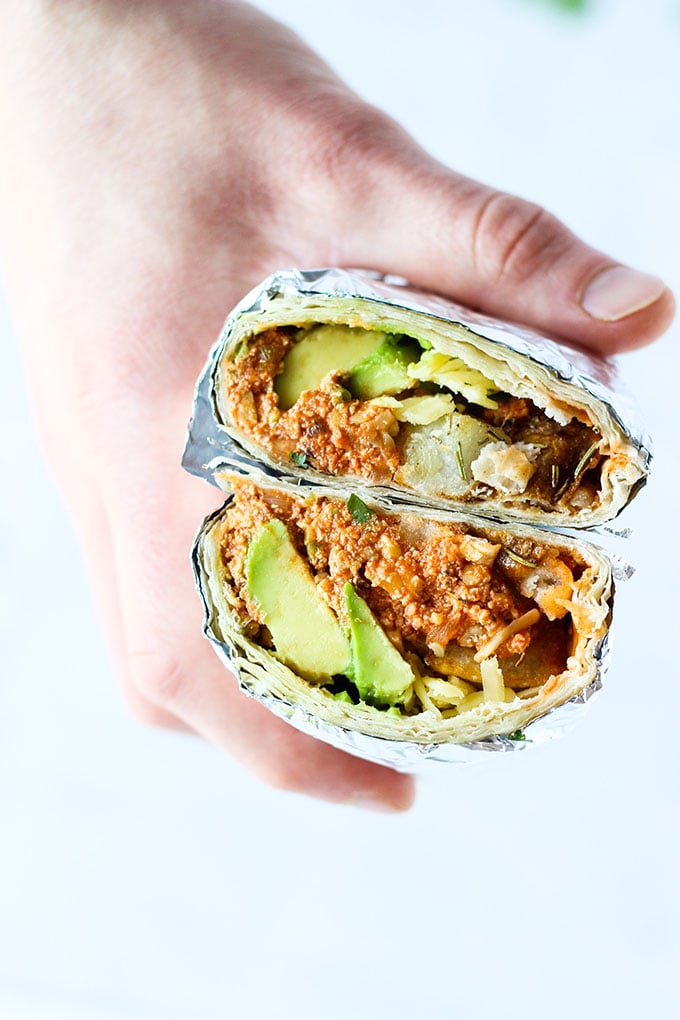 You have two options for serving up this scramble. The first time around, I just piled everything on a plate with the potatoes as you can see in the first photo. The second time, I stuffed it all into a burrito with cheese, avocado, and chipotle hot sauce. It was heaven.
There is also a third way to enjoy this Mexican breakfast scramble – on top of a salad with chopped veggies and ranch dressing. (Which is what I did with the leftovers today for lunch at work!) Any way you spin it, you are sure to enjoy this vegan Mexican breakfast scramble. 
More Delicious Breakfast Recipes You'll Love
Did you love this recipe? Make sure to leave a ⭐️ rating and tag #dietitiandebbie on instagram!
Vegan Mexican Breakfast Scramble
Add this vegan Mexican breakfast scramble to your bunch rotation OR whip it up for a tasty weeknight dinner on the go when wrapped up as a burrito.
Ingredients
Rosemary Potatoes:
3 medium sized potatoes chopped into 1/3″ pieces
2 tablespoons vegetable oil
1 teaspoon dried rosemary
Salt and ground black pepper to taste
Tofu Scramble:
2 tablespoons olive oil
1/2 onion chopped
1 jalapeno chopped (seeds removed)
1 (6 oz) can tomato paste
1 cup vegetable broth
1/2 teaspoon cumin
1 teaspoon oregano
1/2 teaspoon paprika
1/4 teaspoon cinnamon
1/4 teaspoon coriander
8 ounces firm tofu drained and pressed
8 ounces tempeh
1 (15 oz) can kidney beans, drained
2 tablespoons red wine vinegar
1 tablespoon Cholula hot sauce
Salt and ground black pepper to taste
To Serve:
Sliced avocado
Cheese vegan or dairy based
Flour tortillas
Fresh chopped cilantro
Instructions
In a medium skillet heat up 2 tablespoons of vegetable oil. Add the potatoes and stir to coat with oil. Allow potatoes to cook undisturbed for 3-5 minutes or until lightly browned on bottom. Add the rosemary, salt, and pepper. Toss potatoes and allow to cook another side until browned. Continue to toss and cook until potatoes are tender and lightly browned on each side.

While potatoes are cooking, add 2 tablespoons olive oil to another skillet with tall sides. Add the onion and jalapeño. Cook for 5-7 minutes or until onion is translucent. Stir in the tomato paste, broth, and spices. Stir well to combine.

In a food processor, add the tofu and tempeh. Pulse a few times until mixture is the texture of ground beef/rice. Transfer to skillet and stir to coat in the tomato spice mixture. Add the kidney beans and stir.

Cook for 10 minutes or until mixture is heated through and sauce is thickened. Stir in the vinegar and cholula sauce. Season with salt and black pepper.

To serve, plate a serving of the potatoes and top with tofu mixture. Add cheese, avocado, more hot sauce if you like. Alternatively, you could add all your ingredients to a flour tortilla and roll up into a burrito.
Nutrition
Serving: 1/5 recipe | Calories: 469kcal | Carbohydrates: 56g | Protein: 24g | Fat: 19g | Saturated Fat: 3g | Polyunsaturated Fat: 7g | Monounsaturated Fat: 7g | Trans Fat: 1g | Sodium: 474mg | Potassium: 1448mg | Fiber: 11g | Sugar: 7g | Vitamin A: 678IU | Vitamin C: 38mg | Calcium: 171mg | Iron: 7mg
Reader Interactions